How Much Space Does Windows 10 Take Up? [Explained]
Do you want to know how much space your Windows 10 takes up on your desktop and laptop? So, before going to know about the size of your window. Let us know what is Windows 10. 
So, Windows 10 is an operating system. It was developed by Microsoft and launched on 29 July 2015. It provides the four latest versions: Home Version, Pro Version, Education Version, and Enterprise Version. The pro version is the best among them.
Because the main feature of Windows 10 Pro is Get Update, and you can use this for any purpose. Along with this, it has many new and updated features. The popular features are timeline, focus assist, nearby sharing, and light night. 
Now, let us know what space window 10 takes.
How Much Space Does Windows 10 Take on Disk
In the beginning, when window 10 came out, it took less space than window 8. It was storage effective. You will find that the size of Windows 10 has been increasing.
And in the May 2019 update took an enormous toll on the Windows 10 installation size. So now, users need at least 32 GB of free storage space. It would be for both 32-bit and 64-bit architecture.
The reason behind the significant impact on storage capacity was the change in the process. Windows 10 update process has been changed.
Before May 2019, if the host system had sufficient storage space, only the operating system began to update. If it has no storage space, you will receive a return message.
That saying "We can't tell if your PC has enough space to continue installing Windows 10"
On the other hand, you will find that on your disk 7 GB of storage space in your device. And it is reserved explicitly for downloading and installing updates.
So, 7 GB disk space should not be causing much trouble for a contemporary machine. 
Way To Find Out How Much Space Windows 10 Take Upon Hard Drive
Step: Press Windows + I button at once this will open the Windows Settings.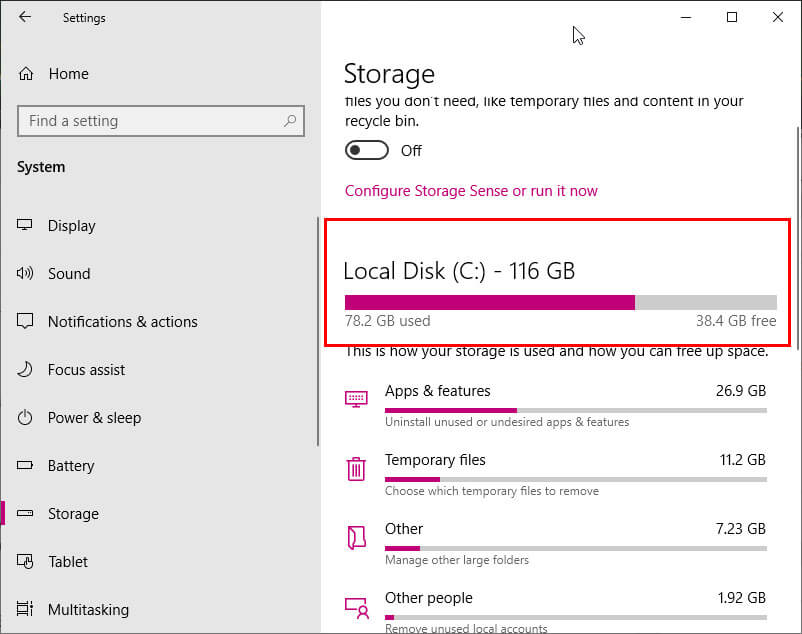 Step: Now navigate to the following path, System -> Storage -> This PC (C:)
After following these steps, you will find many types of files and their size on the system disk (C:).
The space occupied by Windows 10 mainly includes four files. Namely System files, Virtual memory, Hibernation file, and System restore. 
How Much Storage You Needed for Windows 10
You will know that the 32-bit version of Windows 10 requires a total of 16GB of free space. At the same time, the 64-bit version requires 20GB. But the question arises how much storage do I need on my laptop to run Windows 10?
You store your data, documents, photos, etc., on your laptop. And this may take a lot of extra gigabytes of free memory.
And try to keep your drive at least 10% free. Therefore, taking all these things in storage. The computer or laptop must have at least 64GB to run the 32-bit version. As well as 128GB for the 64-bit version. 
Working Methods To Reduce Windows 10 Size
Here are some tricks to reduce the hard drive space of Windows 10. As we know, the size of Windows 10 will get larger and larger over time. So, follow these steps to reduce the size. 
Turn off the Hibernation
Step 1:
Firstly, open the Command Prompt using the search box.
Step 2:
Then, select the Run as Administrator option.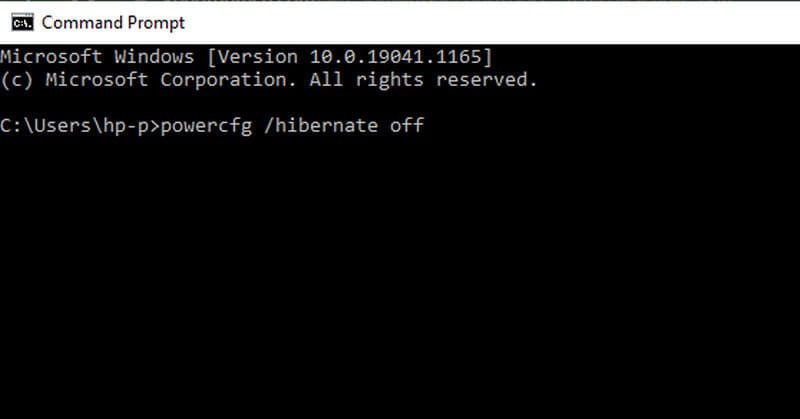 Step 3:
Next, you have to type powercfg /hibernate off and hit Enter button.
Disable the System Restore
Step 1:
You have to Right-click on This PC on a desktop. Then, click the Properties option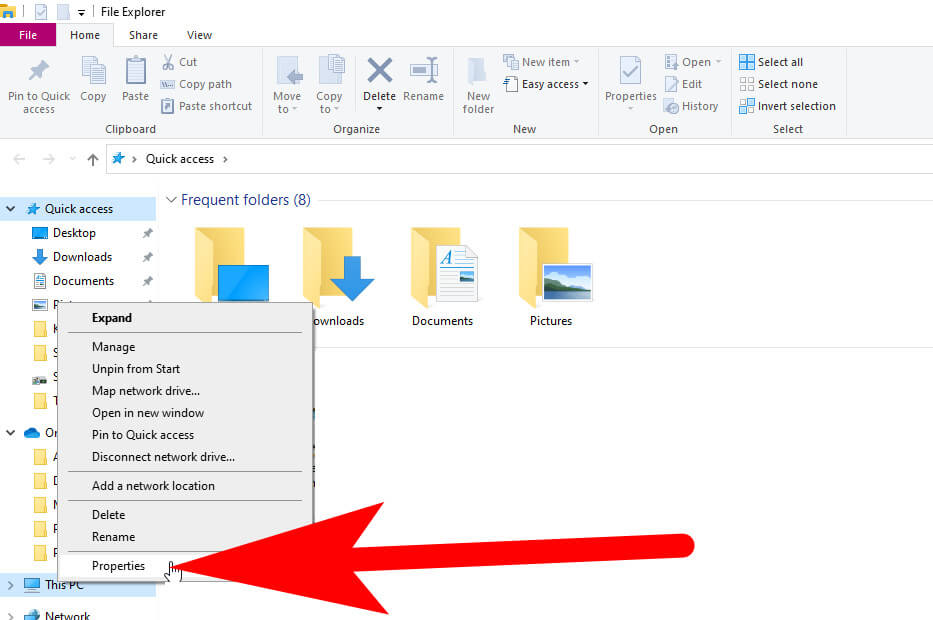 Step 2:
After this go to System Protection. Select the Local Disk (C:).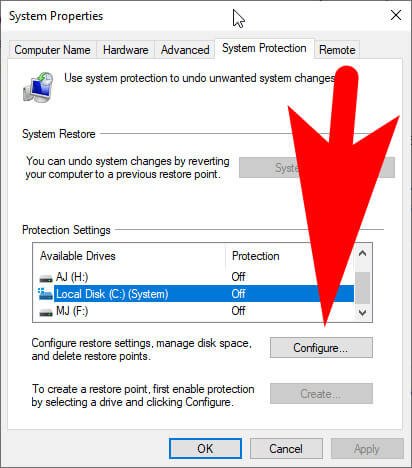 Step 3:
Now, Click on Configure button.
Step 6:
Select Disable System Protection option.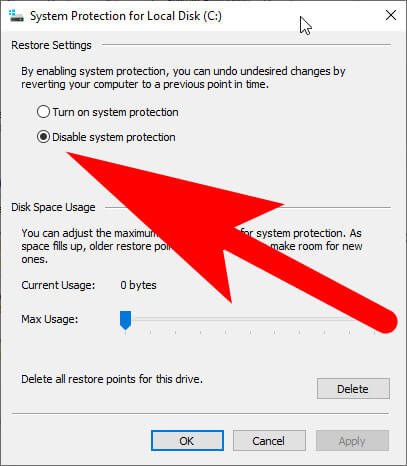 Step 7:
Press the OK button.
Reduce Virtual Memory Size
Step 1:
At first, You have to Right-click This PC on a desktop. Click the Properties option.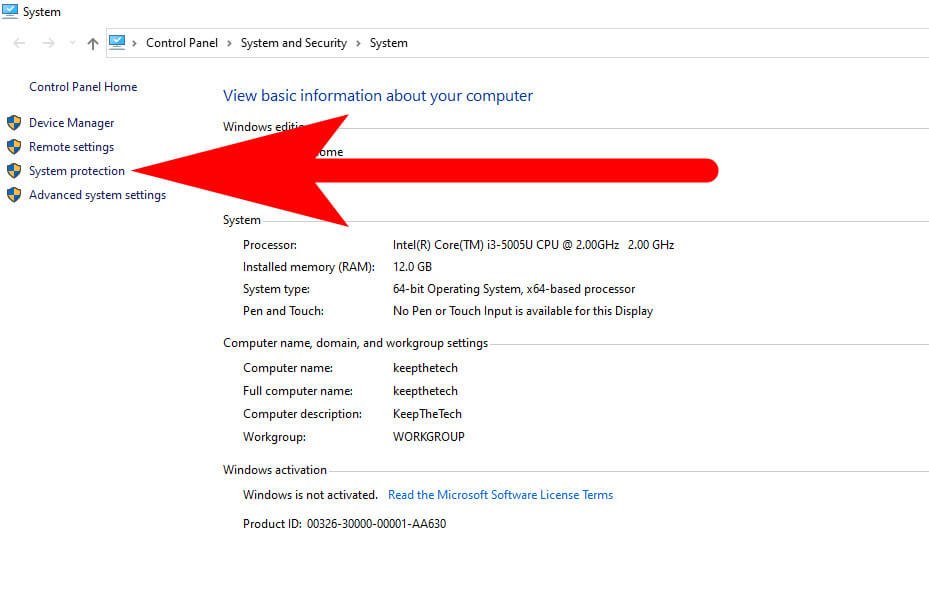 Step 2:
Then, Advanced System settings, Then click on the Settings button in the Performance section.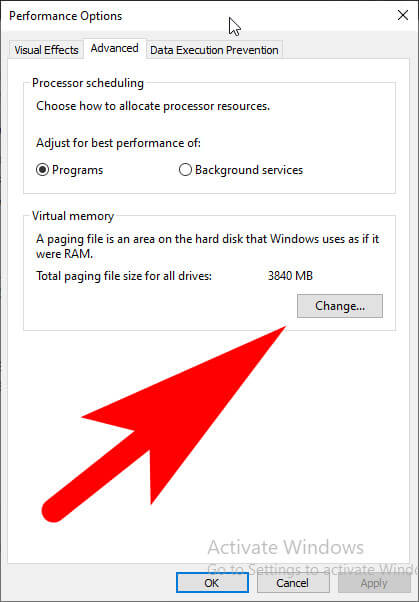 Step 3:
Click on the Advanced tab. Now, you have to change the button. Next, Uncheck Automatically manage paging file size for all drives option.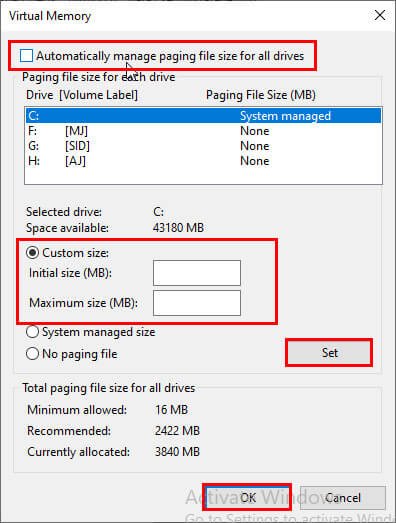 Step 4:
Select the System Disk > Custom size > Type pagefile size as you like > Set > OK
System Genius
System Genius is a multi-functional utility-designed tool. It can speed up and optimize your Windows computer. It will also help you clean temporary files, browser cache, Recycle Bin, and Windows history.
Along with the Windows log files and free up the system disk (C:) with only one click. Thus, this tool helps you to reduce Windows 10 size.
As well, it can free up system disk space with System Genius. So, try it to get the benefit of this tool.
FAQ: Frequently Asked Questions
These are some of the frequently asked questions related to how much space does Windows 10 take with complete information.
How many GB does Windows 10 take up?
While the Windows 10 installation files are only a few megabytes in size, completing the installation takes up a lot more space. The 32-bit (or x86) version of Windows 10 requires 16GB of free space, while the 64-bit version requires 20GB, according to Microsoft.
How much space does Windows 10 take on a SSD?
Do you only want to use the SSD to install your operating system? With 500GB, you'll be well-equipped. This is due to the fact that Windows 10 takes up roughly 20GB while macOS takes up about 35GB. This frees up space on the SSD for commonly used apps and other files.
How many GB is Windows 10 64-bit?
The upgrade allowed Microsoft to expand the size of the Windows 10 installation from 16GB for 32-bit and 20GB for 64-bit to 32GB for both.
How many GB is Windows 11?
Storage: To install Windows 11, you'll need at least 64 GB* of free space. Downloading updates and enabling specific features may necessitate additional storage space.
Alright! readers this is the end of this short guide, hopefully, it helped you to better understand how much space Windows 10 takes up on your PC or laptop along with some working methods to reduce the size of the Windows 10 operating system to boost the storage and performance.
Related Articles:
How To Change DHCP Lease Time In Windows 10?
How To Change DNS Server on Windows 10
How to Activate PPSSPP Cheats on Emulator
How To Restart iPhone 7 (3 Working Methods)
15 Best Music Downloader App for Android & iPhone
Printer is Offline How To Fix [Complete Steps]
Create Bootable USB For Windows 10 [ 3 Methods]
How To Cancel Paypal Recurring Payments
What is the Cloud and How Does it Work? [Explained]
How To Edit Videos For YouTube – Ultimate Guide
What is a Difference Between a Llama and an Alpaca
What is Vpn in Android? All You Need To Know
What Does IGZ Mean? [Explained]