How To Use PlayStation Share Play On PS5, PS4?
Playing games is now becoming a craze, and people spend hours playing games worldwide. There are a wide variety of games available in the market.
Including adventure games, strategy games, open-world games, combat games, etc. Users can play all games on GPU or play stations.
Playstation is one of the most used devices for playing excellent quality games in HD. PS4 has an underrated feature, i.e., it has no option for Share play.
But now the PlayStation 5 comes the pre-installed feature of Share Play with your friends and family. You can share the game and play together or as competitors with your friends. 
The share Play feature can work in several ways, including sharing your gameplay screen, playing in multiplayer, taking over the gameplay of one another, and playing as competitors with your near and dear.
PlayStation will provide you with all the features and specifications needed for a better and enhanced quality Share Play. 
Don't worry if you have PS5 and have no idea "how to Share Play on PS5! Continue reading the content.
We will provide you with information about Share Play on PS5, including how to set it up and what you need to be aware of.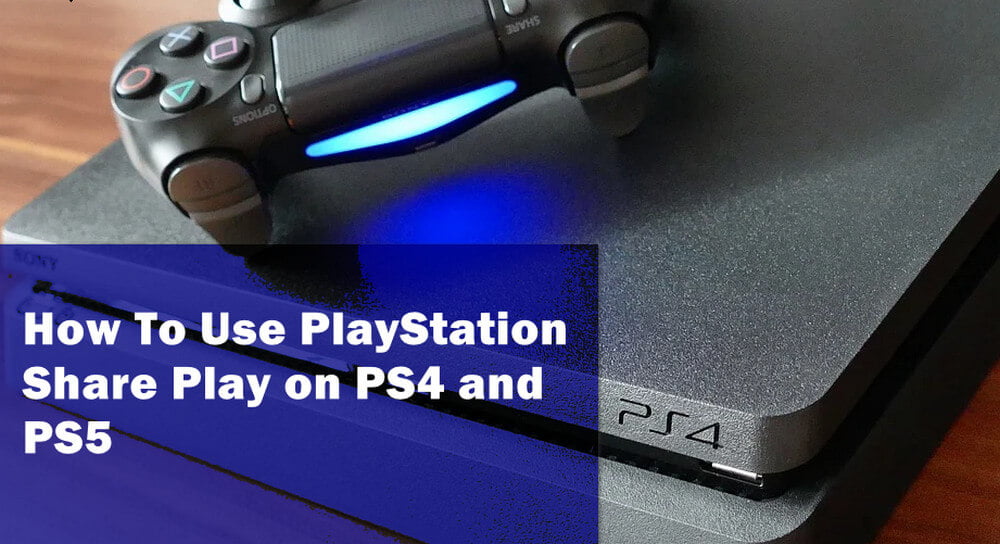 Requirements For PlayStation Share Play in PS4 & PS5
If you wanted to use the Share Play feature in your PS console, you need to meet all the requirements for Share Play. These requirements are given below:
1. Strong Internet Connection
The essential requirement for Share Play has a super-fast Internet connection. As PlayStation 5 runs every game in HD resolutions, sharing the game must require a fast connection. For an assumption, 20Mbps is a decent speed for Share Play.
2. PlayStation Plus Subscription
After buying the PlayStation, you need not pay anything more for playing games, but for Share Play, you must have a PlayStation Plus subscription.
It will allow you to Share Play easily, make sure that your friend or dear also has the Plus subscription for engaging with you in gameplay.
3. Restart Share Play After Every Hour
Continuously playing games in Share Play may cause some glitches and barriers in gameplay. So, keep restarting share play after every single hour to enjoy continuous and conservative Share Play.
How Many Modes Of Share Play Available On PS4 & PS5
After meeting all the requirements for Share Play, you can enjoy three modes of gameplay on your Playstation 5. These are
1. Share Screen
If you want to show your friend your gameplay, you can share the screen with him on his PS5. He can enjoy your professional gameplay from his home.
The feature will be worth it during Quarantine and lockdown. If your friend doesn't have a PS5, he can even look at your gameplay easily using the share screen feature. 
2. Visitor Plays As You
If your friend just wanted to enjoy the PS5 gaming experience and wanted a demo before putting his money down to buy the PS5, the option is best for this kind of situation.
PS5, after meeting all the requirements of Share Play, you can use the abundant feature easily
3. Play A Game With Visitor
If you want to play a game with your friend, you can use this mode for multiplayer matches. No matter how far your friend is? With a high-speed connection, you can easily fight with him in games.
The above mentioned are all the modes available on PS4 and PS5 Share Play. PlayStation is continuously working to enhance and develop more modes. You may find them in the coming PS6. 
How To Setup PlayStation Share Play
After knowing the prior knowledge of Share Play, it's time to move towards our primary focus, i.e., how to set up share play on the PlayStation console?
These include a lot of steps to Share Play on PlayStation 4 and 5. These are given below:
1. Turn on your PlayStation Console.
The initial step for performing any action for Share Play is to connect the electricity and display. It will provide you with a user-friendly interface.
2. Start A Party Voice Chat
Start a party voice chat with your friends. It is straightforward. If you haven't any idea of how to start Party Voice Chat, then follow the on-screen guide.
3. Press the PS Button from the console
There is a PS button on the Playstation console. The button will access you to the setting of your PS console.
4. Select Game Base or Particular Game To Play
From the action panel, the game base of a particular game from the settings and continues.
5.
Create Party

You are supposed to observe a "Create Party" option there. Click that to create a party.
6. Select Your Friends
Select some of your friends from their unique ID and enjoy the gaming with your buddies or family members.

7. Press Sharing Screen
After following all the steps mentioned above, you need to press the "sharing screen" option present at the bottom of your screen.
Steps To Share Game on PlayStation 4 and 5
Here are the steps to share the screen, but you can easily if you want to be more advanced. Below are the steps for accessing another mode:
1. Went back to Party
If you want to move more towards our next mode, you need to go back to the party option.
2. Hit The Giant Button
After the screen appears, you should observe a giant button and hit the bottom to continue.
3. Start Share Play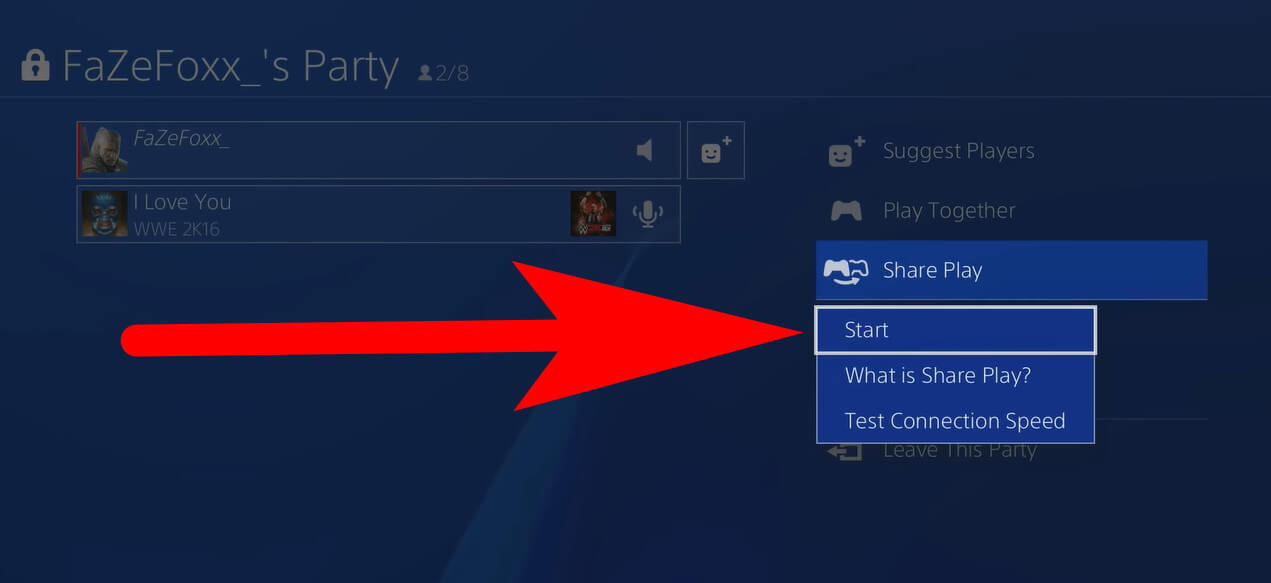 you are supposed to start the Share Play; It will make your connected friends play games on your PS5. It may be for demo or entertainment.
4. Play A Game With Visitor
All set now, enjoy the HD gaming with your friends and family members, choose multiplayer options for one vs. one match.
5. Visitors Plays As You or Play a Game Together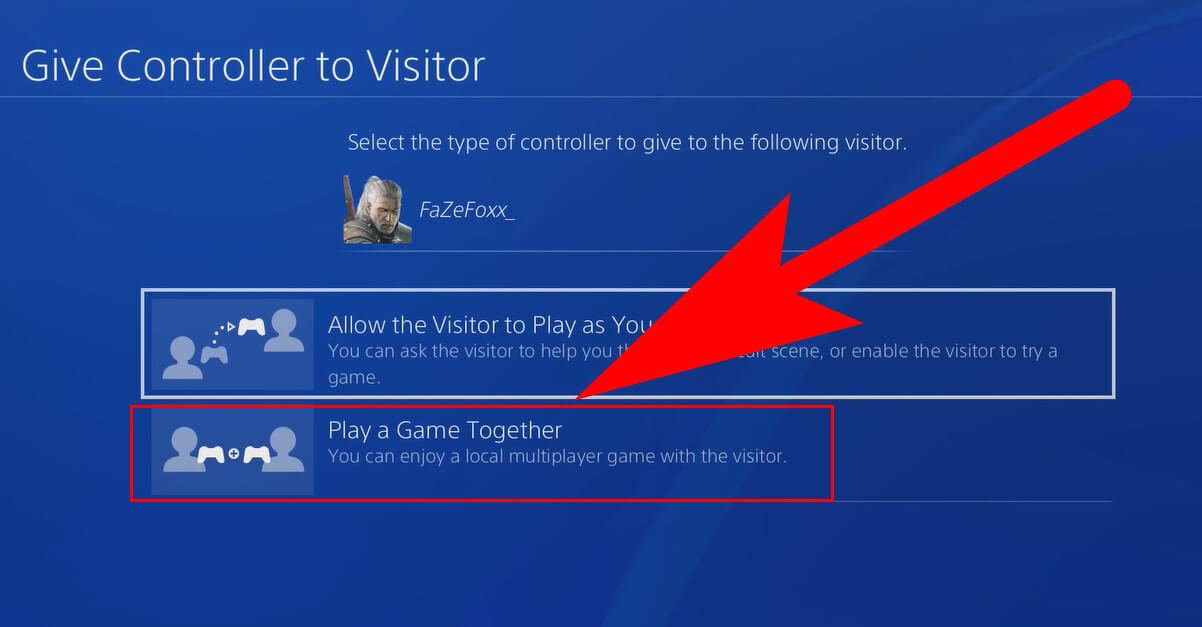 There is an advanced mode in which the added friend can also control the game character along with you.
Video Guide:
How To End The Share Play In PlayStation?
In the article, you are supposed to learn about the PS5 console Share Play. We help you with numerous features and specifications of Your PS5 Gameplay.
But do you know how to End the Share Play? Below are the steps:
1. Move back towards the Party Option again.
2. Select the end "Share Play" Option located at the bottom right.
3. All the friends were disconnected, and your Share Play will be over. 
FAQ: Frequently Asked Questions
These are some of the frequently asked questions related to the Playstation Share Play with complete information.
How does share play work on PS4?
Share Play, unlike previous types of sharing on the PS4, begins on the Party section of your PS4 home screen. Invite a friend to a party, then pick the Share Play option so that your guest may either watch you play or take control and play the game instead of you.
Does Share play still work on PS4?
Thanks to a function called Share Play, you may play games together or share your game collection with friends and family who are still using their PS4. (If you have a PS5 friend, you can also use Share Play to play their PS5 games on your PS4.
Does PS5 share play have a time limit?
All you need is a PS4, a friend with a PS5, and a solid internet connection for screen sharing to use Share Play (Sony recommends a minimum upload speed of 2 megabits per second). Owners of a PlayStation 5 can host for up to 60 minutes per session. You can then simply start a new session.
Can you be in a party with PS4 and PS5?
According to a post on the PlayStation Blog, group chats on both the PS4 and PS5 will have the choice of being an open or closed party. An open party allows the host's friends to view and attend the party even if they haven't been invited, as well as the friends of party members.
Related Articles:
Enable Push to Talk on Discord In 5 Steps
5 Ways on PS4 Games Remote Play In PC, TV, Phone
How to Play Fortnite on PS4 Ultimate Guide
How to Leave a Group Chat on iPhone
How do you convert a PDF file to a Fillable Form
How to Uninstall an Application from Mac – Step by Step Guide
How to Delete Message from Messenger – Step by Step Guide
How to See Word Count on Google Docs (Enable/Disable)
How to Delete Books from Kindle App – Step by Step Guide
How to Connect the Soundbar to Samsung TV Using HDMI
What is the Difference Between Linux Distributions