With Mapping a drive, you can easily access information physically located on a different computer. And, You can create a shortcut to another drive or folder, which is shared on network mapping that location. Moreover, when you try to map a network drive on a PC. Then, It will show up as a new drive under This PC in File Explorer.
Thus, it helps you to access the shared files when you need them. Likewise, When you would use your local hard drive. Mapping a drive is perfect for storing data when you do not have space on your PC, accessing files from your tablet, backing up content, or sharing access with multiple users.
Therefore, here are the steps that help you know how to make the network drive shortcuts in window 10.
How to Map a Network Drive in Window 10 
Step 1:
Firstly, you have to open the File Explorer from the taskbar or from the start menu. 
Step 2: 
Secondly open This PC from the left pane.
Step 3:
Now, click on Map Network drive by dropping down in the ribbon menu at the top. Then, select " Map Network Drive."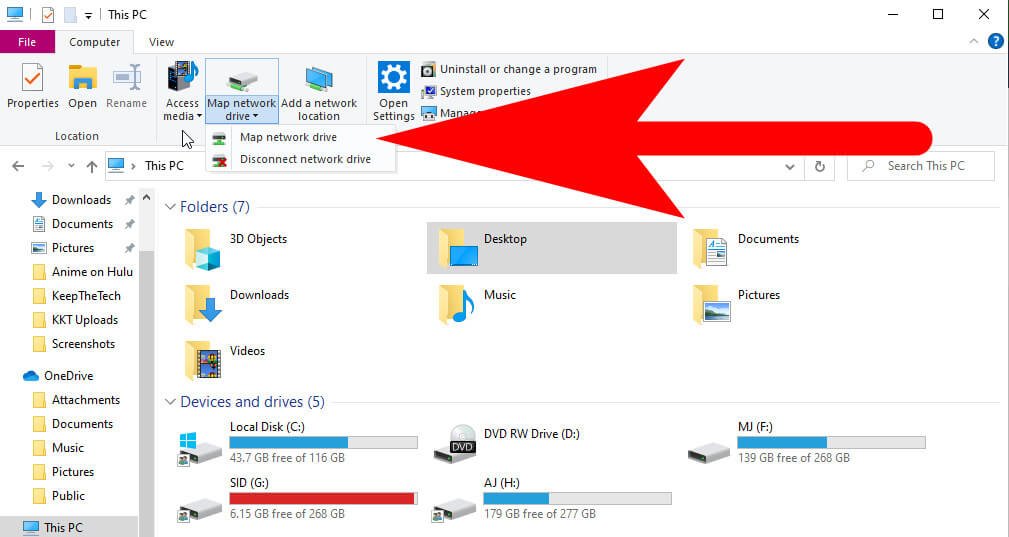 It should be noted and the Map network drive option is under the Computer tab. It should open when you go to This PC.
Step 4:
In the drive list, select the drive letter, which you want to use in the network folder. Then hit browse.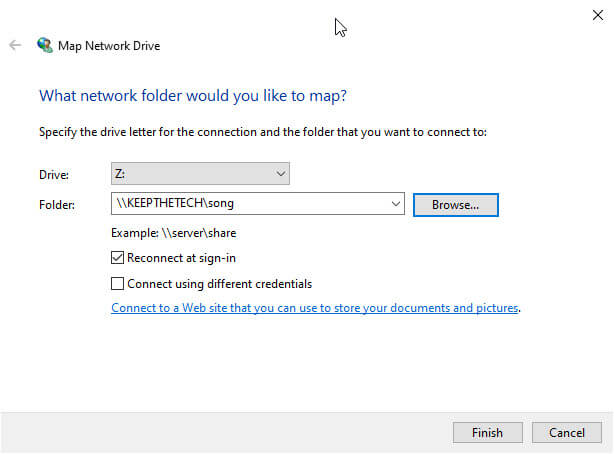 Step 5: 
If you find any error message after completing the above task, you will need to turn on network discovery. For doing this, first Open the control panel, then select Network and Sharing Center. 
Then, you will have to choose Change advanced sharing setting. It will appear to you from the left corner. Next, select turn on network discovery from there. Then save the change. 
Step 6:
Navigate to the folder you desire to map. Then click on OK after selecting it.
Step 7:
Next, you have to confirm your selection. And tap on the finish. 
You can select to reconnect the folder whenever you want to sign in because it is always available. Along with this, you can even use a different user account to connect the folder whenever you need.
Step 8:
When you are by the process, you should see the new drive letter under This PC. Also, you will be able to access its contents like you would any folder. Additionally, if you want to disconnect the network drive, then select disconnect by right-clicking on it.
FAQ: Frequently Asked Questions
These are some of the commonly asked question related to the Network Drive mapping on windows with complete explaination.
How do I find my network map in Windows 10?
To see all the network drive that map in your windows. Go to the Start Menu and search for "Network and Sharing Center" and open it. This will allows you to see how your PC is connected to the internet connection. Now to see the full network map, select the "See Full Map" here you will find all the network map of your system without having a hassle.
How do I access a network drive?
To access the network drive in windows you needed to navigate to the File Exporler > This PC > Map Network Drive. Here you will find all the map drives of your system.
Conclusion
By following the above steps, you can map a network drive in window 10. And, You will quickly create a shortcut to another drive or folder when it is shared on your network by mapping that location. It should be noted, If you can't connect to a network drive or folder.
Then the computer to which you are trying to connect. It's turned off, or you might not have the correct permissions. In such cases, you should try to contact your network administrator. Additionally, you can also map a network drive in window 8, 7, or window vista. As well as in Windows XP.
Related Articles: