Wanted some funny Kahoot names but you don't know where to find a Kahoot name list. Don't worry here in this article we have gathered some of the cool names for girls and boys that you can use on your Kahoot profile. But we getting started you must know.
What is Kahoot?
Kahoot is the most popular application among teenagers it is a fun learning app where you can learn something new using games such as Puzzles, Quiz, Polls etc. This app helps teachers and students across the globe create learning easy by playing games within the cell phone or iPad.
It is a well engaging application for learners with the help of this app the learners participate actively in the games and learns many things from Kahoot. According to the survey, Kahoot is currently used by lots of online and offline educational institutions such as Schools, Colleges, and universities. With the help of Kahoot visual tools, the teacher can easily prepare online multiple-choice quizzes without having a hassle.
On Kahoot allows the visibility in the flexibility of names to the other users. So we go to look for some cool and funny Kahoot names from the below-given list. Let get some knowledge on how you can change your name on the Kahoot application using your cell phone.
Download & Signup on Kahoot
There are multiple options provided by Kahoot to signup for an account. Anyone can create an account with the help of the Email ID of the Google account, Microsoft account, or Apple account. And if you signup using these three accounts then in this case, it does not need to remember the email and the password because Google, Microsoft, Apple accounts can be easily used to signup on Kahoot.
However, we suggest you to Signup for the Kahoot on your smartphone using your Google account. Follow these three steps to create an account on Kahoot.
Steps For Kahoot Account Signup
Tap on the Profile Icon > Signup
Fill in the Date of birth and tap on Continue.
Enter the "Username" and again hit Continue.
Now select the Signup method. (Google, Microsoft, Apple or Email Address).
We process with the Google Account to signup on Kahoot as the Signup method.
Adding Name on Kahoot
Now, all you've to complete the Signup process on Kahoot is adding the name. So basically it is not a matrix you can easily complete the Kahoot account creation
After Tapping on the "Continue with Google"  or any other options, The signup process will be finished. There is an option "Add your name" with a pencil icon.
Tap on the "Add your name" icon. In the pop-up box enter the name.
Enter a funny Kahoot name of your choice or your real name. It is all up to you.
How To Change Name on Kahoot
If you don't have the Kahoot App and but you've already signup for the Kahoot account. Then follow the below-given steps to download the app.
Download the Kahoot App on your cell phone
Open the Kahoot App.
If you've already had the Kahoot application on your cell phone. In this case, the Kahoot users can easily change the name on the Kahoot account using these steps.
Note: Follow these below-given steps to change the Name on the Kahoot App. The Username / Name is different.
Tap on the Profile Picture given on the left side of the app screen.
Again, tap on "your name" available below your Kahoot Profile Picture.
Now, Enter the funny Kahoot name of your selection.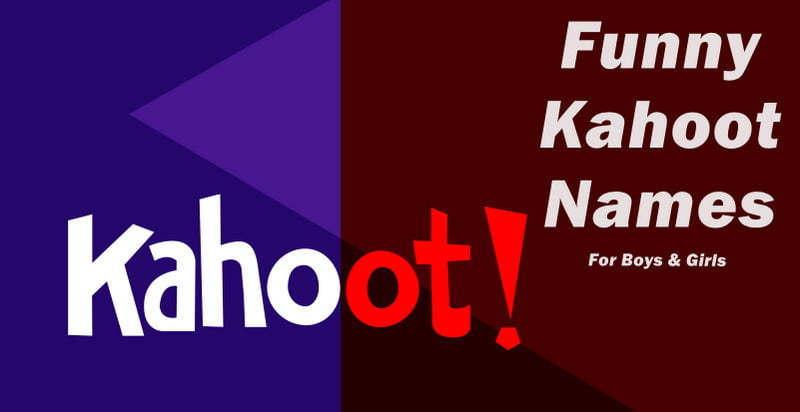 Funny Kahoot Names
Choosing a Kahoot name seems to be a hard task but don't worry if you've hundreds of Kahoot names in one place. You sure can select the perfect name match without having a hassle. In this article, we have gathered some of the best and funny Kahoot names for boys and girls.
Fun Maker Pitara
Jiggly Puffy
Superman of Kahoot
Jaw Dropper
Magical Boy
Kahoot Bie
Kahoot Funkie
The Instructor
Laughter Boss
Day Maker
Virtual Bluff
Kahoot Boss
Fishie Fish
Scribbly Spark
Walking Encyclopedia
Enjoy Grabber
Flippy Flops
Kahoot the Hunk
Fun Roller Coaster
Crazy Stimulator
Star of Kahoot
Kahoot the Gravity
Kiddos Hub
Eye Catcher
I Want The D
Punky Boy
WarMachine Version 2
American Nuts
Nutties Leader
Kiddie love
Ctrl W= War
Buttery Candie
Free Kick
Freaky With D
Weird Boy
Little Hearts
Just Browsing…
Small Kahoot Packet
Girls Haunter
Stylo Player
Enlightened Brain
Homer Joy
Joe Foe
Angry Bird Champ
Racing NO
Crispy Potato
Dark Little Star
Treasure Hunter
Ideal Treasurer
Extra Delight
Snowy Panda
Dancing Bear
Junior Avenger
Jolly Champ
Crazy Bachelor
Majestic Looks
Undertaker Defeater
Kahoot Rockstar
Girlie Talent
Cheeky Pink
Miss Diva Maker
Silk The Soft
Smoothie Crush
Chill Jelly Candy
Hide n Seek Player
Cinderella
Blueberry Smoothie Lover
Munchie Munch
Lovie Dovie
Cozy Barbie
Hunter Girl
Treasure Love
Girly Talks
Miss Googly
Bunnie Bun
Make the Magic
I AM Lady Pie
Fear Winner
Princess Fighter
Marvelous Queen
Appy Fizz
Teenager Beauty
Super-Duper Girl
Miss Kitty
Kahoot Queen
Oreo Delight
Mother of Kahoot
Lady Fixer
Gracie Leader
Cheesy Lover
Calm and Cool
Lady Cooler
Reveal the Fun
Goddess Hunter
Victory Queen
Cute n Cool Muffin
Fair n Awesome
Rosy Girl
Vibrant Lady
Tweety Tweet
Lady Pumpkin
Laurels of Grace
Boarding Girl
Miss Trendy
Wonderful Player
Adorable Sizzler
Game Maker
Fair Teen
Kahoot Heart
StealYourBoy
Homer Girl
Sweety Pie
Party Girl
Loud Mouth
GameChanger
Leader of Fun
Meme Maker
Fire Booster
Fun Bluster
Media Lover
Social Guy
The Soul Fixer
Sand Man
Circle Boy
WiFi Lover
Edited Version
Last Seen Boy
PM To AM Guy
Draft Maker
Time Changer
Special Simle
Sports Packet
Crazy File
I Not Downloaded
Other Options
Kahoot Ranker
Kahoot New Chapter
After School Life Boy
Dont Mess With M
Numbers Fun
Google Guy
Searching Soul
Undo Boy
Wait For Fun
Learning Time
Fun Associate
Kahoot Admin
Change In Time
Wait Till Class Over
Never Paused
Funnier Player
Frooti Girl
Hope you find these Kahoot names useful for your Kahoot Account. We love to share more names soon, If you want more names just like these. Comment your favorite name from the above list.