Who Viewed My Facebook Profile: In this article, we will cover a few topics about knowing who views my Facebook profile. We will tell you about the feature that was available on the iPhone. Furthermore, we also tell you about the apps and websites that claim about showing who viewed your Facebook profile.
Facebook is the biggest social media platform of all time. Millions of users are daily added to this platform. Everyone adds their close ones and their friends on Facebook. They meet new friends.
But everyone has one curiosity in their minds that actually who sees their profiles. Who stalks them. All of us want attention and validation. This is the reason everyone wants to know who view their Facebook profiles.
Who Viewed My Facebook Profile?
Many people say that this feature is available on Facebook where you can really see who viewed your Facebook profile. Now let's know the truth.
Sometimes ago this feature was seen on iPhone where you can see who viewed your Facebook profile.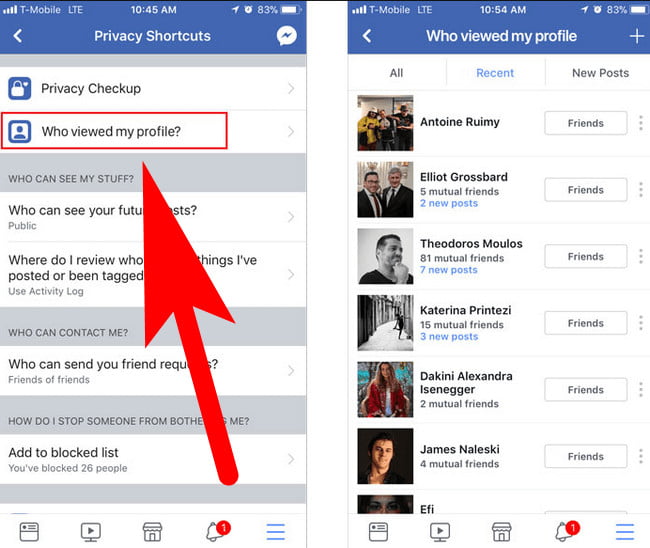 You have to go to your privacy settings and then you will see an option of who viewed my profile. But it is not available for android users. It was only available on the iPhone.
As this feature was seen in the iPhone it was on 1st April. So maybe this was only a prank. After that, no news has come about this feature.
Now let's discuss the apps and pages that claim that they can show you who viewed your Facebook profile.
Is it possible to know who views my Facebook profile?
Well if you want to know the real answer you can see it yourself. There is an option of help and center in facebook on that Facebook explains that it is not possible to know viewed your Facebook profile.
Facebook strictly prohibits this behaviour because this feature comes in the privacy of another person who is viewing your profile.
Facebook also tells that if any websites or apps claiming that they can show who viewed your Facebook profiles then report them.
Apps & Websites that claim to show who viewed your Facebook profile
Many of the apps and websites claim that they can you who viewed your Facebook profile. Is it true?
Well, Facebook says that if any third-party source does this kind of work then report them. That means if it is not possible then, how is these third-party sources claiming?
The answer is they do not show any genuine people who viewed your profile. All this information is fake. They do that because they want your personal data. They can use your personal data for many purposes or sell to different companies.
They can sell your personal data like phone numbers or email to different companies. So that they can send you their services or product ads.
They may change your Facebook password and hack your account so that they can post different illegal things.
They can also infect your device by installing some apps in behind. That can affect your computer.
If you see any post on Facebook that says to click on this link, we will show you who viewed your Facebook profile. Just report them.
I will tell you the process of how to report these fakes.
First, click on the right-hand side of the drop menu. Go to settings.
Then scroll down and click on apps and websites.
Then search for the app and website which you want to report.
Select view and edit on the app.
At the bottom of the page, you will see give feedback. Click on that.
Select the reason for which you want to report then press next.
How To Know Who Viewed My Facebook Profile?
So you have read all these now you think is there any way to actually know who viewed my Facebook profile.
There is one way in which you can know who is eager to know about you. You can see this inactivity status where you can see
Who likes your daily post.
Who tagged you in any post.
Who liked and replied to your comments.
You just have to go to settings and click on activity log there you will see everything.
Video:
There is one more thing you can do if you make a Facebook page then you will get lots of options.
The number of engagements, likes, and comments.
You can also track your posts and see your post reach.
You can not see the people name but you can see the number of people who is viewing.
You can see the age groups of people and know their geographical reason.
And at last, there is no such features available on Facebook or any apps and website. So stop wasting your time.
Related Articles:
I hope you enjoyed this article. If you have any suggestions or ideas please feel free to leave us a comment. I will try to write new and interesting articles related to technology and games.