Well, if you're an Apple Watch and you're nearby your Mac computer. Then the macOS can sense your presence an automatically log you in. This is a new feature introduced by Apple for the Mac device owners, with the help of this feature you can easily log in to your Mac using your Apple Watch. More importantly, you can also approve other requests for your admin password on macOS.
Things To Consider Before Turn on Mac Auto-Unlock Via Apple Watch
There are steps that you should perform before you enable the Apple Watch to unlock for your Mac.
Make sure your Apple Watch has a Passcode.
Turn off the 2-step verification before enabling this feature on Apple Watch.
Enable the 2 step verification into your Mac for security purposes.
Make sure your Apple Watch and Mac meets the system requirements for Auto-Login.
To, enable two-step verification on macOS follow these steps. Go to the System Preference > iCloud > Account Details after this click on the Security and toggle to enable 2 steps verification on macOS.
Note: You must know that for unlocking the macOS using the Apple Watch needed a Mac computer from 2003 or later years.
How To Enable Mac OS Auto-Login Via Apple Watch
Well, if you've done all the steps that we have guided you above then its time to enable the feature and configure the settings on your macOS for the auto-login using the Apple Watch.
Follow the steps by step instructions carefully to enable the feature.
Go to the Settings on your macOS, Then open Security & Privacy.
Now, Uncheck "Disable Automatic login."  by  (https://appleid.apple.com/)
Again, Check "Allow Apple Watch to unlock your Mac."
 Type your macOS password. Click on the "Ok" button.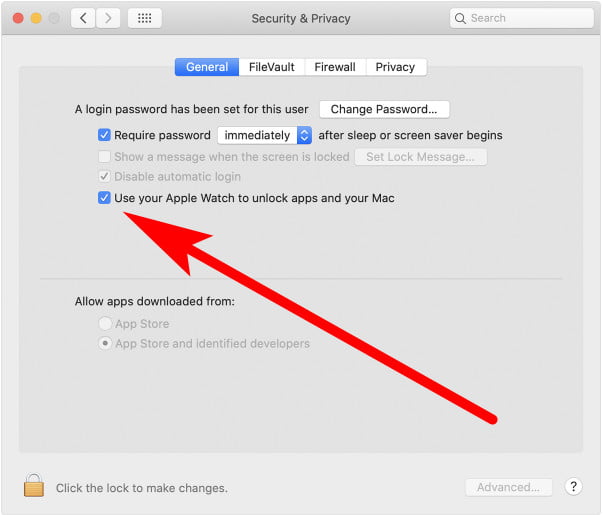 By following these steps you can easily enable the auto-login using the Apple Watch for your Mac without having a hassle.
How Should I Know, Auto-Login Working With Mac
To check if you the Apple Watch login you into your Mac OS computer. You can perform this step, When your macOS is on Sleep, Now, lift the Apple Watch to checking the time. Both watch and mac display screen will be turned on and unlock at the same time.
Note: Make sure when you trying to unlock your Mac using the Apple Watch, both the devices are nearby to each other.
How You Can Approve Other macOS Login Request
You can also take control over the other user's login request on your macOS computer using the Apple Watch. In case any other request such as opening a lock note wants you can easily give permission to unlock using Apple Watch that you're wearing.
Basically, with the help of your Apple Watch, you can allow other requests to enter your administrator password to unlock your macOS.
For this, you must have Apple Watch iOS 6 and macOS Catalina.
This is very helpful when you required to enter the admin password to unlock the note, view system preference, approve app installation, and many more other tasks.
How To Know If Your MacOS Supports Auto-Unlock Feature
In case, if you don't know if your Macbook supports the Auto-Unlock feature then for this you can easily check by following these below-given steps.
Press and hold the Option key along with Apple Menu.
Select, System Information > WiFi in the left side panel.
Look for the "Auto-Unlock Supported" on the right side.
Related Articles: