10 Best Windows 10 Partition Manager
Well, with the help of the partition manager or disk management software for Windows you can easily make several partitions of the hard drive in a desktop computer. In Windows 10, with the help of a partition manager, you can access multiple features to make a local disk or hard drive partitions. For instance, Local Disk C, D, F, G, etc.
What is Partition Manager?
The Partition Manager software comes handy if the user wants to divide the storage space of the hard drive or the local disk of the system. In terms of Windows, there are several partition management software was available some are paid with premium features and some are for free as an open-source program.
In Windows 10, with the help of Partition Manager software, you can hard drive storage into several local drives. For example, if your Windows PC has 1 TB hard drive and currently there are only 2 Local Drives were only 500 GB each. In this case with the help of Partition Manager, you can easily create a local drive on Windows 10 and divide the hard drive space into the newly created drive.
Best Partition Manager Software For Windows 10
Here we have listed some of the best partition manager software or Disk Management Windows 10. The list contains both free and paid applications according to their features and services.
Let! Get Started Shall We.
This one is one the best partition manager soft wares. It is absolutely free to use and stands at a very good position in the market. It is extremely user friendly as it gives all the options specific to you like to create a format, to resize it, to merge, to split, to move , to cope , to wipe, to check and to explore as well. So it has an ample number of straight options for someone using it new. Now this partition manager holds a very strong reason for it to be at the topmost positions which is it has a few extra features which include partition recovery option, which can basically recover the deleted or lost data/partitions.
It also allows users to convert data and files from FAT format to NTFS format, primary to logical and vice versa and among everything the best part is, it includes all the additional and original features with the free version of the software.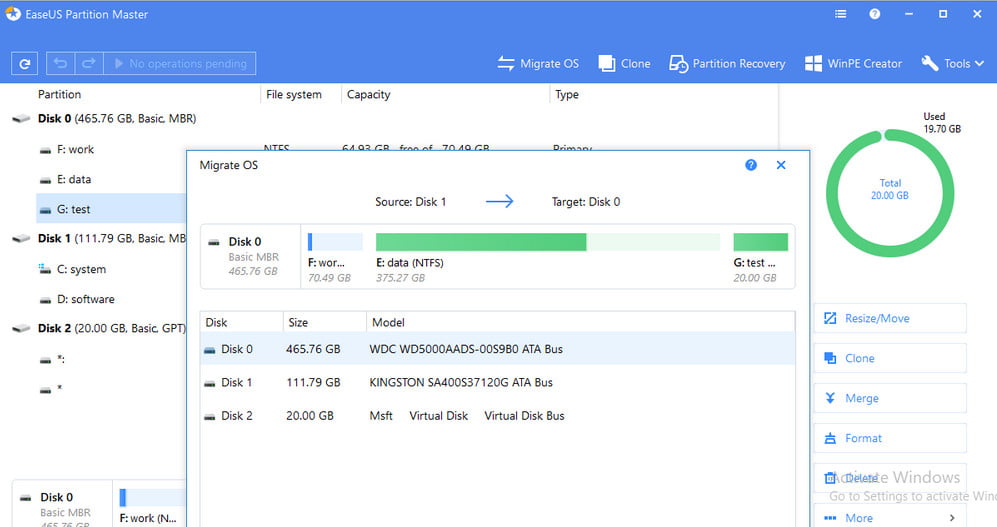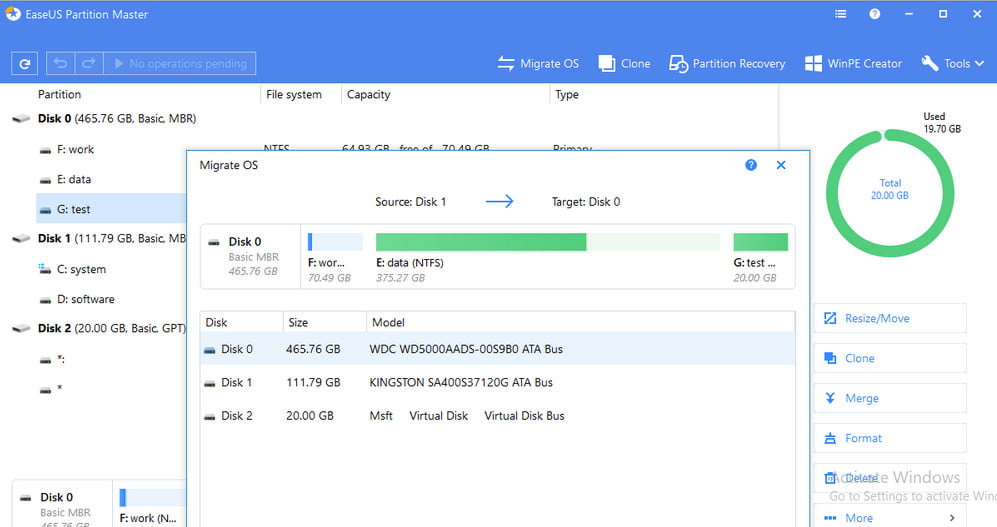 It is one the most easiest and user-friendly programs as a person having just a plot and then literally the least idea of what to do can do everything out of it.
While its free version offers an amazing set of features, you can also upgrade to the 'Pro' version if you wish to shift your operating system to a new HDD or SSD. This program is only available on Windows and is compatible with every version of its.
AOMEI partition assistant is a windows supporting platform that is free and easy to download software and is pretty liable too, which basically means it can be used for both personal and commercial use. This one also offers all the basic features like almost all partition managers do from creating, merging, splitting, copying, and stuff to recovering the lost or deleted ones.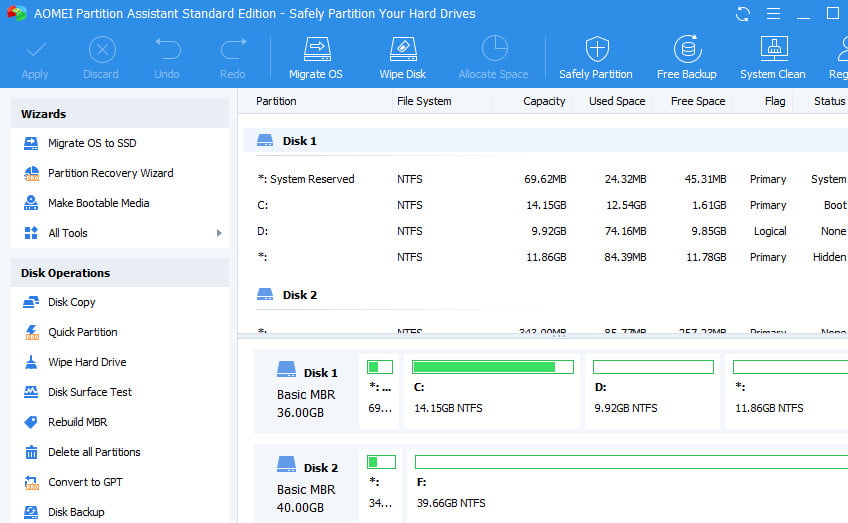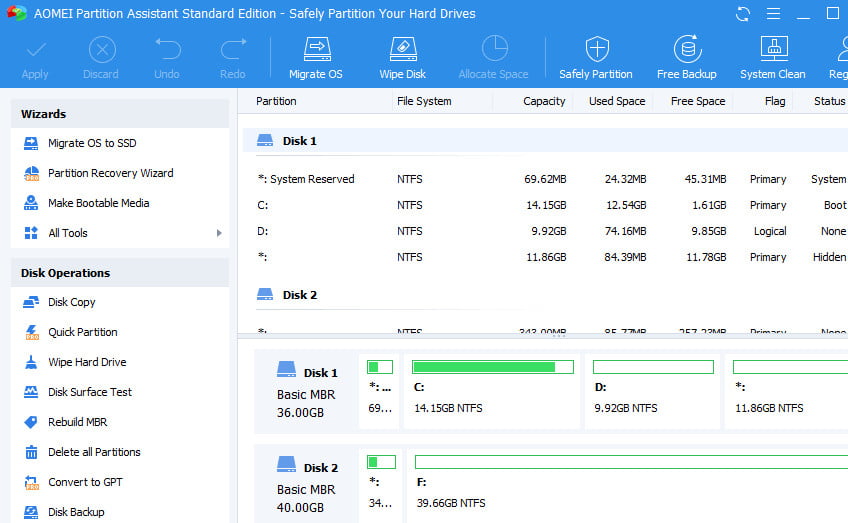 This one also lets you convert the file system from FAT format to NTFS format and vice versa. This program also allows the MBR to be rebuilt from scratch.
Now this one is called a 'freemium' software, like a lot of these are called where it is expected that the partition assistant is hidden behind a paywall, which also includes the ability to shift the operating system to a different HDD or SSD and, convert between primary and logical partitions. This software is also used for creating a bootable windows disc. And also allows you to set up partitions even without having an operating system installed.
MiniTool partition wizard is again a free partition manager software that is available for free then too holds a good bunch of features. Now, this partition manager also fulfills the expectations of users, the free version of MiniTool provides features of creating a file, resizing it , moving it, deleting, formatting, hiding or unhiding, splitting, merging, copying, closing and recovering the deleted or lost ones.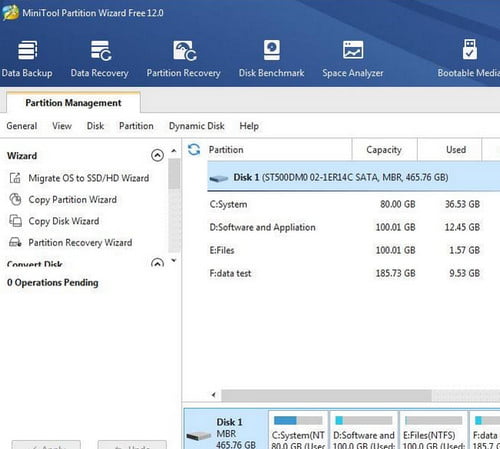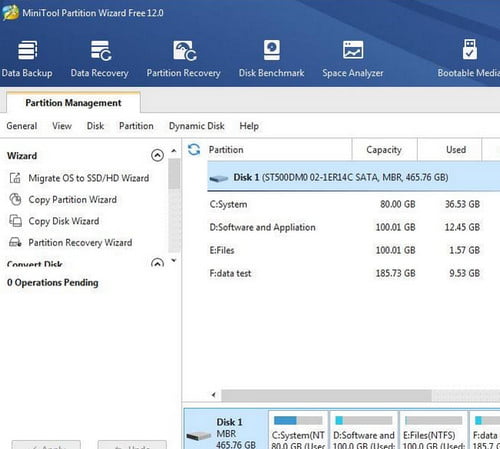 More over it also allows you to rebuild a MBR table and convert the file systems from FAT format to NTFS format and the inverse as well.
It is also one of the fastest programs in the category of its own and also supports RAID drives , external USB drives , fire wire disc etc. Its latest version is the V11.5 which comes with excellent new features which include recovery of the lost and deleted data, space analyzer etc.
And the previous bugs fixed. The disk benchmark feature of its allows the users to measure the read and write speeds under various disk access scenarios like sequential and random. The space analyzer feature helps for finding out what is taking up space on your system so that you can free up data that is taking up space unnecessarily. And the latest version also supports two new languages namely Korean and Italian.
Similar to quite a few partition programs, this one also allows all those basic features from letting you users create a file, format it, resize it, delete it, hide it, and many more modifications.
Plus it also allows you to convert a partition type from MBR to GPT and inverse. Even though the free version of the paragon partition manager offers a good number of features, but to have features like merging partitions, converting them from NTFS to FAT32, changing the cluster size and converting the dynamic disk to basic, you will have to upgrade to the 'Pro' version.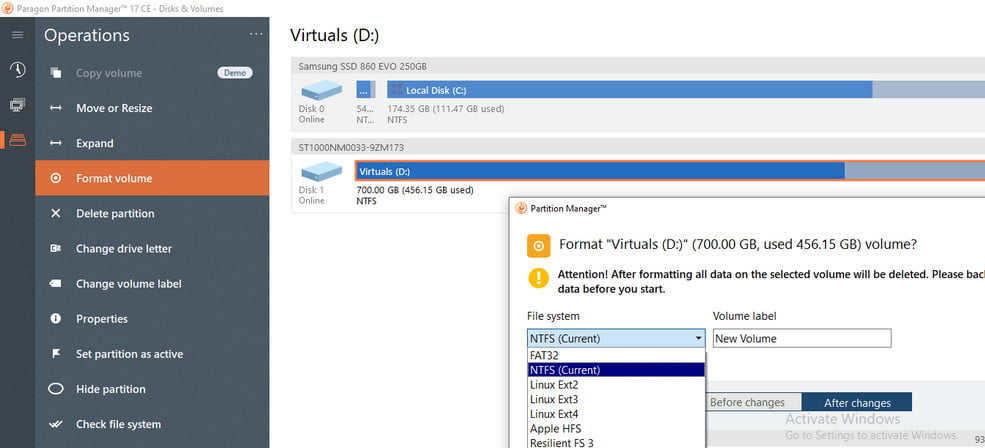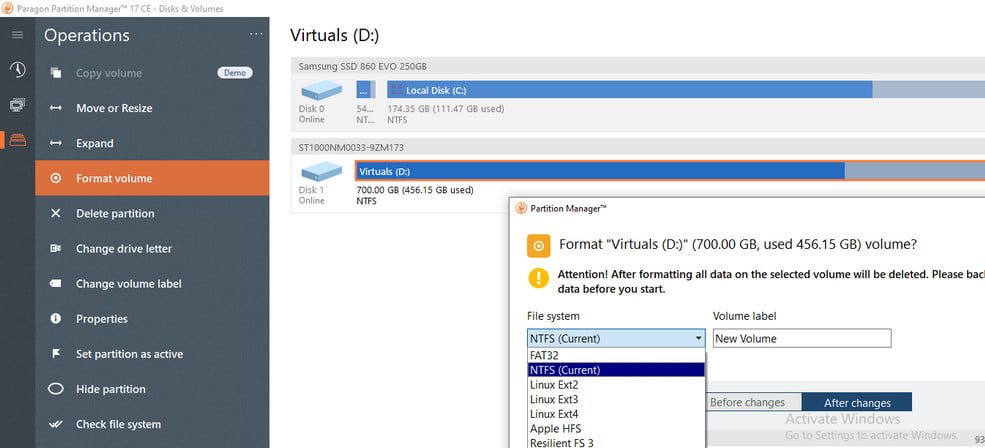 Though it gets your work done smoothly and accurately according to your requirements unlike others in this one you will feel missing out from a lot of features without the pro version.
Unlike others this one is mainly a Linux software , but is also used for Windows PCs and Macs by booting from GParted live. This is very powerful , free and an open-source program. This one unlike others not only allows lets to create a file , resize it, delete it, move and copy on a hard disk but also allows you to create a partition table and enable or disable partition flags. For a fact if you are alarmed about using an app meant for Linux – based systems to manage your NTFS partitions, you don't have to take a note about it.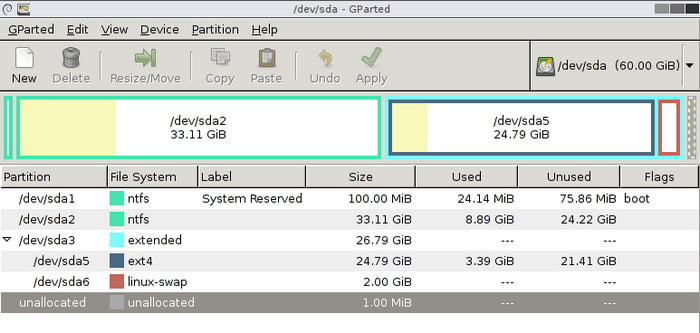 The program works extremely well with NTFS because of the Linux NTFS – 3G NTFS file system driver. Now it being a FOSS soft ware , it is also completely free. How ever if you are a new comer to disk management , you might find the UI not as inborn as the usual mercantile solutions.
It is said to have the most convinient interface amongst all. Though it offers the usual features like every standard disk management programs provide, it also comes with a few exclusive features which are pretty unique. Starting of, it has for you a portable version of drive using which you can skip installation of any device or PC.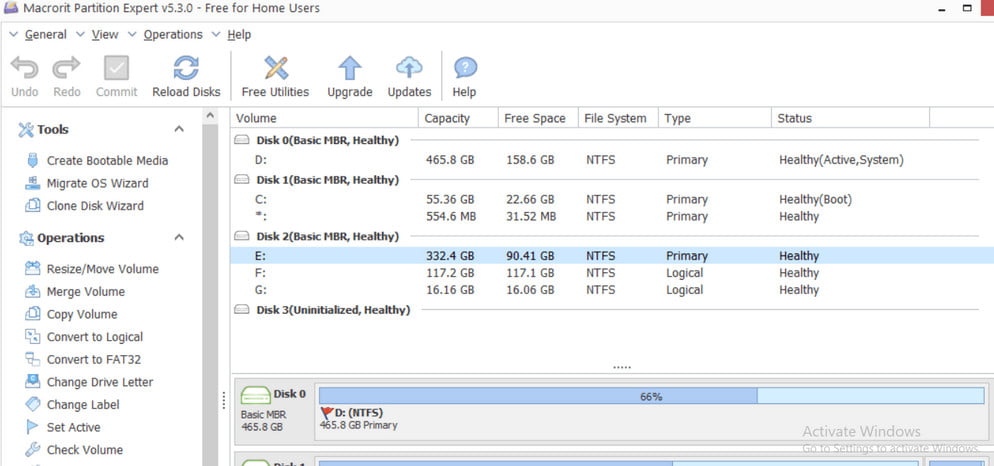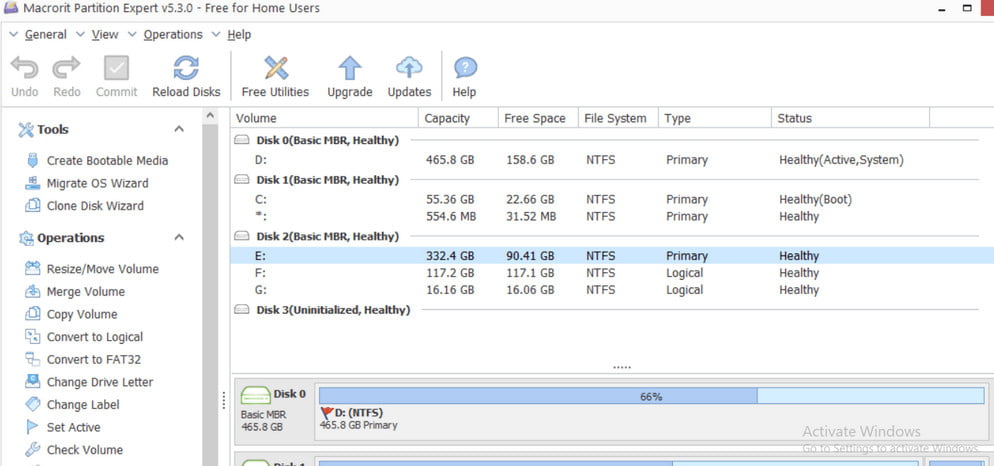 Next up, this program starts from applying changes virtually so that for you to have a preview before the changes are actually done. You just gotta click the 'Commit' button to go through and then if you find it perfect you can stick to it.
Also, this one has the 'power-off protection and data disaster recovery', which eventually prevents any loss of data in case of a power outage during the time you perform functions like merging, copying, creating, resizing, and stuff. Apart from all of its exclusive features, this one lacks something important which is the basic features that are expected from a partition expert and which are found on other soft wares. Also, this one lacks its capability to shift the formats to a different operating system. Now lastly to use a full-featured set of this one you can eventually switch to different options where you find it even worth paying.
7. Active @ Partition Manager
This one is a freeware app with a usable GUI Interface. The use of hard drives and local partitions is completely here with all the basic features of creating files, deleting them, formatting them, and giving it a name and etc. for sure.
A pretty long list of file systems can be organized here including the FAT and NTFS and a lot more.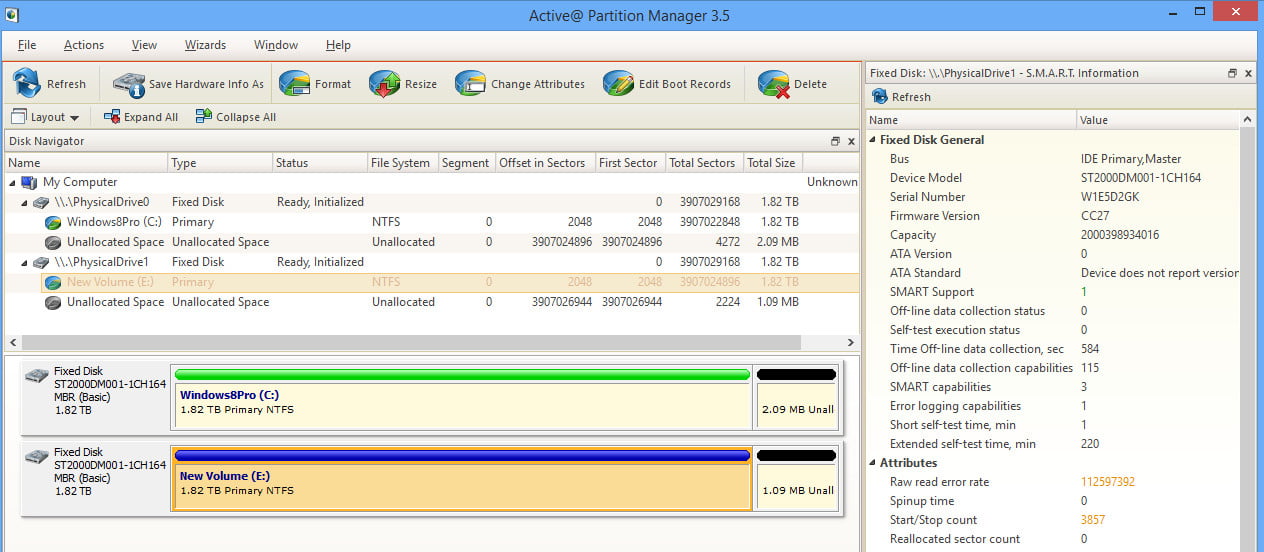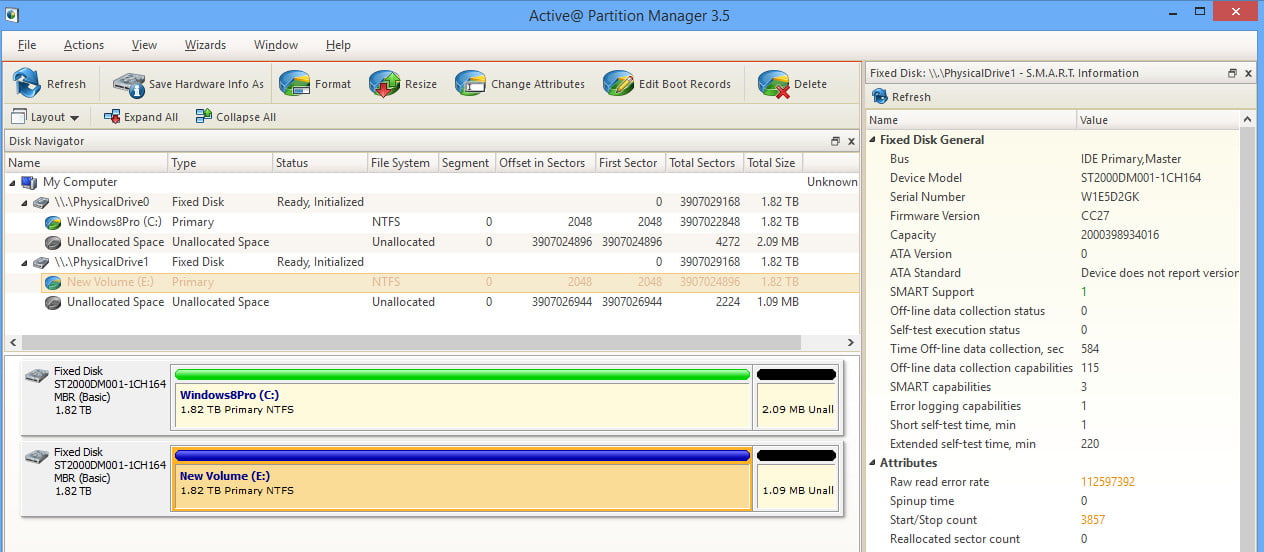 The best part about this one is that you can edit the MBR table while you can also create it from scratch and modify the boot volume. Now moving to windows 10, the MBR partition can be converted to GPT as well, on the UEFI firmware.
Again, if there is any damage to the logical drives or the partition layout then this software can abate the modifications suddenly and restore the device to the initial working state. So, decking up all the points, this one seems a very viable partition software.
8. Windows Disk Management
Now this one deserves a mention in windows partition manager lists because this one is which itself comes with windows. Windows comes with an inbuilt partition manager. Its tool can be accessed by using the 'diskmgmt. msc' command or by searching for 'Disk management' or from the start menu search panel. It gives its users ample of options to manage its hard disk and the partitions that they hold.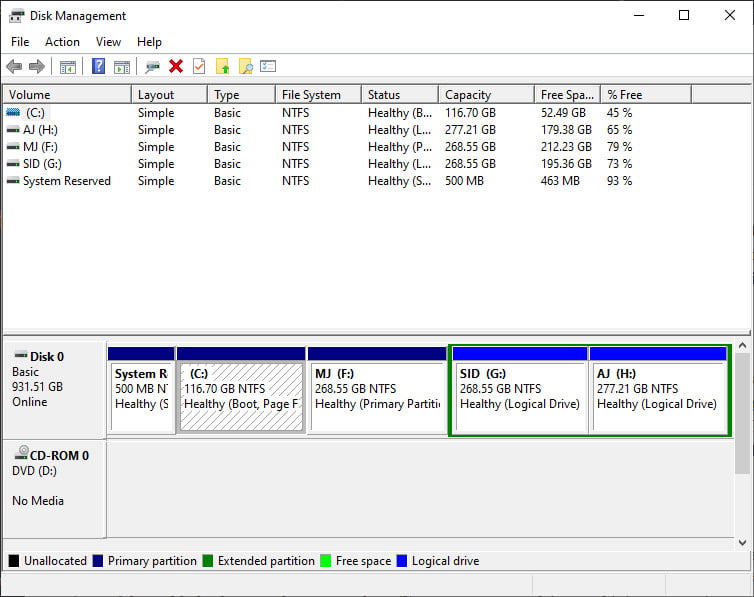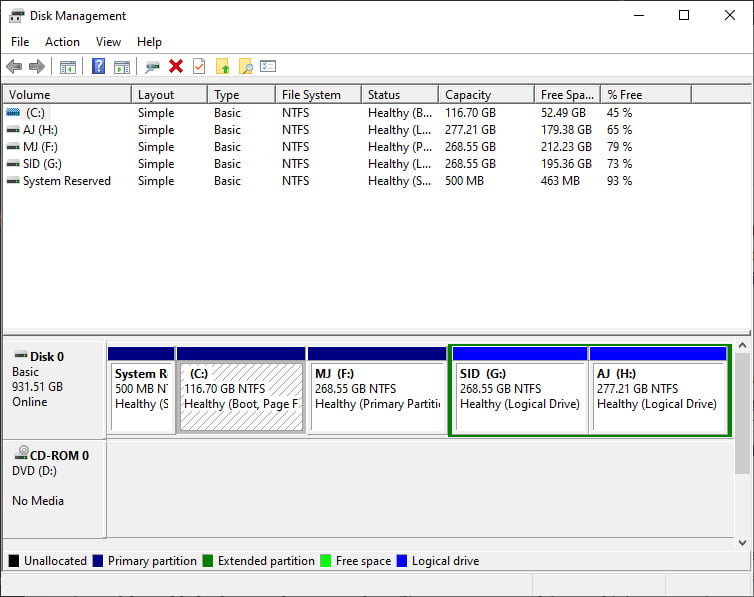 Its users can format disks, assign drive letters, initialize drives with the utility. This program was first introduced in Windows 2000 and is found in all further windows editions till the current one. From the starting where there were minimally featured till now, Microsoft has added new features to its utility over the period of time and now has become a very viable disk management tool.
Now, these ones, not a very widespread program, as the name says cute which basically is its a pretty small program. However, this one is free is not really for one. Its interface is pretty ancient which can be like only booted through a drive. Though the system can be altered, creating a disk partition, deleting drives, and much more.
But you will have to work with a nut shell with just the key board because as mentioned above it is a pretty ancient interface so it does not supports a mouse.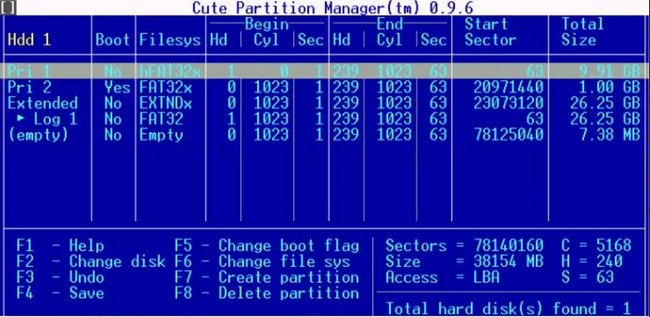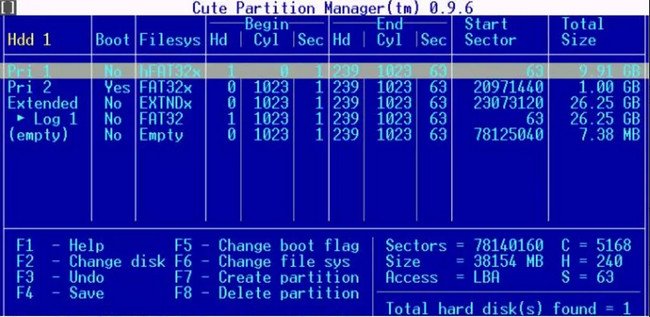 Though in this one also you can manage and convert windows file systems without loss of any data. Sidelining from that usually, partition managers are eventually meant for advanced users so, you can also manually change the boot flag within the master boot record table. It will help you indicate the operating system using which you gotta boot it. Amongst all, this cute partition manager stands for free and powerful software for windows devices and to build the expertise in a bootable program.
10. Acronis Disk Director
This one supports for window XP, Vista,7,8,8.1 and 10. It lays down a range of features exactly like it would be expected from a feature-rich disk management software as its name suggests to be a disk director. Now again there's nothing new but all the similar features of creating, resizing, moving and deleting, etc. But where the best part stands about this dis director is that you can easily shift your data from a hard drive to a solid-state drive by duplicating the disk in the same format and partition scheme.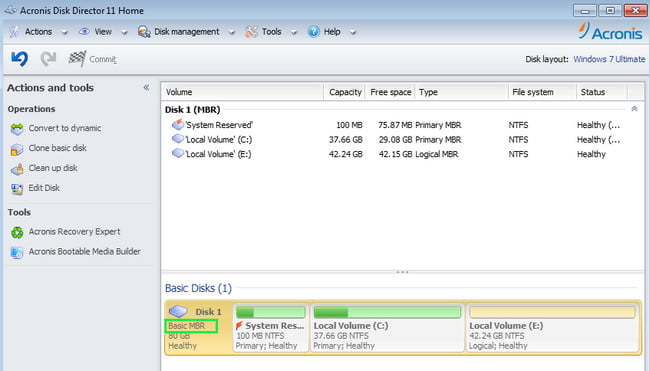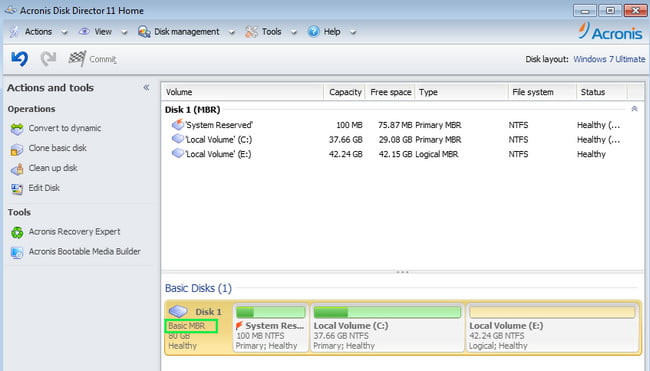 You can also recover your lost or deleted data, in case your device loses data. But this one amongst the odds offers a 30 day trial period which is pretty enough for one to organize and manage the hard drives and disc partitions in all. Its premium version comes up for a fee of $49.99, for a lifetime.
What exactly does "partition manager" mean?
System administrators are granted the ability to create, resize, remove, and edit partitions via the use of a disc partition manager. A partition table records the location of the partition as well as its size.
Where exactly can I look for the partition manager in Windows 10?
To access "Disk Management," either right-click the Start menu or hit the Windows key plus the X key on your keyboard. 2: To launch the Run window, use the hotkey combination Windows+R. After that, press the "Enter" key or click the "OK" button and enter "Diskmgmt.msc."
What are the steps to using the active partition manager?
A Flash memory should be formatted using NTFS. Changes should be made to both the Boot Sector and the Partition Table. Fix the Master Boot Record (GPT) on the damaged drive or initialise a fresh disc using MBR or GPT. Make FAT32 partitions with sizes more than 32 gigabytes each (up to 1Tb).
What exactly is the function of the partition?
Users are given the ability to partition a physical disc into logical pieces via the use of partitions. For instance, the capacity for a single device to support the installation and operation of numerous operating systems.
Related Articles: