Footnotes are considered to be the notes that are given right at the bottom of the page. They mention the source or testimonials of the content. It can also be a comment that you want to add or write down at the end of your page concerning the above text or word.
You can even add a character or a metaphor in between the paragraph and then republish the character below to explain the matter or state your comment straightaway in your footnotes.
For instance, insert a character such as "1" right at the end of your sentence or between of your paragraph whichever you want. And then specify it within the footnote. In such way, you could easily add footnote to make it look easy to understand. You can either add comments to your footnotes.
What are Exactly Footnotes in Word?
Footnotes can be denoted as a symbol or character as stated above. However, the real footnotes are written just below of your page. While a reader encounters the character of a footnote at the end of a sentence of the given content.
Then you may start looking for the explanation of that particular footnote right below the page of your content. You may also start reading the whole paragraph and then may approach the footnotes in word. This looks easier to the reader as the quote or references are explained at the end of the page.
Footnote are written at the end of the relevant page. Footnotes are citation of sources that are written down at the end of the words and that are needed to be referred correctly.
Footnotes are interesting as they are viewed as sources of the context provided. They provide numerous information about a particular word or sentences.
With the help of footnotes, a reader can explore more information such as the origination of the particular word, time, date, meaning and roots of that word. It may also refer to different sources as from where a reader can gather detailed information.
However, that completely depends on you and your guide if whether or not you would like to add footnotes in word or not. You may also look for some citation style to add footnotes in word.
How to Add a Footnote Character in W

ord?
If you want to add a footnote in word then, you simply have to place it down right at the end of a sentence or a particular word. It should be added right after the full stop or wherever the sentence is ending.
Also, to write down footnotes correctly, all you have to do is leave out two gaps after the sentence ends and as you are starting to write a new phrase. 
Apply footnote at the end where it is mandate to add especially when a sentence or word is ending. It should be added right after a full stop, comma, or inverted comma and punctuation mark. Place it at the most related phrase. And suppose the footnote character is placed in between the sentence then leave only a space of one.
How to Add Footnotes and Endnotes in word?
Follow these below steps to make Footnotes and Endnotes in word:
1. Position your pointer using mouse on word to insert footnote or endnote.
2. Go to the navigation bar and select the Reference.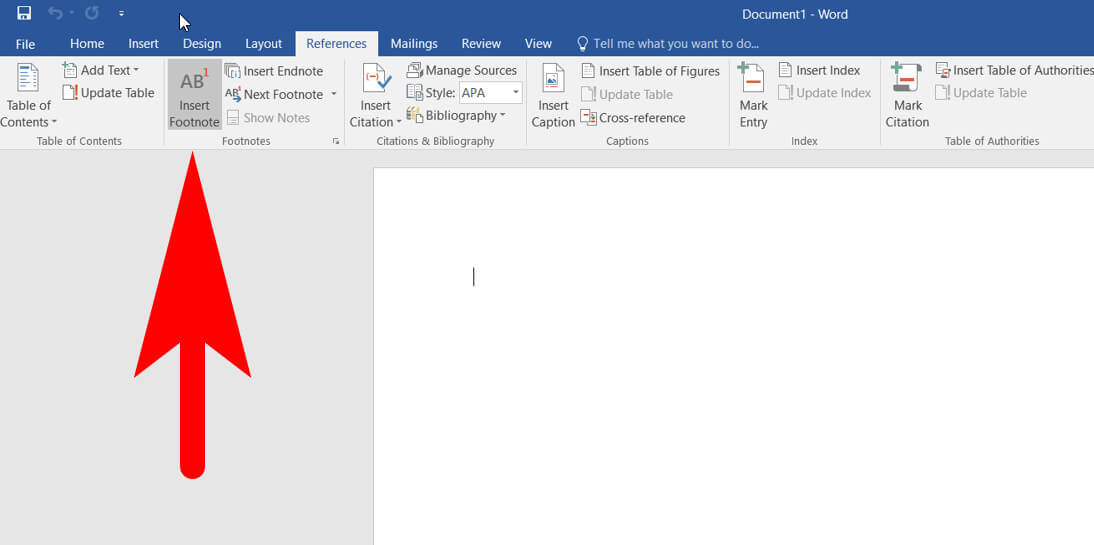 3. Choose either the Footnote or Endnote whichever you want to insert in your document.
Note that a reference/citation number is added within the word and a fresh footnote and endnote is made. You will see that your word cursor is shifted toward the footnote or endnote.  This indeed will allow you to write down your citation in the footnote.
Modify Footnote and Endnote in Word
After you have inserted Footnote or Endnote within your word document, now you can change the style of footnote and endnote in whichever pattern you want.
Follow these below steps to modify your footnote and endnote in your word file:
Select the Footnotes group dialog box launcher given on the References button.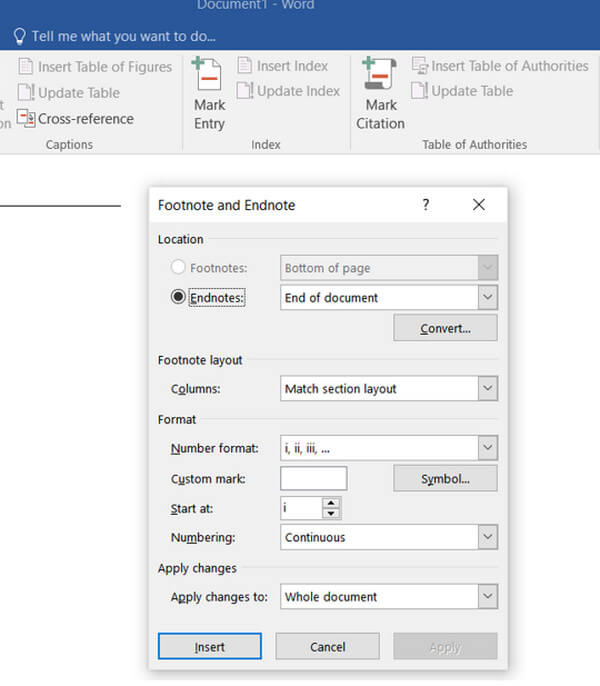 The footnotes and endnotes dialog box offers choices to manage the pattern of your footnotes and endnotes in your word file. For this follow these steps:
Location:

Choose footnotes or endnotes whichever you want and then tap on the Location category arrow and then select where the footnotes and endnotes are placed. You may even tap on the Convert tab to change or modify every footnotes to endnotes or endnotes to footnotes.

Footnote layout:

Choose either footnotes or endnotes to appear within the similar column layout just like body text or behave autonomously.

Structure:

Select a number structure or custom character to figure footnotes or endnotes. Choose an initial number and manage to see if the number are restarting on all page or new segment.

Apply modifications:

Select the preferences and see if the entire document is modified or the changes are observed only the preferred segment.
Alter or modify the choices whichever you want for your footnote or endnote.
Select the Apply button.
What are the dissimilarity of Footnotes as that of Endnotes?
The major and only dissimilarity among Footnotes and Endnotes are that Footnotes are given at the bottom or end of the related page in word. Whereas Endnotes are written at the end of a document or paper.
However, if you want to get attention of your reader toward your comments or citation then prefer adding footnotes. Endnotes are stated at the last page of the document which is less likely to draw reader's attention. Also, it doesn't break the continuation of the passage written.
If the citation referred within the Footnotes are different from Bibliography?
When you prefer a parenthetical style of reference, you are not required to add footnotes. However, you may require to add Bibliography in your document. A "works cited" is a record of every information sourced from and that you have used in your word document. This makes it easier for the reader to read the word document. It also saves the time of the reader spent on viewing the comments and other sources as stated in the footnotes.
What is the feature of a Footnote and Endnotes in word?
Footnotes are notes that are cited at the bottom of your every page. It provides insight of a sentence or a word that is sourced from. It also provides references and comments of a word or phrase used within the page of your document.
Footnotes and Endnotes are usually denoted by a number at the end of the sentences or within a particular word. It is also identified as a reference mark or symbol within a paragraph at the end of a phrase.
Also, word deliberately add numbers as footnote and endnotes symbols or marks as it lets you to add, delete, edit or move notes they gets disappeared.
What is the application of Footnotes?
Footnotes or Endnotes are applied in word file or any document that are to be published so, it is easy and clear to make reader understand using references. It is used to interpret, comment or offer citation for a word or phrase in a document or a printed file.
Some people prefer using footnotes to provide complete information like comments to readers while references or citation of sources for endnotes.
The preferred choices are implemented to either footnotes or endnotes. You can do it in the preferred segment or over the complete word file whichever you want. 
Related Articles: 
How to Change Default Font in Word
Combine Word Documents In MS Word
How to Create Fillable Forms in Word