How to Delete WIN Download Files in Windows 10
Delete win download files in windows 10: In case if you're running with a Windows update issue while download the Windows 10 update files You may think how to delete Win download files in Windows 10 to get started over.
Sometimes due to the weak or unstable internet connection, the Windows update files cannot complete downloaded or some important files fail to download. This can cause a corrupt complete Windows 10 Update.
Windows 10 automatically download and install all the Windows update files unless you disable or switch to manual update feature.
However, you can easily fix this issue and save your internet data without downloading complete Windows 10 Update files again. Because the update files are usually in GB. So if you've limited internet connectivity you can easily delete downloaded Windows 10 Update files that failed to download.
Why Windows 10 Update Files Failed To Download
Technically, there is a certain reason for incomplete Windows 10 update files. It can be caused by an improper shutdown of the computer system, the operating system crashed, power failure due to laptop battery or the PC power cable, or something that goes misplaced with the Registry Editor in Windows 10.
The OS may fail to download Windows updates for several reasons due to malware software and much more. But you can easily fix the issue by deleting the WIN download files that failed to download. And restart the Windows 10 Update downloads.
Troubleshoot To Fix Windows 10 Updates Issues
Follow the below-given step by step instructions for the troubleshooting of the Windows 10 updates issues or error that stoping the download in middle.
1. Press Windows + I keys to open Windows Settings.
2. Go to the Updates & Security window and from the left side panel. Click on Troubleshoot.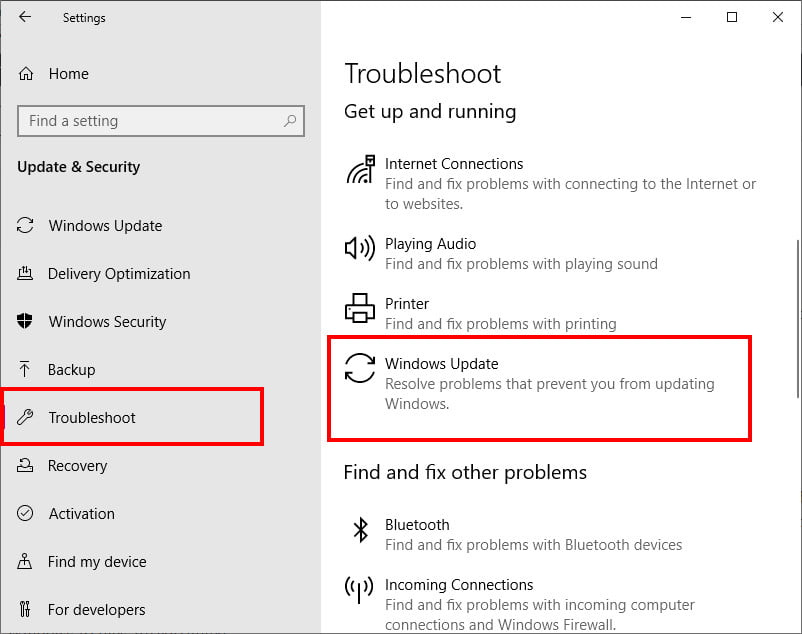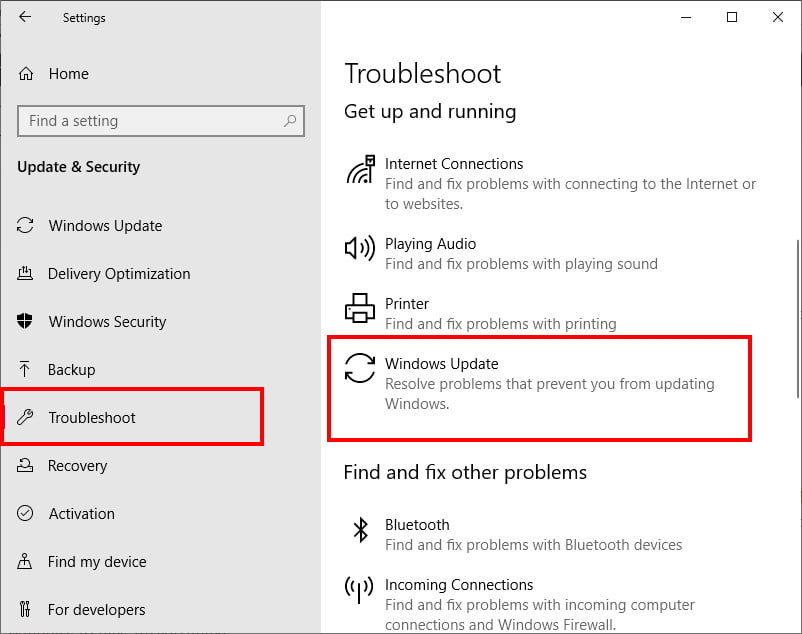 3. Click on the Windows Update > Run the Troubleshooter.
Basically, when you run over the issues while getting Windows 10 updates the troubleshooter features come handy to fix the issues without having a hassle or any technical expert help. You can easily fix the common bugs recommend the troubleshooter for fixing the Windows 10 Update Delete win download files in windows 10
The folder named "SoftwareDisturbiton" contains all the files related to Windows 10 Updates the folder has several larger size files of megabytes. But if you find out this folder has a much larger size that shows some of the Windows 10 files are corrupted to Delete win download files in windows 10.
Delete Downloaded Windows 10 Update Files
Yes, there are two methods to delete WIN downloaded files in Windows 10. You can easily remove the Windows updates files using a step by step process or else you can use a batch file method to remove all the files at once without having a hassle.
First Method:

Delete Downloaded Windows 10 Updates Files Via File Explorer

Follow the step by step instructions given below to remove all the Windows 10 updates files from your computer system using the Windows 10 File Explorer.

1. Press Windows + R to open the RUN dialog box.

2. Type this command line "services.msc" and hit the enter button from the keyboard.

3. Navigate to the Service named "Windows Update". Then click on it and select "stop".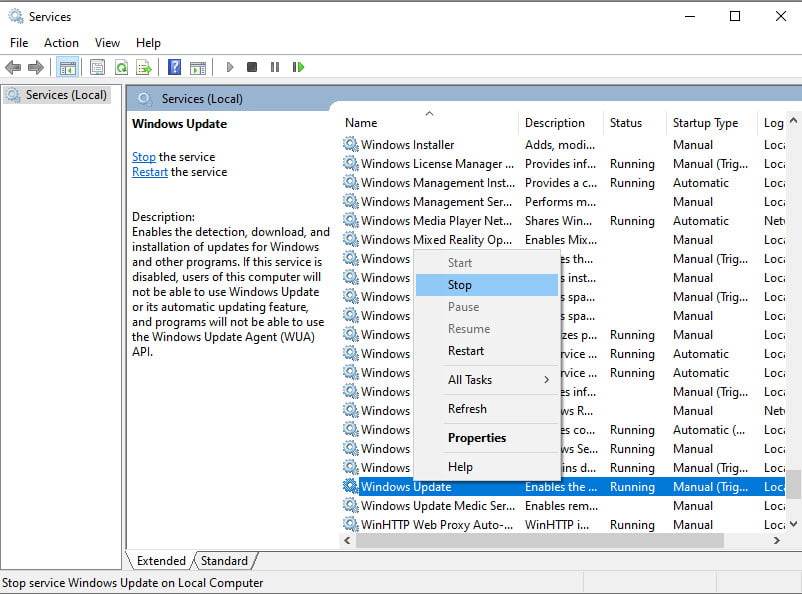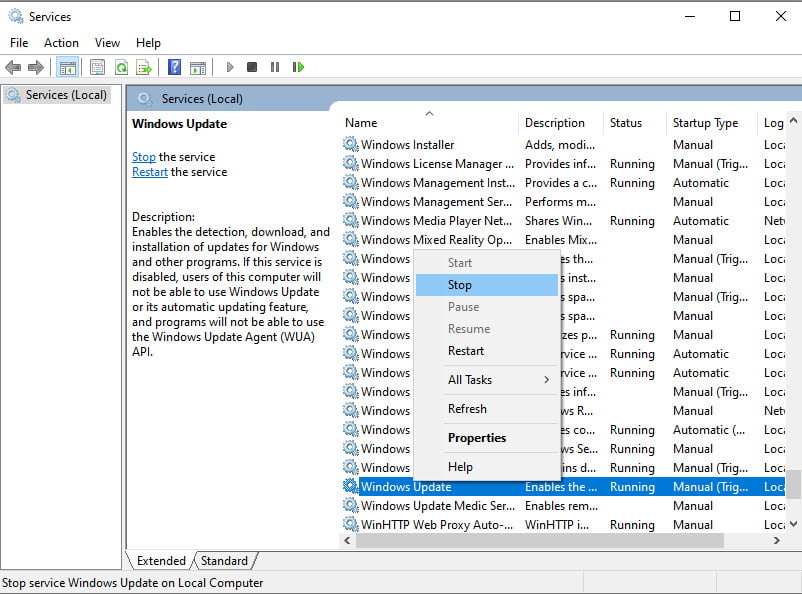 4. Now, Go the File Explorer, Then copy and paste this link into the search bar of file explorer.
C:\WINDOWS\SoftwareDistribution\Download
5. Press CTRL + A to select all the files within the folder and press the "Delete" button.
6. Windows may prompt for administrator privileges to delete files. Enable the option "Do this for all current items" in the dialog and hit on Continue.
Now Restart your computer system and
Second Method:

Delete Windows 10 Update Files Via Batch File

To avoid step by step hassle, you can also remove WIN downloaded files on Windows 10 using a batch file. In this method, you've to create a batch file using notepad and use some codes in the notepad and save the files and then run the file as administrator to delete all the Windows 10 Update Files from the system.

To delete Windows 10 update file with batch file follows.

1. Open the Notepad using Start Menu or the Desktop shortcut.

2. Paste the given following code on the notepad.
net stop wuauserv cd /d %SystemRoot%\SoftwareDistribution del /s /q /f Download net start wuauserv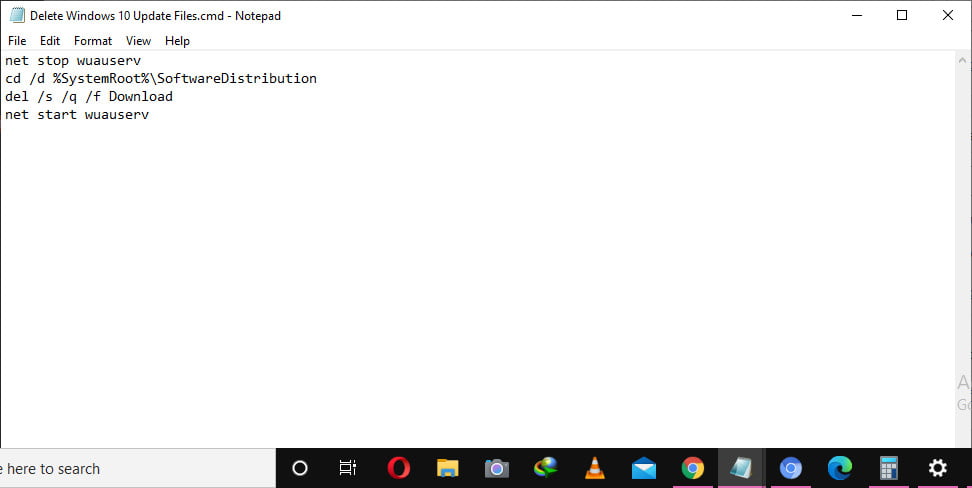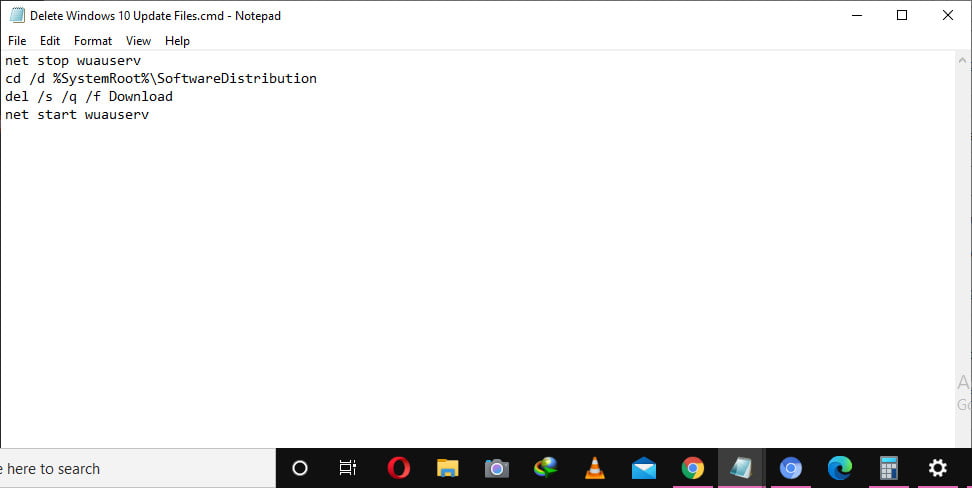 3. Save the File as ".cmd" extension on the desktop as shown in the given screenshot.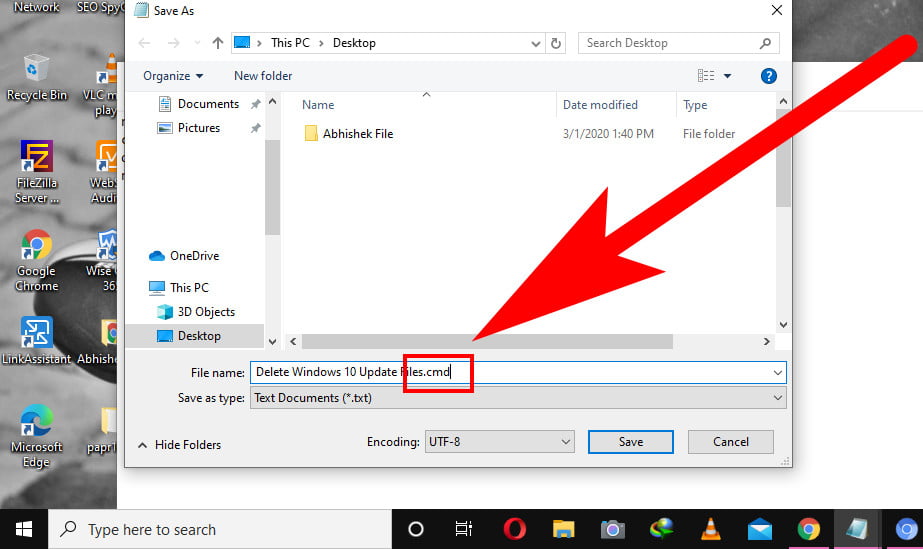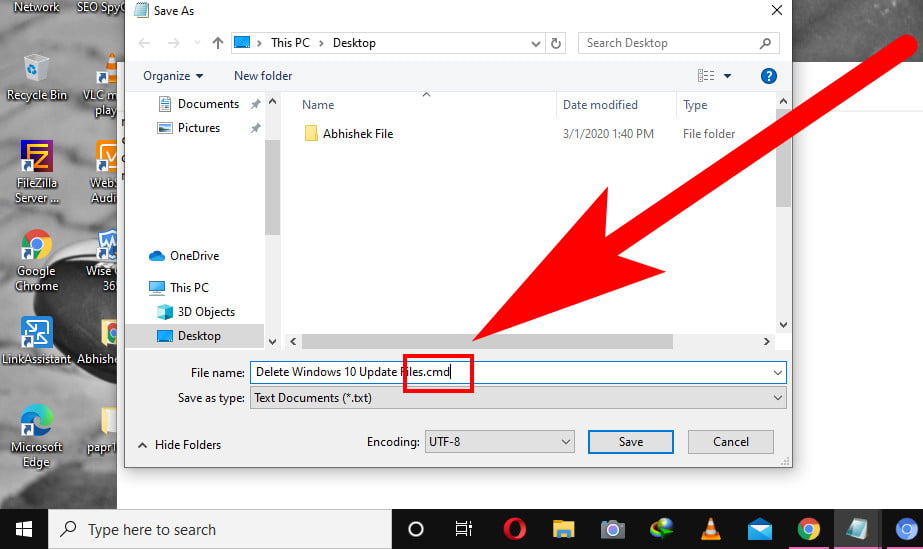 4. Right-Click on the file and select "Run as Administrator."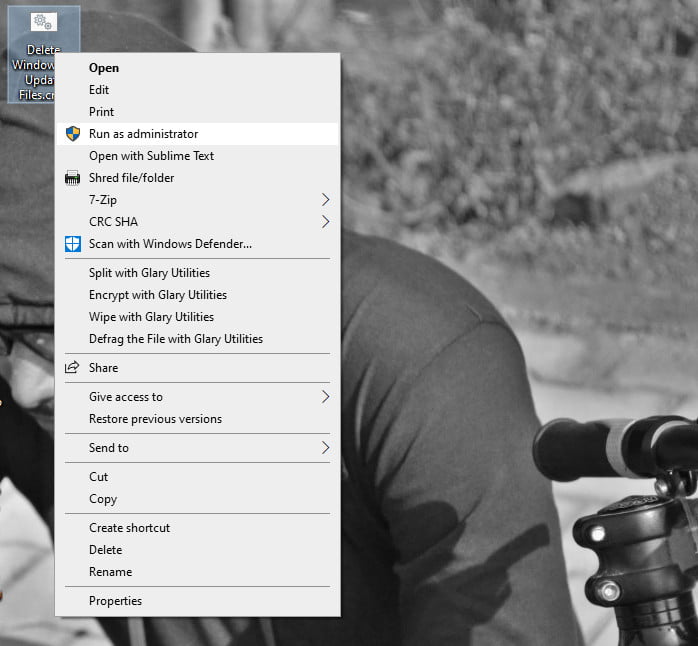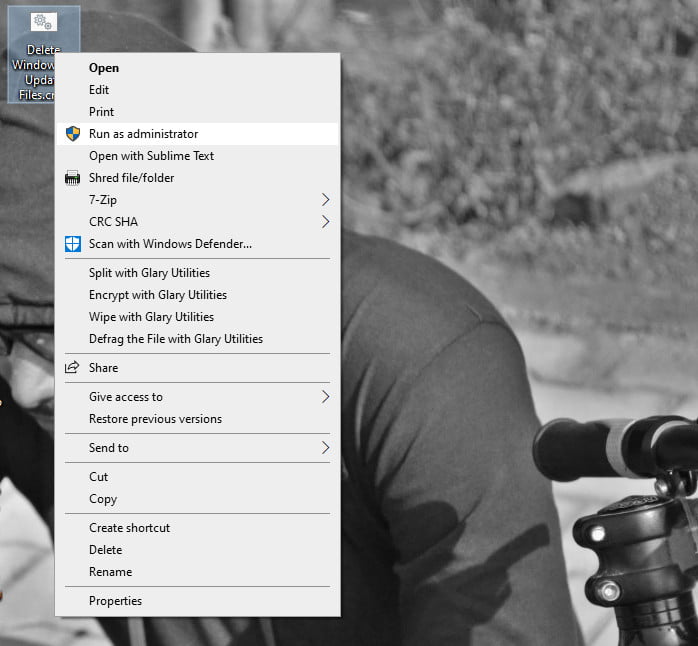 Now restart your PC and check for available Windows 10 updates. Press Windows +I to open Windows Settings then go to Updates & Security and select "Check for updates".
Final Words
Hopefully, you find this article help to know how you can delete WIN downloaded files on your Windows 10 PC without having a hassle. Moreover, you can read more Windows 10 related articles on how-tos visit our homepage to Delete win download files in windows 10.
Is it safe to remove the data downloaded using win?
Because the files have just been downloaded and not installed, you are free to remove them without risking the integrity of any other applications or files that may contain sensitive information pertaining to your firm.
In Windows 10, is it possible to remove files from the download folder?
You have the option of deleting each file separately by hitting the Delete key. Right-clicking on the Downloads area of the page and selecting Clear Downloads from the resulting drop-down menu will erase all of them at once.
Where are the files that you download from Win stored?
The Downloads folder is where all of the files that you have downloaded will be stored automatically. This folder may often be found on the same disc as the Windows operating system (for example, C:\users\your name\downloads). You always have the option to relocate downloads from the Downloads folder to another location on your own computer.
What is the best way to organise my Downloads folder?
Simply use an app called File Manager to go to the location where your downloaded files are stored, then choose the file that you want to remove and click the Delete option. That sums it up well. In most cases, the File Manager app will already be installed on your device. It will have a variety of names, such "Files," "My Files," "File Manager," "File Explorer," and so on.
Related Articles: