Wondering how to change signature in outlook mail well there are some simple to apply methods that you can use in order to change your signature in Outlook permanently with the help of Signatures and Stationary dialogue box on Outlook Mail.
Furthermore, you can also able to change your default signature for a certain email by choosing a different signature from the settings. Outlook allows its users to maintain the several signatures that you can use for different purposes such as business email signature, company signature or a personal signature.
In case, if you're already using the email signature on outlook then you needed to insert a standardized block of text to the bottom of each message, you'll want to customize that text sometimes. Else you wanted to change the existing signature for business or personal purposes then it is an easy task to do.
Here in this article, we will show you how you can easily able to change the default outlook signature into something professional without having a hassle.
What is Email Signature & Why its Use For?
Every time you send an email, having an email signature is like handing someone a business card. You want it to look professional and reflect the personality of your organisation. Would you simply deliver a potential client a scrap of blank paper with your contact information scrawled on it? Certainly not! Email signatures can be a very useful tool that is also very simple to use.
There are several reasons why email signature is important such as Legitimacy and Professionalism, Branding, Brand awareness, Digital Business Card and much more. If you're running a company and want to expand your company awareness then you must use the email signature of your company on each mail message. That represents that you've worked for that company or it is your own company etc.
How To Change Signature on Outlook Mail
Generally, there are two ways to change the email signature on the outlook. In this shot, we are going to show you both the ways from which you can make changes to the outlook mail signature.
Permanently Change Existing Email Signature
If you want permanently change to a signature that you've used until now for all the emails that you've to send and receive. Well, you can easily do that with the help of Signatures and a Stationary dialogue box.
– On OutlookMail.com
Simply, follow the step by step instructions to make changes to the signature.
1. Go to Outlook Mail and login into your account.
2. Tap on the Settings (gear icon) given at the top navigation bar. Then select "Over All Settings."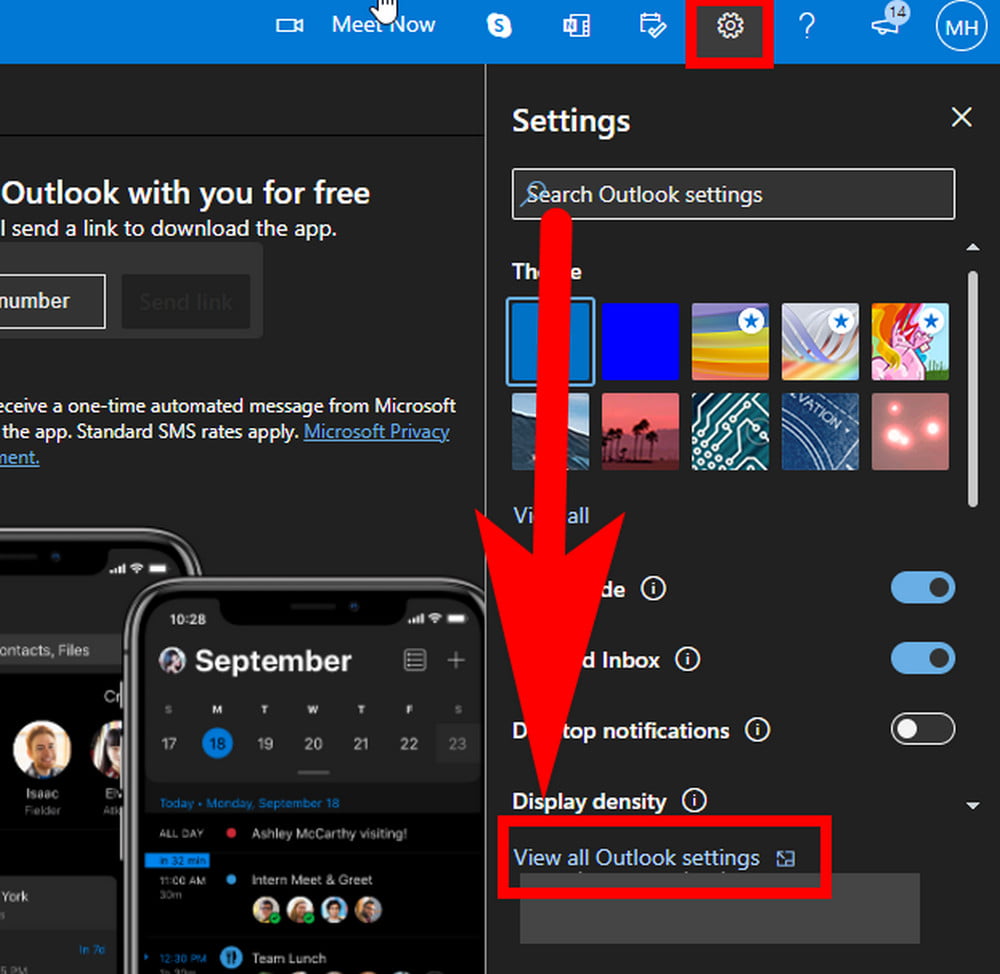 3. Select the "Mail" from the left panel. Then select "Compose and Replay."
4. In the Email Signature section. Delete the existing signature and create a new signature.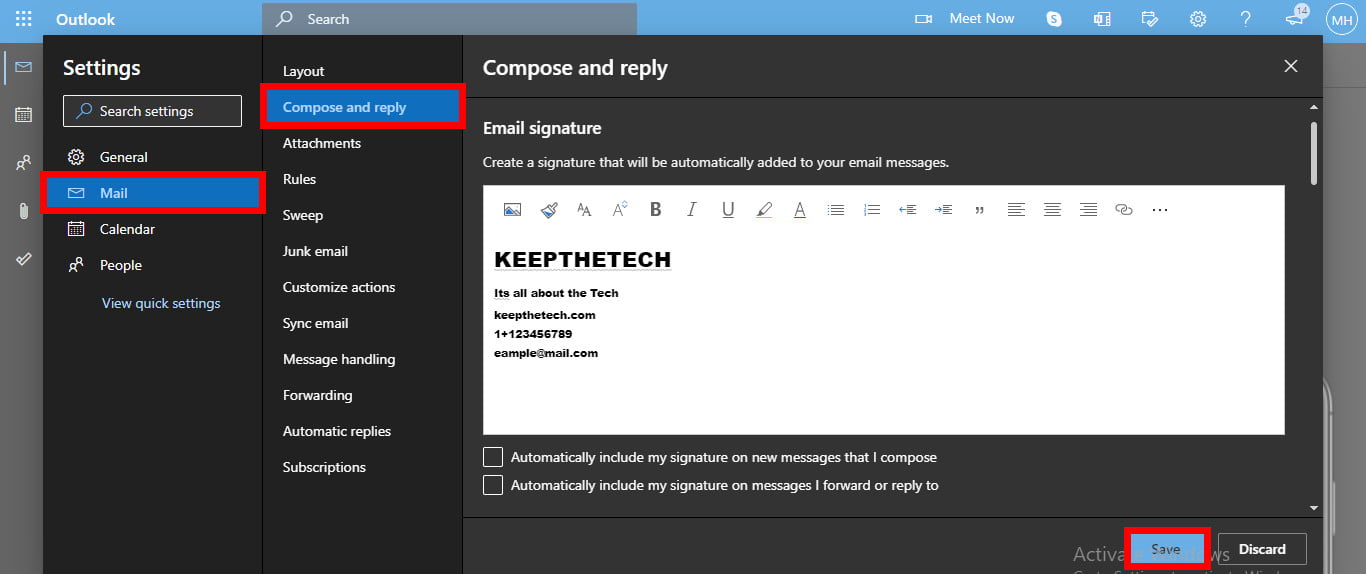 5. Once you're done, hit the "Save" button to save changes.
– Outlook Mail on Windows
Open the Outlook Mail application from the start menu or desktop shortcut.
Go to the Settings from the gear icon given at the left bottom.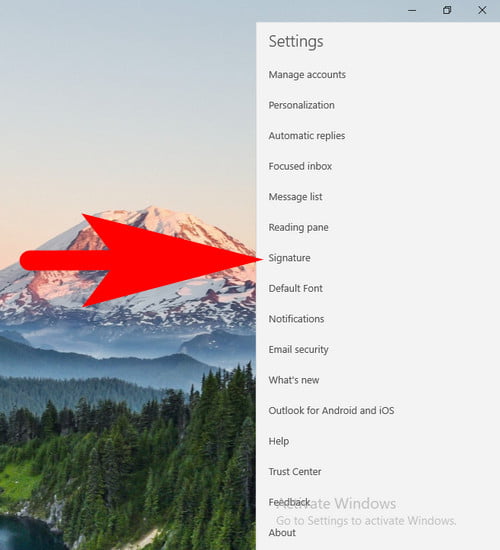 Select the "Signature" from the menu list that appears on the right side of the screen.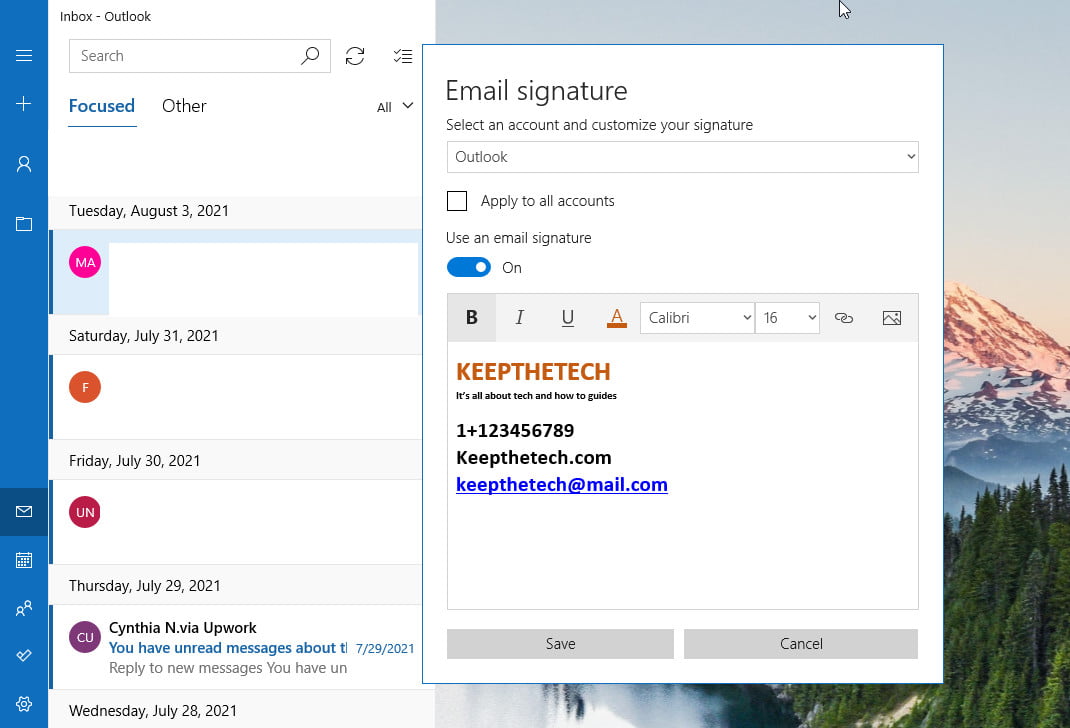 Now, remove the existing signature and create a new signature
Once you're done, hit the save button to save changes.
Swap To Other Email Signature
Outlook allows its users to maintain multiple email signatures, so basically you can easily able to add more than one email signature to your outlook account. This feature can handy when you want to send email messages for different purposes to different people or companies.
For instance, if you want to send the email to your client you can use your personal email signature that represents your identity or can use a business signature when you sending emails for the business collaboration.
Simply, there are two methods to swap email signatures in outlook.
1. Firstly, Compose a new email and go to the ribbon bar and click on Signature and choose the different signature using the drop-down menu. The existing signature will automatically be swapped with the signature that you wanted to use on the email.
2. Secondly, compose a new blank email and directly edit the signature such as change the text of the signature or simply delete it.
Required Details that your Email Signature must-have?
There are some details that you must insert into your email signature that represents your personal or professional identity. In case if you don't what information you're needed to add to your email signature. Then take a look at the below-given guide.
Basic Requirements: 
Name
Position
Phone number
Email
Website
Logo
Optional Insertions:
Images
Smaller icons or links
Legal disclaimer
FAQ: Frequently Asked Questions
These are some of the frequently asked questions related to the Outlook email signature with complete explanation by our team.
 1. How do I change my signature in Outlook on my iPhone?
To change the signature in outlook on iPhone you needed to download its app first in case if you don't already install it. Go to the Outlook app and tap on the profile icon given in the upper left corner. After that select the Settings and then scroll to the Mails. After this tap on the Signature and delete the existing signature and enter the desired signature.
2. How do I make a cool email signature?
There are some elements that you can use in your email signature to make it more official or cool. These elements include Your full name, Job title, phone number, website URL, social media icons, animated GIF, Lets Meetup (Zoom) icon, Instagram gallery and much more.
Using email signature on the email message is an important part of the official communication with clients, employees along business purposes. Most of the time, when you switch the company in which your previous work then you also need to make changes to the email signature.
Alright, this is the end of this short guide, hopefully, you find this article inserting and informative. In case if you've any quires related to the Windows, Android, iOS, Online Stuff or technical process then feel free to contact us. We try our best to respond as soon as possible.
Related Articles: 
How to Archive Emails in Outlook In 5 Steps 
How to Recall an Email in Outlook – Step by Step Guide