This is an step by step guide based on how to enable remote desktop windows 11,10 and 8 without having a hassle.
What is Remote Desktop?
In simple words, the Remote Desktop Protocol (RDP) is an program or features that allows users to easily connect to the another computer from another location. In Microsoft Windows the remote desktop or remote access comes with the pre-install apps and you only need to enable or disable it when you want to connect to another computer.
The Windows Remote Assistance is allowed through Windows secure firewall so that it can connect with other computer users. Remote access is helpful in a lot of fields but mainly it's used for setting up SSL certified and communicating with other computer users to set up a server.
Microsoft gives complete control in remote access to the local server in personal computers. When you going to enable remote access you can select if you want the connections from any version of the computer which is less secure and you can also add some selected users to access your computer remote desktop by adding the lists of trusted users.
There are also some risks in enabling remote access such as each time you open a port or allow a program to communicate through a windows firewall, your computer becomes a bit less secure The more allowed programs or open ports your firewall has, the more opportunities there are for people Access your files, or use your computer to spread malicious software to others.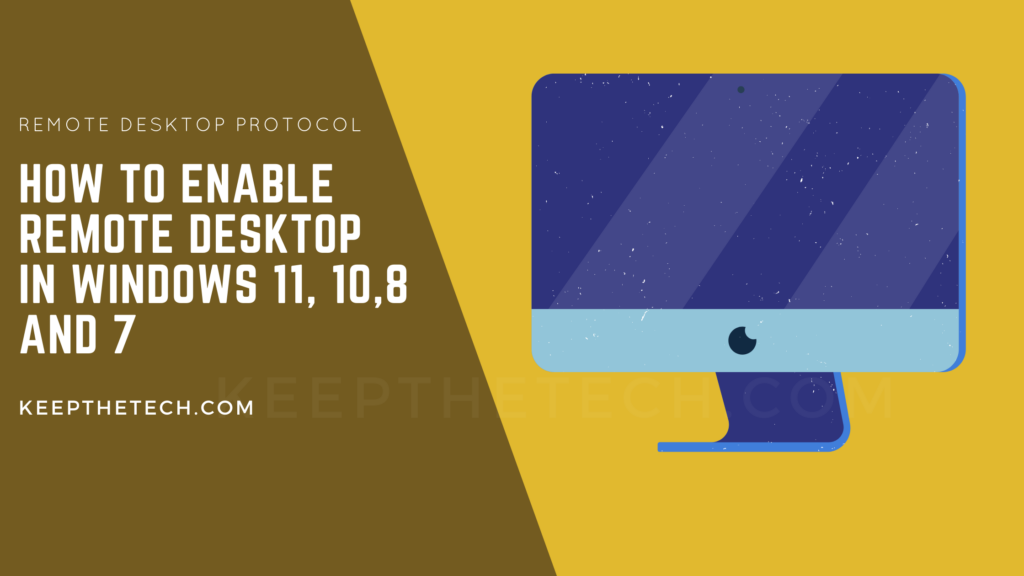 Enable Remote Desktop In Windows 11,10,8,7
To connect with another computer you need enable the remote desktop program on Windows PC or laptop. Here in this short guide we are going to show you how you can easily enable or disable the remote desktop feature on different verison of Windows operating systems without having a hassle.
Follow the below given step by step instructions in order to know how you can enable remote desktop on Windows 11, 10, 8 and 7. Moreover in this article we are going to cover the topic using the Windows 11 but you can simply follow these steps on older version of Windows operating system in order to enable remote desktop feature.
Generally, there are multiple ways to enable remote desktop on Windows and in this guide we are covering all the methods from which users can enable remote desktop.
Enable Remote Desktop Using Settings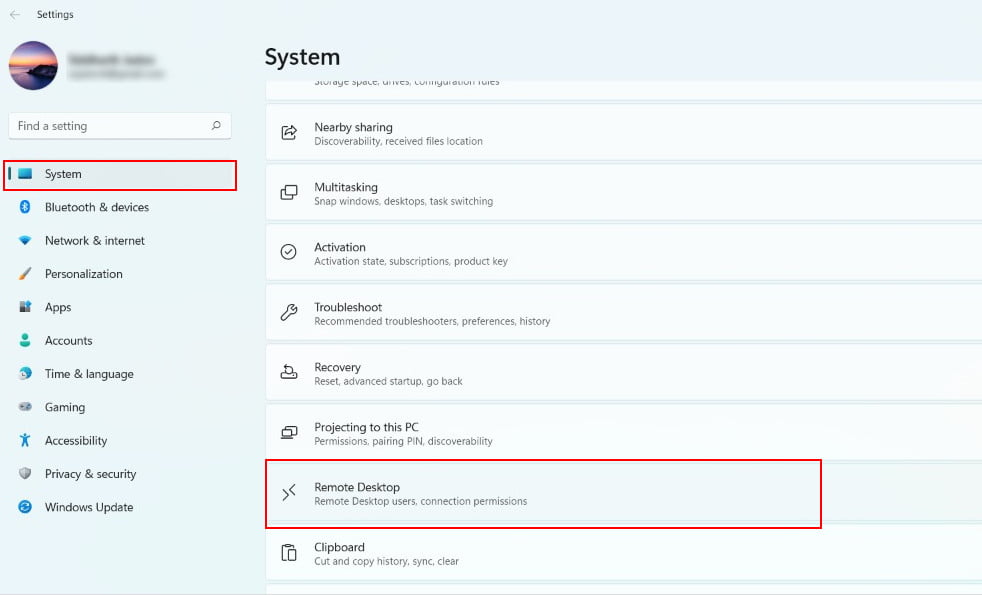 Press the Windows + I keys together to open Settings and then go to System form the given options.
Now scroll down the System window and from leftside bar select "Remote Desktop."
Under the Enable Remote Desktop section simple troggle to turn it "On" or "Off. Choose the Confirm in the popup window.
Enable Remote Desktop Using System Properties
The Windows user can also enable Remote Desktop using the System properties, Follow the below given step by step instructions in order to enable remote access in windows with system properties.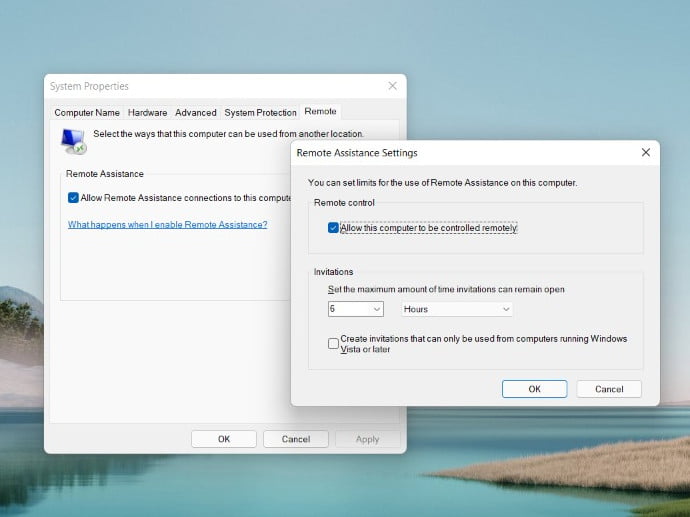 Go to the Search Bar given next to the Start Menu and type "View Advanced System Settings" and open it.
In System Properties window, Go to the Remote tab and simply choose Allow remote connections to this computer given under the remote desktop section. Make sure you check the box of Network Level Authentication for better network security during remote connection.
Hit the OK button to save changes.
Use Remote Desktop App To Connect To Another PC
As we said earlier there are multiple ways to remotely connect your computer with another on Windows. This is an third method in which you can use Remote Dekstop Universal App to establish remote connection with two computers.
Follow the below given step by step instructions in order to know how to use Remote Dekstop App on Windows 11 and Windows 10.

Go to the Start Menu and open Microsoft Store. After that search for Remote Dekstop App and hit "Get" button to install it.
Once the Remote Desktop App installed, open it using the dekstop icon or Start Menu.
Now, type the name of the computer or device (host name / IP address) and choose "Connect" button.
Enter the username and password used for the PC to make connection. Make sure you check the box of remember password to avoid entering login details again.
The security message will be pop-up, select "Connect Anyway" and check the box for not remind me again.
Use Third-Party Utilty To Enable Remote Desktop Connection
You can also use third-party apps in order to enable remote desktop connection with other computer. There are some best remote desktop application were available on web for free of cost that you can use without having a hassle.
List of Thrid-Party Remote Access Application for Windows.
TeamViewer
Join.Me
Chrome Remote Desktop
Here in this guide, will show you how you can use TeamViewer program to make remote access to other computer or laptop in no time.
Follow the below given step by step instructions in order to know how to use Teamviewer for remote connection between two PC's or laptops.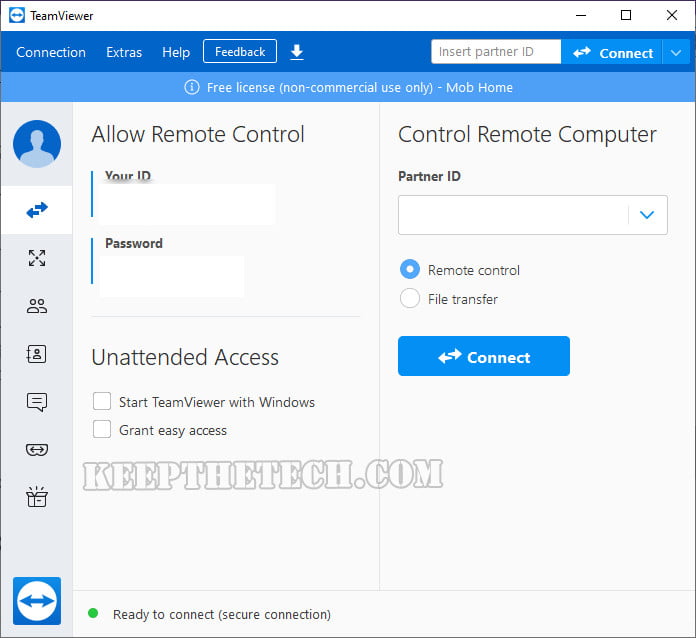 First of all you need to download TeamViewer app from its offical website for both the computers.
Once the TeamViewer is downloaded you need to install it into both computer system
Launch the TeamViewer application from the Start Menu or desktop icon on both PC's.
Now, enter the Partner ID and password shows from one Teamviewer app to another.
Enjoy remote connection.
Tip: Make to use Teamviewer app your computer must be connected to the stable internet connection to avoid connection drop issues.
Boost Your Network Secuity When You're Connected Remotely To Another PC
When you enable remote access to your computer then your computer was an open book for computer geeks to steal personal information with some passwords.
You can protect your computer from malicious threats to use one of those openings to spread a worm. To decrease the risk of a data breach from your computer you have to do given below two things
Only allow a program or open a port when you really need to, and remove programs from the list of allowed programs or close ports that you no longer need.
Never allow a program that you don't recognize to communicate through the firewall.
FAQ: Frequently Asked Questions
These are some of the commonly asked questions related to the Remote Desktop on Windows with complete information
How do I remotely access another computer Windows 10?
Yes, you can easily able to remotely connected your computer to another computer running on Windows 10 operating system. Well in Windows 10 there are multiple ways to make remote connection to other PC or laptop. Well the most easily method is Go to the Settings > System > Remote Desktop > Turn on.
How can I control someone else's computer from mine?
To control someone else's computer from your computer you need to make an remote connection using the Remote Desktop program. You need to download remote access tool such as Teamviewer. Download and install the Teamviewer on both computer. Launch the Teamviewer on both devices and enter the Partner ID and Password from one to another to make remote connection.
Can someone access my computer remotely without me knowing?
Someone can gain access to your computer without your permission in two ways. When you are not present, either a family member or a coworker physically logs in to your computer or phone, or someone remotely logs in to your computer.
how to tell if someone is viewing your computer remotely?
There is an simple process you need to follow in order to know if someone is viewing your computer remotely. First of you need to disconnected your computer from Internet. Secondly check the recent access file from the Qucik Access panel. Thirdly, Check your web browser history along with downloads and last check your Windows Firewall along with Task Manager for third-party application that may running on background of your computer.
This is end of this short guide, hopefully you find it helpful.
Conclusion
If you want to enable remote programs in your personal computer or local service I recommend you to use the best network security provider Antivirus and Always tuned on network firewalls.
which reduces the risk of data beach attacks. If you enabling Remote access for generating CSR certificate for SSL overload then in this case don't allow other computers to connect your local server.
Related Articles:
How To Edit Host File in Windows 10 and Windows 11
How To Create & Run PowerShell Script On Windows 10
Dedicated vs Integrated Graphics Card: Which is best for you?
10 Ways To Find and Fix Windows Stop Code Errors 
7 Ways To Fix Bad System Config Info StopCode Error
7 Signs You Need to Upgrade Your Graphics Card
5 Ways to Detect if Your Laptop Hard Drive is SSD or HDD