How To Upload Saved Photos and Videos On Snapchat – [2022 Updated]
This is a comprehensive guide based on how to add a photo to Snapchat story from your mobile phone.
What is Snapchat?
Snapchat is a social networking application similar to Instagram. On Snapchat, you can create your account with help of your phone number and add your contacts as friends on the Snapchat account, and share photos and videos with your friends using the Snapchat story feature.
It was released on 8 July 2011 by an American multimedia company called Snap Inc. The application is currently in 37 languages for Android and iOS devices. You can easily download Snapchat from Google Play Store if you're using an android phone and if you're using iPhone then you can download it from Apple Store.
How To Add Camera Roll To Snapchat Story
You can easily upload a camera roll to Snapchat stories from your Android or iPhone without having a hassle. In this short guide, we will go on to take through a step-by-step process of uploading photos and videos to Snapchat stories within a minute using your cell phone.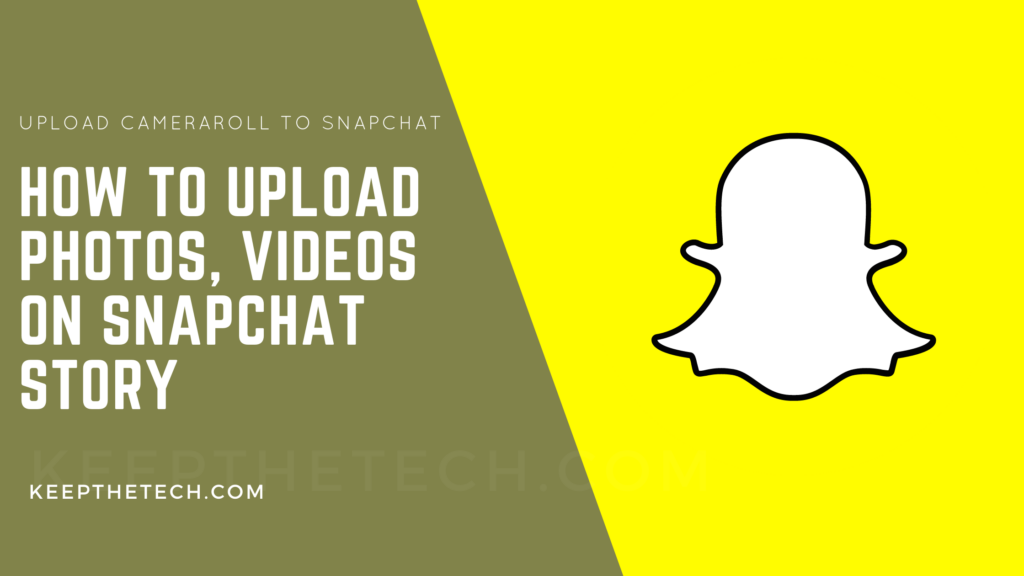 Follow the below-given step-by-step instructions in order to know how you can upload pics on your Snapchat account without a hassle.
1. Pick up your Device and launch the Snapchat application.
2. Once the Snapchat app is fully accessible you will see the One Round Circle button in order to capture the current snap. Next to the button, you'll see the photos icon tap on it.
3.Snapchat Memories section open. Now switch the tab to Camera Roll.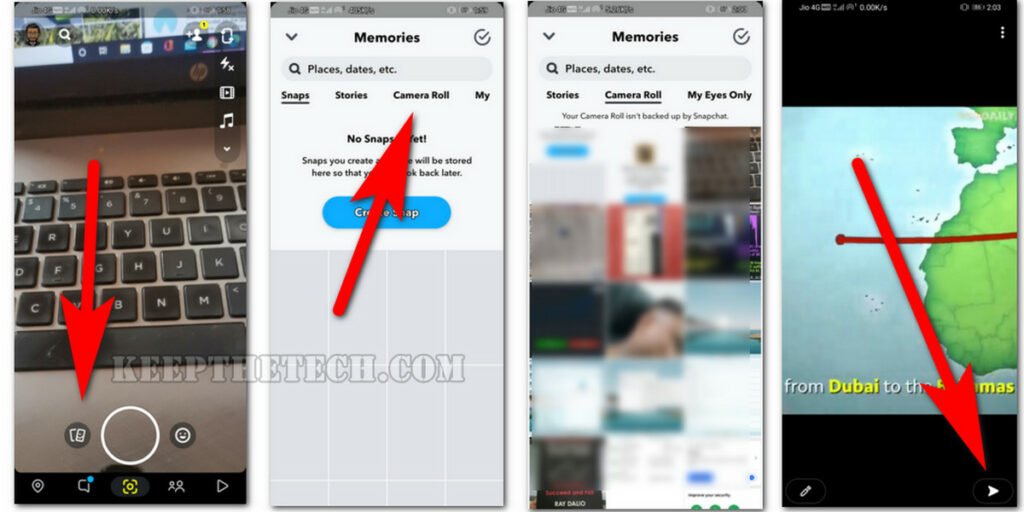 4.Select the Photo or Video that you want to upload on your Snap Story
5.Hit the "Arrow" button given at the right bottom of the screen to upload the snap.
By following the given five steps you can easily able to upload camera roll photos and videos on your Snapchat story.
How To Open Snapchat Memories
In order to open the Snapchat Memories, you need to follow the below-given step-by-step instructions. With the help of Snapchat Memories, you can perform both tasks Save Snap and upload videos and photos to Snapchat.
1.Launch the Snapchat application.
2. Tap on the double photos icon given next to the big circle button.
3. The Snapchat Memories tab will open you can easily save recent capture snaps or else upload the photos or video to your Snapchat story from the Camera roll section.
How To Edit Photo or Video Before Uploading on Snapchat Story
We all love to edit our photos and video before posting them online. If you using Snapchat you can also edit your camera roll photos or videos before uploading them on Snapchat Story.
1.Launch the Snapchat on your Phone.
2.Tap on the double photos icon given next to the big circle button.
3.In Snapchat memories panel go to the Camera Roll and select the photo or video that you want to upload on your Snapchat story.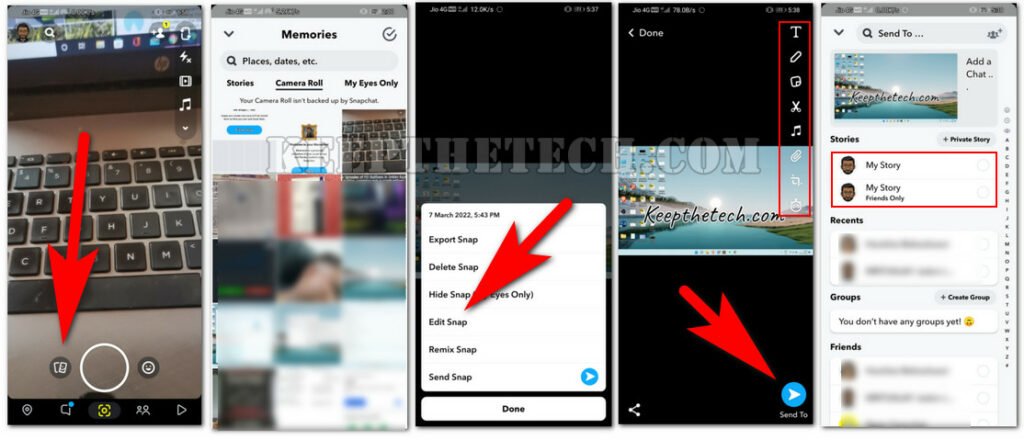 4.Now, Tap on the (…) three icon given at the right top screen.
5. Simply edit the image using the provided tools.
6. Once you've complete the edit, hit the "Send To" button.
7. In last, select "My Storty" in order to upload the video or photo to your Snap Stories.
FAQ: Frequently Asked Questions
These are some of the commonly asked questions related to the Snapchat loading image with complete information.
How do you see your camera roll on Snapchat?
In order to view your Camera Roll Photos and Videos on Snapchat. Follow these steps, Launch the Snapchat app, then tap on double images icon given next to the big round circle button. This will open Snapchat Memories section now switch to Camera Roll panel. Now you can easily access all your Camera Roll photos and videos. Select the photo from camera roll and hit the send to button and then choose "My Story" to upload it to your Snapchat Story.
Why can't I see my camera roll on Snapchat?
Simply go to your "Settings" menu, select "Privacy," then "Photos," and turn Snapchat on. Open the Photos app and choose a photo from your Camera Roll or other photo albums to upload. Then, at the bottom of the screen, tap the Share icon. Make sure Snapchat is turned on.
How do you delete your camera roll on Snapchat?
In order to delete your Camera Roll photos or videos on Snapchat you need to follow these steps. First of all, Tap on Double Image icon given next round circle button that we use to take photos on Snapchat. This will open the Memories section, For more options, tap and hold the snap or storey. To delete a snap or a storey, tap Delete Snap or Delete Story. To confirm, tap Delete once more.
Where Photos are saved in Snapchat?
Swipe up from the camera screen to access Memories. Individual stored Snaps will be represented by rectangles, whereas saved Stories will be represented by circles. Search for certain Snaps by scrolling through all of your saved articles or using the search option.
This is the end of this short guide, hopefully, you find it helpful.
Related Articles:
Fix Tap To Load Problem on Snapchat
Snapchat Not Working or Loading Snaps
300+ Funny Private Story Names For Snapchat
How To Make a Group on Snapchat
What Does SB Mean in Snapchat – Explained
How To Know If Someone Blocked You On Snapchat
10 Free Video Chat With Strangers Apps