5 Ways To Fix Tap To Load Problem on Snapchat
Tap to load Snapchat issue is resolved. Here in this article, we have explained what you need to do in order to get rid of the issue on the Snapchat app.
Snapchat is one of the most popular social media platform applications to keep in touch with our friends and family members. The app has multiple features such as a quick UI addon on featured laden application.
However recently lots of users of Snapchat are facing an issue sometimes we have to tap to chat to have it load properly.
Well, this is a way to annoying because we usually just want to tap the snap to view not wait for them to load properly. We don't worry in this short guide we are going to cover the fixes that you can easily apply for a tap to load errors on Snapchat without having a hassle.
What Are The Main Cause of "Tap To Load" Problem?
Snapchat has by default an auto-downloading snaps feature when the snap is received on your Snapchat account. To view them you simply needed to click on them.
But recently N numbers of Snapchat users are complaining that their snap is not auto-downloading. This means they needed to download the snaps manually which is way too annoying and time-consuming.
There are some issues that may cause this problem that may be related to the network connectivity on the front hand. However, if you have a stable internet connection then you needed to apply the below-given fixes to get rid of the issue without having a hassle.
Fixes For "Tap To Load" Issue on Snapchat
Here are some of the possible fixes that you can apply to get rid of the tap to load problem on Snapchat. You needed to try all the fixes and one of them will make the magic for you.
Restart The Snapchat App
This is one of the initial steps that you needed to take whenever you're performing the troubleshoot for an application. Because sometimes due to some common issue or a temporary bug or file the application stop functioning properly.
To quickly get rid of the problem you needed to close the Snapchat application properly and optimize your android smartphone to clear all the temporary files. After this restart the Snapchat application and try to view your Snaps. In case if the problem is gone for good then you don't apply the below-given fixes.
Disable Optimization on Snapchat
Nearly all Android devices have options to optimize the application on the system to reduce application lagging and data usage. Mainly this feature puts the application into sleep mode to free up the OS memory to run the system smoothly.
But most of the tech expert says the optimizing applications do not get access to the data (It's not really confirmed). So in order for Snapchat to access the auto-download snaps, you needed to disable the optimization feature for the Snapchat app on your smartphone.
Go to Settings > Apps > Snapchat > Battery > Optimize battery usage to disable Snapchat optimization.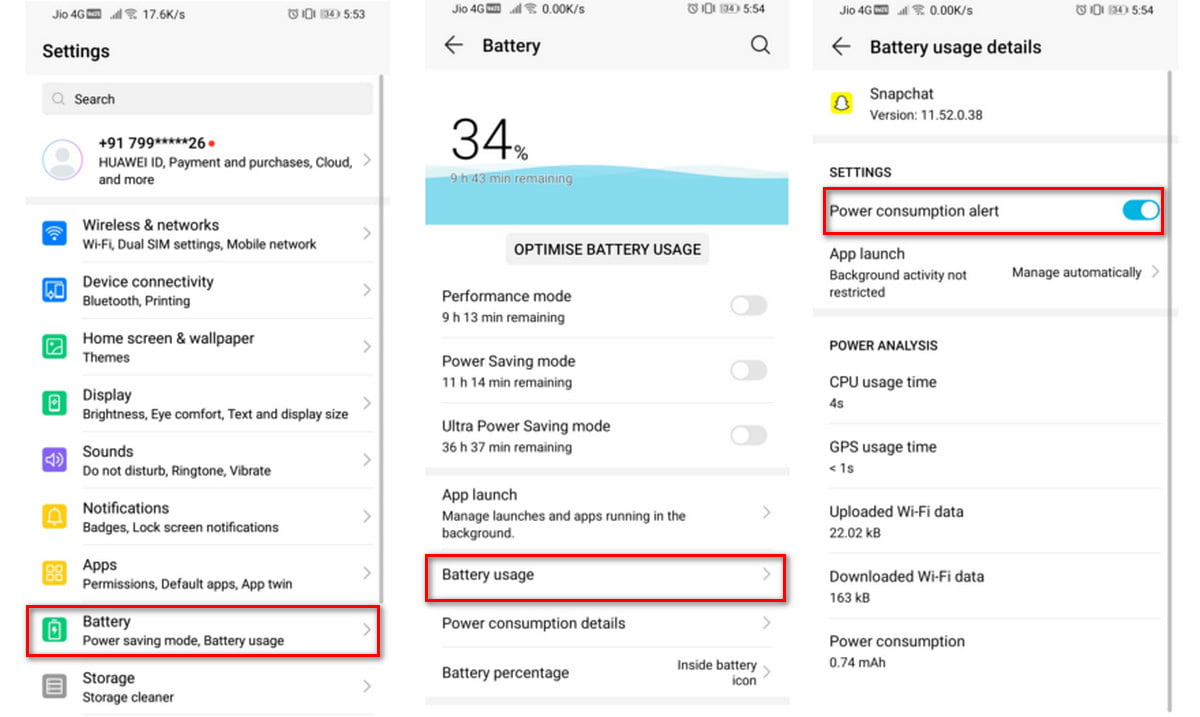 Here you needed to choose "All" from the dropdown menu then simply locate the Snapchat application.
After this simply toggled the slider off to stop the smartphone from optimizing the app.
Turn off Data Saver on Smartphone
If you've turned on the data saver function on your smartphone then this could cause all the background applications to have limited access to the data. Similar to the above-given scenario, Which could result in Snapchat not being able to auto-download the snaps in the background process.
Steps to turn off the data saver on your smart device, Go to the smartphone Settings > Connection > Data Usage > Data Saver.
Tip: Android 10 has an option that allows an application to get data even the data saver mode is enabled. To enable this function. Go to the Settings > Apps > Snapchat > Mobile Data > Allow App with Data Saver On.
Clear Snapchat App Cache
Due to the some of the application cache files can be an issue for the tap to load problem. The cache file is a temporary file that is saved on your phone's internal memory and can load small features faster for the particular application.
But sometimes due to corrupted cache files the application face some errors.
This may also be a reason for the tap to load issue on Snapchat and you can easily fix this by simply clearly the Snapchat cache files.
Here to clear the cache files on the Snapchat application. Go to the Settings of your Phone > Apps > Snapchat > Clear Cache.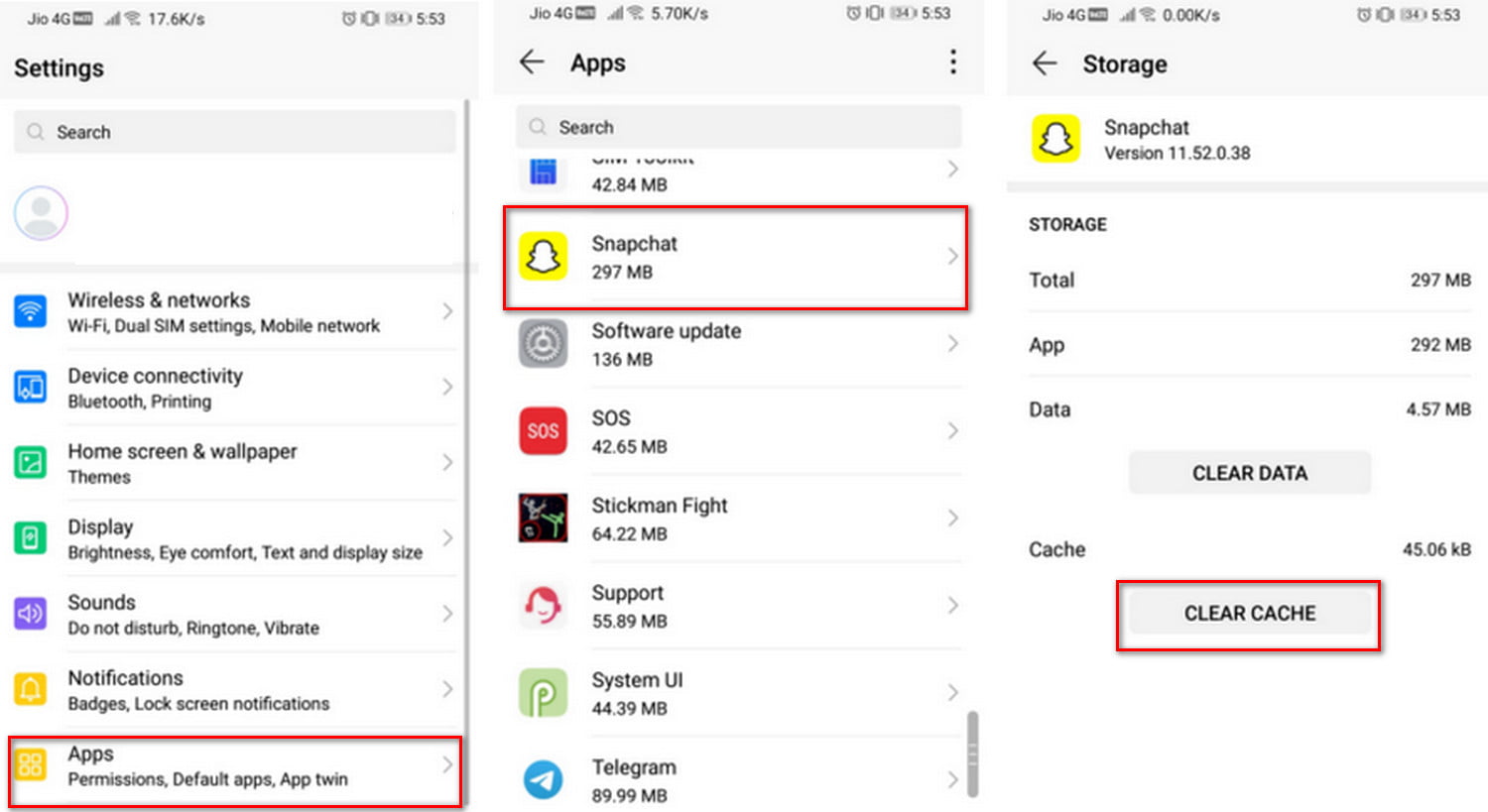 FAQ: Frequently Asked Questions
These are some of the frequently asked questions related to the Tap To Load Snapchat issue with complete information.
How do you fix a tap to load?
In order to fix the tap to load issue simply restart the device or the application that causing the issue. Such as if you're facing a Tap to load issue on Snapchat restart it and optimize the phone. This is will easily fix the issue in no time.
How do you fix the tap to load glitch on Snapchat?
Allowing a background app to use data even when in data saver mode is an option in Android 10. Go to your device's settings to enable this option. Settings > Apps > Snapchat > Mobile data > Allow app with Data saver turned on We hope these methods assisted you in resolving the Snapchat 'tap to load' issue.
Why do saved snaps fail to load?
Try rebooting your phone or force-closing the app. You might also try emptying the Snapchat app cache to force it to retrieve your Snaps once more. In the worst-case situation, clearing your chat will allow you to load stuck Snaps.
Why won't my Snapchat load any snaps?
If Snapchat is up and running, but it still isn't working for you, close and re-open the app. If the problems persist, try logging out and back in to your account. This will resynchronize your local snaps with the server and may resolve the issue.
How do I fix the Snapchat streak glitch?
Navigate to Snapchat Support. You'll see a list of potential issues; click on My Snapstreaks have vanished. A contact form will appear beneath the information about Streaks. This will necessitate basic account information (username, email address, mobile phone number, and device) as well as facts about the Streak.
This is the end of this short guide.
Hopefully, this short guide helps you to get rid of the tap to load on Snapchat. Well in case you've any other questions or issues related to Snapchat then feel free to ask us through the comment box and don't forget to share your opinions on this guide.
Related Articles:
6 Fixes For Snapchat Not Working or Loading Snaps
300+ Funny Private Story Names For Snapchat In 2021
500+ Snapchat Names – Best Snapchat Username Ideas
What Does SB Mean in Snapchat – Explained
How to Watch YouTube Video Together with Friend
How To Cancel Chegg Membership
How to Reset Apple Watch – Step by Step Guide
What is Netflix Smoking Policy?