How you can Unlock Samsung Phone of yours without a password. In case if you've forgotten the password of your Samsung smartphone in this case, how to unlock a Samsung phone without visiting the Samsung customer care center.
I have forgotten the password of my Samsung Galaxy S8, This is the most common people you hear from most of the Samsung users. Because its hard to remember all the important things in this modern technology. And forgetting the password of the phone is not a big deal. But you can fix this, how you can unlock Samsung phone without spending extra money.
Well, there are some methods from which you can easily unlock Samsung smartphones without having a hassle or paying extra money to anybody.
Unlock Samsung Phone: Ulitmate Guide
There are a number of options that are available to unlock Samsung phone, In this article, we are going to share methods that help Samsung phone owners their phone. Moreover, for the different android phones, the methods to bypass the forgotten screen password are very common that way there are lots of methods are available.
1. Factory Reset Your Samsung Phone
The factory reset it the first option that we prefer for the Samsung phone owners, But sometimes by just factory reset the android phone the screen password will be reset to default. For that follow these given below step by step instructions.
Firstly, turn your Samsung phone off using the Power button (keep holding the power button).
Now, Press down the (-) volume down button then Release the Power button.
Hold the Volume Down button for almost 15 seconds.
Once's you see the options menu pop-up on your android phone screen, Press Volume Down button to navigate to all the given options on the device screen. When you see the option called "Reset" or "Factory Reset Option". Just press the Power button on it.
Your android phone will now in the process of factory reset and after complete, the process within a few minutes the phone will be reset again. Automatically, you don't have to do anything else after check it the Screen Password has been removed or not. In case, if you Samsung phone still showing the Screen Password then move to the next method.
2. Unlock Samsung Phone Using Find My Phone Feature
In order to unlock your Samsung phone using the Find My Phone feature, you must check if the things are in order to use this feature. Such as your Samsung Phone must be connected to the WiFi or Mobile network and internet connectivity is turned on. More precisely, if your phone won't have a SIM card on it or you're not in the WiFi network in this case this method won't work for you.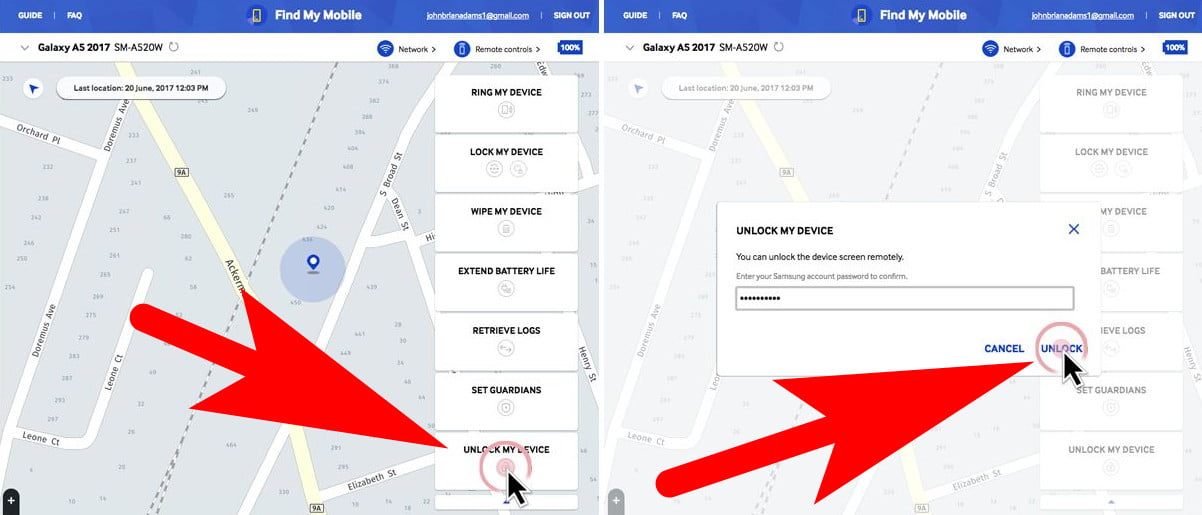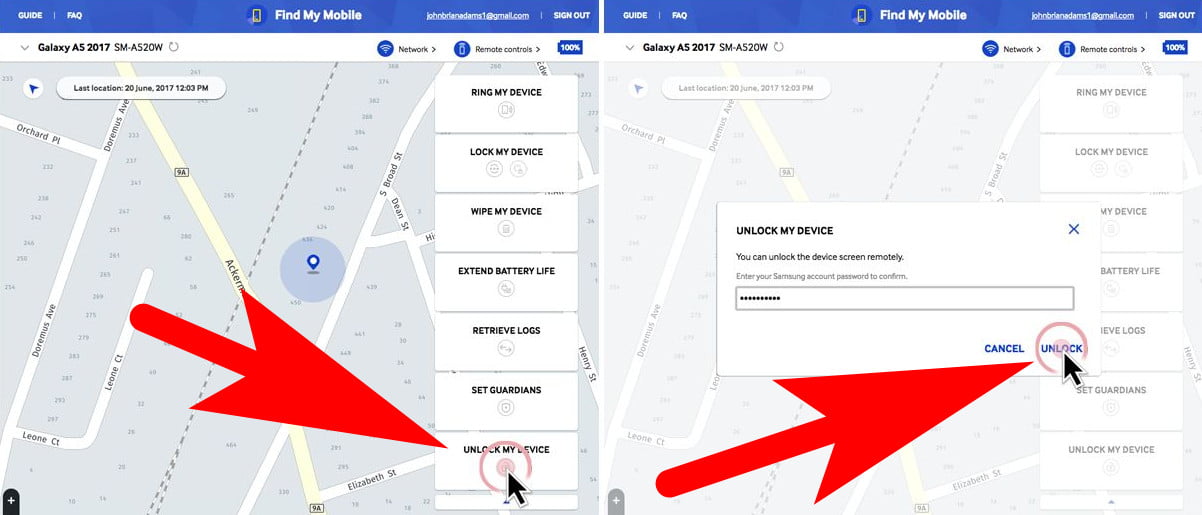 The second most important thing about this method, you must Activate your Samsung Account use this feature. Basically, Samsung has prompted to you create a Samsung Account when you've step up your Samsung first time. So if you've set up Find My Phone feature on Samsung Account. Then follow these steps to unlock your Samsung Phone through this feature.
Open web browser into any device and open Samsung Find My Phone web page.
Login in to your Samsung Account or Google Account Login credentials.
On the right of the screen, you see option called "More" click on it.
Now, at the bottom of the web page, you see an option called "Unlock My Phone".
Enter your Samsung Account password and hit the "Unlock" button.
However, if you never registered to the Samsung Account or currently you don't have access to the Internet connectivity or else you also have forgotten the password of your Samsung Account. In this situation, you must head to the next method.
3. Wipe Out Your Phone Data To Reset Screen Password
In case if you've not had internet connectivity all these above-given methods won't be worked for you. So the best option for you to unlock Samsung Phone of yours through Wiping out the data of the device. This will erase all the data stored on your phone and made it just like a brand new Samsung Phone.
So, if you've backup data of your Samsung Phone or the phone data such as photos, videos, documents, etc are not important enough. Then you can easily Wipe Out or Hard Reset your Samsung Phone to get bypass Screen Password.
Generally, there are 2 options to wipe out Samsung phone data, Here we are going to guide both the methods. The first method is using the Phone buttons and second is using the Find My Phone feature and for the second option, you must internet connectivity.
# Hard Reset Samsung Phone To Wipe Out Data Using Keys
In this method, we are going to use the Samsung Phone default method to access the advanced option called Android Recovery in which we factory reset Samsung Phone. Follow the given below steps to know the complete process.
Turn off your Samsung Phone using the Powered Button.
Now, Press down the Home Key with Power button for a few seconds.
Once the Android Recovery System Screen comes up now release all the keys from your phone.
Press the Volume Down button to navigate to the all given option on the screen.
Select "factory reset and wipe data" option using the power button.
# Use Find My Phone To Wipe Out Samsung Phone Data
In this method, you must have access to Internet connectivity. In case the above seems too hard to perform and you can use this method to erase all the data from your Phone and easily Unlock Samsung Phone of yours without any hassle.
Open the web browser and go to the Android Find My Phone web page.
Now, login into your Google Account using the login credentials.
In case if you've more than One phone associate with your Google Account. Select the phone which you wanted to Wipe Out.
Click on the "Erase Device" option to delete all the data from your phone including the screen password.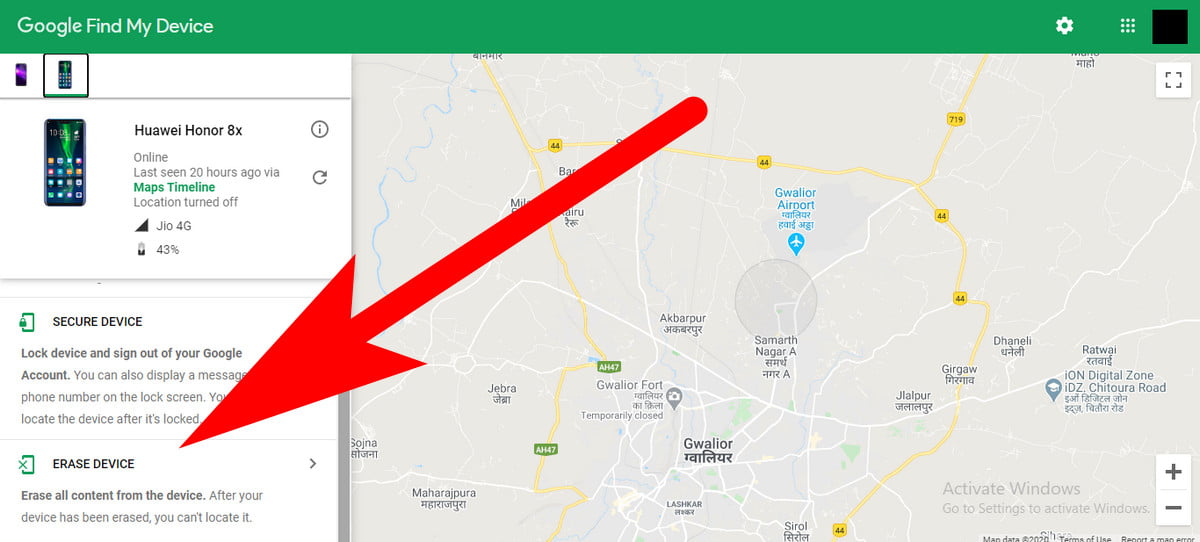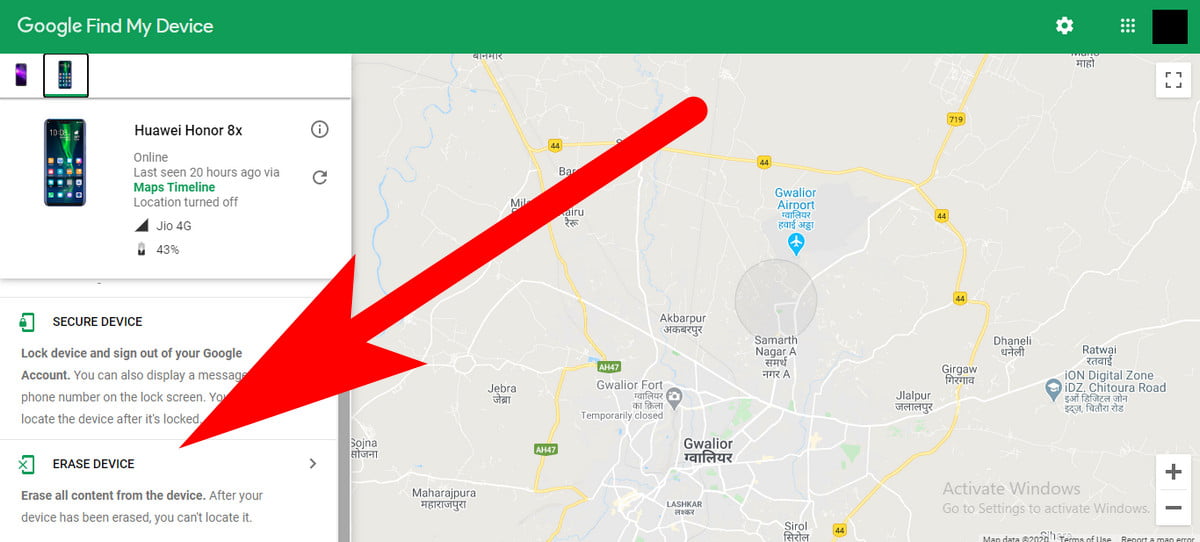 4. Third-Party Recovery Software To Bypass Screen Password
On internet there is some recovery software where available that allows you to bypass the screen password on any Android or iOS phone. However, some of this software able for free and paid you've to purchase them to use them on your computer or Mac.
Well, here the list of software to use for bypass screen passwords.
Android Multi-Tool
Unlock Phone
Here we going to show you how you can use Dr.Fone software to bypass Samsung phone screen passwords without having a hassle. You needed is a computer with internet connectivity.
Step 1:
Download, Dr.Fone software to your computer its available for Windows / Mac both OS.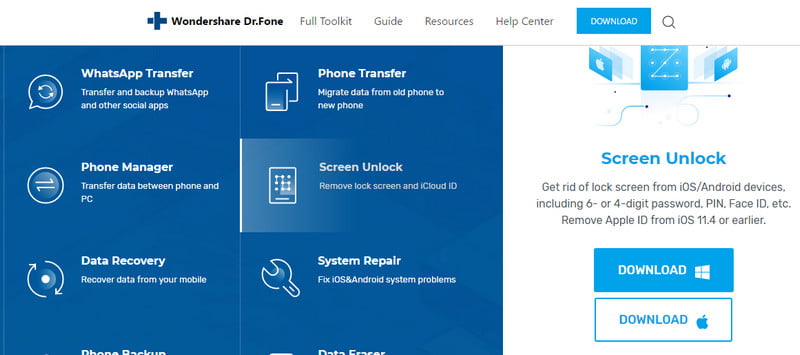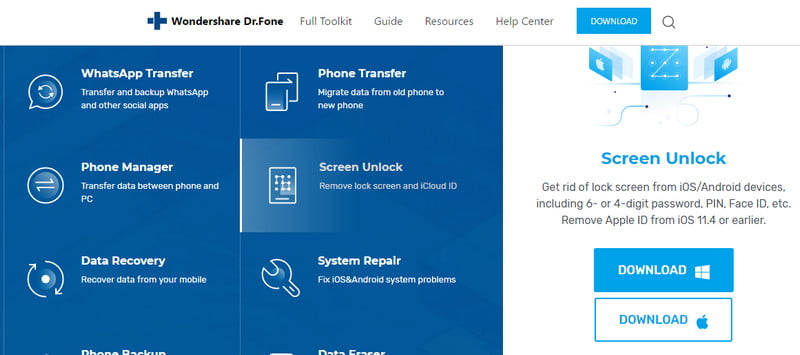 Step 2:
Install the software into your computer and access it through start menu or desktop shortcut.
Step 3:
Now when the software interface fully accessible. Click on the "Unlock" button. Then connect your Samsung or any other Android phone to your computer. After that, you've to enter your phone details such as Brand name, phone model, etc, and then click on "Next".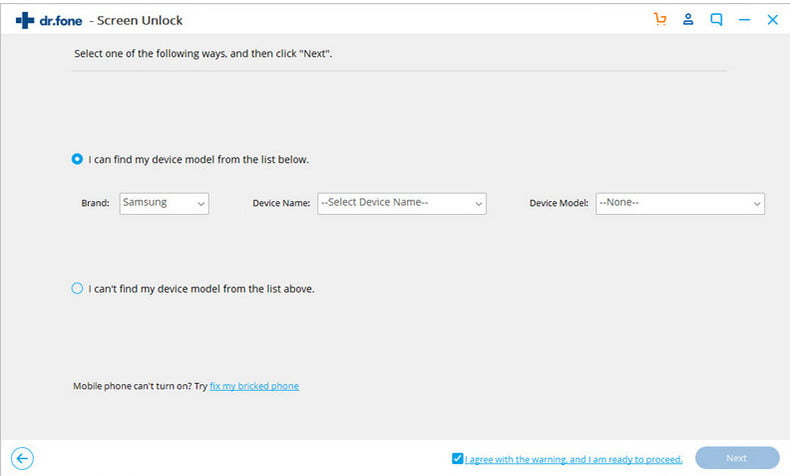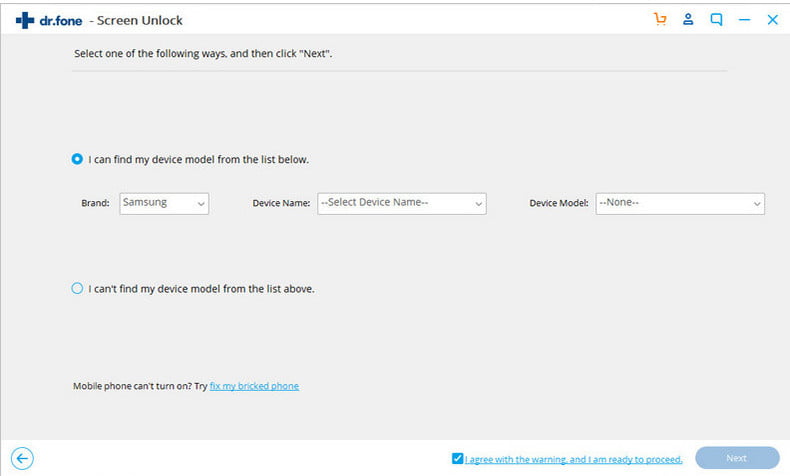 Step 4:
In the new window tab, you've to follow on-screen instructions to access the Download Mode on your Android phone.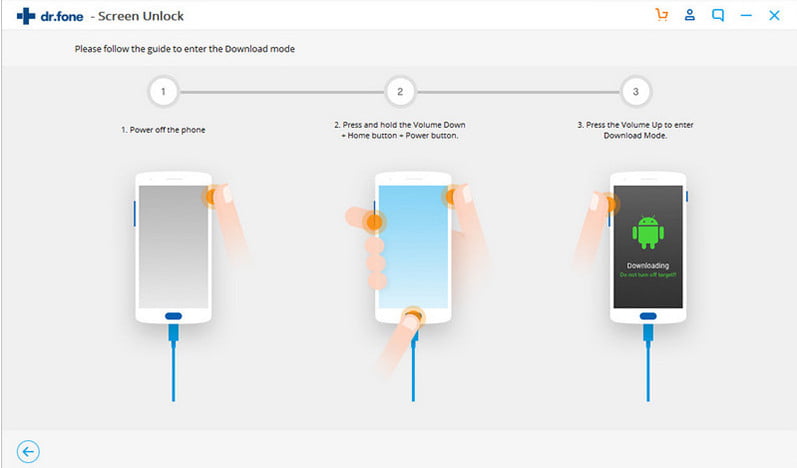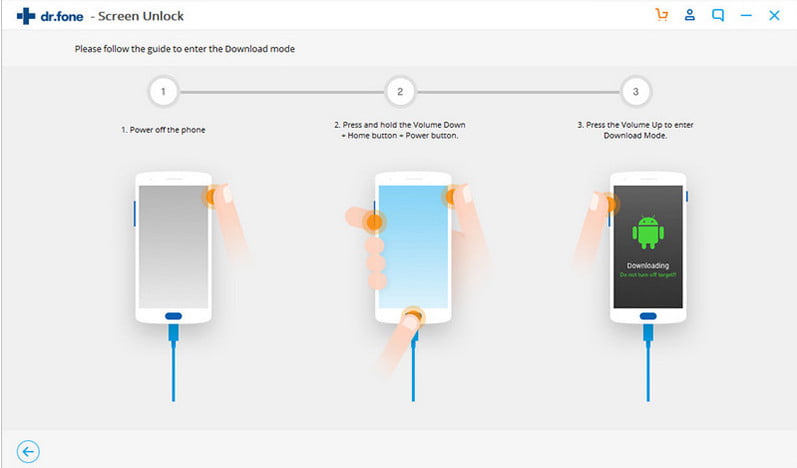 Step 5:
After the 4 step, the software will start downloading the recovery package for your phone. And after you can easily able to unlock your phone lock pattern without losing any data.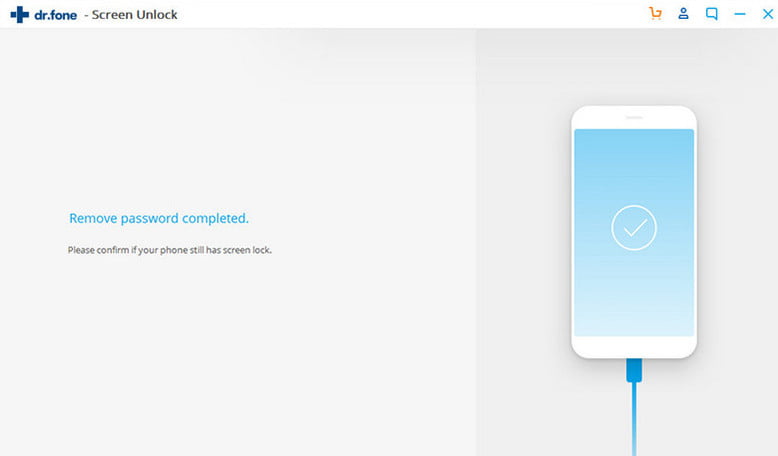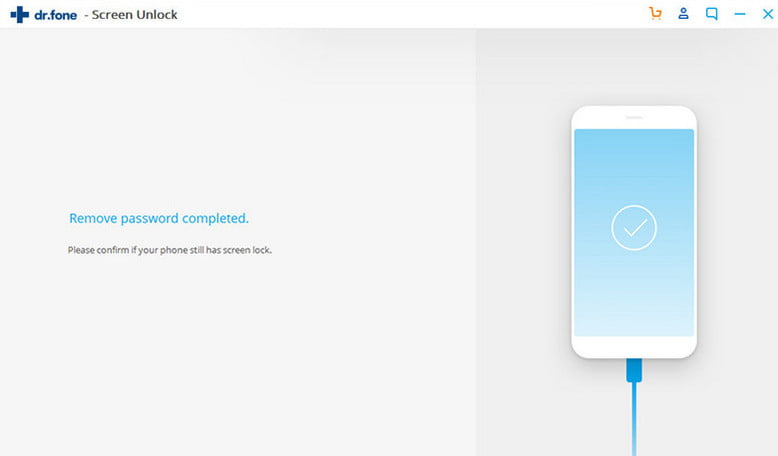 Well, now you can use your Samsung phone without having an issue with the screen password. You can easily set up a new lock pattern or password after this.
Related Articles: