Disable Discord Notifications on PC | Windows 7 to Windows 10
Getting notifications from applications installed on your computer is quite annoying sometimes. Because if you want to focus on one thing it can't be possible if you continue receiving notifications on your system. However, there are some ways from you can easily turn off discord notifications on windows without having a hassle.
Microsoft Windows allows its users how to control types of notifications and also if you want to turn off notification and we are going to tell how you can easily disable notifications on the computer. Just following below given step by step instructions.
Step 1: 
Go to the Start Menu and search for Windows Settings and open it.
Step 2:
Now open "System" that redirects you to the system settings tab. (as shown in the given screenshot).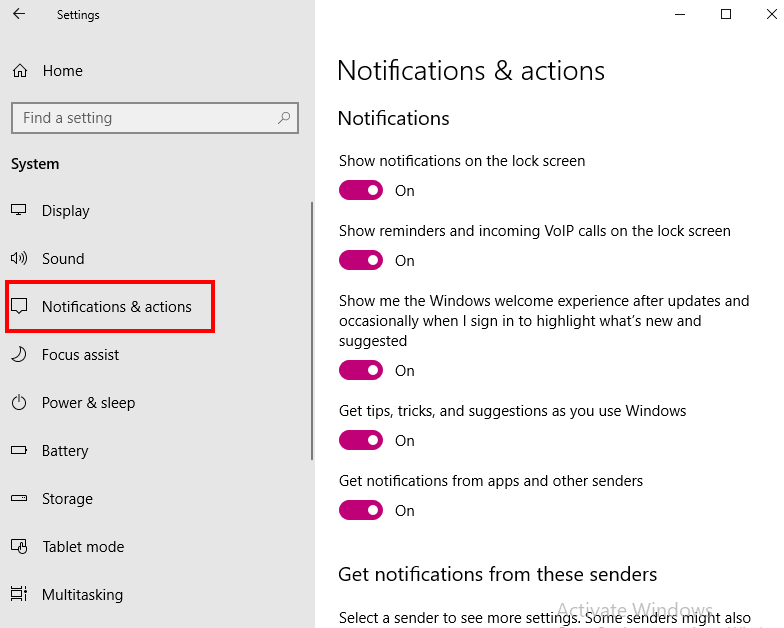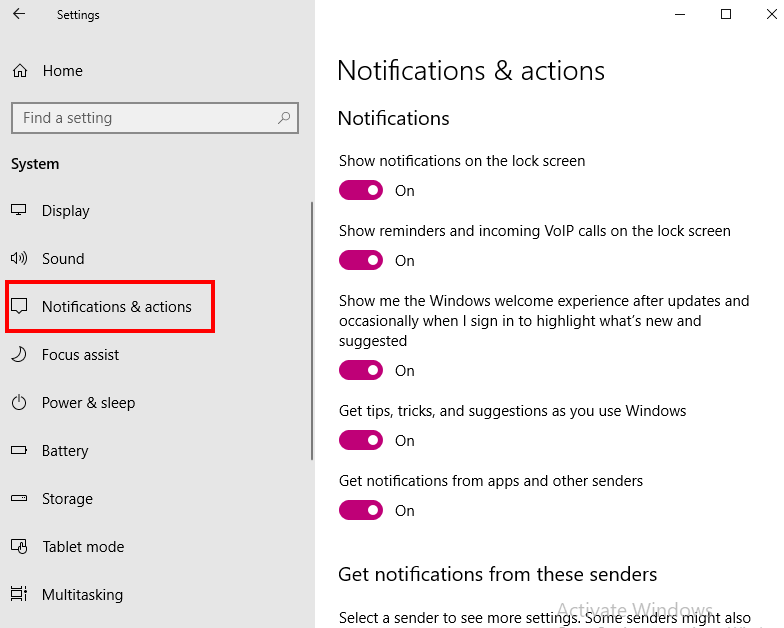 Step 3:
Navigate to the "Notification & actions" and open it.
Step 4:
Now, this is the main step, There you will see complete control on notifications of your system where you will see different types of notification settings with toggle button to turn or turn off them.
Get notifications from apps and other senders.
Show notifications on the lock screen.
Show alarms, reminders, and incoming VoIP calls on the lock screen.
Get tips, tricks, and suggestions as you use Windows.
Hide notifications when duplicating my screen.
So basically, for disabling the notifications you have to select turn off "get notifications from apps and other senders" and you stop getting notifications on your system screen.
However, Turn them off as you need. If you want to you can also turn all of them off. But the thing is if you want to install any particular into your system and get its notification that not already supports in Windows 10.
Hide Notifications Without Turning Off Them
In case, if you only want to hide notifications from your system screen and don't want to disable the notifications. You can also do that.
Step 1:
Open up the Action Center by click on the comment box icon given at the right side of the taskbar in Windows 10 or else you can also press the shortcut key (Windows + A).
Step 2:
Now you have to click on the "Moon" icon that for Focus Assist that will turn blue when you turn on it. It also swift into different modes firstly you will turn on priority only alerts, and the second mode is "alarms only" alerts.  When you turn on the Focus Assist the notification stops temporary and when you turn it off the notification starts again.