Due to lots of problems WiFi owners gives their wireless router password to their close once but after giving the password they experience a loss the WiFi speed on their devices.
If you also give your WiFi password to your neighbor or to any close once which live nearby you're home. You happy to hear this that you can set limitation to the WiFi speed to other devices.
How To Setup WiFi Speed Limit For Certain WiFi Users
Apparently, you can easily set limitations of your wireless network performance to other devices through wireless configuration.
Login to your Wireless Router website with your username and password. After that, you have to go DHCP option and tap on DHCP Client List, and now select the device you want to limit the speed to your WiFi. Copy the Assigned IP address of the device.
Now go to Bandwidth Control and tap on Bandwidth Control Rule List, add a new. Paste the Assigned IP address in the IP Range box, and now in Egress Bandwidth enter the minimum and maximum bandwidth. In Ingress, the Bandwidth box does the same and saves the file.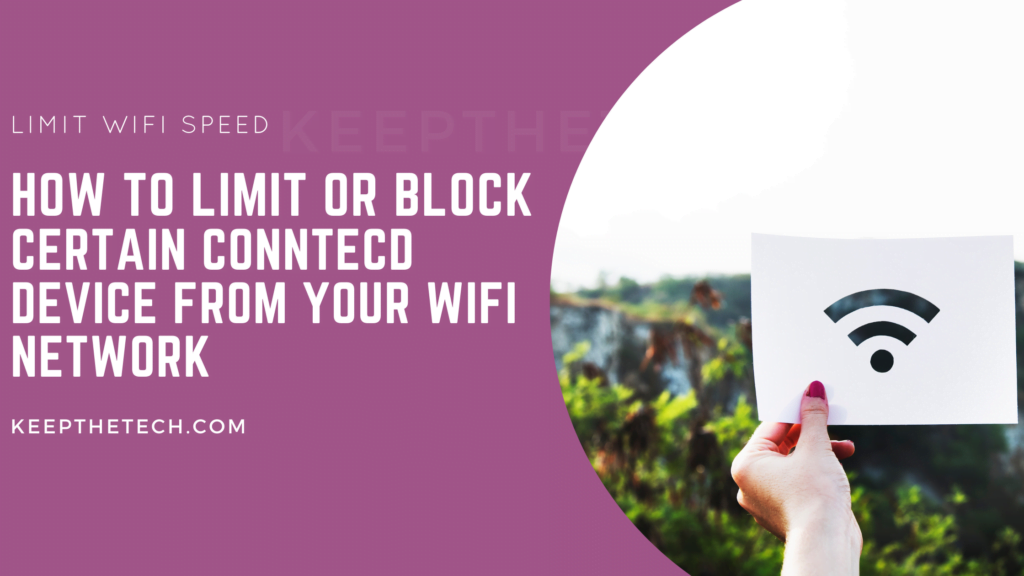 Who is using My WiFi
If you don't know who is using your wireless network, then in this case you have to again login in to your Wireless Router Configuration.
To check who accessing your WiFi network, first of all, you have to go to the Wireless Option and in it select Wireless Statistics you can easily see how many devices are connected to your personal wireless network.
Most easiest way to check who's on my wifi is using the software called Wireless Network Watcher for Windows operating system. Simply download the software and run a scan to generate an list of users connected to your Wireless Network along with the connected devices details such as IP Addresses, Mac Addresses and much more.
To know the device details (name or client name) you have to tap on DHCP and open DHCP Client List and you see complete details of devices using your WiFi.
If you found any unknown or unauthorized device that accessing your wireless network then in this case you have to disable it to use your WiFi. In this case you need to remove or ban that particular devices from your WiFi network.
Follow the below given steps in order to block unauthorized devices on your wireless network.
Go to the Web brower and enter your WiFi Router IP Address and hit enter button.
Now, Enter the Wifi username and password and perform a login.
Go to the Wireless and view the list of connected devices.
Select the device that you want to block and copy its mac address.
After that go to the Wireless Mac Filtering option, add new paste the Mac address of the device, and save.
FAQ: Frequently Asked Questions
These are some of the commonly asked questions related to the limiting the wifi speed with complete information.
How do I control devices connected to my wifi?
You can easily control connected devices to your WiFi Router. Simply go to the web browser on your Phone or PC. Enter the Router login web address and hit enter button. Now enter your WiFi username and password and perform a login into your Router. After that go to the Connected Devices list and copy the mac address of the device that you want to block and in last go the Mac Filter option and past that copied mac address and hit save button.
Can I Kick certain devices off my WIFI?
Easiest method to block certain devices off your WiFi is login into your WiFi router using your username and password and copy the Mac address of the connected device from the list of connected devices and in last paste that mac address in the Mac Fliter option and hit save button.
This is end of this short guide, hopefully you find it helpful.
Related Articles:
How To Fix WiFi Not Working on Windows 11
Wifi Doesn't Have A Valid IP Configuration?
How to Change Spectrum WiFi Password
How to Turn off WiFi Calling on iPhone / Android
What is WiFi Direct and How to Enable it In Windows 10
How to Share WiFi Password from iPhone to Android
1000+ Funny, Cool, Sweety Wifi Names To Use