How To Remove Malware Search Engine From Mac
There are lots of search engines that affect your MacBook device any many ways. Mainly these search engines are Any Search Manager, StartPage and much more. In this article, we going to discuss how you can remove these search engines from your computer permanently.
Removing Malware Search Engine From Mac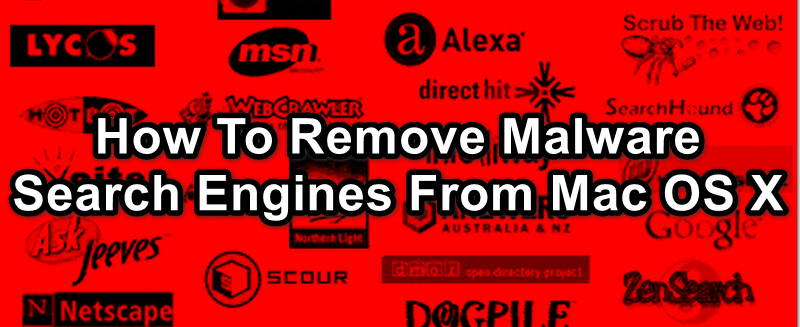 Generally, there are lots of search engines that may affect your web browser speed and added the additional application in the background process. Search engines like MyWay.com affect the safari web browser in many ways and you've to get rid of it.
1 # Remove MyWay Search Engine From Safari
MyWay is a search engine that connected with some free software that downloads off the web. Mainly when you install any software they're some additional software that automatically installed with it. Just like search.myway.com and to remove myway.com from safari. You've to follow the below-given step-by-step guides below to know the complete process of removing this malware search engine.
Step 1:
Firstly, close all the web browsers in your mac, Expect a Safari web browser.
Step 2:
Open Preferences from the Safari Menu.
Step 3:
In the Preference, Open Extension tab, Now you've to search for any Unknown extension like "Searchme". Uninstall it.
Step 4:
After uninstalling the extension. Come over the General tab, In the Homepage, a section changes the default search engine.
2 # How To Get Rid of Any Search Manager on Mac
Any Search Manager comes with the bundled installation. In which you see unwanted advertising and program that slow down your Mac OS. To get rid of Any Search Manager you've to download free Mac software to clean your computer. To remove Any Search Manager permanently from your Mac device.
Remove Any Search Manager From Mac System 
Step 1: 
Open Finder sidebar. Click "Application".
Step 2:
Search for Any Search Manager and Uninstall it. However, if you don't see uninstall button then there is another way to remove read below.
If You Can Not Uninstall Any Search Manager From Mac 
If you can't uninstall Any Search Manager from your Mac through the above steps. Then you've to install AppClearner for Mac. After downloading the app follow the below-given steps by step guides.
 Download The AppCleaner 
Drag the Any Search Manager from Application to the App Cleaner
Now, Select the folder and files you want to delete and hit the delete button.
Remove Any Search Manager From Safari 
To get rid of Any Search Manager extension on Safari browser. You've to do nothing just uninstall the extension from safari. To that, firstly, open the Safari browser. Click on the Safari from the Safari Menu, select Preferences.
Open Extension tab, Search for the Any Search Manager from the list of the extensions. Hit the Uninstall button to remove Any Search Manager extension from safari.
3 # How To Remove StartPage From Mac System
Start Page also a malware search engine that affects web browsers. To remove StartPage from the Safari browser. Follow the below-given guides.
Step 1:
Firstly, close all web browsers in your system. Open Safari browser.
Step 2:
Go to the Safari Menu and open the Preferences > Extensions tab. After that search for the extension with the name of StartPage and Uninstall it.
Sometimes after deleting the StartPage Extension from Safari. You won't get rid of the StartPage application for completely removing this program from your Mac. Open the Finder > Applications. Search for the StartPage program and uninstall it!
 4# How To Remove SearchPage.com From Safari 
To remove malware search engines such as Searchpage.com from your homepage of Safari browser. You don't have to anything special,  First of all, get rid of the search page search engine by uninstalling it via the Extension tab.
Once are you remove the searchpage.com and open the web page or the search engine like Google.com.au and make this web page your homepage. Go to the Safari> Preferences >General > Homepage. Hit "Save" to save homepage in safari browser.
Related Articles: