How To Open System Information On Windows
Open System Information is the place where you find complete details about your computer but to open system information you have to follow long root.
You can also open Windows System Information on your computer in Windows XP, Windows 7, Windows Vista, Windows 8, and Windows 10 using a command line.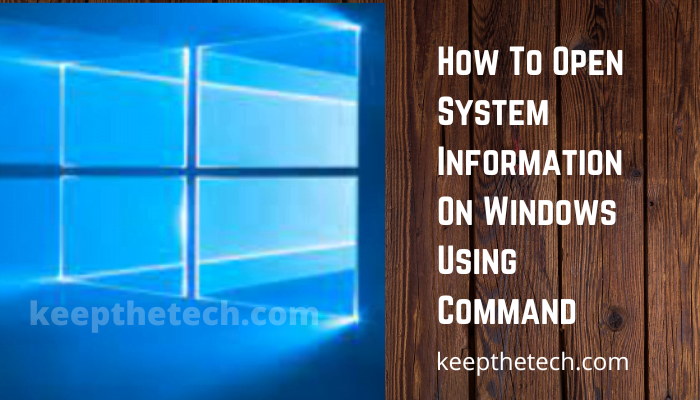 Open System Information Via Command Line
Step 1 :
Open Command Prompt from Start Menu

Step 2 :
Now in the command prompt type give below command line
"C:WindowsSystem32msinfo32.exe"
Step 3 :
After entering the command, hit the Enter key
In Windows 10, how do I access the system information?
Windows users can open the Control Panel by pressing Windows + R, typing the control panel, and pressing Enter. Go to System and Security -> System. You can see the basic information about your computer in this window, including its processor, RAM, type of system, and name. 
What is Open Systems stands for?
Typically, an open system is a computer operating system composed of coordinated modular components and not reliant on proprietary components.
What is the purpose of the system information window?
Your computer's hardware and software environment are displayed in the System Information window.
What information is available about my system?
It's easy to get information about your system using the System Information, but depending on your Windows version you'll have to open it differently.
Conclusion
I hope this article will help you to Open System Information tab on Windows in your computer to read more How-To-Windows and Command Lines. Subscribe to Us with your email address and keep in touch with us for hourly updates on Twitter and Facebook
Related Articles:
How to Check Screen Time on Android
How to Change Language in Windows 10
4 Ways on How to Insert a Line in Word
7 Ways To Fix Ethernet doesn't have a Valid IP Configuration
Retrieving Data Wait a Few Seconds In MS Excel [RESOLVED]