Facebook one of the biggest social networking platform in 2020 with over billions of users and around 350 million photos were uploaded every day. It's a huge photo dictionary where people upload their important event photos such as marriage or birthdays etc. Facebook gives full control over your photos on your account you can easily download photos from Facebook without having a hassle.
As you know it's too easy to download a photo from Facebook but you can only download a single photo at a time from a Facebook account such as your profile photo. However, the question is how to download all photos from Facebook at once.
There are some third-party tools that help you to download all your photos from the Facebook account. With these tools, you can gain more access to what you download on Facebook.
In this article, we going to guide you on how to download photos facebook account using third-party applications.
How To Download Photos From Facebook [Ultimate Guide]
It totally depends on you if you want to download a single photo from Facebook or want to download all photos from Facebook. In this tutorial, we are going to show you both ways to download photos on your Facebook account.
Download Single Photo From Facebook Account
You can download photos using a desktop or mobile phone. we going to show you how you can download a particular photo from Facebook using a desktop or Facebook application on your cell phone.
Download Single Photo Using Facebook Application On Cell Phone
Actually, it's quite simple to download a single photo on the Facebook app. All you have to do is the first log in to your Facebook account and navigate to the photo that you want to save on your phone storage.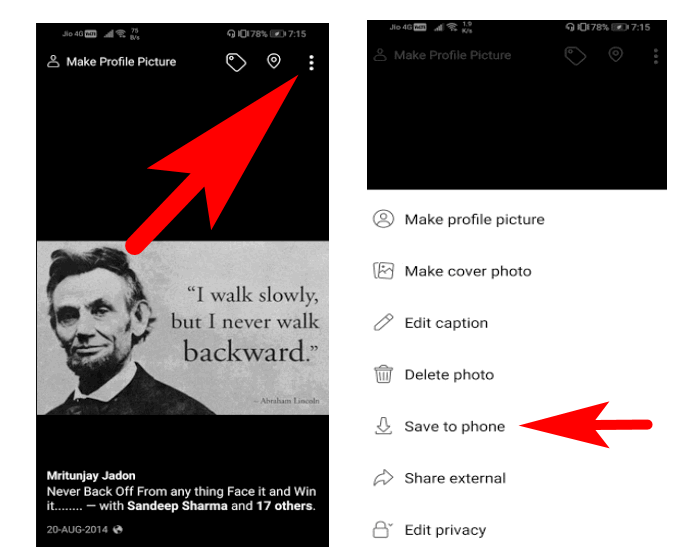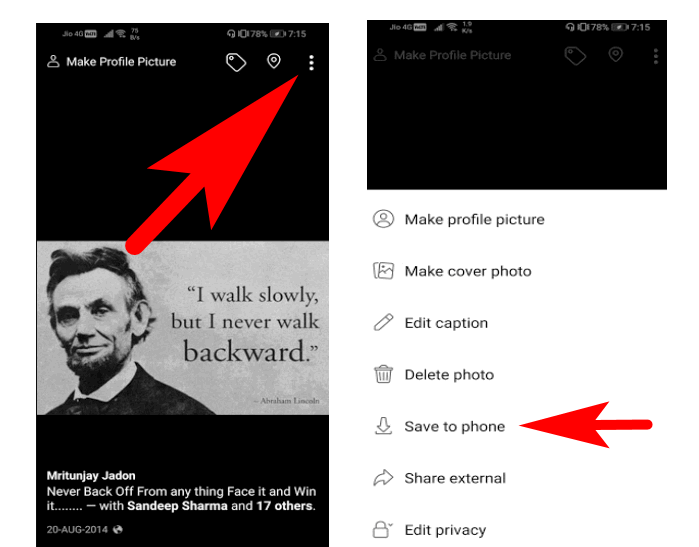 Now, open the photo to view where you'll see a three-dot menu at the right upper corner as shown in the given screenshot. Tap on that menu that expands more options like share photos, I don't like this photo and save the photo. Tap on the "Save Photo" button to download that particular photo on your photo storage.
Download Single Photo From Facebook On Desktop
The process of saving the photo on the Facebook desktop application is the same all you have to do is locate the photo that you want to download from your Facebook photos library and open it to view.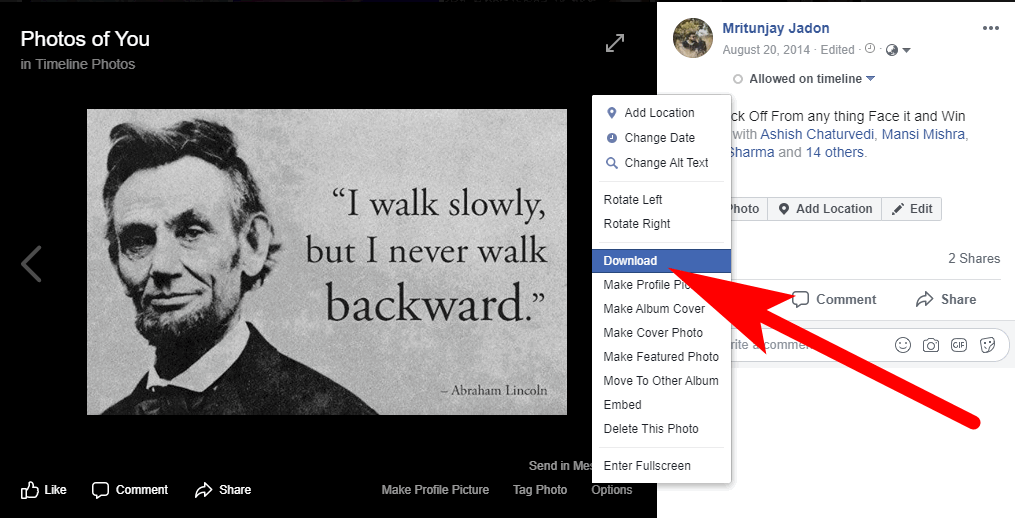 Now go to the options menu given at the right down corner of the photo. Click to extant the more options and select "Download" to save that photo in the highest uploaded resolution on your computer storage.
How To Save All Photos From Facebook Account At Once
Facebook gives you full control over your personal photos on your account and it let you download a copy of all photos that you've uploaded since you create your Facebook account. You can download complete data of your account into a computer as a backup. Creating a Facebook account backup is the best thing to be secured and handy if you want to delete the Facebook account of yours in the future.
The download includes your Facebook data such as posts, shares, photos, messages and friends etc. This is also an excellent way to download Facebook account messages.
Follow the below-given steps to download all photos from your FB account—
Step 1: Go to the "Settings" of your account from the photo icon given at the right upper corner.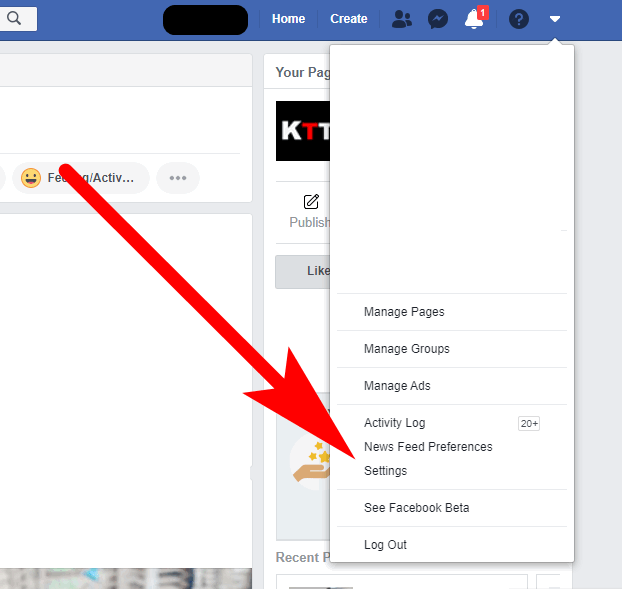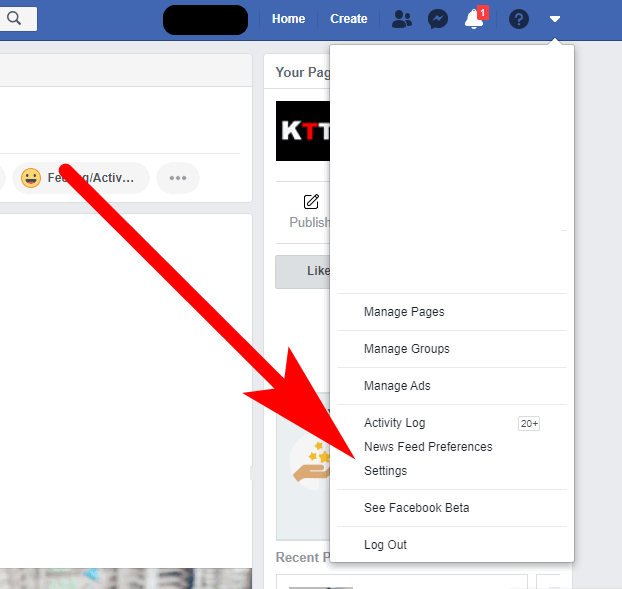 Now navigate to "Your Facebook Information" from the left sidebar and go to download your information available in the second row of the list. Click on the "View" button.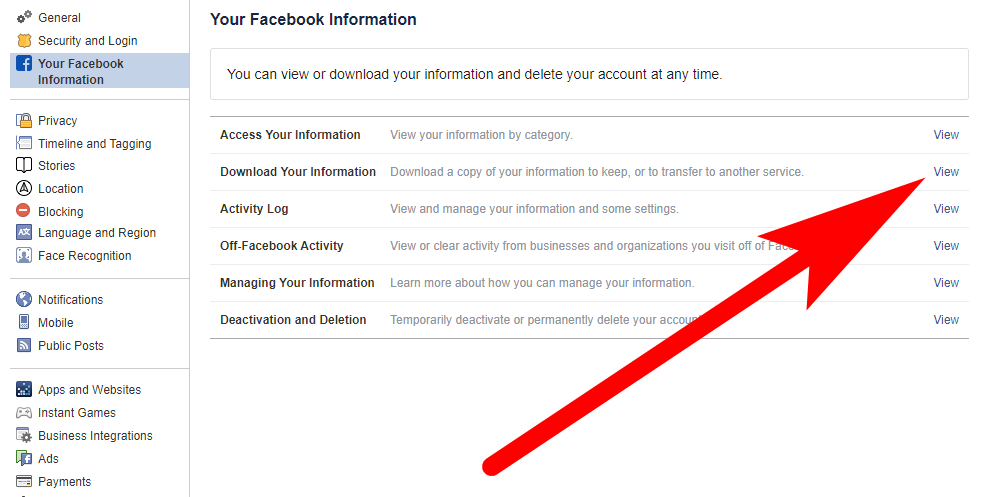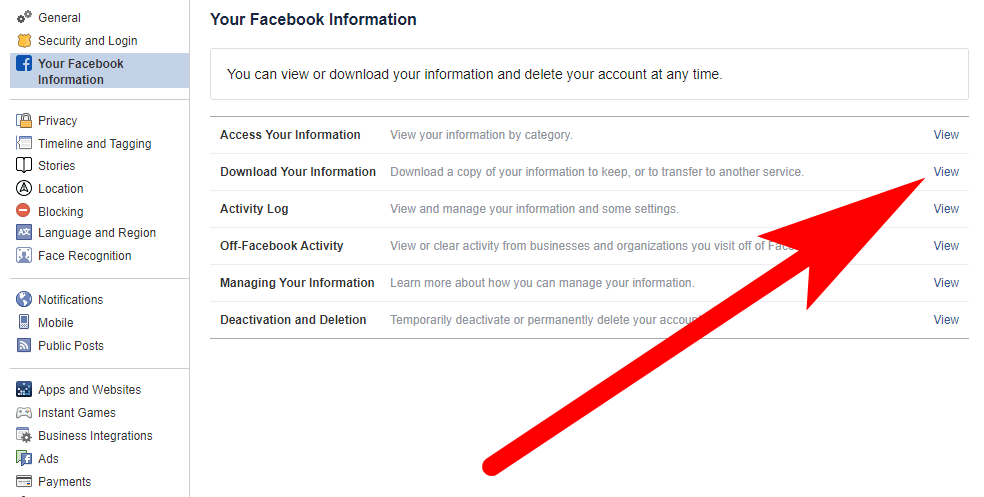 You've redirected to the download control page, where you can download a complete copy of your account or select only the types of information such as messages or posts to download.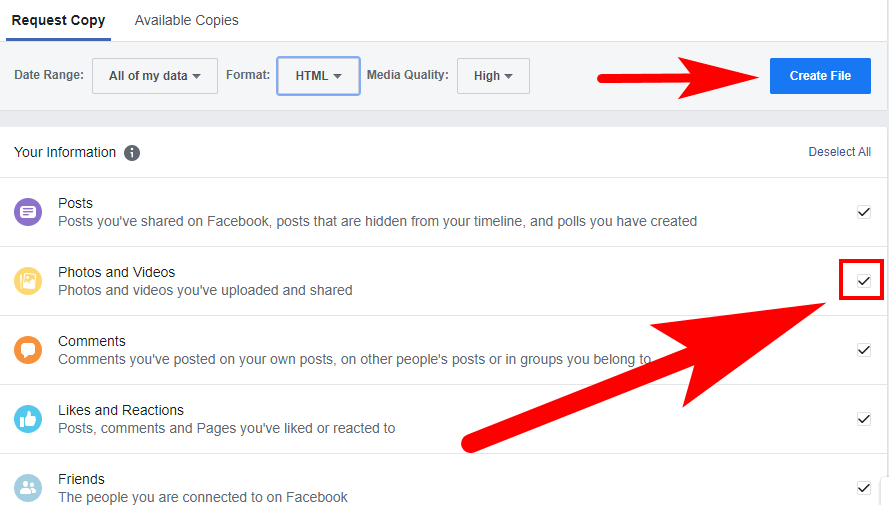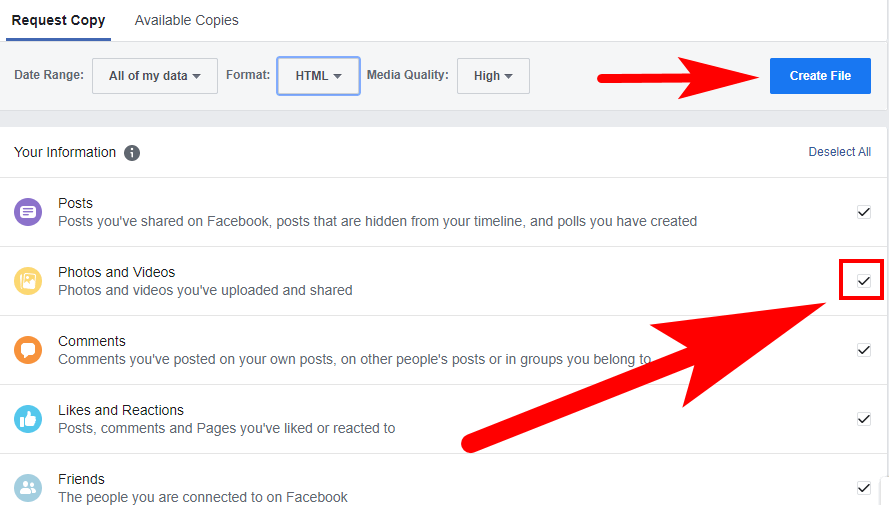 Step 2: Make sure all Photos & Videos are selected in the checkbox. You also have to select the date format and download formats such as HTML or JSON and media quilty such as High. Click on the "Create File" button to download Facebook data into your device.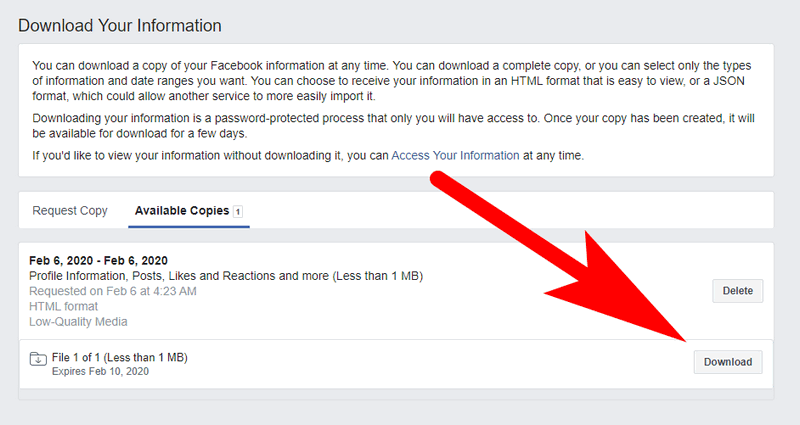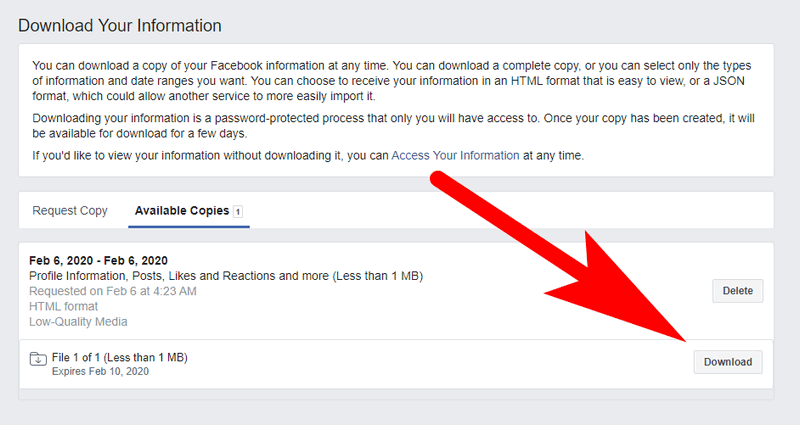 Facebook will create a download file for you but it needs to require a few minutes it depends on the data. You'll receive a notification "Your Facebook information is ready to download " on a notification bar. Open the notification and download your Facebook data.
Note: The download Zip file contains all your photos along with other data you can easily extract the zip file into your computer and move all the photos into another folder.
Caution: You've to be more careful with your Facebook backup data that you've downloaded into your personal computer. Because the data contains all your Facebook account information including your Facebook account password. If you don't need to back up data then after moving the photos you can delete the zip and extract the folder from your computer.
Download All Facebook Photos Using Facebook Photo Downloader App
There are some best Facebook photo downloader apps are available on the web. With the help of these third-party applications, you can download all your Facebook account photos. These tools are only helpful with you don't mind sharing your Facebook information.
You can easily download all your photos and other data of your Facebook account into the zip file using the Facebook photo downloader application.
The Mouthful is a handy tool to download photos and videos from Facebook. It is free to use and the interface of the application is quite simple. With this tool, you can download your account photos along with your friend's account photos too. Moreover, you can also search for any page or user and download its photos and videos. The app menu has a quick link menu for your liked pages and saved videos along with images and bookmarks.
Follow the steps to download photos through Mouthful—
Login in to your Facebook account using the mouthful app.
Tap on "Your Photos" or "From Friends" from the friend's list.
Navigate the photo album that you want to download.
Tap on save album or select photos to download.
How To Download FB Videos To PC or Phone
Most people don't know how to save a video from Facebook? There are lots of videos were uploaded on Facebook which contains lots of important information. But saving a video from Facebook to a computer is a tricky part.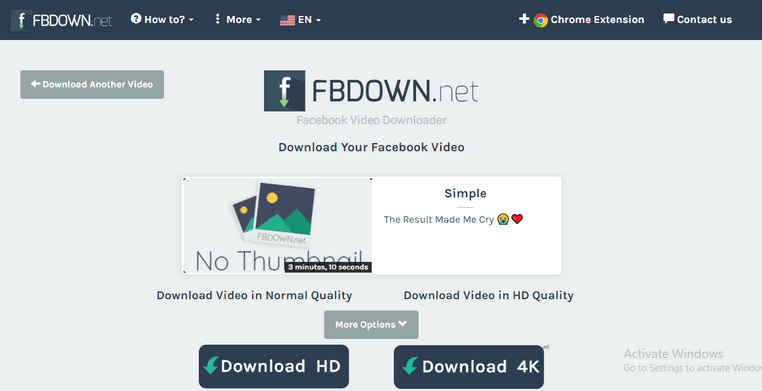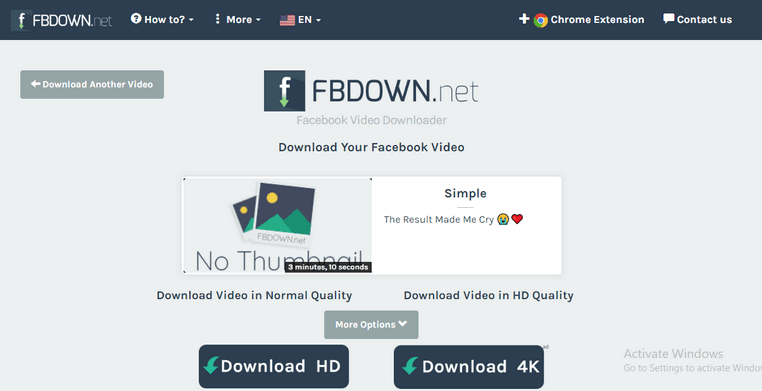 FBdown.net is one the easiest way to save a video from Facebook to your device. This web application works on both desktop and cell phones you can easily download any video from Facebook using this app.
Follow the below-given step by step instructions to download a video from Facebook—
First of all copy the URL of the video that you want to download from Facebook
Go to FBDown, and past the URL that you've copied from Facebook and hit the Download button.
Select the format of the video to download "Download Video in HQ Quilty " or "Normal Quilty" and Start the downloading.
Note: Instance of downloading the video will start playing on the window tab. Go back to the previous window and again start the download it will save the video into your device.
This method works on desktop and as well as on Android devices. The download video format will be MP4. Unfortunately, the iOS device user has to follow the process on the Firefox browser only because it doesn't support Safari.
How To Download All Photos From Facebook Page
In case if you want to save all photos from a Facebook page that you've created from your account. The best answer to your question is when you create a Facebook account backup (scroll on top to know how to save all photos from Facebook) in this process you've got complete data of your Facebook account including the Facebook pages information, posts, photos etc.
How To Download Your Facebook Messenger Chat History
There are numerous the reason why you want to download your Facebook Messenger Chat History. You may want to save a particular message conversation on Facebook messenger that important to you. Fortunately, Facebook allows its users to download entire message conversations from Facebook in a few simple steps.
Follow the steps to save messages from Facebook—
Go to the Settings, From the profile icon given at the right top corner.
Now open "Your Facebook Information" and on the download, information section clicks the "View" button.
Now only select messages checkbox from the list of types of information on Facebook account.
Click on the "Create File"  button and wait for a few minutes to let Facebook generate a copy of messages from your account.
Download the copy of the messages into the HTML format in the Zip file.