We all want only one software that can do lots of work for us. In other words, the all-in-one utility tool can automatically perform multiple tasks on our computer system.
In this article, we are going to review GlarySoft's product called Glary Utilities one of the best PC cleaning applications for Windows.
What is Glary Utilities?
Glary Utilities is one of the products of GlarySoft company. The product is one of the best PC cleaning applications found on the web because the software contains more than 20+ tools for optimizing computer systems without having a hassle.
It is most consistently popular and most frequently recommends system utility applications. Because of its features and specification along with the performance.
It contains some of the most popular windows task-solving tools in one free downloaded version.
Moreover, the company regularly rolls out a new updated version of the software to quickly fix some of the issues by the Windows users.
With this all-in-one utility tool, you can speed up your PC running performance in no time, and in addition to other tools, you can clear other unwanted junk files without having the hassle.
Features of Glary Utilities
Boost computer system performance speed in no time.
Clean up and fix frustrating errors.
One-Click functionally and automated options.
20+ tools to maximize your computer performance.
Any other relevant features of Glary Utilities.
These are the features you will be able to access in glary utility software in your computer system.
How To Install To Use Glary Utilities In Windows
Follow the below-given step-by-step institution to successfully install all-in-one glary utility software on your computer system without having a hassle.
Step 1:
Visit the official website of Glarysoft to download the Glary utility application. After a successful download installs and launched the application.
Step 2:
Now click on the "one-click maintenance" tab and hit the "Scan The issues" button to start the scan of your computer system.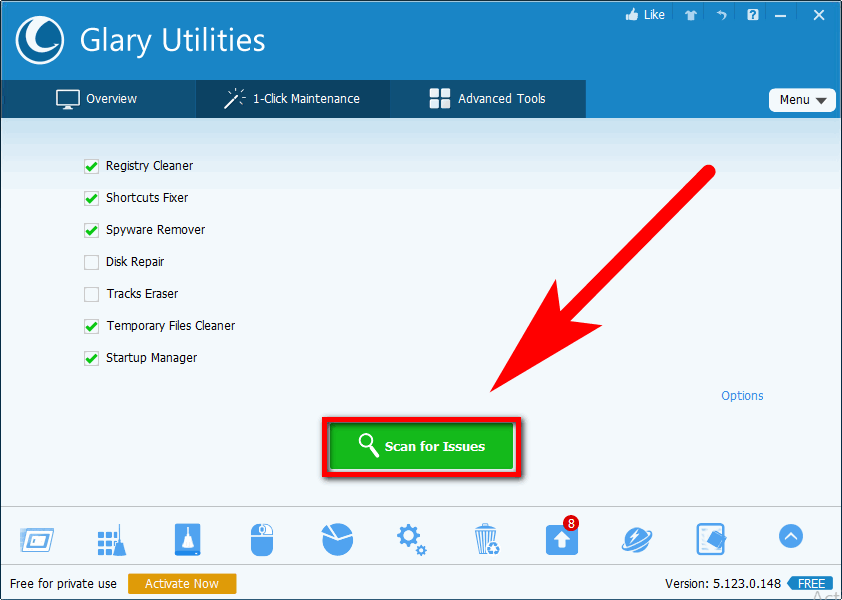 Step 3:
Click on the "Repair" button to automatically fix all the issues one no time in just one click. (as shown in the given screenshot)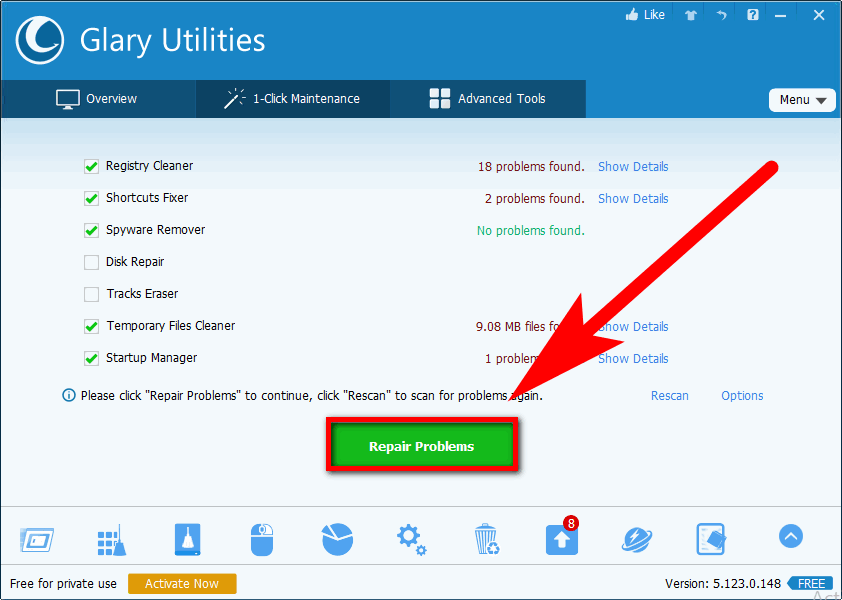 Step 4:
Now click on the "Advanced Tools" tab to access advanced features tools for speeding up computer system performance.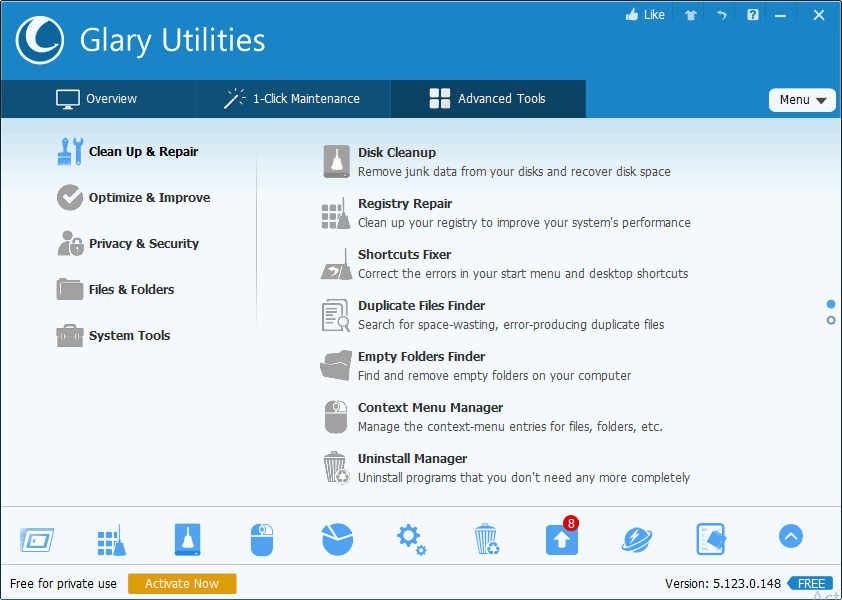 Note: You can easily access lots of tools from the left sidebar according to their functions. For example "Clean up & Repair" has lots of tools to speed up the computer system in deep cleaning.
Step 5:
You can also find the most important tools on the taskbar of the software. Which helps you to monitor and optimize your computer system in a friendly way.
Click on the first taskbar icon as shown in the given screenshot that opens the "Startup Program Manager" tool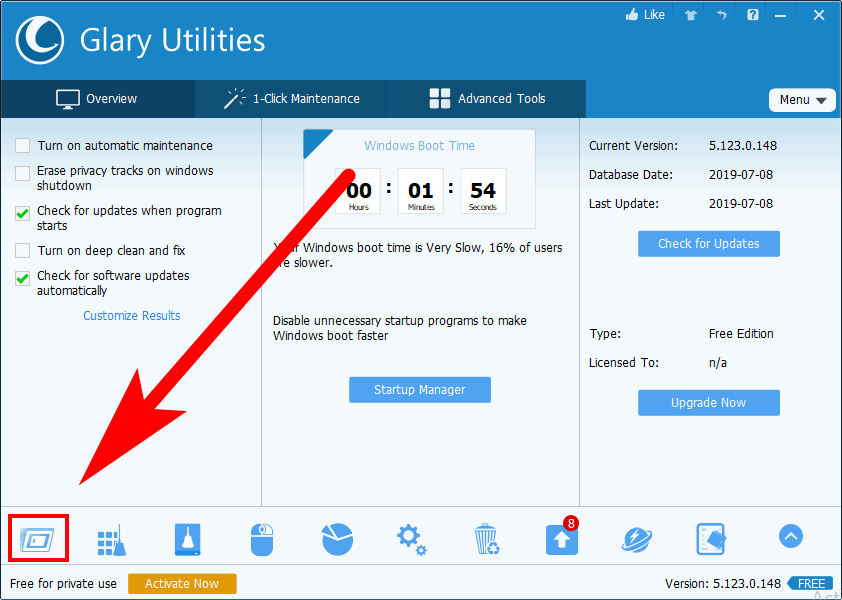 This tool helps you to take control of startup programs on your computer system without having a hassle.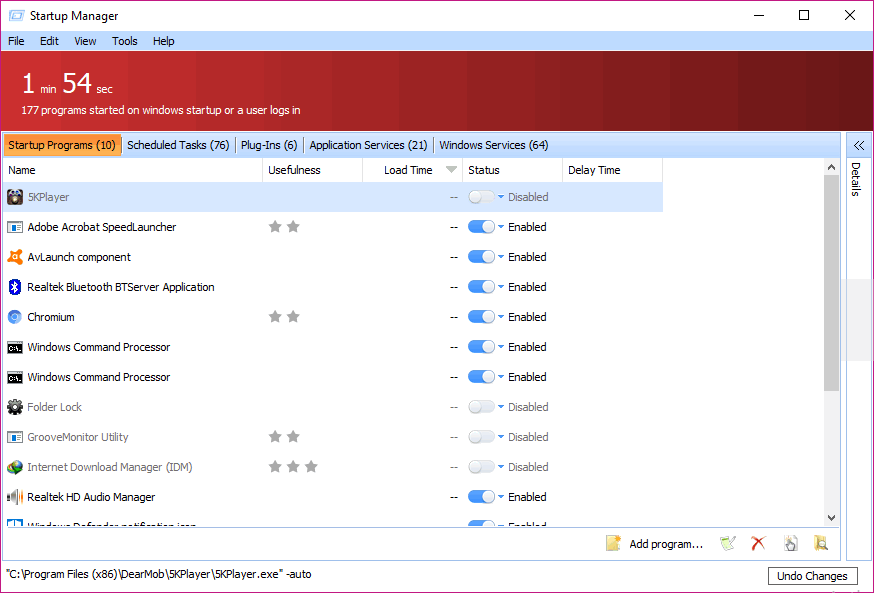 Total Numbers Of Tools In Glary Utilities
These are all the tools that you can access in the glary utility application on your computer system.
One-click cleanup in a few minutes to speed up PC performance.
Advanced tools for clean-up & repair along with other features.
Startup Program Mantaince for more control over the PC.
Registry Repair to restore registry files.
Disk Clean up for deep cleaning.
Context Menu Manager & Undo Changes.
Disk Space Analyzer & Disk Defrag.
Process Manager & File Splitter.
Uninstall Manager & Shortcut Fixer.
Task Easer & Empty Folder Finder.
File Shredder & File Encrypter.
Driver Manager & Duplicate File Finder.
Pro's & Con's Of Glary Utilities
These are some of the advantages and disadvantages of this amazing software that help you to optimize your computer performance.
# Pro's
It can boost your computer system performance by up to 12% in no time.
You get complete control over the cleaning-up process with different tools.
It carries additional tools that allow you to access advanced features.
24/7 customer support service.
Any other relevant point of Glary Utilities?
# Con's
It cannot improve the speed of the web browser.
Personal Thoughts on Glary Utilities
It is the most amazing software that combines all the necessary tools in one application. In other words, it's all-in-one utility software hardly able to be found on the web.
With its advanced features, you can easily take control of the cleaning process and much more.
The size of the software is quite small you can easily download it from their website without having the hassle.
Glarysoft also offers its advanced version application to get premium features. You can easily upgrade Glary Utilities for $19.97 only from its official website.
Frequently Asked Questions [FAQs]:-
Is Glary Utilities the best there is?
The best substitute is BleachBit, which really is open source and free. Like Glary Utilities, CCleaner, Bulk Crap Uninstaller, Stacer, and SD Maid are excellent alternatives. System cleaners are the major Glary Utility substitutes, although they also include Software Uninstallers or Duplicated File Finders.
Are Glary Utilities still reliable?
Glary Utilities doesn't do it as well. Although the free edition includes some registry cleaning, it is mostly ineffective. You must purchase Glary Pro in order to access the Deeper Registry Cleaner and receive the complete service. It is not necessary to regularly wipe your registry to keep a stable and clear PC.
Is it safe to use Glary Utilities?
Regarding the system settings, it is quite secure for our PC. By removing unused temporary files and the registry for programs that have previously been uninstalled, it does a good job. Glary utility aid in locating duplicated directories and files and optimizing memory usage.
Is Glary Utilities a computer slowdown?
A breakdown of all startup programs, scheduling tasks, plugins, services and applications, and Windows services that can be prolonging your computer's boot time is provided by Glary Utilities' superb Startup Manager.
Conclusion
This is an amazing computer system optimizer software that I've used until now.
I high recommend KeepTheTech readers to use this amazing software for speeding up computer system performance without wasting time on different types of cleaning applications.
If you've any questions or quires regarding Glary utility software you can ask us via the comment box or contact Glarysoft customer service which is available 24/7 for their customers.
Related Articles:
How to Disable Superfetch in Windows 10
Windows 10 Start Button Not Working? Troubleshooting Guide
Mouse is Jumpy, Lagging: 7 Ways To Fix It 
Getting Windows Ready: How To Fix