20 Best Android Music Player
Here, we have listed some of the best android music players to use on phones and tablets running on Android OS. Moreover, these are free apps for music you can listen to music tracks along with downloading them on your device free of cost.
1. Boom 3D Music Player
This app is not only an offline music player but if you are a Spotify or tidal premium user, you can play those online tracks through this app as well. Now you might wonder what this app has to offer that you would want to play online music tracks from Spotify on this app.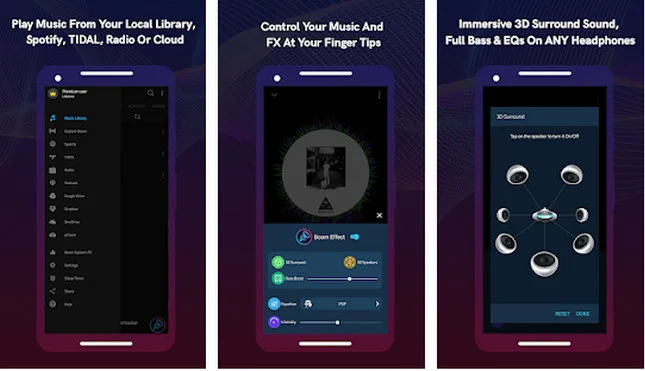 Well, it is the features like volume booster, equalizer, and the 3d surround sound that enhance your overall listening experience and the 3d surround sound is a key feature that brings in positional surround sound using your headphones.
Also, the fact that it is not hardware-dependent is a cherry on top.
It also bundles a handful of sound-related features that you can play around with to tweak the audio output.
The free version like most apps has limited features with ads and you can go ahead and buy the premium version to remove all the restrictions along with the ads to get the most out of it.
Get It Now: Google Store
2. Omnia Music Player
This offline music player not only has a simple and clutter-free interface but also bundles many nifty features.
Apart from supporting a variety of lossless and high-resolution audio file support the app brings useful features like gapless play, gestures, and album arts which make this one stand out, out of all.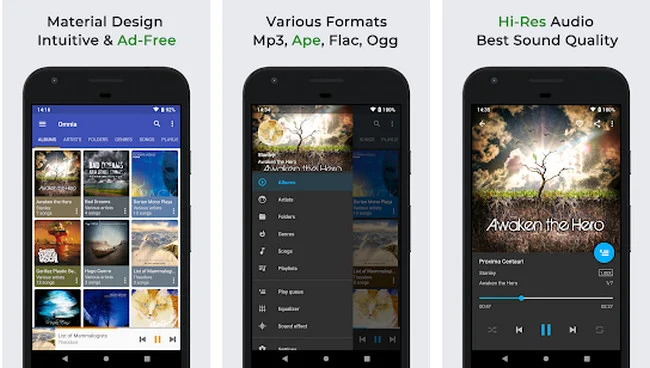 The app also provides a 10-band equalizer and google voice command support plus you can always open the mini-player by simply just pulling it up and also the mini-player supports the album art too.
The only issue in this app found is that only a player adds all the audio tracks by default.
For example, if you have snippets of WhatsApp audio recordings, the default scan will pick those as well. Actually, you can choose which folder you would want to ignore however there should be a feature like ignore short tracks like you get that on power EMP or the stereo player.
Get It Now: Google Store
3. HQ Music For Android 9
This one is a very minimal gesture-based player. Just as you install and notch the player for the first time it will give you guidelines on how you can use that gesture.
In the beginning, it might take you some time to get used to it like swiping up for all the tracks, swiping down, swiping left for volume, and so on.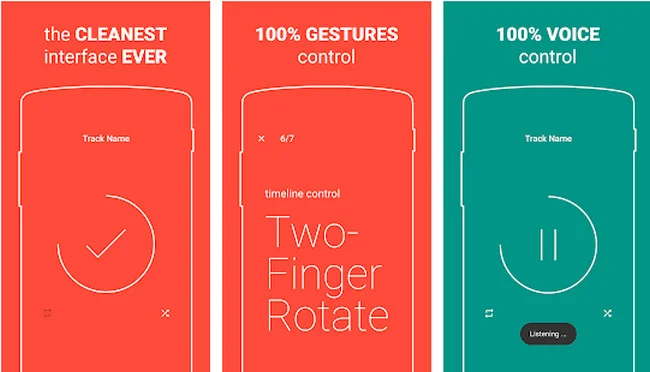 But once they become a part of your muscle memory there is no going back, the interface is clean and there is nothing distracting about it, also there are voice controls that will help you find the tracks without much of an issue so the gestures and voice combo works for the best however you just need to give it some time.
Get It Now: Google Store
4. N7 Music Player
This one is a very popular app with a minimalistic design and a really simple interface. What's amazing about this app is, its unique surface search which lets you quickly get all the music files on your android phone but the good thing about the n7 player is that it can play almost every popular audio format be it mp3, mp4, m4a, OGG, etc.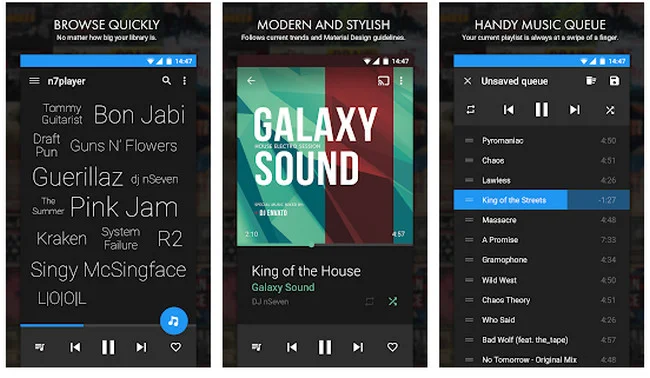 Also if you have been listening to online streaming services for a long time, you can really make out a change in the sound quality when you use this player and combine that with the impressive 10-band equalizer with the bass boost and treble controls for an amazing song quality.
The app also has an array of customizations that you can do in different segments like playback, headset, and even on the lock screen. Overall it is a very feature-rich and cool app that's a must-have.
Get It Now: Google Store
5. Musicolet Music Player
The main and most important feature of this app is that it is completely free and completely offline. It never asks you to connect to the internet and this is something that the developers of this app stress, they are really concerned about privacy and they say that it will always remain like this.
Other than that it has 5 band equalizer and bass and treble support. It also comes with a nifty sleep timer along with earphone support.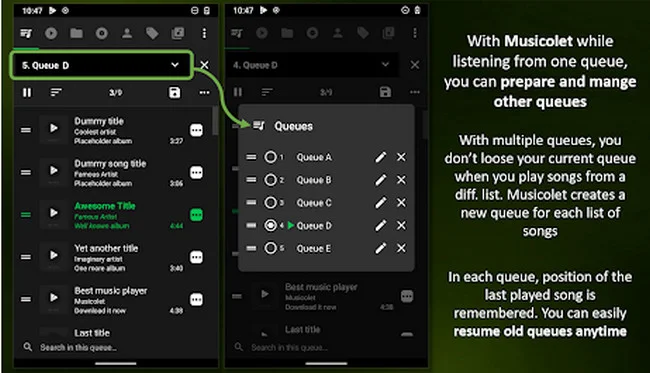 Also, the song you play on this one comes up with embedded lyrics. This app supports that so you can sing along. This app also lets you choose between the light amulet and dark themes.
Overall, it is a pretty interesting app and the fact that it has no in-app purchases even after offering so many such amazing features makes it worth a shot.
Get It Now: Google Store
6. Black Music Player
The ones who miss windows phones will just love this phone. Now as you will open this app up, album tracks will be visible and when you will tap on them, it will open up the tracks, along with details for related albums and artists.
Contrary to its name, this one is pretty colorful and quite easy to maneuver.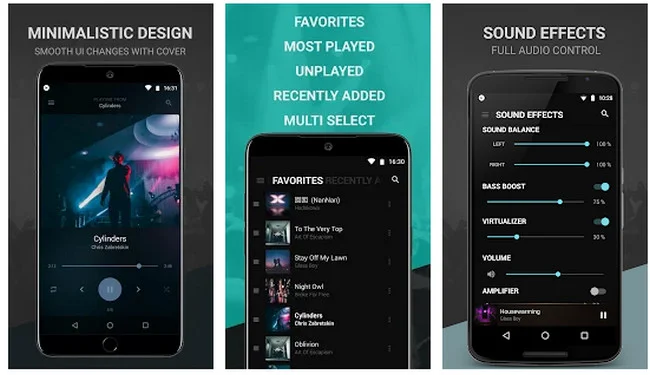 All you gotta do is swipe right and left and you will be redirected to other tabs like genre, artists, etc. Features like gapless play, pause on the phone call, Bluetooth detection, and crossfade. Just a handful of points make this player amazing and truly unique.
Get It Now: Google Store
7. Frolomuse Music Player
This is a very interesting app that lets you play and explore the music using a circular seek bar. It also lets you find songs using created keywords. One of the best parts of this app is the built-in seven-hand equalizer with bass boost, 3d reverb effect, virtualizer, and ten presets.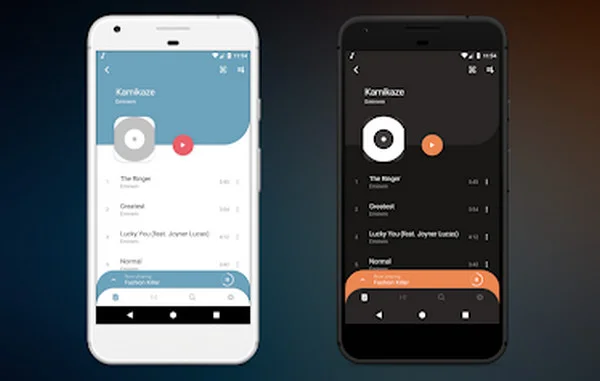 It also gives you two stylish now playing screens, shuffle moods, and just shake your phone to refresh your playlists. All in all, it's quite a feature-rich app that enhances your music listening experience.
Get It Now: Google Store
8. PI Music Player
This app has been rated 4.8 on the play store, so it must have something that makes it so popular. This one has been recently described as stunning and feature-rich plus the themes are a cherry on top.
Obviously, it does play music like other musical apps and offers a few music-related features but there are two really cool features that make this app stand out.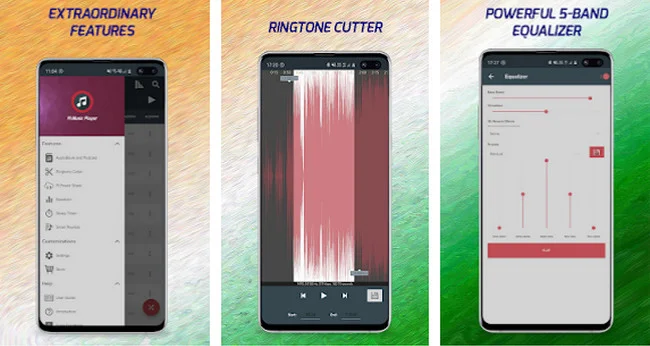 First is the ringtone cutter; it allows you to cut a part of any song you are playing and use it as the ringtone of your phone.
This one is really cool, basically, you can just cut out the extract of a song and you can even put it to your alarm or whatever basically you can save that trimmed part.
The second is the PI power share, as the name indicates it allows you to share a song from within the music player quite easily. You can actually share a music file with anyone around the world.
It will generate a shareable key which you will have to share with the person and then that person can get the song using the key.
Get It Now: Google Store
9. Beatbox Music Player
This one is for you if you miss the stunning visualization of the power amp. This one comes with an array of eye-catching backgrounds that make the app stand out from the rest. You can choose, the nano player screen from the available list and the same list for the theme.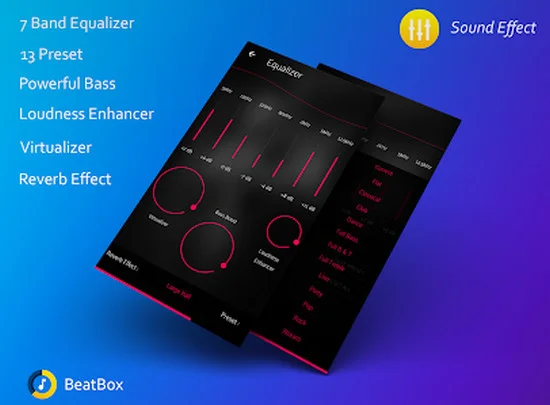 Navigating the app is buttery smooth though you will have to give it a couple of days to get used to it. It's bundled with an 8-band equalizer with controls for bass boost and virtualizer plus there is additional support for loudness enhancer.
There are a bunch of other separate presets as well which you can go ahead and customize as per your taste.
Get It Now: Google Store
10. Music Player by Inshot
It supports all kinds of popular music formats out there but, the one feature that makes this app unique and stands out is the customization of skins with it. You can either go for the gradient look or have a single color painted on the main clip.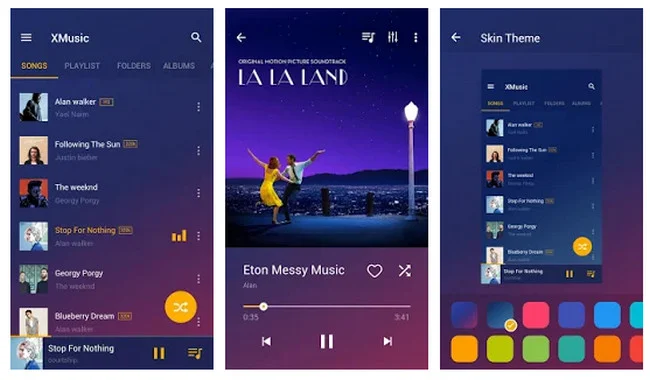 Other than that there is the support for widgets, navigation gestures, a mini-player, and a sleep timer.
Also there the contextual settings like pause or detach and lock screen playing which you might find useful if you are someone who likes listening to songs while doing extra stuff.
Now the only thing that is not likable about this music player is the little banner ads, up at the top.
Get It Now: Google Store
11. PowerAMP
If you haven't used or even heard of it PowerAMP, you must right away go ahead and install it. This one has been recently updated in the last few months with a new audio engine, UI, and navigation.
The PowerAMP player has one of the most amazing features out there like different volume levels made 30, 50, or 100 and you can find those settings under audio advanced weeks.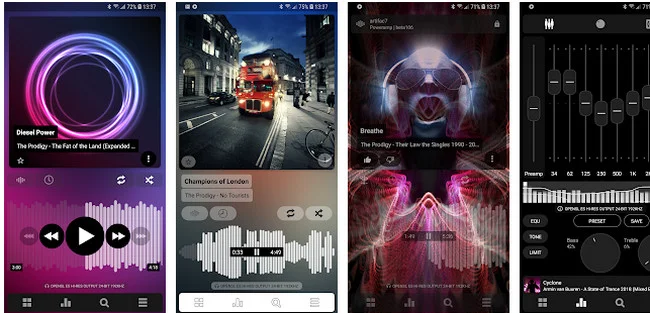 It also has a 10-band optimized graphical equalizer and the support for custom presets. Along with that, you have powerful bass and treble adjustments, stereo expansion, mono mixing, balanced tempo control, reverb, music effects, and a lot more on PowerAMP.
Now there is a trial version that you can go ahead and install and try the app for seven days without any restrictions and if you like it, you can go ahead and purchase the full version as a separate PowerAMP app on the play store.
Get It Now: Google Store
12. Phonograph
If you are a person who generally likes a clean and nice interface in your app then this app is completely for you. This is 100% ad-free and it is the best thing if you play music online then ads are a big big deal.
It also has a theme engine in its settings so you can also use that to make your app look creative.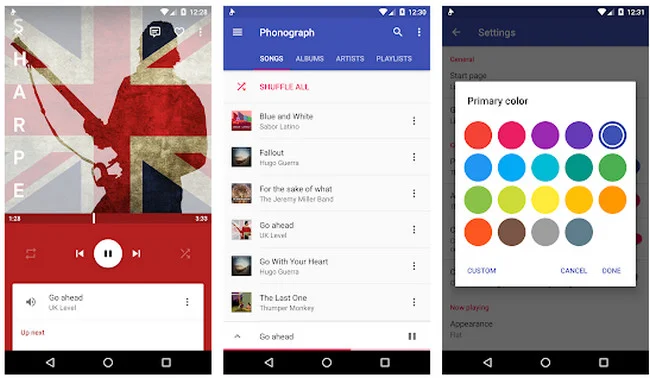 It also has a dark and light theme option depending on the light situation you are using the app in. And you will also get many more customization settings on this app. It's also one of the best android music players on our list.
Get It Now: Google Store
13. Google Play Music
Now, this is that one app which will be on every Android user's mobile phone irrespective of the fact that you are gonna use it or not. This one is actually the default music player app by google in every android mobile which again plays music offline and online.
This one is pretty less used but is the most versatile and popular in a means that there is no actual need to download this app, it is already installed inside your mobile phone.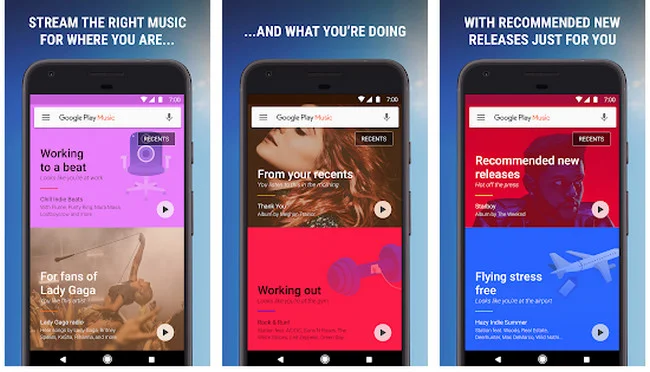 In its recent update, it has got a radio option so you can just go to any of them and just play it while having an internet connection as it is a streamable option where you can binge on your favorite songs without actually downloading them.
It is quite similar to what you do on saavn app but obviously, both these apps do differ in means of their working and features even being similar.
In the music library, you will find the music saved in your memory card, and other than that, you can just search for songs and stream them online.
Get It Now: Google Store
14. Pulsar Music Player
This one being completely free and lightweight, this one is one of the most preferred free android music player apps among the users.
It is ad-free and is simple yet so beautifully designed with a gorgeous user interface and animation. You can even customize the interface with different color themes.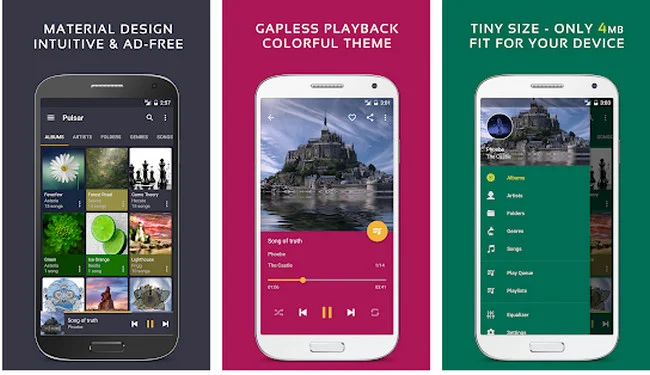 Pulsars library can be sorted by album, artists, genre, and folder. Further, this app also offers other features like gapless play, chrome cast support built-in tag editor, a 5 band equalizer, and much more, although pulsar is pretty tiny.
It's one of the best music players for android to check out as musical apps.
Get It Now: Google Store
15. Media Monkey
Media Monkey is a feature-loaded android music player. Its library can be browsed according to album audiobooks, podcasts, artists, tracks, genres,s, and even composers. A full review which can really help you know the app completely is available for a trial period of 15 days.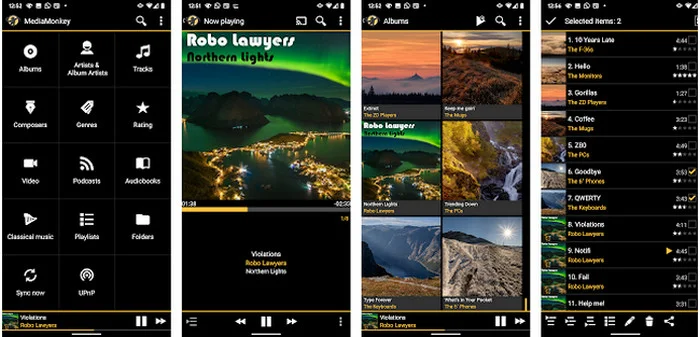 The search algorithm is fast and predictively displays both artists and tracks. There is a 5-band equalizer with stereo balance. Media monkey can download your missing album art and lyrics. It's the best android music player with multiple features such as musical apps.
You can also sync your android player with media monkey for windows. You can also view the seed bar of a track in the notification panel by enabling it in settings. Overall this is a really good music player with basic as well as pretty advanced features for free apps for music.
Get It Now: Google Store
16. Musix Match
If you like to sing along with songs, a music match is a right player for you. It's a floating lyrics widget that can let you have access to lyrics synced in real time.
You can view lyrics to songs even while using Spotify, YouTube, apple music, sound cloud, google play music, etc. Moreover, it can identify the lyrics of a song playing in your surroundings.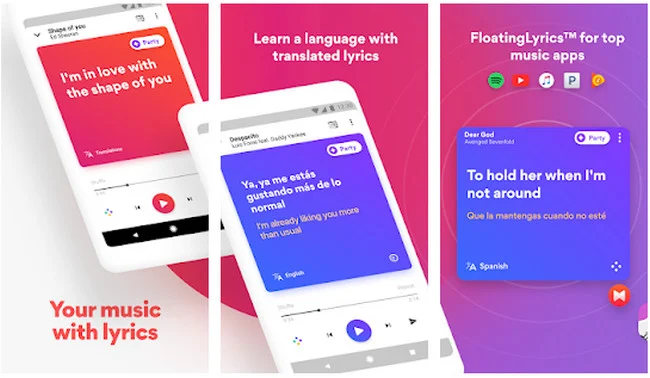 Music match allows you to search songs by title, artist, or even a single line which is the best feature because it happens a lot of times when just get some song into your ears, you really like it but all you know about it is that single line that is stuck in your head and truly when you can't find the song it is the saddest and irritating part.
So this app just gets you a song by literally a single line of the lyrics from anywhere in the song. The player itself includes all the necessary features and allows you browsing of media by album, artist, genre, and folder.
The player displays add but you can get rid of it by purchasing the premium version.
Get It Now: Google Store
17. AudioMack
Chat audio is a long-time favorite of android users because it has more than enough features to do better than most music players but yet so simple for anybody to use it.
This one features a variety of audio enhancements that comes as plugins so you can tweak your music experience a little more than usual for musical apps.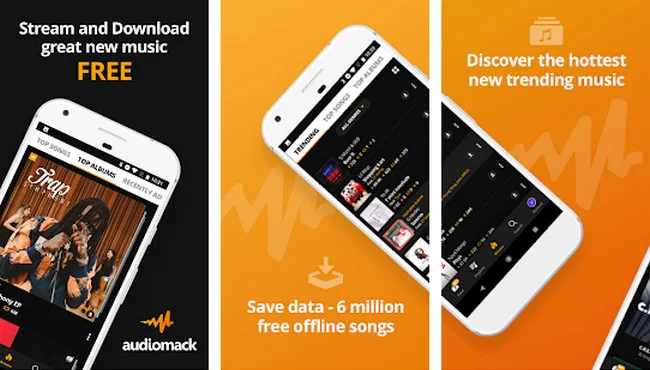 On top of that, it comes with an equalizer, complete with 32 presets. A simple effect like bass boost, A tag editor, widgets, and even midi playback. The free and paid version are virtually identical.
The paid version just removes advertising and adds themes. But is the best android music player you can easily get it from the google store for free.
Get It Now: Google Store
18. Cloud Player By DoubleTwist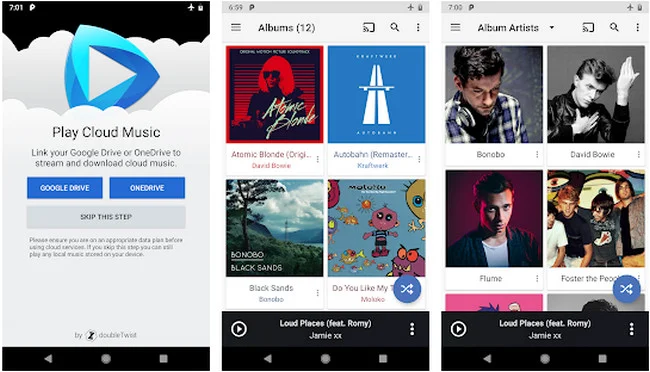 This one has become a favorite of android users that had deep roots in the iTunes ecosystem and still is. The base app has been replaced by a cloud player. A newer offering that looks great and has hooks into some of the most popular cloud storage services to deliver your music.
Get It Now: Google Store
19. Rocket Player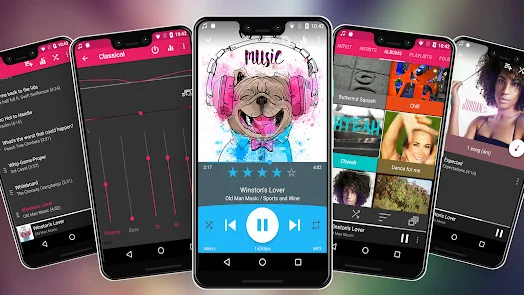 This app has got a great and clean user-friendly interface. It works on android as well as iOs. Now it is again like those regular apps where you can search with categories and subcategories, equalizers, etc., and a lot of things.
You can download the songs you like which you can hear in the offline situation.
This is the best Android Music Player from the complete list because it's an outstanding offline music player for android phones. Moreover, it's one of the free music apps available on the Google Store with outstanding ratings and reviews.
Get It Now: Google Store
20. Music Player By iJoySoft
This one has got a lot of options to do there is a possibility that you might have heard of it before. This one again works on both android and iOs. Now it can be downloaded from chrome or any browser but is not available on any store.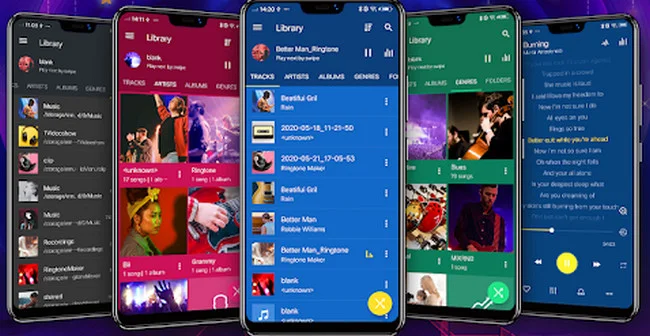 This app will prompt you to log in, the first time you open it, and then even if you go somewhere where you don't have your phone or you changed your phone or anything so when you will log in to this with the same I'd again, all your data, specifications and modifications will be the same and hence you just do one thing once and it is saved.
Get It Now: Google Store
Related Articles:
Transfer WhatsApp Messages From Android To iPhone
15 Beat Maker Software And Apps To Use
26 Free Movie Download App For Android
5 Ways To Fix WiFi Authentication Error on Android