Best Nintendo DS Emulators for Android and iOS. The Nintendo DS is one of the most popular handheld gaming consoles ever made. It has sold millions of units since its launch in 2004, and it's still going strong today.
The reason for this success is simple: the Nintendo DS has an excellent lineup of games that people love to play again and again.
The Nintendo DS is not only a great gaming console, but it's also a wonderful tool for playing music and movies.
The device has an excellent sound system that supports MP3 files and multiple speakers, allowing users to enjoy their favorite songs on the go.
The Nintendo DS has also been used to play movies, and you can find a large number of videos that were specifically made to be viewed on the device.
Unfortunately, Nintendo hasn't released any official software for playing these games on our PCs or mobile devices.
There are, however, a number of unofficial emulators that allow us to play Nintendo DS games on our computers or smartphones.
These emulators don't offer the same level of quality as the official models, but they still provide an enjoyable experience for most users.
Below is a list of the best emulators for Nintendo DS that you can use to play your favorite games on your PC or mobile device. The emulators are compatible with Windows, Android, and Mac OS, but they may require some tweaking to work properly.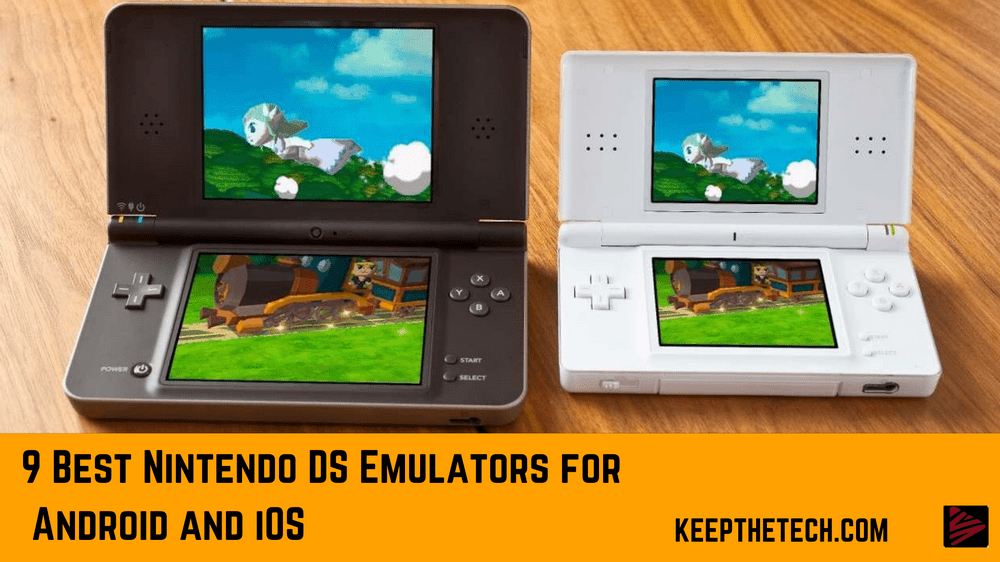 1. nDS4Droid
This is one of the most popular emulators for playing Nintendo DS games on your Android device. It's available in the Google Play Store, so all you have to do is download and install it to get started.
The emulator offers a variety of settings that allow you to customize your experience.
These settings include toolbars, saving and loading states, screen filters, and much more. You can also use the touchscreen on your Android device as a touchpad to control the game.
The emulator offers support for a wide range of games, including Animal Crossing: Wild World and Super Mario 64 DS.
It also supports cheat codes and has a built-in game downloader, so you can download games directly from within the app.
2. EmuBox: Nintendo Ds Emulator With Best GUI
The EmuBox is one of the newest players in the NDS emulator field and is an exclusive emulator that runs your old game ROMs on Android. It offers up to 20 save spots for each ROM and enables screenshots whenever necessary for gamers.
Moreover, it supports fast forward and external devices, such as Bluetooth gamepads, etc.
One of its strongest features is EmuBox's inability to limit itself to the NDS. Instead, it supports a wide range of other platforms, including the NES, GBA, GBC, and PSX.
One of the earliest multi-console Android emulators, it uses Google's materials design ethos to deliver one of the most aesthetically pleasing and user-friendly emulators.
Wide compatibility, excellent graphics quality features several save spaces for each game, portrait and panorama modes, and support for external controllers
But when too many cheat codes are used, the game lags.
Android platforms Download: (Free)
3. DraStic DS Emulator:
Another completely functional Nintendo DS emulator for Android is called DraStic. It is without a doubt among the best Nintendo DS emulators given that it enables full-speed gameplay on the majority of Android devices.
The 3D graphics of the game might also be upscaled to two times their original resolution on high-end smartphones and tablets. The emulator supports physical controls on devices like the Nvidia Shield, in addition to add-on controllers.
Additional noteworthy features include support for save states, the ability to change the location and size of the DS screens, portrait and panorama modes, and more.
The DraStic emulator also supports cheat codes, with a large database numbering in the thousands. Finally, it also aids in quick forwarding, enabling you to increase emulation speed.
On the downside, DraStic has yet to add Wi-Fi assistance, and there isn't a multiplayer feature at this stage.
Fast, modern smartphone graphics upscaling, external controller support, cheat code support
Negative aspects: paid app; no multiplayer mode.
Android platforms Download: (Paid)
4. NDS Emulator:
One of the more recent Nintendo DS emulators is called NDS Emulator. It offers all the essential features, including the ability to use an external controller, save and load game states, and customize on-screen gamepads.
The majority of the games we attempted while testing it also worked on it. It has bugs and is far from perfect. One of the better free Nintendo DS emulators is available, though, and it is this one.
There are advertisements, and they can be a pain. We wished there was a way to pay to have them taken away. Although it isn't the first one we'd suggest, it is unquestionably among the top five.
5. RetroArch Plus
RetroArch is a multifaceted, multi-platform, multi-purpose free and open-source software (FOSS) application that runs on almost any imaginable platform.
It will be available across a variety of gaming systems, including PS2, PS3, PSP, PS Vita, Wii, Wii U, 2DS, 3DS, Nintendo Switch, and more, in addition to Android, iOS, Windows, Mac, and Linux.
It is without a doubt one of the best front-ends for emulators that supports not just the NDS but also the Game Boy Advance, the original Game Boy, as well as a vast array of consoles, both old and new.
Bear in mind that RetroArch only offers the front-end GUI for emulators, game engines, and media players; you must purchase the core for each unique system separately for it to function.
While the setup necessitates some technical know-how, the emulator allows you to play simple video games on a range of computers and gaming consoles.
Even better, you can use RetroArch and the Libretro API to develop your own NDS video games.
Positives: Ad-free, multi-platform support, open-source, and a wide range of alternatives.
Negatives: The setup process takes time and technical expertise.
Platforms: Windows, Mac, Linux, Android, iOS, and others. Download: (iOS and Android)
6. Super NDS
Unquestionably, one of the newest additions to the growing array of Android Nintendo DS emulators is SuperNDS. It performs admirably on more recent Android devices, offering rapid gaming, respectable rendering, and generally bug-free graphics.
It supports NDS, ZIP, 7z, and RAR file formats in addition to other features like save states.
Although it supports all Android versions up to and including 5.0 Lollipop, SuperNDS needs a decent amount of RAM to function. Video games can crash occasionally on older devices with less RAM, necessitating a manual RAM unlock and emulator restart.
However, this emulator offers enjoyable gameplay at top speed with respectable visuals on more recent devices with enough RAM. It is without a doubt one of our list's top Nintendo DS emulators.
Positives: Quick gameplay, minimal bugs, and decent graphics
Cons: Compared to rival products, it is relatively basic and resource-intensive.
Platforms: Downloading Android: (Free)
7. NDS4iOS
This is one of the most accurate Nintendo DS emulators for iOS, NDS4iOS continues to be the best so far. It is a free Nintendo DS emulator that operates without the need for jailbreaking, making it available to more users on more devices. 
With features like support for iOS controllers and the ability to change the design and placement of the control pad, it is fully tailored for iPads and iPhones.
The inclusion of an in-app browser to download Nintendo DS games as ROMs and other content is one of NDS4iOS's unique features.
Additionally, the emulator includes features like Dropbox integration and AirPlay support that let users sync emulator data between their phone and TV. NDS4iOS works with subsequent versions of the software but requires iOS 5.1.1 or higher.
Positive features include Dropbox integration, support for iOS controllers, and AirPlay.
Negatives: Improvement is no longer ongoing
Platforms: Download iOS: (Free)
8. iNDS
Although there aren't many high-quality NDS emulators for Apple's mobile platform, iNDS is pretty much the best one out there.
It is without a doubt one of the best Nintendo DS emulators on the list because it actually functions without jailbreaking and is based on the venerable NDS4iOS.
All devices up to iOS 14 are compatible with the iNDS emulator, which offers players features like auto-saving, in-app customizations, video filters, haptic vibration, and more.
Due to Apple's tight and sometimes harsh approval rules, iNDS isn't available on the App Store. However, if your system is jailbroken, you can get it via PrimeStore, AltStore, or the Cydia Store.
Although you can purchase the emulator from unverified sources, it is important to note that the game ROMs do not come pre-installed with it; you will need to obtain them separately.
Advantages: Compatible with a wide range of business ROMs, works without jailbreaking
Disadvantages: Setting up and troubleshooting takes time and technical expertise.
Platforms: Download iOS: (Free)
9. Free DS Emulator
Some NDS games can be played on Android thanks to the Free DS Emulator, which offers fluid gameplay and respectable graphics.
It supports.nds,.zip, and a plethora of other file types and offers features like saving and loading game states, customizing buttons, cheat codes, and more. 
Additionally, it supports external controllers like the Joy-Cons for the Nintendo Switch.
The Free DS Emulator was initially designed for Android 6.0 Marshmallow, but it surely runs on most gadgets with Android 4.2 Jelly Bean and above.
It is suitable for most current-gen Android gadgets. You ought to obtain this emulator if you wish to convert your previous telephone right into a devoted Nintendo DS gaming machine.
Fast gameplay, active enhancement, support for cheat codes, and external controller assistance are positives.
The Negatives are crashes when opening ROMs made by third parties.
Systems: Android
Download: (Free)
Frequently Asked Questions [FAQs]:-
Can an Android device mimic a Nintendo DS?
Along with console games and non-Nintendo systems, the Android version of the software supports titles for the Nintendo DS, Game Boy Advanced, and original Game Boy. Nevertheless, you need to download the core for every single emulator. With the Libretro API, you may even play and develop your own homebrew games on the DS.
Can I use my iPhone to play DS games?
The Nintendo DS boasted one of the best game collections of any Nintendo portable, but emulation is difficult due to the system's unusual physical design. The good news is you'll be able to play your favorite DS games here on the fly thanks to iPhone emulators for the Nintendo DS.
Exists an iOS DS emulator?
One of the first Nintendo DS emulators for iOS was NDS4iOS, and it is still one of the best today. It is a no-jailbreak Nintendo DS emulator that is available for free and allows more users to use it on more devices.
Conclusion:
In this article, we've reviewed the 9 best Nintendo DS emulators for android /iOS.
While we cannot say which emulator is best for you specifically, the ones in our list should be great starting points for anyone who wants to dive into emulation on Android or iOS.
They allow playability on both platforms and have a wealth of options to enhance your experience.
We hope that this discussion has helped you make an informed decision!
Related Articles:
Nintendo Switch Won't Turn On | 5 Ways To Fix
50+ Best Nintendo Switch Games
How to Nintendo Switch Accounts
How to Install NVSE for Fall Out New Vegas