10 Best Solar Power Bank To Buy
1. Blavor Qi Portable Charger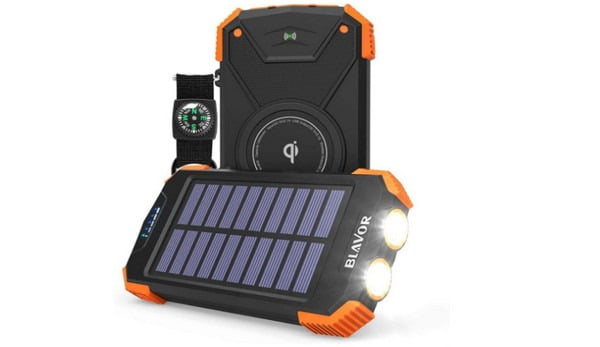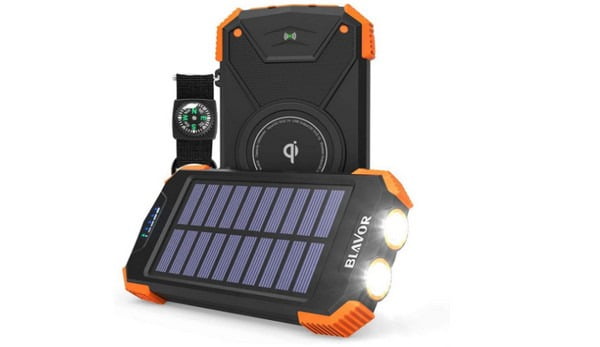 This power bank is shockproof, IP×7 waterproof. It's package consists of wireless power bank, user manual, cable and compass kit. On the power bank on the right, there is the power button, a micro USB input, a USB input, type C input and on the top is the wireless charger port.
To Use it:
You can either connect the cable that comes with the package or just keep your device on the charger and press down the power button and the green charging indicator flashes. It also has dual flashlights and a lot more. It is a five in one power bank.
2. FlynnTech Portable Solar charger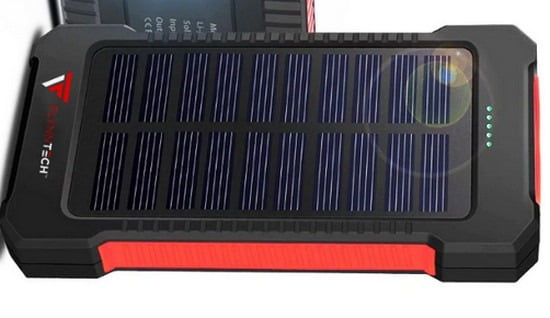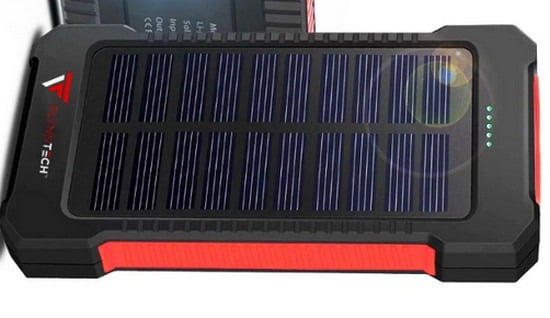 Savage solar charger 10000 mAh, again it's waterproof and shockproof. It lasts up to 35 hours. This charger comes with a waterproof rubber lid, Input of 5v/2A and output of 5V/3A. On the base, there's a power button, a solar charging indicator and battery indicators. There are three light modes on the lower side of the charger Normal/Weak /SOS. It has a 3mm shockproof corner cushion, 2.5+ mm Durable panel and 7mm EVA pads of battery. 1.8W Solar panel that is 50% faster than others, it has a feature of double device charging etc.
3. Renogy 15000 mAh Power Bank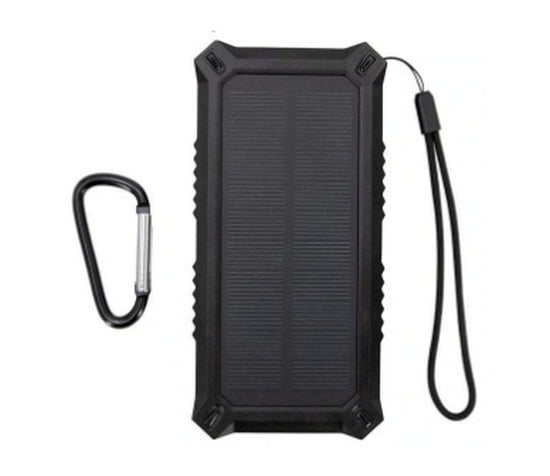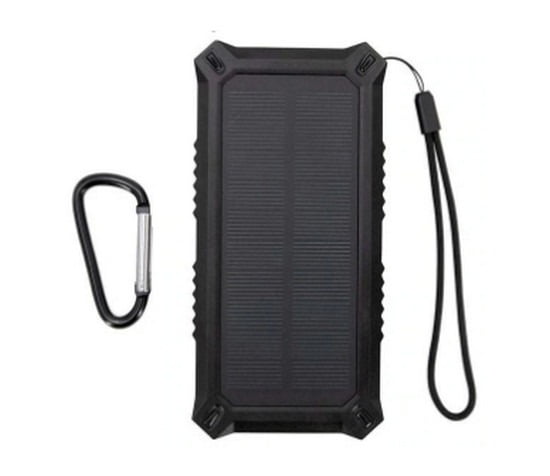 It has a built-in 15000mAh lithium battery, water-resistant, has a portable design and is lightweight, has a dual USB charger, equipped with LED flashlight, 4 times more power than a normal one, just put it in an open heart and it will start charging. 1.5× charging  Go ahead with this one.
4. Hans Power Packed 150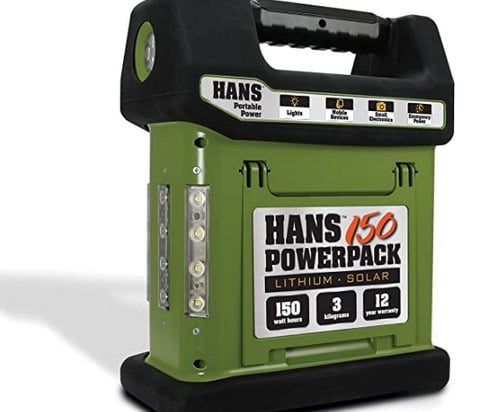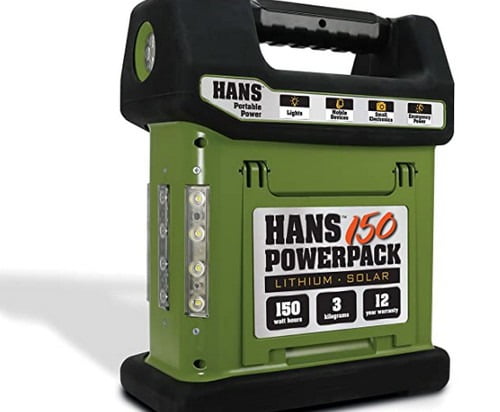 This one gives you lights mobile device charging and the ability to run small electronics during power outages and outdoor activities. It has three floodlights and two setting spotlight. To charge multiple devices, use the included adapter plug. For faster solar charging you should use the solar briefcase. To check the battery just push the button. This one has to be your personal solar power plan. Never be without lights or discharged mobile phones.
5. Gore Tex Solar Power Bank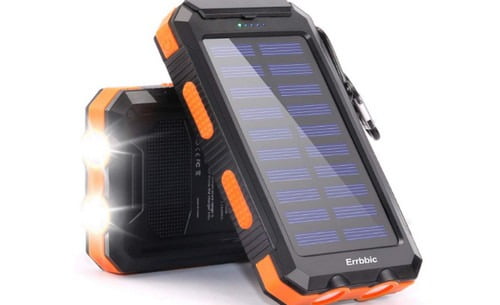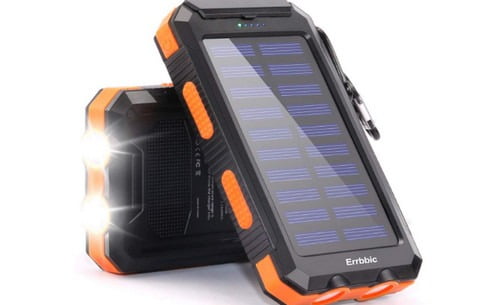 It is the best solar charger to pick. The power bank has over 600 customer reviews with excellent ratings. This power bank is on the number one position among solar power bank categories. The goertex power bank combines four efficient solar panels. The solar panel charger built-in twenty-five thousand milliamp pure lithium polymer battery which is enough to charge an iPhone XS for 7.4 times, a galaxy 69 + for 5.7 etc.  The indicators on the power bank show if the device is getting charged or not. The built-in thirty-six LED lights with powerful Lightning function. This one is the best choice for the outdoors.
6. Hiluckey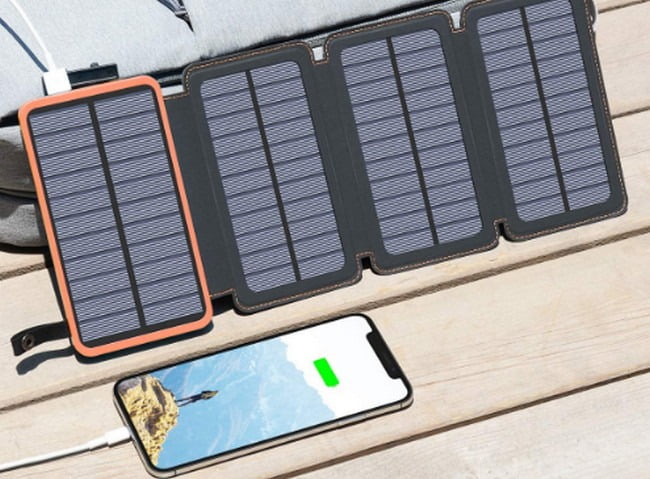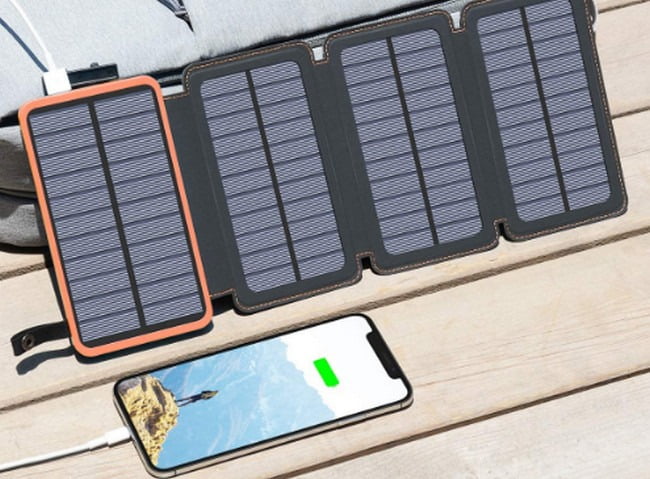 It is a 25000mAh solar charger. The Hiluckey solar charger is one of the most powerful power banks has over 800 customer reviews with solar charging function you don't need to worry About running out of power.
It can fully charge your iPhone or Samsung 10+ times. It is four foldable, highly efficient solar panel which converts solar power into energy quickly with 5-watt power that faster than the other solar chargers which have only one single panel. You can enjoy hiking, travelling etc. Other outdoor activities with this one.
7. NextGadget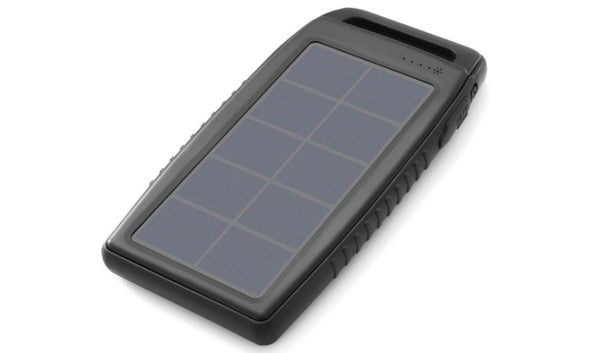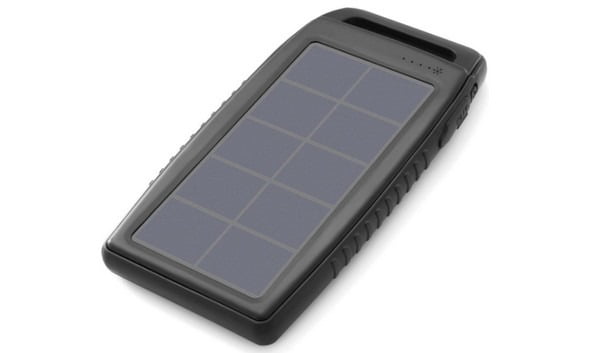 QI wireless power bank It is easily one of the best solar power banks on the market.  This power bank has over 300 customer reviews with a 4.6 average rating which clearly states how good this one is.
It comes with a 20000 milliampere power battery which will surely attract you as you're looking for the highest battery capacity. This will automatically adjust the power to deliver the optimum charging that keeps your devices from overcharging. The charging speed is three to five times faster than its competitors. This is also waterproof which lets you charge two devices simultaneously.
8. Addtop Solar Power Bank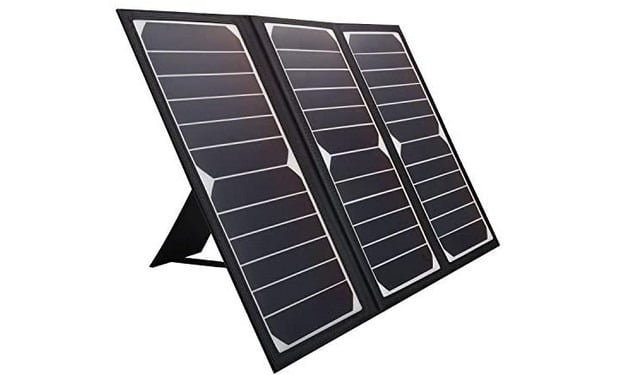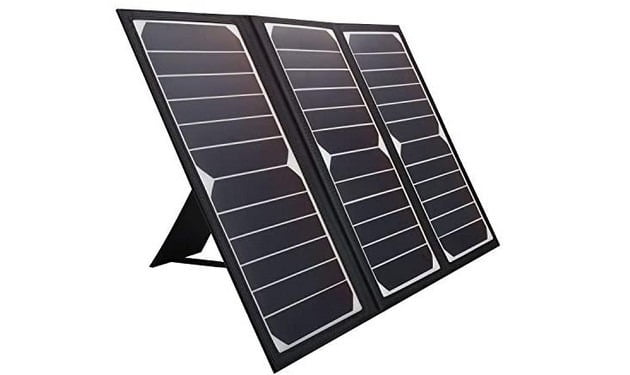 The addtop solar power bank has some features that make it favourable for outdoor usage. It has over 280 customer reviews with great average ratings.
It comes with a 25000 milliampere battery and high-quality plastic synthetic leather case. The material quality battery life and durability of solar power bank express their contentedness and the battery's ability to hold it's the charge.
10. SOS 20K- SOS Powerbank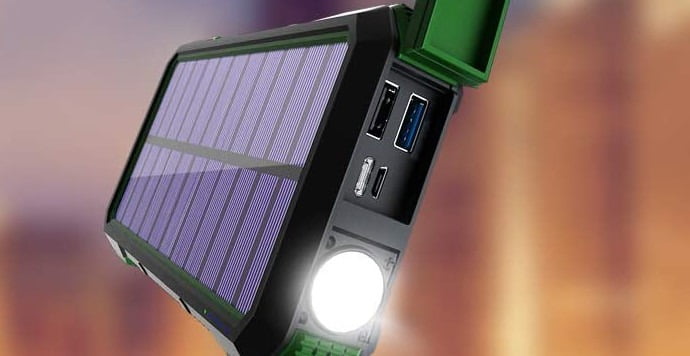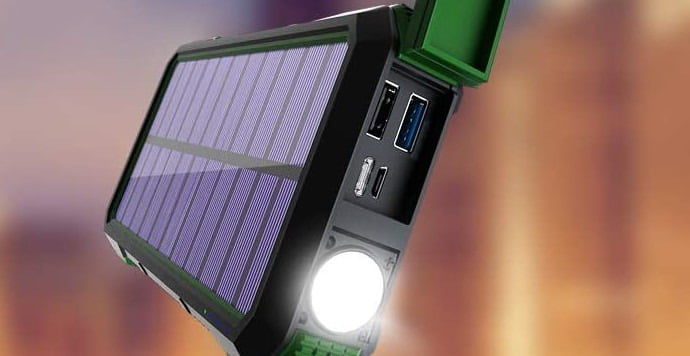 It has the capacity if 20000 mAh. Flashlights, 4×3 in1 led SOS signal, IP×7 waterproof, dustproof and shockproof, charges multiples devices at the same time, up to 4. Its package includes ultra-durable 50kn carabiner carrying clip, braided nylon aluminum case with a waterproof cover.
It has a good power backup and keeps alive up to 30-32 hours and can charge approx 10 mobile phones or 7 iPhones or 4 tablet size devices fully. So if you're on an outing this has to be your perfect companion.