5 Best Reminder App with Alarm To Install On Phone
If you are someone who forgets a lot of stuff and wants help on the part where you can be reminded of your tasks in your own suitable way and sort your life out then you may download one of the following apps and it will all get sorted for you
Best Reminder App With Alarm For Professionals
1. Sorted AI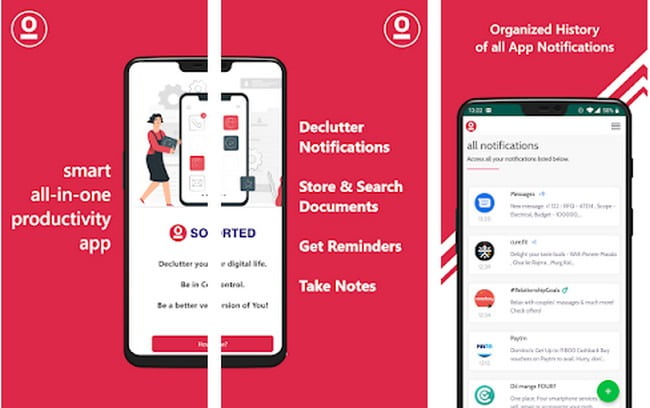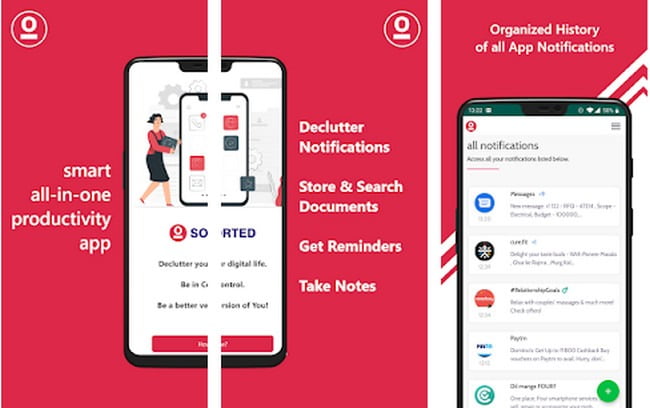 This is one of the best apps to remind yourself of stuff and keeping notes to it. You can set tasks even daily or monthly or any time you want. This app keeps you organized and focused by keeping up to your schedule and keeping you intact and productive all the way long. This app helps you take notes, set reminders, manage notifications, organize personal documents like id, invoice etc.
This app gives you auto-reminders for the renewal of your documents like bill payments and stuff. Searches and finds stuff through your screenshots, notifications, notes etc. It justifies it's named 'Sorted' as it sorts out every work of yours and manages to keep things easy and organized for you.
Get It Now: Google Store
2. A to-Do Reminder with Alarm
This app lets you relax as it takes all your memory work and keeps it stored with itself and pings you up whenever scheduled stuff is on its way. This app has a moto to make your life easy. This app is quite quick and easy to use. You can customize the reminder as per your requirements with repeat and you can set alarms in advance too. You can choose the option of reminder alert where you get a reminder as notification or alarm with your favourite sound.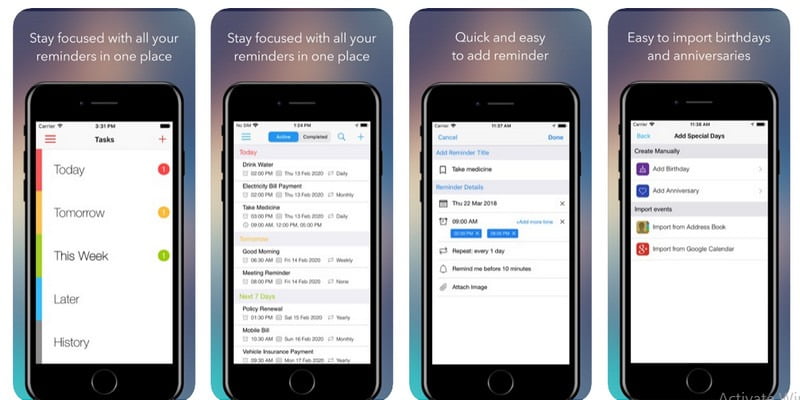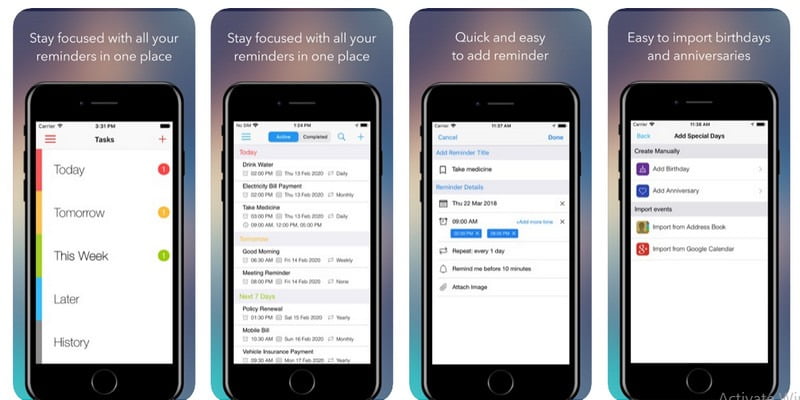 This app also provides you with the feature where you just gotta speak what you want to save and it will do the job. You can synchronize events like birthdays and anniversaries from either some app like Facebook or save it manually and the app you can app lovely wishes on the special day of your knowns. It has an auto back which as in help when you lose control over your account or change your phone where you just gotta reset the settings according to your preference and you'll get back to your reminders.
Also if sometimes the app doesn't work theN the FAQ option of the app will have the process to sort the issue out in the form of your solution.
3. To-do list, Planner, Calendar and Reminders
It is an all in one app with a checklist, reminders, memo, etc. According to NYTimes and USA today this one is a must-have for you. This keeps up. your checklists and reminders to them to keep you away too much organized like even with your grocery lists.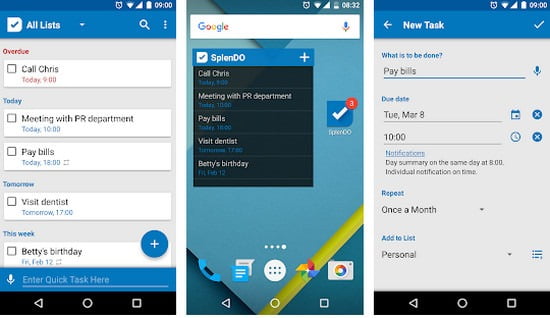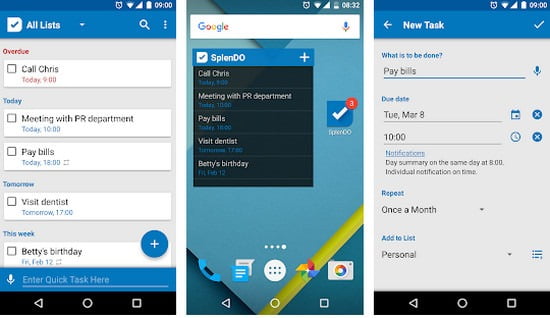 It plans for your events by keeping in front of you all your schedule. It syncs seamlessly with your phone reminders, drive ones, calendar events etc. So that you don't miss upon an important one. This app can manage your tasks super smoothly by planning A to Z everything for you. From managing your tasks to your payments to project managing and much more.
Get It Now: Android / iPhone
4. Talking Calendar reminders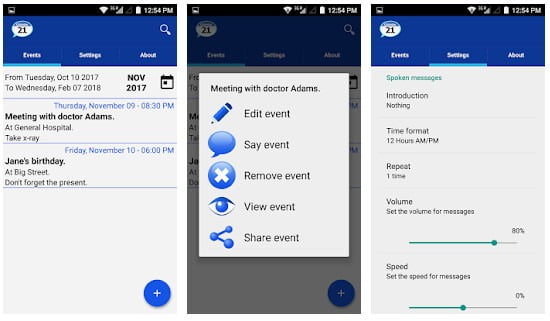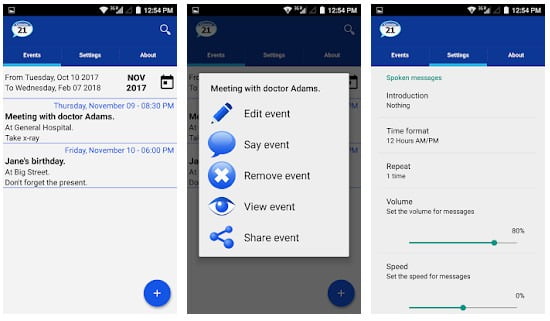 This app speaks aloud about your events and alarms, it eventually sort of integrates with the calendar to speak aloud about reminders. You can use this app to edit or remove any calendar events set up on your phone, it will remind you of your appointments with reminders that talk and not make sounds.
You can replace your alarm clock with this as it provides you with the option to repeat it several times and even surprise your family for your weekend plans and stuff. It is a hands-free driving app where to reach or view anything you just gotta listen to the app and your part will be done.
Get It Now: Android / iPhone
5. Talking Voice Reminder To-do list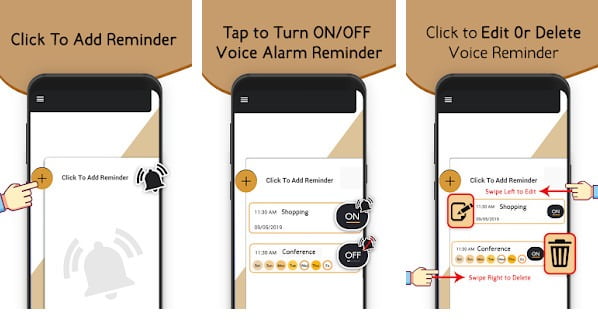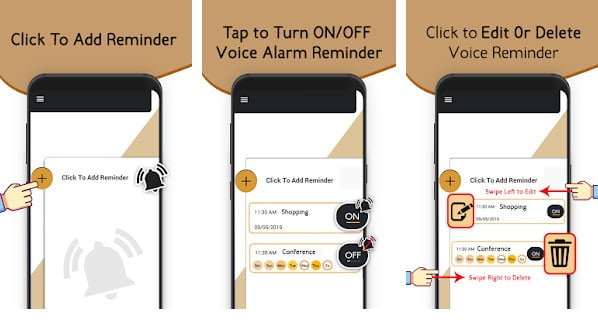 This is a very unique app where you can set reminders with your voice. This app is sort of a utility app that provides you with talking voice reminders. This is very handy and has descriptive features for easy understanding. This app eventually shows you whatever to speak and whenever the plans and events are on their way, it pushes your phone and pings you up for the event, meeting, plans or whatever.
This app also has a feature of deadline where you set a deadline for a certain project or work and then whenever the finishing date is approaching the app reminds you of that particular thing so that your work gets finished up and you don't get any issues later.
Get It Now: Android