There is a way from which you can recover the screen time passcode on iOS 13 from your device. For iOS device users who forgotten their screen time passcode unlock their device by going through the short process in which discuss recovery screen time passcode.
Apple advises following a guided step to recover the passcodes for free of iOS devices. There are methods from which iPhone users can easily disable screen time passcode through Apple ID or recovering it by manual process.
What is Screen Time Passcode?
Basically, the screen time lets you control the time period you spend your time interacting with the iPhone or iPad. The password is 6 digits while screening time passcode is 4 digits in IOS 11 and earlier versions have a similar feature called Restrictions. But in IOS 12 and after version, apple replaces Restrictions with Screen Time which is pre-built and enabled by default. If you're updated your device from iOS 11 to iOS 12 then you created a screen time passcode and so goes on for the next version of iOS. You need a screen time passcode to disable the screen time on the iPhone.
How To Remove Screen Time Passcode on iOS 13
By following this method you can disable the screen time on an iOS device ( Mac on the same Apple ID). The process will reset the password if you're going to re-enable the screen time it may prompt you to choose a new password for the screen time.
Remove Screen Time Passcode on iPhone Though Apple ID / Manual
There are two ways to remove or recover the screen time passcode on iPhone or iPad. You can either recover the screen time password with your Apple ID or else you have to restore your iOS device to remove the passcode.
Recover Screen Time Password With Apple ID
Remove Screen Time Password By Reset
Recover Screen Time Passcode Through Apple ID
In case if you have forgotten the screen time passcode of your iPhone or iPad. And don't how to recover the password of screen time. Apple has an automatic service for its users to recover the passcode by themself through Apple ID.
Follow these steps to recover the passcode—
Settings → Screen Time → Use Screen Time passcode →Turn Off Screen Time Passcode.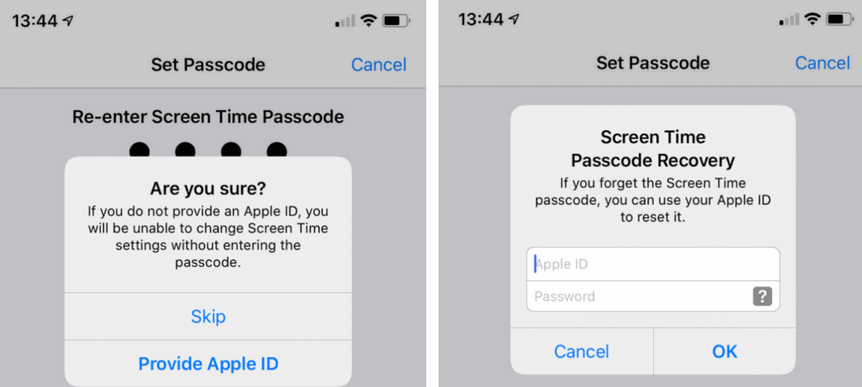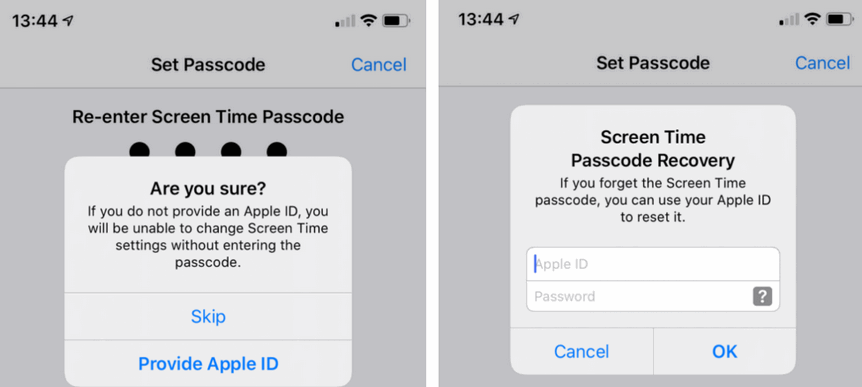 After this, you've promoted to recover your password using your Apple ID. After entering your ID you've able to recover the password.
Remove Screen Time Passcode Through Reset
In case if you've also forgotten your Apple ID or the above process doesn't work for your iPhone. You can reset your iPhone to remove the screen time password from the device. For this, you've to restore the last backup of your iPhone.
Note: Before proceeding, you must turn off "Find My iPhone" on your device. And Check for the backup file you've created recently of your iPhone.
Follow the steps to restore the backup of the iPhone or iPad—
Connect your iPhone to iTunes with the USB cable. Tap on the "Restore" button. (This will download the latest framework from iTunes before deleting and updating it). Make sure you have a backup of your phone before processing this step.
After completing the frameware update iTunes will ask you to choose a backup file to restore from. Select the backup that you've created and restored it.
Once the restore completes your iPhone will be back as it was but without screen time passcode.
Remove Screen Time Password on Mac Using Recovery Software
There two ways to remove screen time passwords on iOS devices such as iPhone, iPad or Mac. You can either remove it using a recovery tool on mac or by going through a manual step-by-step process. We going to show you both ways.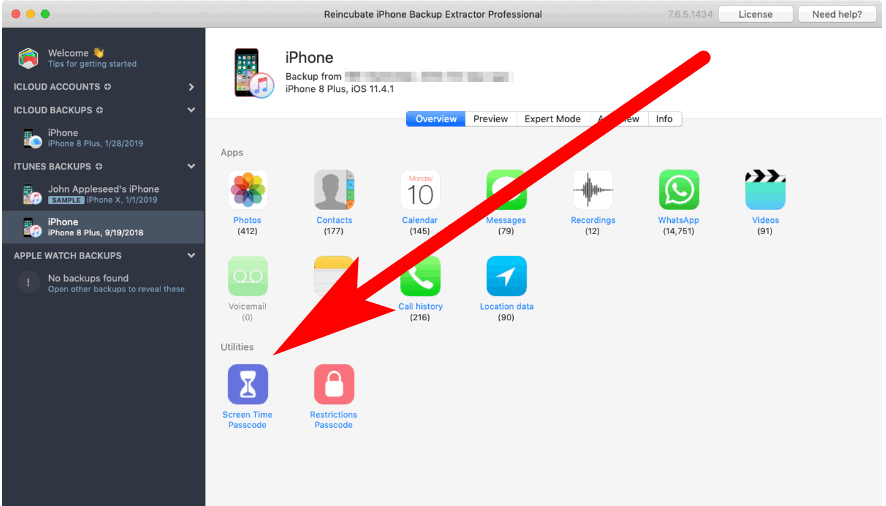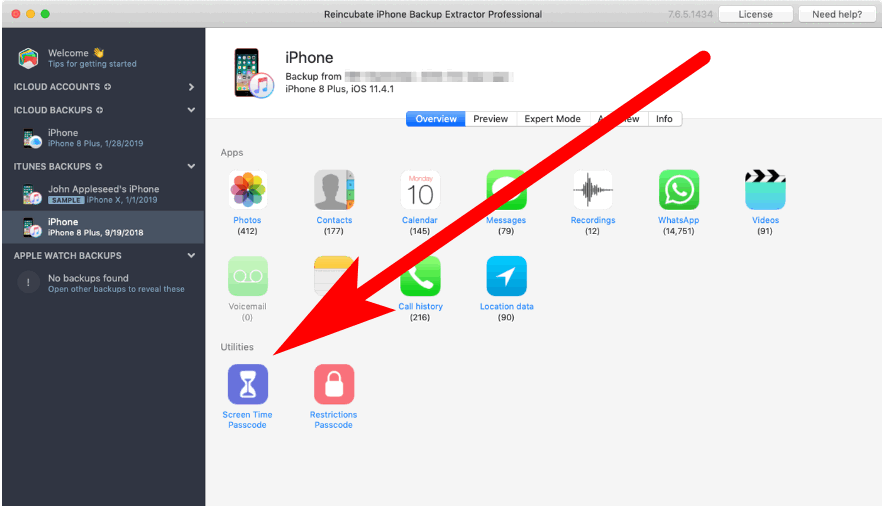 Follow the below-given steps to remove screen time passcode on the iOS device—
Firstly, download and install iPhone Backup Extractor on your Mac or Windows.
Now, connect your iPhone or iPad via USB cable to your Mac and choose it to form iPhone Backup Extractor.
Go to the "Utilities" and select "Screen Time Recovery". It will redirect to the next step.
The software may prompt you to disable the "Find My" feature on your iPhone or iPad. You've had to disable the feature from your device by Settings. (Once the process will be completed you can re-enable it).
Click on the "Let's Start" your iPhone will be restart after a short time period.
Your storage data will on your iPhone. So don't select the "Don't transfer app and data" option and don't restore it. After this, you've seen some serious questions one by one on your iPhone screen and you've had to tap on Continue to pass them. There will be one question for Screen Time. If you hit continue on-screen time dialogue it will disable the screen time feature on the device any other iOS device associated with your Apple ID.
Wrapping Up
Hopefully, this article will help you to know some information about how you can remove or recover the screen time passcode of your iOS device without taking it into a hassle. But you must remember you've your Apple ID you can easily recover the screen time passcode without resetting your iPhone or iPad.