20 Medical Apps That Medical Experts Use
Medical Apps or Prescription app or we say healthcare mobile apps all words are same. If you're a medical student and you want to gather more information. Regarding anatomy and physiology or other subjects, you can easily study it via mobile medical apps for iPhone and Android cell phones.
There are hundreds of medical applications available for cell phones, but more than 90 % of these applications are waste of time. I've gathered some of the best medical apps for you. Which allows you to make use of these applications in your medical studies or preparation for medical exams.
25 Best Medical Apps For iPhone

This list is of apps contains free and premium applications from which you can easily study medical subjects in detail via the best physicians all around the world.
Screenshot: (Source)
The Medscape is an excellent prescription app. The application has a user-friendly interface basically the app is used to get accurate clinical answers. It's one of the leading medical resources for physicians, medical students, doctors, nurses, and other healthcare professionals.
Medscape has access to 250K doctors worldwide to share cases and ask questions. You can easily share and discuss your question in the consult community.
Pricing:   Free and only available for iPhone and iPad users
2 # Epocrates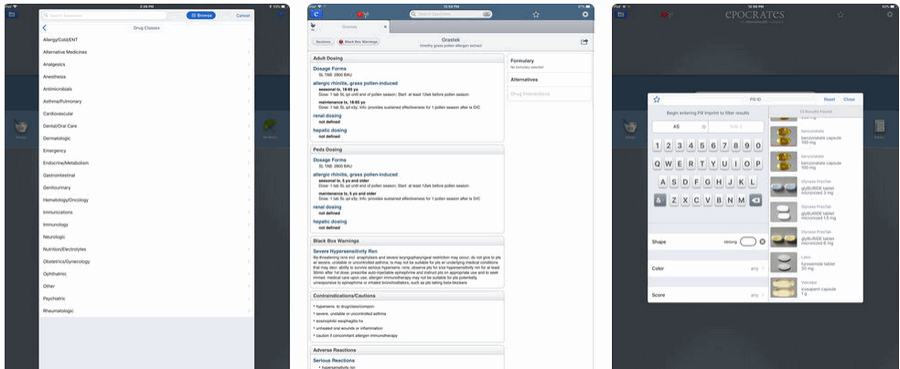 Screenshot (Source)
It's the most downloaded medical app that offers various types of medical information at your fingertips. The app is easy to download for iPhone and Android device users. Basically, it's an app from which you can gather information about all types of drugs. The app also allows users to review the drug prescribing and safety information for thousands of medicine.
Pricing:  Content is free, additional consult will be the in-app purchase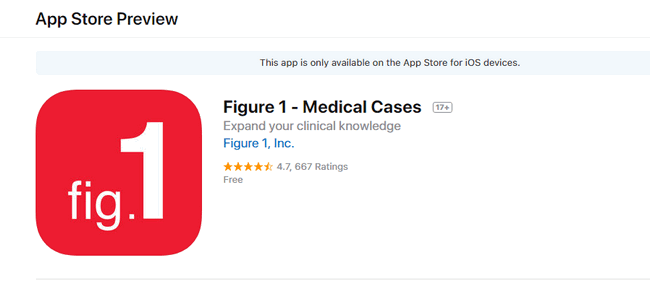 Screenshot (Source)
This is an image sharing app in which you can share medical case images with other physicians to get additional information regarding the cases, Basically this one of the best applications for doctors who looking for feedback on rare medical cases.
Through this app, you can study rare medical case stories and get additional information from doctors.
Pricing: Free to download for Android and iPhone

Screenshot (Source)
Daily Round for Doctor is an application where doctors discuss their medical offers. For medical students, it is a great platform to learn rare and unique clinical cases. The app contains a massive drug database with prescribing information.
The application also offers MCQ questions as you solve each case. It offers clinical case-based learning provides a unique learning experience and much more. In 2015 NDTV also said it's one of the best medical mobile app of the year.
Pricing: Free without any subscription

Screenshot  (Source)
The Prognosis your diagnosis is an application that contains all clinical case scenarios which assess decision-making skills. App has almost 120 specialist physicians to review case scenarios based on real-life patients and much more.
Pricing: Free For iPhone And Android Users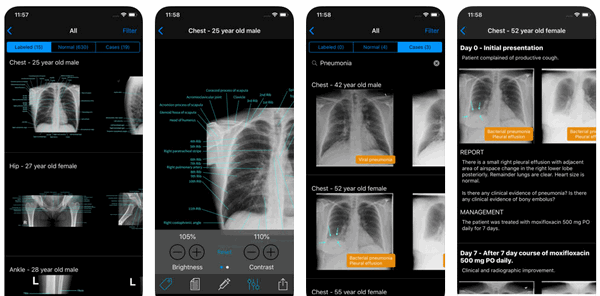 Screenshot (Source)
Normal X-Ray and Real Cases is an essential app for medical students and mobs doctors. With the help of this app, you can get a quick medical reference of over 2000 X-ray images to know better radiographic anatomy and much more. It's one of the best medical reference sites.
Pricing: Free
7 # XebraED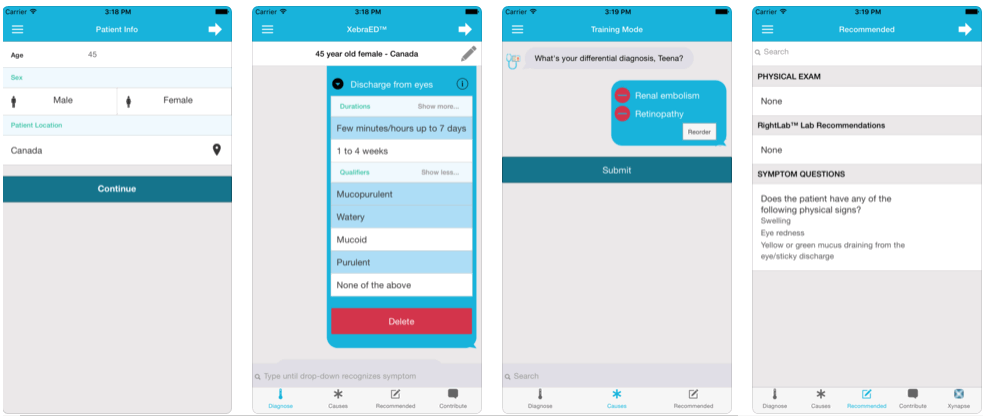 Screenshot (Source)
It's is also the best apps for anatomy and physiology students for iPhone. The app will help medical students to improve their diagnostic skills, X-zebra is a school-based app for training medical skills for free. The app currently used by lots of medical schools for improving students' medical knowledge.
Pricing: Free
8 # iLabsDDx
Screenshot (Source)
The app is developed for medical students and mbbs doctors to provide guides in Lab Abnormalities. Basically, the app provides explanations and tutorials for almost all acid and base and electrolyte abnormalities, diagnostic strategies, DKA, and acute kidney injury and much more. For more information regarding read this medical app review.
Pricing: Free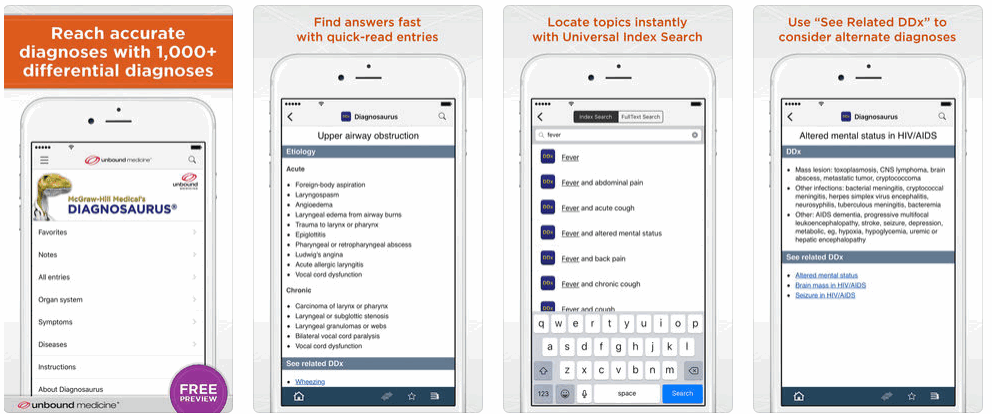 Screenshot (Source)
This is one of the best medical reference tools for doctors and physicians. This app is designed to help healthcare professionals to perform different diagnoses. With dinosaurs, you can quickly search over 1000+ diagnoses for your research and medical studies.
Pricing: Free

Screenshot (Source)
The PEPID is a clinical reference the app is developed for physicians, but the app is useful for students for accessing the largest drug database, medical calculators and much more. The app is associated with and guide with the American Academy of Emergency Medicine, American College of Emergency Physicians, and the Family Physicians Inquiries Network.
Pricing: Free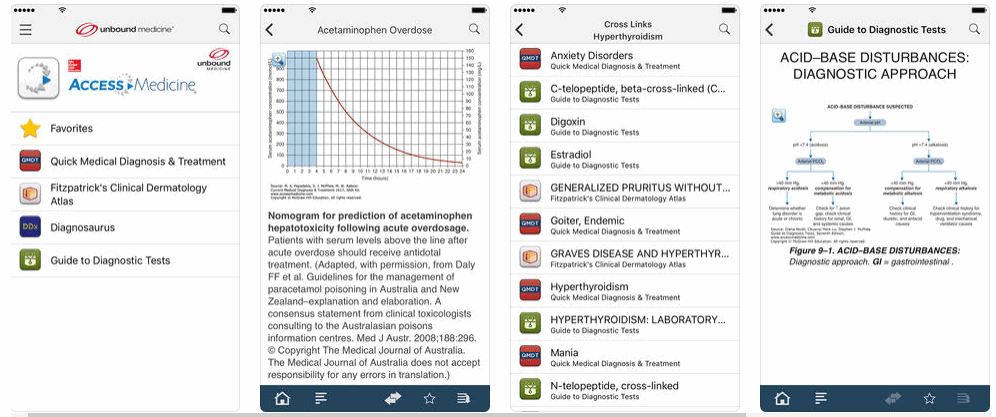 Screenshot (Source)
AccessMedicine is a user-friendly app that provides almost all medical information along with purchasing medicine. For students, it's a helpful app for gathering medicines information along with only prescribed drugs by doctors.
Pricing: Free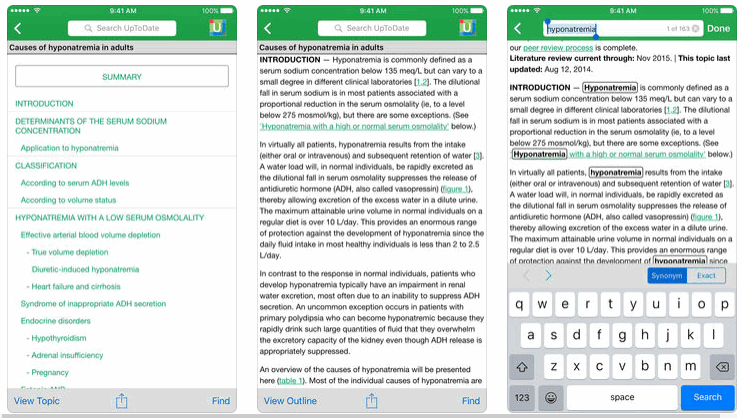 Screenshot (Source)
This a clinical discussion app where you can ask any question regarding medical cases to worldwide physicians. Thousands of doctors have installed this app to get the latest updates on medical knowledge. The app is useful for students for gathering drug knowledge, case studies and much more the plus point is it worthful app for preparation for the medical exam.
Pricing: limited information available for a free subscription.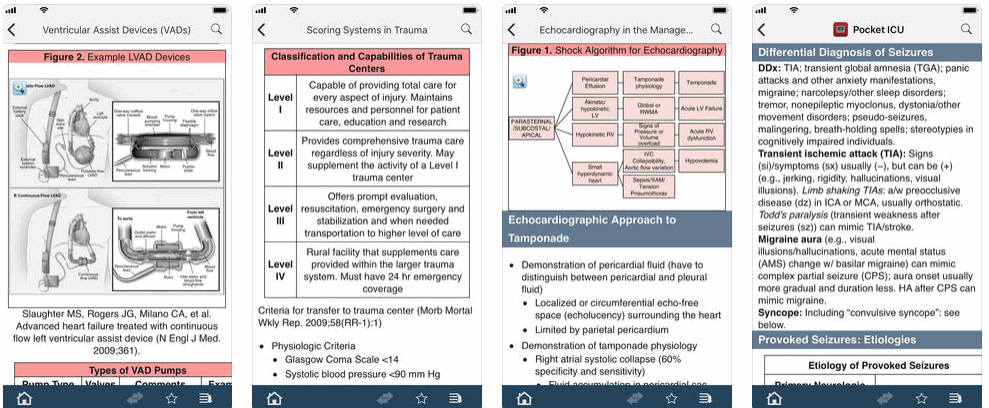 Screenshot (Source)
Pocket ICU is an app same as its title the app has all the necessary information regarding ICU reference knowledge along with medical cases. The app is designed as a pocket notebook to provide essential tools to quickly access information on critical care. Doctors use this app to find the answer regarding ICU to save time.
Pricing: Free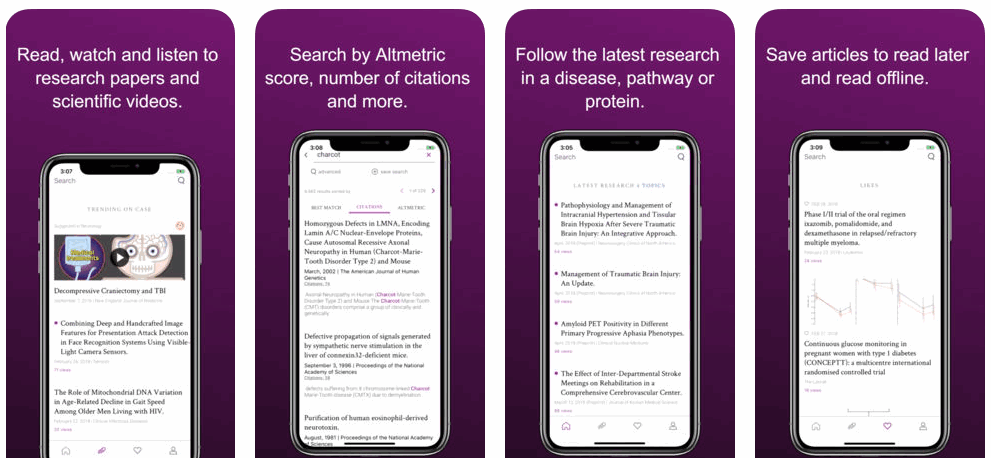 Screenshot (Source)
Generally, the Case is a medical journal app used by thousands of doctors and medical experts to read medical cases about rare medical conditions or medical negligence and much more, the app allows you to follow more than 10K keywords. Currently, Case has more than 81 medical specialties. You get lots of information regarding different fields of doctors.
Pricing: Free to use
15 # Skyscape Medical Library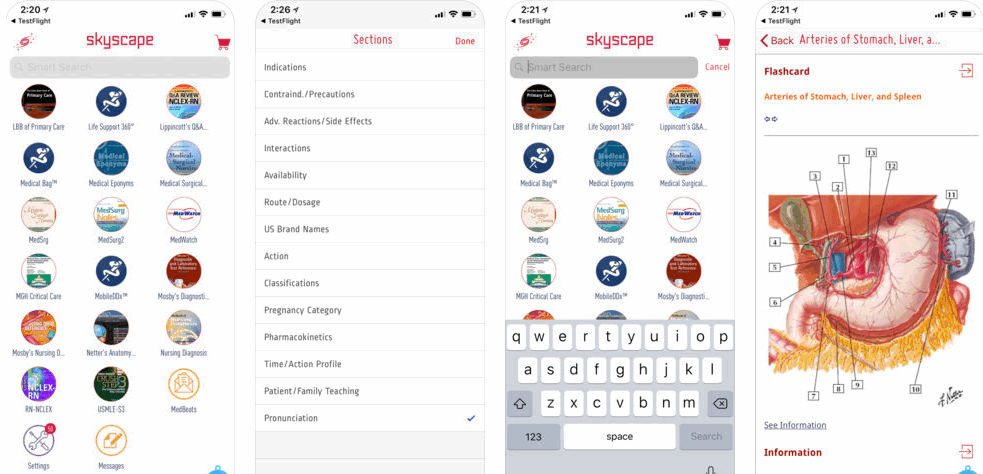 Screenshot (Source)
This is an app with a package of drug information, medical reference sites, medical calculator and much more. The app has over 850+ clinical information regarding rare medical cases. In the free version of the Skyscape Medical Library app, you get access to  Skyscape Rx, Skyscape Clinical Calculator, Skyscape Clinical Consult and MedBeats.  The app has moreover 600+ premium medical resources along with a 40+ medical experts team.
 Pricing: Free version along with paid subscription
16 # St John Ambulance First Aid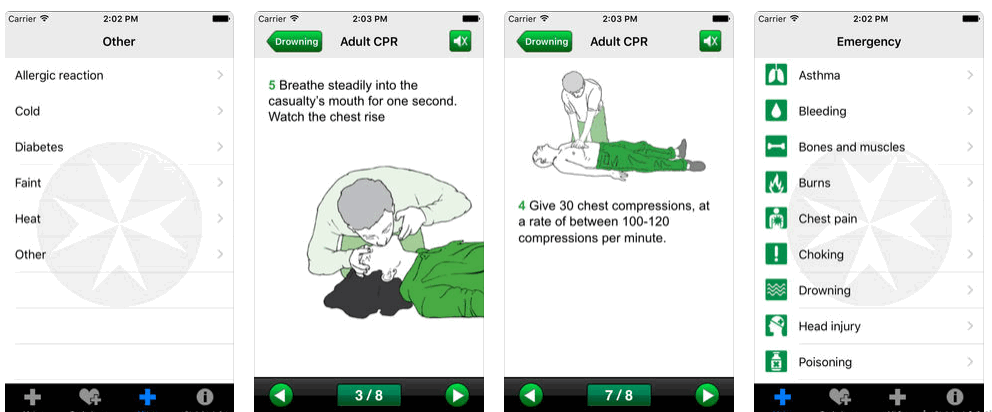 Screenshot (Source)
This app is developed for people to know how to save someone's life during a critical situation. The basic motive of the app is that no one should die because they needed first aid and didn't get it. The interface of this application is quite user-friendly you can easily get to access all information.  Their lots of benefits of learning first aid, and it's the most important app for medical students to get away from medical negligence.
Pricing: Free to both Android and iPhone

MDCalc is a clinical decision-making app. Use my more than 1.2 million medical experts for their daily medical cases. The app is designed to get information regarding drugs, medical tools, medical negligence and much more. According to the MDCalc website, the app has more than 350+ decision tools used by medical specialists.
Pricing: Free to download the medical app
18 # DynaMed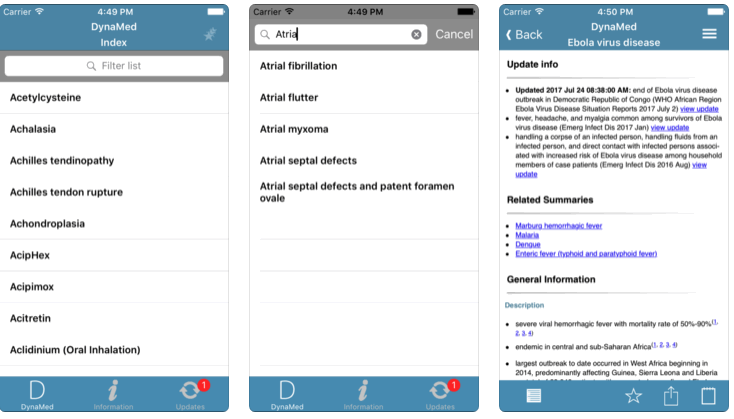 Screenshot (Source)
DynaMed app is developed by physicians for physicians. The App basically designed to get the best and leading clinical information resources. If you're a student then it is a  great app for you to gather clinical information on various medical topics.
Pricing: Free to use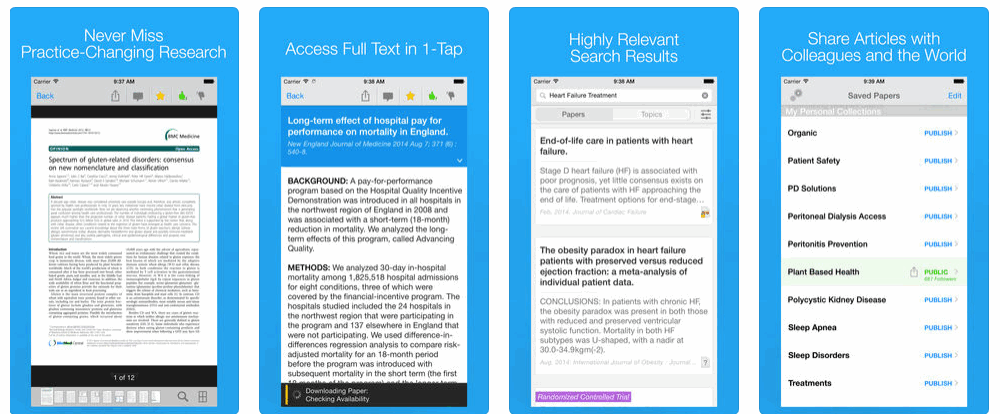 Screenshot (Source)
The Read by QxMD is an iPhone and Android device-supported application. Developed for doctors and medical students to gather information from medical journals and literature. This the same app as Case, it is used to gather information regarding medical updates and medical references like medical articles and much more.
Pricing: Free with limited access
20 # ECG Guide
Screenshot (Source)
It's the one and only application designed to guide doctors and Physician Assistants. ECG guide has more than 200+ common and uncommon ECG reports. The app also contains an ECG guide for understanding ECG properly with contents and samples of ECGs and much more. The app provides a quick reference of different types of ECGs with examples.
Pricing: Free