20+ Best Astrology App (Android & iPhone) In 2022
Want to know which one is the best astrology app for your mobile phone? Well, here we have listed some of the best and truth-worthy astrology apps for Android and iPhone. that you can use to expand your astrological knowledge.
Best Astrology App In 2022 (Android & iPhone)
1. Daily Horoscope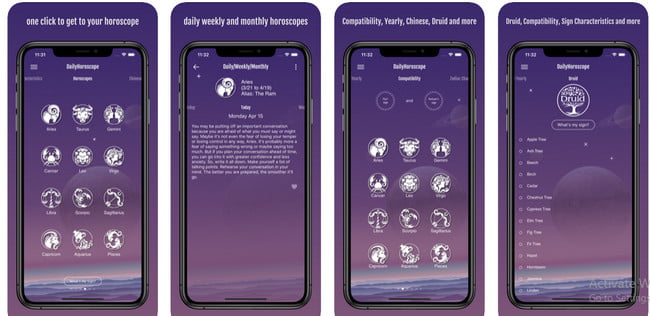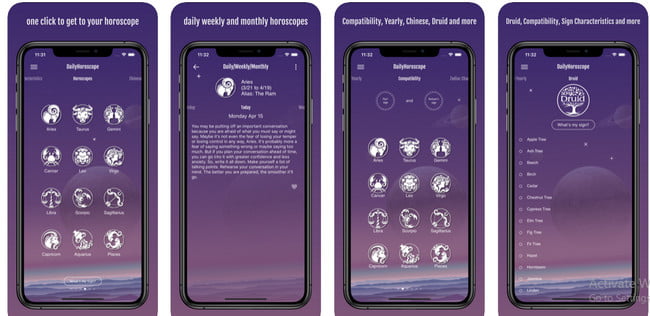 This app is in the market or says in people's use for quite a long now. This one works the best, it is the most accurate. As you open the app, it displays all the zodiac signs so you can just go to yours.
if you know it and if you don't you just gotta check out the small brackets below the zodiacs which display the section of dates that lie under that particular zodiac and from there you get to know what sign you are and then you can check out your horoscope.
This gives a really nice description of your day and you can go back and forth to whatever day you want to know what it's gonna bring you.
This app has a ton of other cool stuff you can do as well, you can know about all the zodiac characteristics, and tells you who you are compatible with and you can also see what the year in itself brings you and stuff like that.
2. Luna Solaria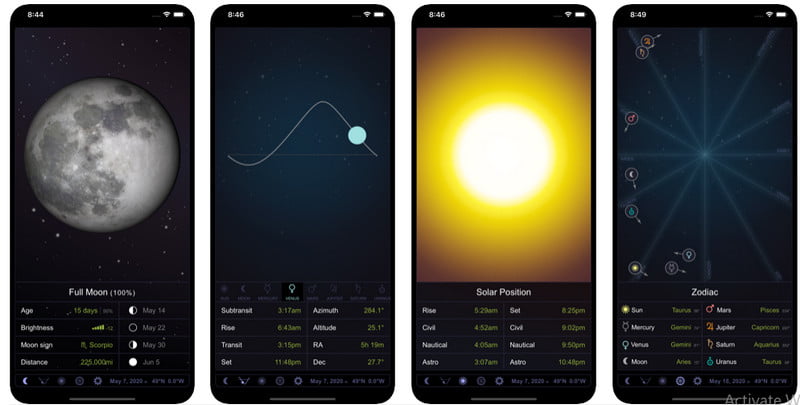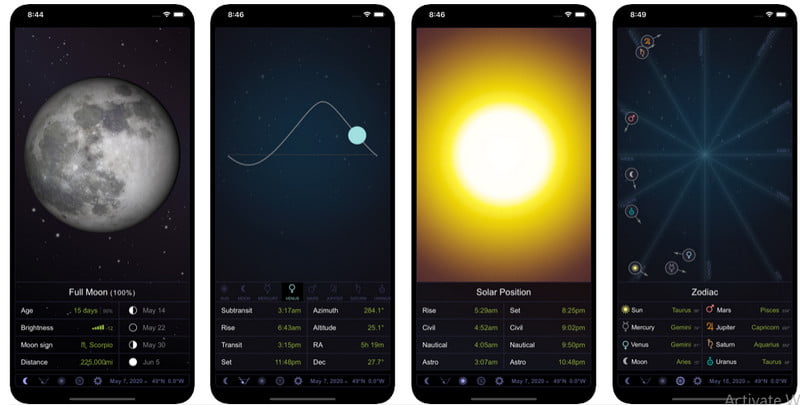 This one can be used to track the phases of the moon. More, it tells you if it's a new moon or a full moon, or whatever. It even shows the percentage of how much percent the thing. Tells you when will be the next fool and moon and simultaneous information like that.
This app shows you an accurate description of what the moon currently looks like, How old it is, its brightness, the moon sign, how far it is, and then the dates for the half-moon, and new moon.
When you swipe it shows you the graph of the lunar position And the solar position as well which has the rise and set time as well. So this app is super helpful for a day to day purposes.
3. Sky View Lite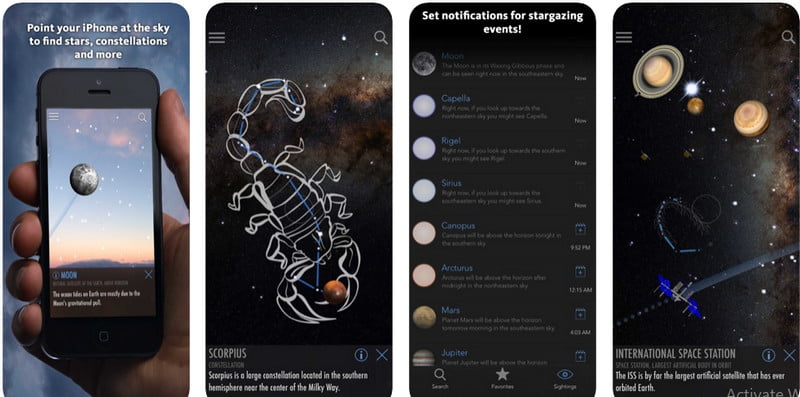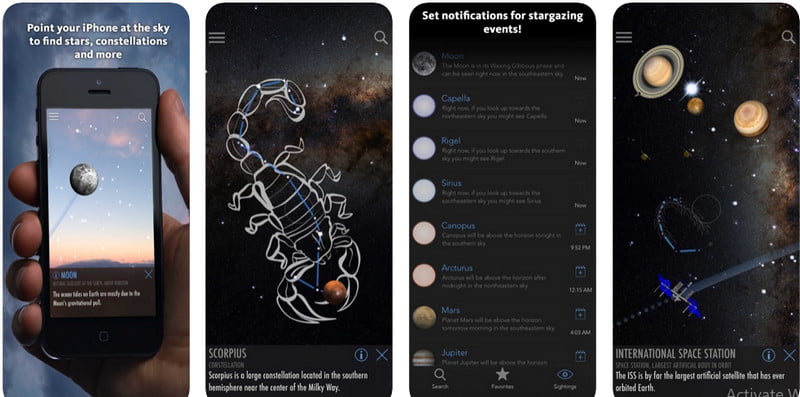 This app is awesome if you like looking at the sky at night and seeing stars and wondering if you're looking at a planet or a constellation. This app uses your location to track the latitude and longitude of the sky.
All you have to do is hold it up and it will show you what you are holding your phone and it will show you the constellations and stuff and that is just amazing. This app has very soothing background music as well which just enhances its use.
4. Co-Star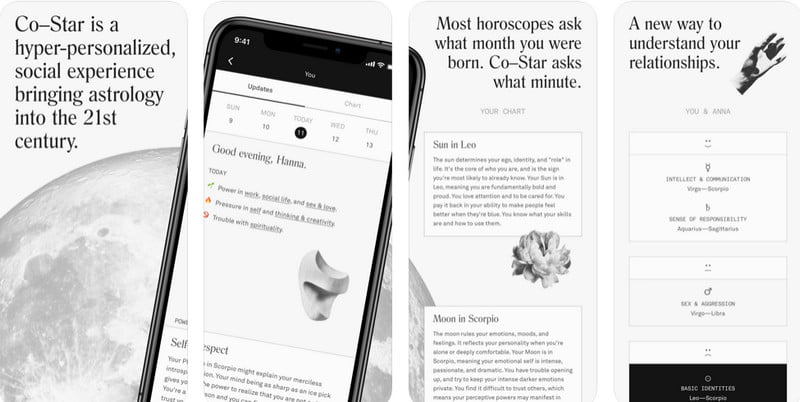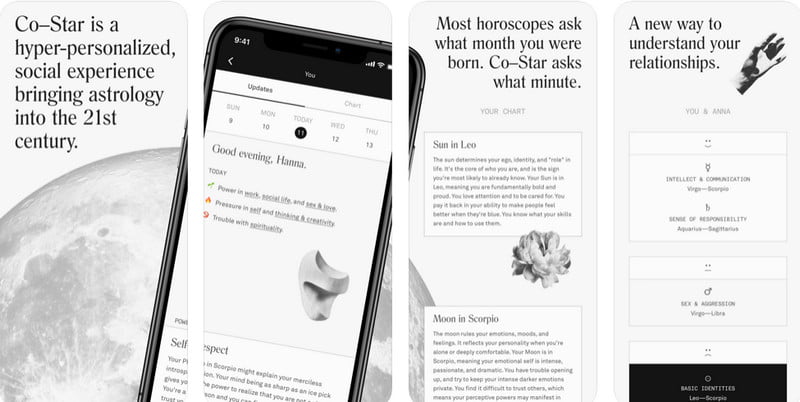 The co-star app is one of the best apps, you just put in it basically your natal chart and it will give you a very descriptive horoscope every single day as well as how your week will look like.
It is all set up and very well organized. And shows graphs, sculptures, and stuff like it's just amazing.
Also always send you greetings from morning tonight. This co-star app is one that gives you a very detailed description of your current day based on planets. It then also gives you birth charts and stars and etc details if you dig deep into it.
This one is user verified in terms of accuracy and that is the biggest test this co-star app can pass. This one is a must.
5. Astro Future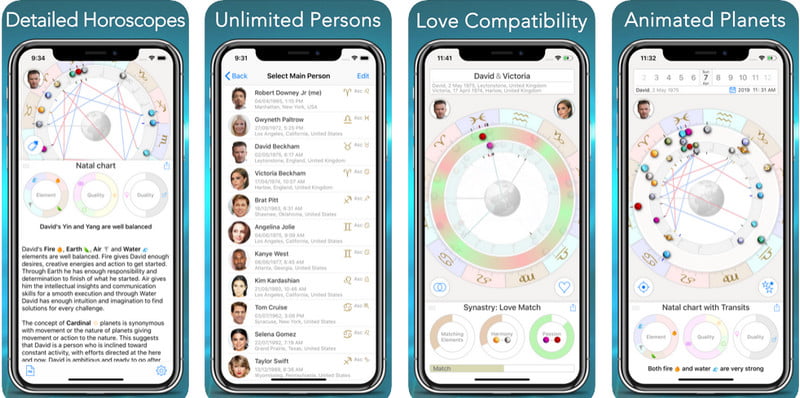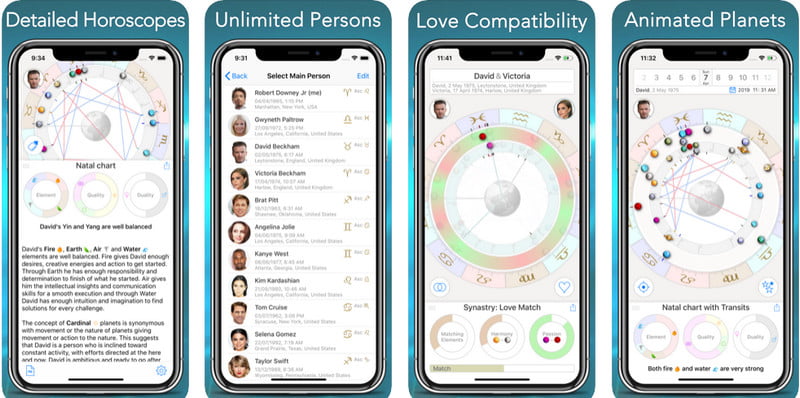 This app is set up beautifully. It visually shows you your natal chart with signs and graphs. Though it is not understood by a lot of people but for the ones who hold knowledge, this one is a gem for them as it explains everything visually and it takes less time than the ones you have to read.
Though it does provides with description underneath the graphics as of course, not everybody is aware of symbols and structures.
It provides your overview natal chart and you can go to like directly jump to the next fool moon and see what will bring you and it holds a lot of details further than these.
6. Full Moon App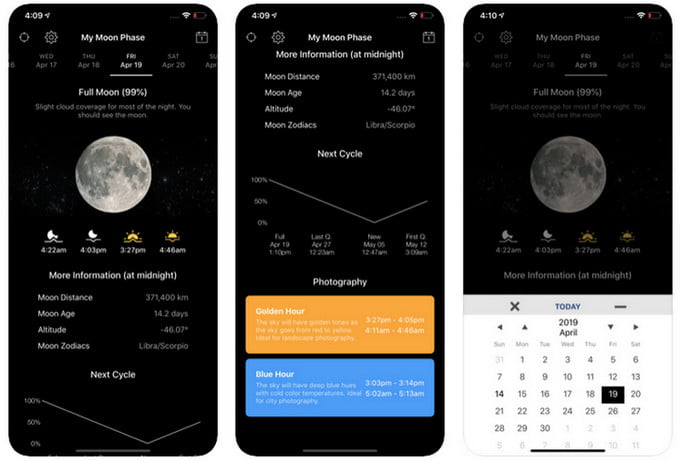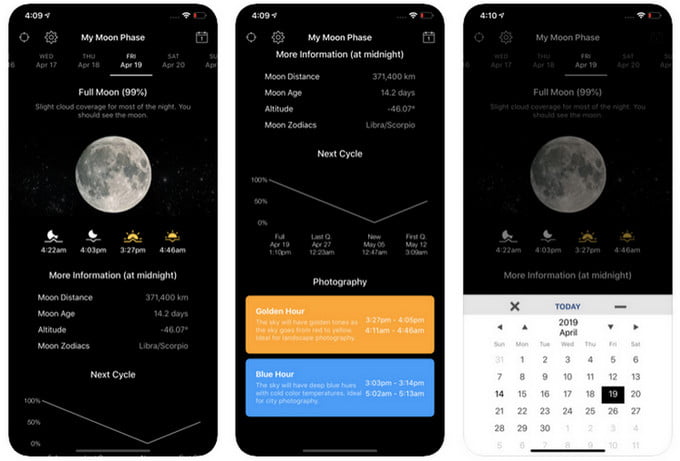 It is very similar to the luna solaria, wherein it shows you the moon phase and the sign and that the moon is in and gives you the ability to look at the stars and it gives you a short description and Shows you future dates and the phases of the moon.
It is a pretty simple app but is quite descriptive though.
7. Time Passages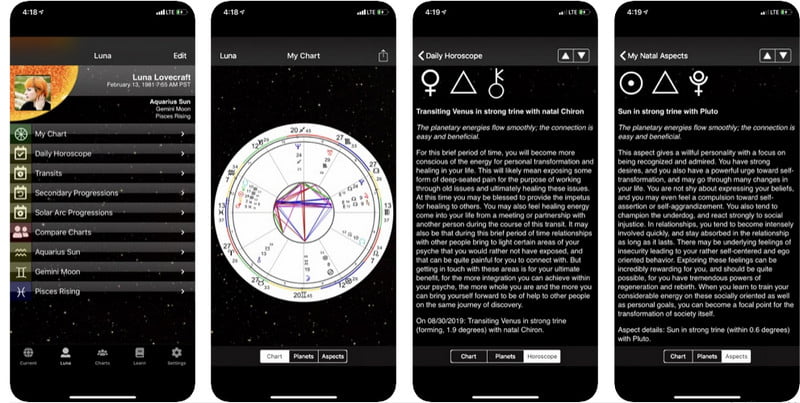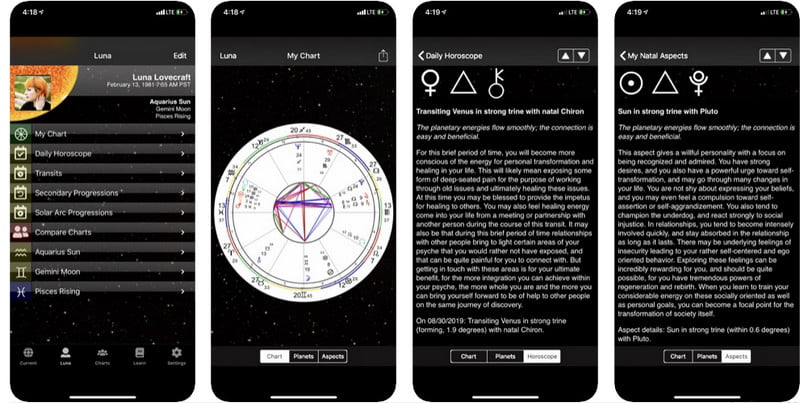 It is an absolute staple for astrologers. Almost every astrologer who has been into apps and stuff has known about this one. This is a very cool app just as you open it, it shows you where the sun is at, where the moon is at and all the phases out there.
Now every app has its own different calculations for how they do these calculations, but this app does this a little bit too strictly. You can also pull up the current chart for everY work whatever you are at.
If you are doing election astrology it really helps you out or if some event happens, you can just pull up and see what's going on.
8. Astro Gold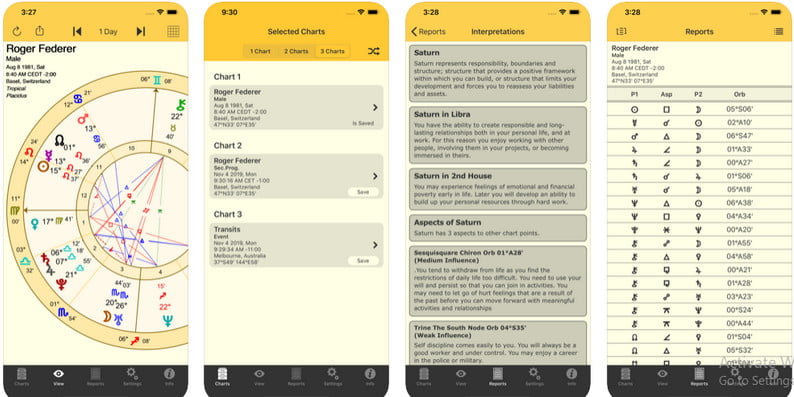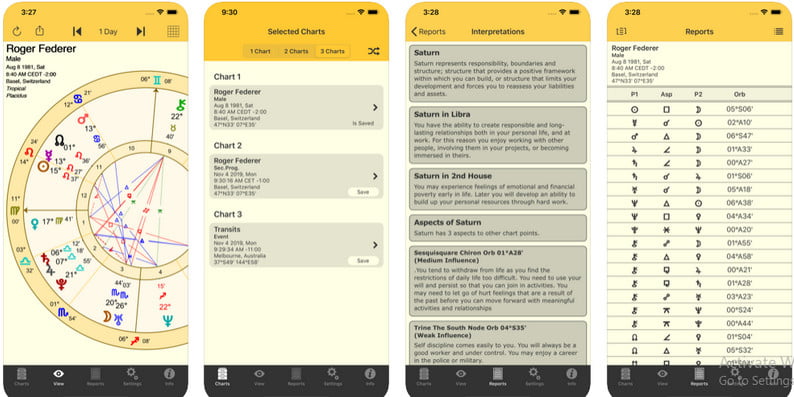 Now, this app costs 40 dollars and it is usually not even thought off that someone will pay 40 dollars for a regular astrology app. But the reviews and ratings of this app will force you to.
This app is just so amazing that you will not mind paying this sum of money at all. This one is the most used app by astrologers and it's totally worth the hype and the money.
What's great about this app is, you go to the view and pull up any chart that you want whether a Birth Chart or a chart for the moment also you can do 'n' number of combinations in the chart and if you are doing you would know magical astrology, election astrology.
If you are just wanting to know more about what's going to play out whatever you are using astrology for, it is just way too handy for you to do that.
This also lets you save a ton of charts within the app so you don't always have to put in someone's data you can just pull it up right there. This app is just the best one you can get.
9. Charts Astrology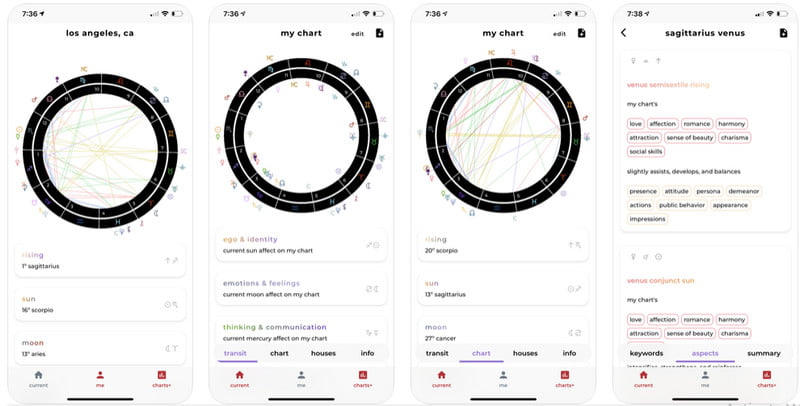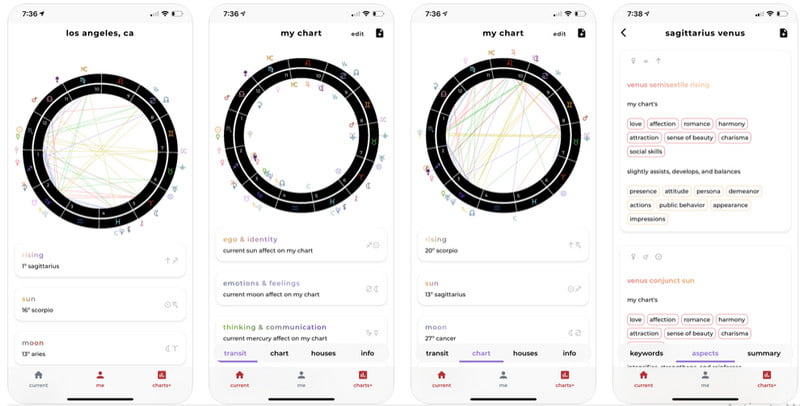 This app is very likable as this one is really handy for beginners, it does birth charts, full circle charts daily horoscopes and it looks super clean.
It's a very simple layout and also when you go out to your profile, you click on 'me' and you look at your chart, The charts astrology app shows a really easy layout to understand how transiting astrology is affecting you.
The way it frames its text and description makes it just so easy to digest and really understand how to apply aspects in your personal life.
So, you don't have to rely on apps the charts astrology tells you and you can start understanding the transiting astrology and how it is affecting you more for yourself.
It is quite a new app, so a lot of people haven't heard about them, however, it is a really good app for beginners, it'll tell you about all the transits, your chart, the houses.
This one is quite similar to time passages the charts astrology,  but it is very smooth and easy when compared to that one and efficient too.
10. Sanctuary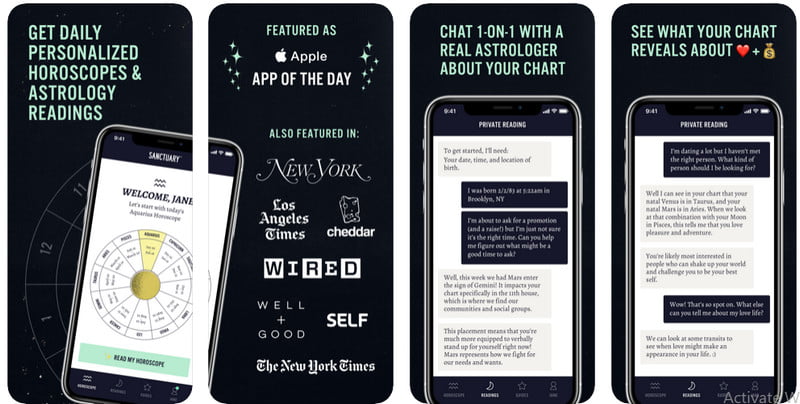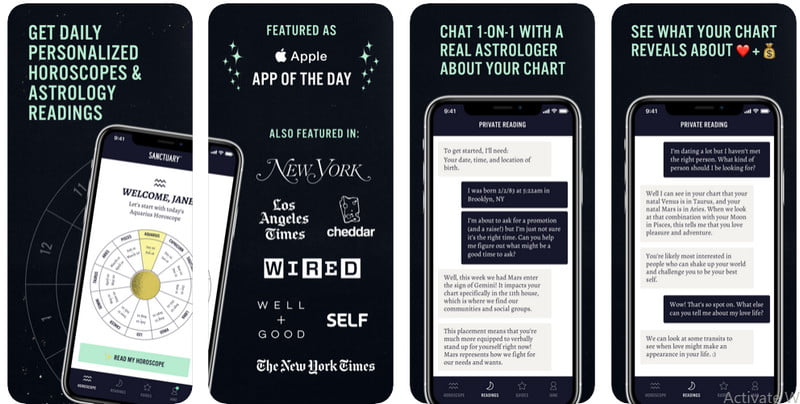 Now, this is not a great app but it can definitely benefit a lot of people. It is a great daily horoscope app where you can talk to live astrologers and get a little bit better understanding of your chart.
Goes into the meaning of your moon and keeps you reading. It is quite a very engaging though very handy app for people who are just learning or for the ones who like really want to talk to an astrologer.
11. Pattern App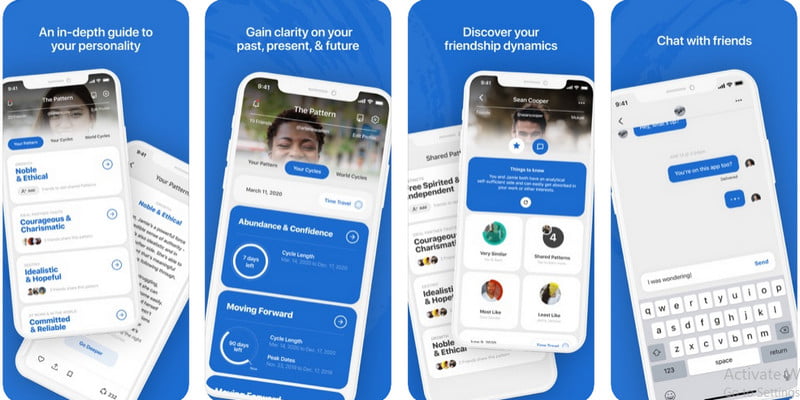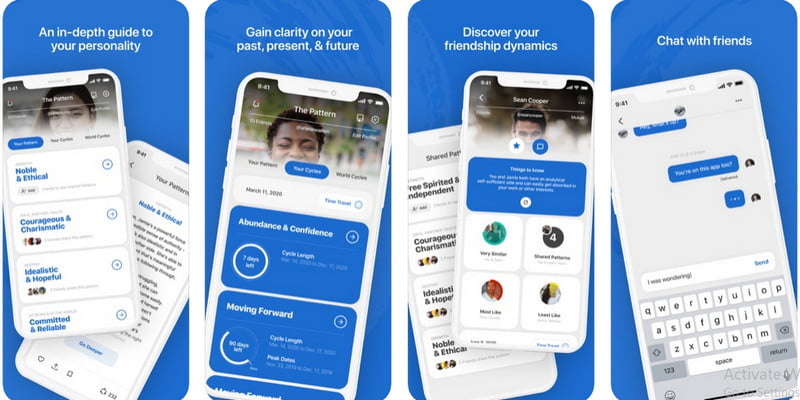 Pattern app is similar to co-star but is a bit more interesting, it takes astrology out of astrology and brings out some kind of updates about your personality and your pattern.
The pattern app is gonna tell you what's going on with you and when and it tells you about your timing and how long like fears in surrender, relationship evolution will last.
This just has a lot of advanced details in detail with a pretty easy description so you can just go ahead and use this app up and you might get into some really great things. Pattern app is available for both Android and iOS platforms you can easily download it from the below links.
12. Time Nomad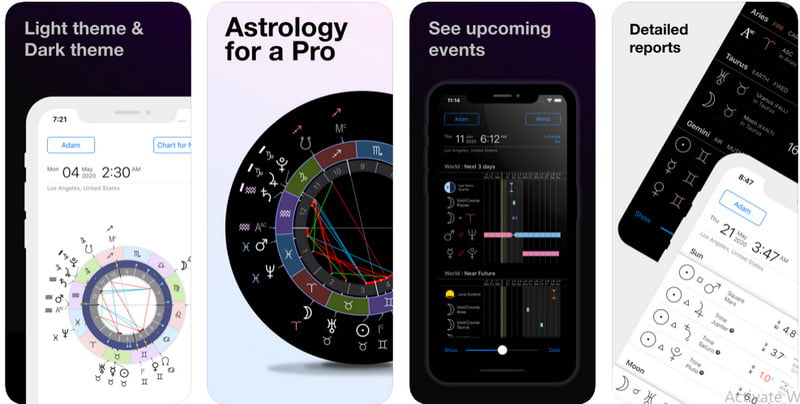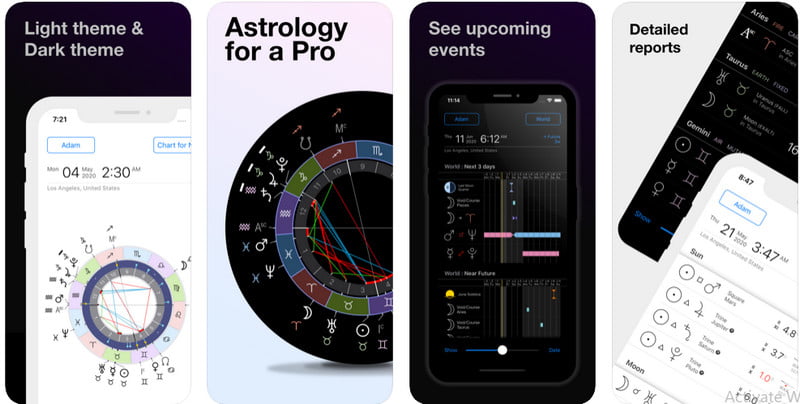 This is one app that is very very popular among astrologers and they have been downloading it time and again. This is one is first of all, free and it's really cool as it can just give you literally every single tool you can imagine.
Again this is a very vast and detailed app, they have like so much involved in it.
You can go to your dashboard, it lets you know what the sun is up to, its rising time, its setting time and about the moon, the lunation cycle, and lets you go into retrograde planets, and like a lot more crazy analytics and details, it has a summary for you to go over, it has world events.
You can also put certain aspects on those charts, you can move the date for those, and you can go into fixed stars if you pay for it. Also, this one is the only app that does planetary hours. So it's a really great app and a must for all of you to have.
13. Moon Reader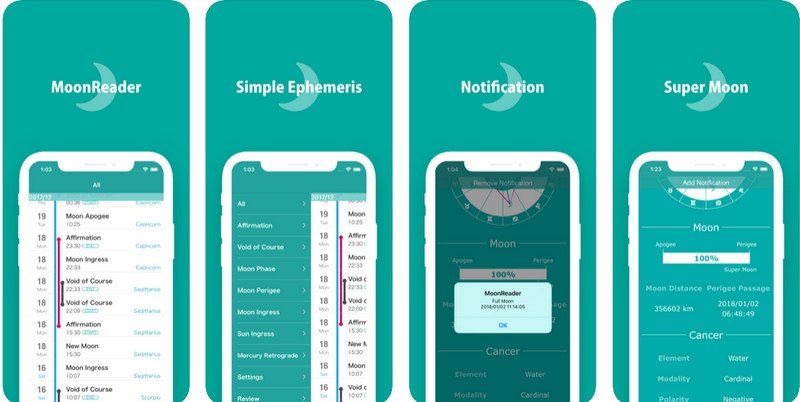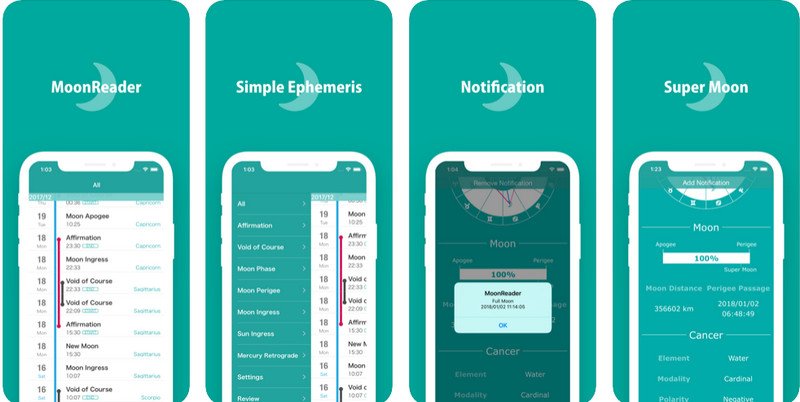 This one is a really cool one as it lets you know about all the void of course moon you going to be in, what signs, what dates, it's starting, its end, and when you slide it over from the left to the right, it, you can just go into literally anything that you think of on one slide and stuff like that.
It has this new thing called an affirmation, this thing is not available in any of the other astrology apps that exist which makes this one really unique. It has really new things which you haven't thought of, and they're very interesting to know more about.
14. Moon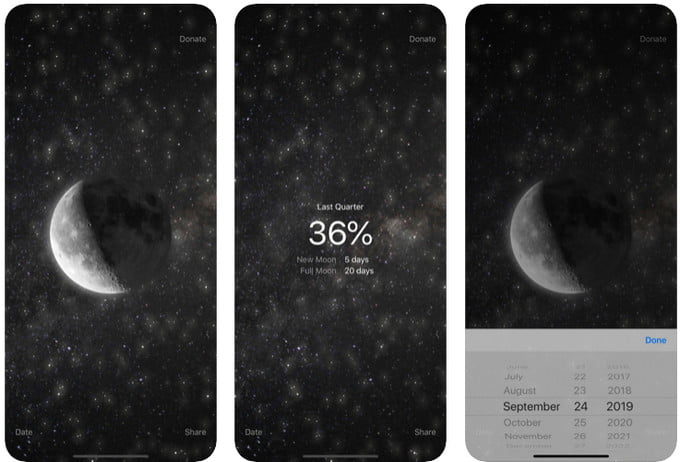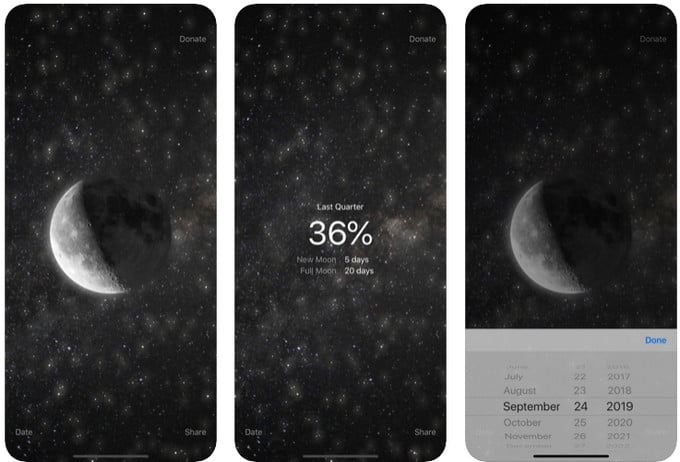 It does not do much than showing you a graphic of what the moon will look like outside, then if you swipe the moon over it'll show you what phase the moon is in and What percent of the new moon or the full moon is.
But giving you a reason why you should download this is, for the text messages it sends you. If you turn on your notifications for this app is literally The best thing ever.
It's always sending you Random like every new moon and full moon, this app sends you a bit of like a hint of omen-type texts so this one is definitely recommended.
15. Solar Walk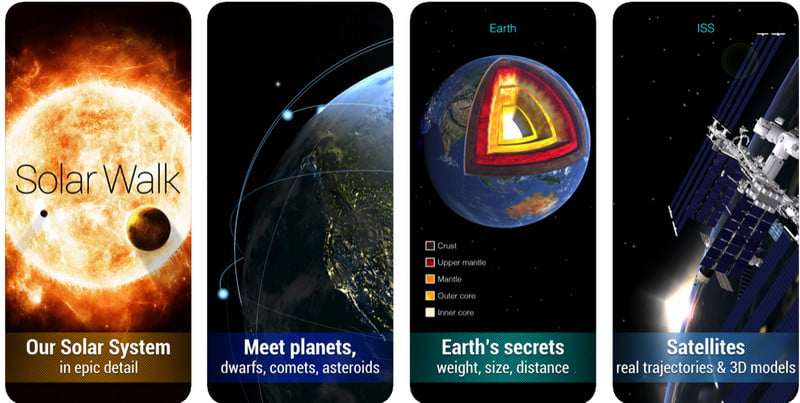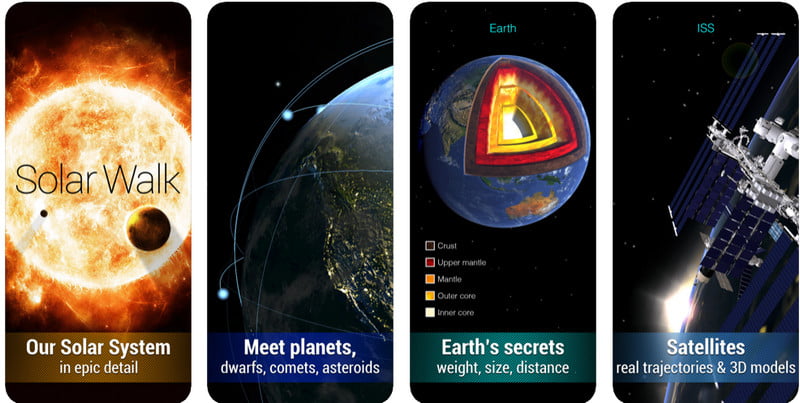 You can get a lite version of this which is free though you can also get a paid version for work n stuff. What's super cool about this app is, that it gives you a three-dimensional perspective of the solar system and of the galaxy we live in.
Though you cannot go past the milky way, because maybe that is not mapped but other than that it's really cool as you can know anything and everything going on with the sun, moon, stars, our planet, solar system, and even the galaxy we live in.
You can go through the milky way mostly toward the sun and the solar system. You can go on to any star and zoom up to it on the way.
And this is like super cool and interesting, like seeing everything through naked eyes though animated 3d, but a replica of all that and it is like really cool and fun.
You can even zoom on any single planet you want and get an idea of everything you want to see on that particular planet with a very close view. Once you start using it, it's gonna be super addictive.
It's just animation at its best and when you click on a certain planet or star you even get information about it.
16. AstroSage Kundli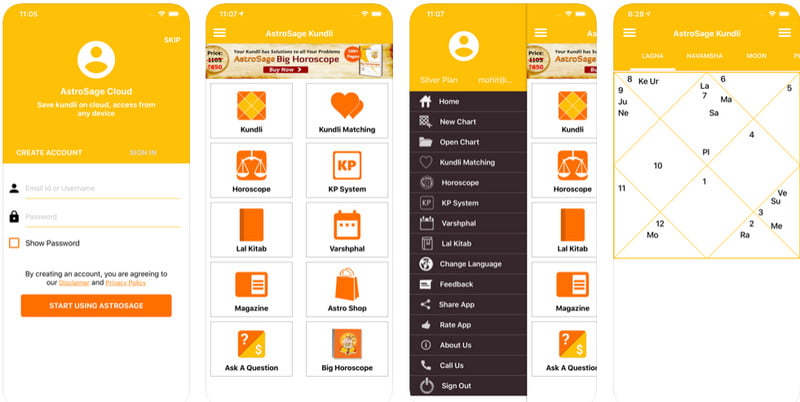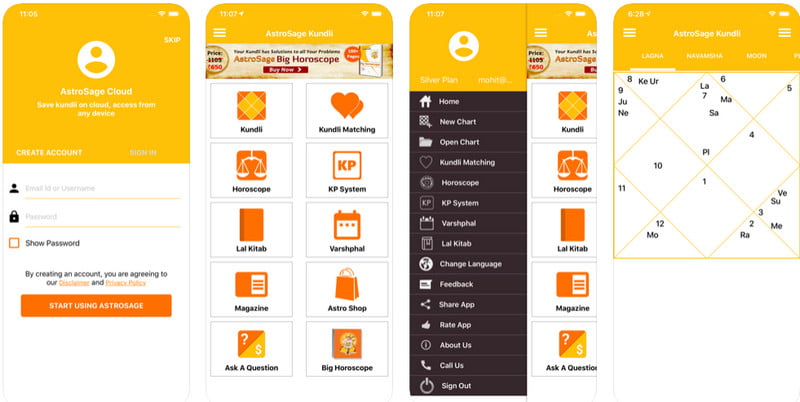 This one is a bit less popular, but this one talks about you and your personal life cycle and the patterns that you go through and the things, the primary focus is within your inner world and the things you are focusing on a lot.
This one is tested pretty accurate and some of them are kind of general but as you go through the app you'll find it pretty specific. So it's a really nice app additionally you can have friends on this too, which is the most unique part of it.
17.  Labyrinthos Academy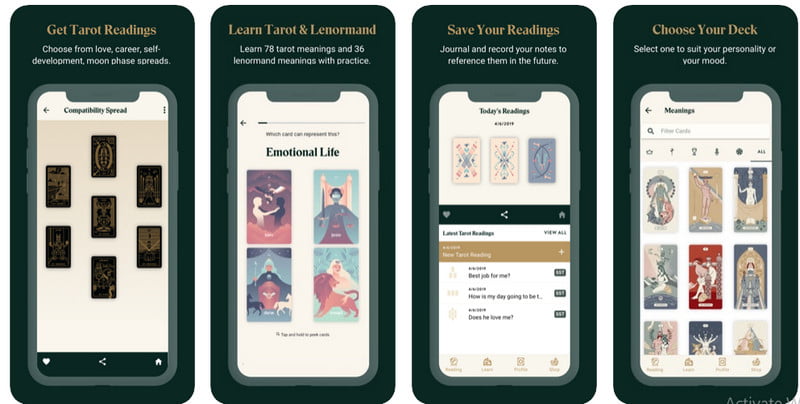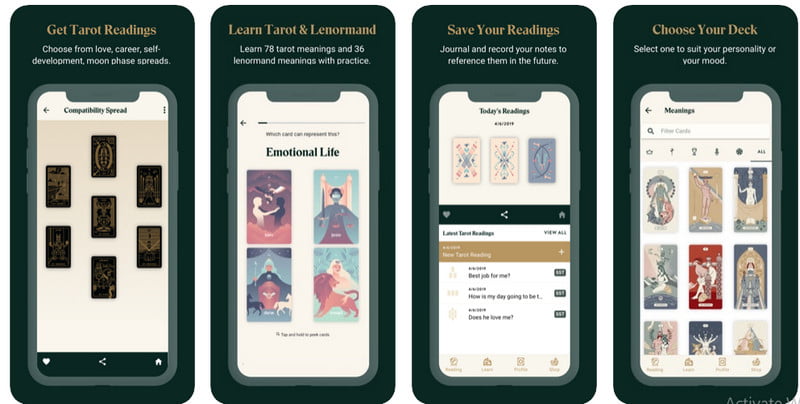 This one has to be logged in before you use it, once you log in you will have a practice deck and then an actual deck, it is like a virtual card reader and it actually teaches you how to read the cards. It gives you quizzes, lets you collect cards, and it's really informative.
18. Golden Thread Tarot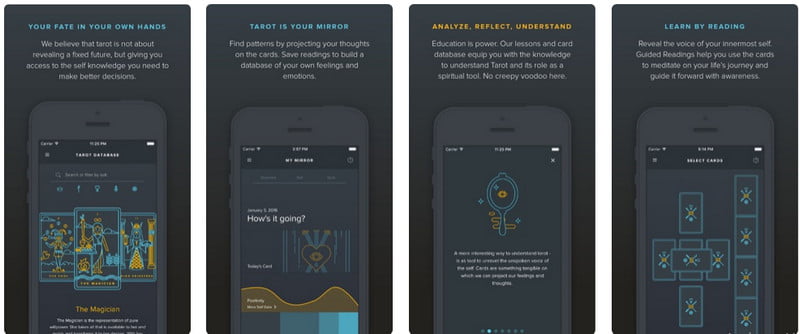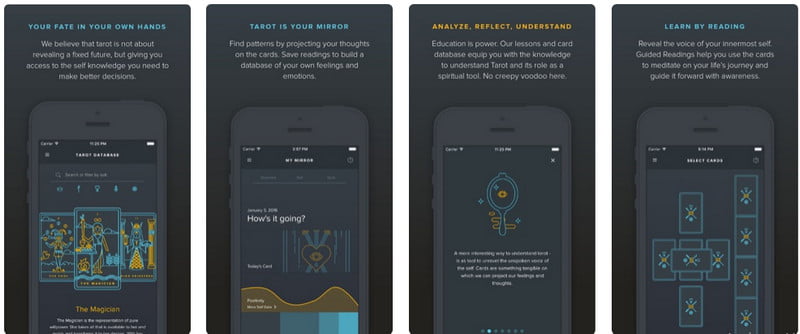 Golden Theard Tarot is a sister app to labyrinths academy where again once you log in and stuff you can create an account or you can even use it as a guest but as it is a tarot card reader.
You can actually buy the physical deck if you want to and they are very pretty and it's probably something that you must have. The Golden Theard Tarot has a daily card as well and it can act as a guide for your day. So this one is quite a realistic app and is really worth a try.
19. Palmistry HD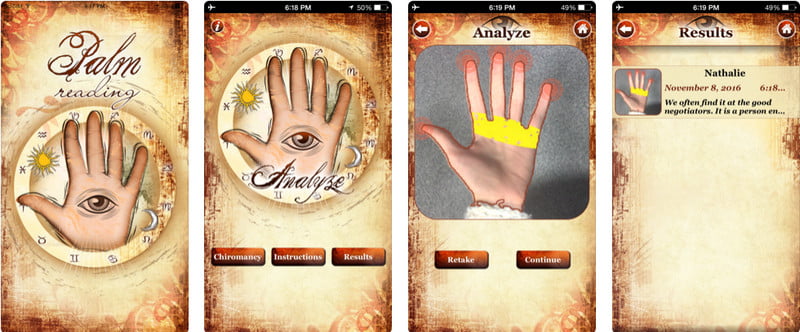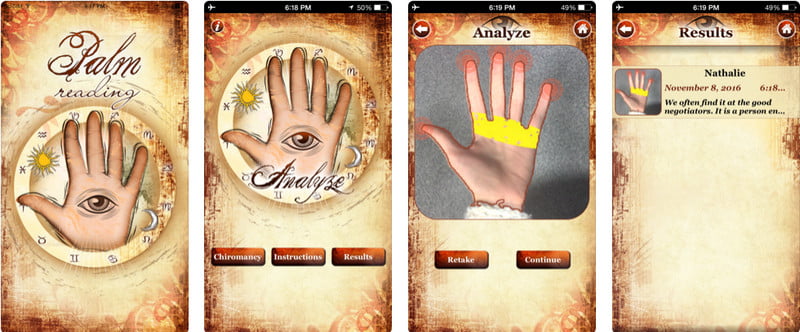 Now it is said that the lines on your head are direct lines to your personality. This one makes predictions from the major lines, the heart, health, etc. All it takes is a photo of each hand and you get the results instantly.
It's a very realistic and historical thing, reading lines of your hands and when it can be at the comfort of your mobile phone. Why not give it a try?
20. Mystic Mondays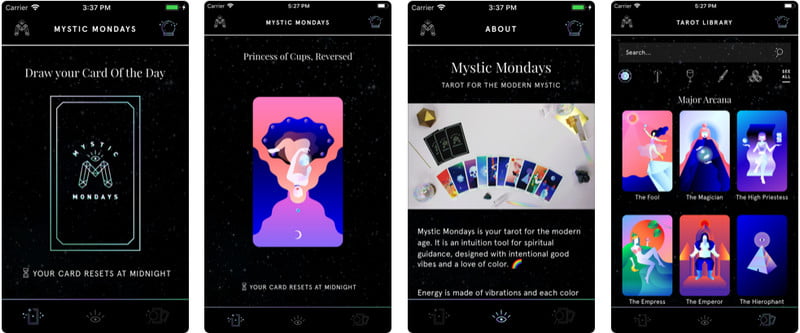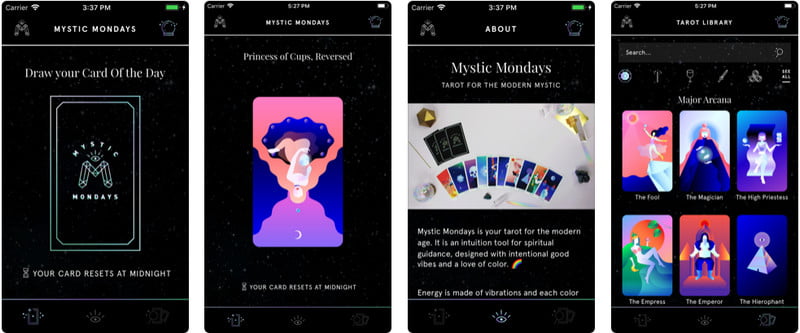 It's quite a new app and has new features added regularly. If you are into reading cards instead of palms, this one is a tarot card app for those looking for daily guidance but also a deeper understanding or say the meaning of tarot cards.
Instead of complicated card spreads, mystic Monday gives you one card a day meant to guide you through your week.
Well, after reading this article you know the Best Astrology App and how to download it on Android & iPhone without any hassle. For more related articles read our best Music Downloader app for Android & iPhone and you can also read this Wireless Charger for iPhone 7, iPhone 8, 8 Plus, and many more.