Android: Watch Videos In Incognito Mode In YouTube
YouTube has now released an incognito mode that allows YouTube users to watch videos privately without having any history or save searches on YouTube. In this article, we going to show how to get YouTube Incognito mode and how to use it on an android cell phones or tablets.
What is YouTube Incognito Mode?
If you're using a web browser in your cell phone or computer especially a chrome browser you've already figured out what is YouTube Incognito Mode. But it's my duty to tell all of my readers. YouTube Incognito Mode is a mode or extra tab for watching videos without having a history or saved searches on the YouTube search bar.
How To Get YouTube Incognito Mode For YouTube Android App
To get this feature into your YouTube mobile app you've to update the YouTube app through Google Play Store. After updating the app you will get the new feature into your phone.
Now here, comes the main point of this article. How to activate Incognito Mode in YouTube application.
To turn on an incognito mode in YouTube follow the below-given step below step guide with screenshots.
Step 1:
Open YouTube App (After updating it).
Step 2:
Tap on your Account icon to open your account information.
Step 3:
After this. Tap on Turn On Incognito Mode to activate it. If it's your first time using Incognito Mode then tap on Got It.
Once are you've turned on Incognito Mode in YouTube you'll see the profile icon has changed just like Chrome browser. After using YouTube Incognito Mode you've to disable it.
1 # Tap on the YouTube Account icon at the top right bottom.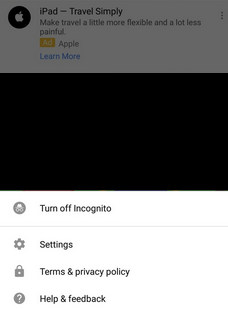 2 #  Now go and tap on Turn off Incognito Mode that it.
After following those above steps you've successfully activated YouTube Incognito Mode. Hope you like this information then please share it.