How To Turn on Twitter Notifications For A Specific Person
If you want to read tweets of some selected persons or someone special person on twitter. In this case, Twitter has a specific twitter notifications feature that allows getting notification from selected persons. In short, in this article, we going to show how you can easily turn on twitter notifications for a specific person in a few steps from your cell phone.
Previously we have published a How To Know Who Unfollow You On Twitter. It's also a step by step article in which you can easily find out how will unfollow you on Twitter in the last week.
How To Turn on Twitter Notifications For Specific Person
So basically, you don't have to download anything from anywhere. In this short tutorial their some steps that you've to follow on your twitter account form your cell phone or the device you're using to access Twitter.
Step 1:
Login into your Twitter Account. Using your Email Address and Password. Or Else in the Twitter App.
Step 2:
Navigate the twitter account from which you want to get a notification.
Step 3:
Now tap on the "Notification Icon" or "Bell Icon".
Step 4: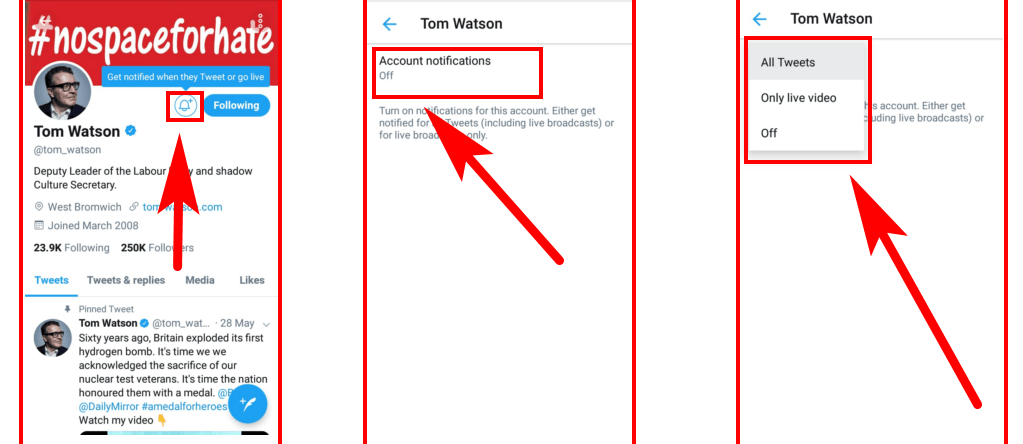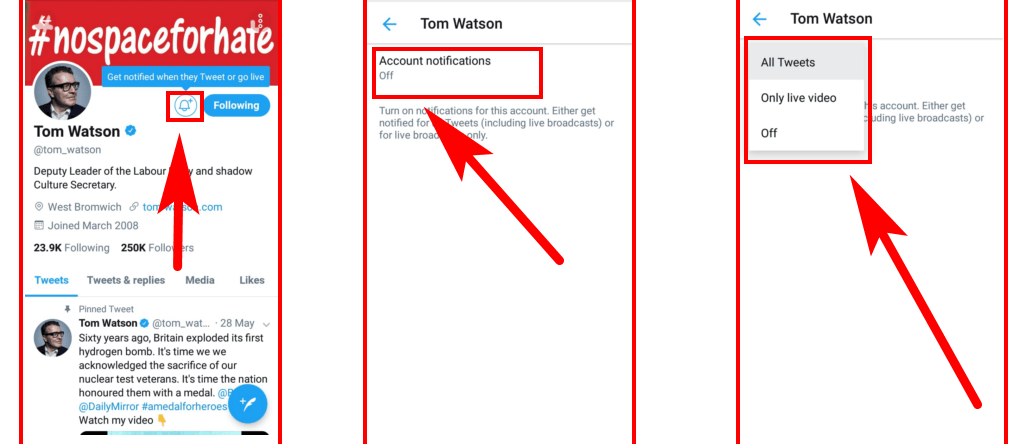 The pop-up list will appear on your cell phone screen (As shown in the given screenshot). Select on the options form the list.  "All Tweets" or "Only Tweets With Live Video" for getting live updates of that twitter account to choose the first option.
Now, whenever the account tweets you'll get a notification on your cell phone screen.
How To Turn off Twitter Notifications For A Specific Person
To get rid of tweets from the specific twitter account, just reverse the above process when you tap on the bell icon and the pop-up list will appear on your device screen. Just select "None" to turn off twitter notification for a specific person or Twitter account.
Do Comment and Share The Article, Its a great help for us then for visiting.