Wondering, how to save someone's status on Whatsapp? this is possible to save others WhatsApp status. Yes, there some methods from which you can easily download others Whatsapp Status on your Android or iPhone devices.
In this article, we are going to tell you one of the best way to download Whatsapp status of your friend or any third person Whatsapp status that you've saved into your Whatsapp Contacts. Moreover, Until now Whatsapp doesn't support this type of feature by default. However, there some third-party applications that allow you to download any WhatsApp status that your friend or family member recently updated on their Whatsapp Account.
How To Save Someone's Status On WhatsApp App
As I already told you Whatsapp doesn't support any kind of feature to save other's video and photos status. However, you can use some of the tricks that we mentioned in this article to save friends WhatsApp status any time you want.
Save Others WhatsApp Status On Android Phone
Typically, there are two ways to download others' status on Whatsapp. In case if you want to save photos on Whatsapp status then you can easily do that with the help of screenshot features or screenshot app on any android device. However, if you want to download videos on WhatsApp status from others. Then, in this case, you required to install any third-party application.
1. Save Photos From Others WhatsApp Status
Generally, there two ways to save photos on WhatsApp status of others. You can download a screenshot app or capture a screenshot by default feature. However, if you don't how to capture a screenshot on iPhone or Android Phone. Then follow these below-given steps.
Open the WhatsApp Application on your Phone
Go to the WhatsApp status that you want to save (make sure its the photo that you want to save).
Now Tap and hold the screen on the WhatsApp Status that you want to save.
Press (Power + Volume Up) Button at the same time.
In case if your phone keys not operating well then download any screenshot capturing applications. Then capture WhatsApp status photos as screenshots and edit them. Readout, ultimate guide capture the screenshot on android.
2. Download Whatsapp Status Videos Of Others
There are some dedicated apps that allow Android and iOS users to download or save the Whatapp Status videos. So install these given below third party apps to save your's friends Whatsapp status. These apps will automatically be saved and organized in a file manager.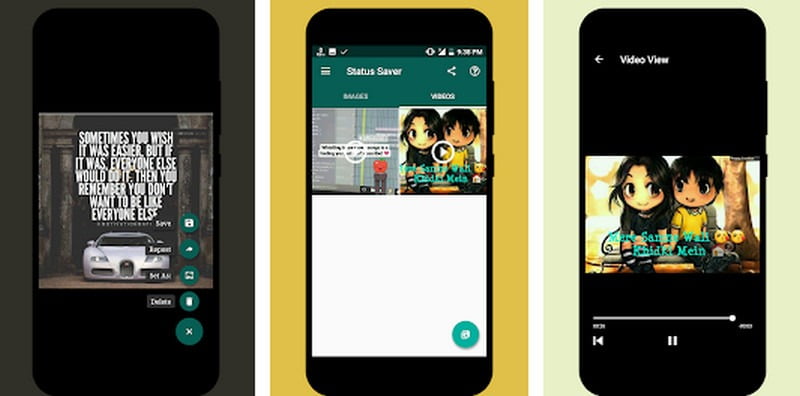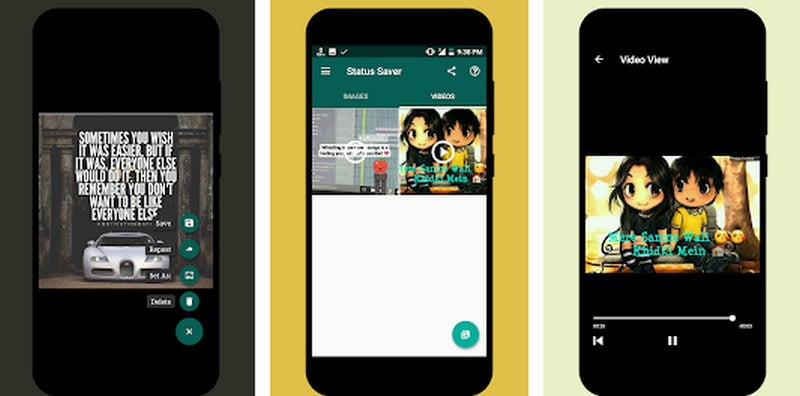 Follow these given below steps to use a 3rd party app to save WhatsApp status –
Go to the Google Store or Apple Store on your device.
Now, Download this application "Status Saver" and install it on your device.
Launched the app, and agree to following guidelines.
Allow the app to access photos, media and files on your device. Because that's how the app will read the storage to collect WhatsApp Status images.
4. Now tap on the save icon on the WhatsApp Status that you want to save on your phone.
5. Image or video will be stored in your device's internal memory.
All the WhatsApp Status that you've saved on your device will be organized by the date and time on a folder of Status Saver. You can easily access them you want and easily remove unwanted status from the device.
How To Save WhatsApp Status Of Others In iPhone
If you own an iOS device such as iPhone or iPad and want to download WhatsApp Status of others. Then I must tell you there no possible way to download WhatsApp Status of your friend or family member on the Offical WhatsApp application.
You've to download WhatsApp tweaked app called WhatsApp++ which allows its user to download WhatsApp Status of others without having a hassle. However, you cannot find WhatsApp++ on the Apple Store.
For this, the method you've to download WhatsApp++ from other online app stores for example BuildStore.com
Note: Installing WhatsApp++ form build store required to uninstall the official WhatsApp from your iPhone
How To Save WhatsApp Status of Others on PC
Follow the steps to download WhatsApp status on PC
Open the WhatsApp Web on your iPhone web browser (by default safari).
Now, select the particular status that you want to download on your iPhone.
Right-click on the status to download and select the location of it.
Wrapping Up!
Hope with the help of this short article we get what you looking for on the web. In this article, we have listed all the possible ways from which you can download others WhatsApp Status on your Phone or Computer without having a hassle.