How To Remix Snaps On Snapchat
how to remix a snap Have you ever wondered how to remix snaps on Snapchat? Ok, I admit that it's not exactly a common question, but I'd be a liar if I said my answer was really predictable. 
Anyone who has ever used Snapchat knows it can be difficult to figure out what stickers are available and how to use them.
However, with some work at the beginning of your day, there won't be any more frustration stemming from your lack of creativity when it comes to sending snaps.
So, I decided to do some research with the help of Snapchat staff before writing this article about How To Remix Snaps on Snapchat.
What Is Snapchat Remix?
Snapchat Remix is the new feature that allows you to add a visual element to your text-only snaps. While a friend's Snap is playing right next to your reaction, Remix lets you record a video response.
You have the choice to record your Remix in a variety of forms, such as whether your video will display above, below, or in a corner of the original clip.
This feature is still under development.  The reason why I'm writing this article is that there are still some people who don't know how to remix snaps on Snapchat. 
If you're one o them, don't worry! I'll help explain everything in this post so that you can start using this feature right away!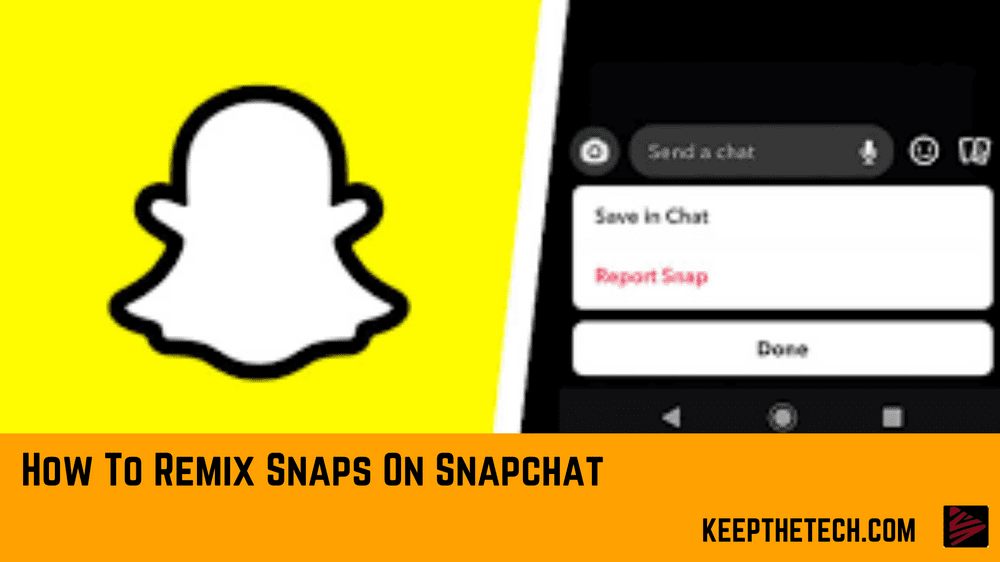 Snapchat Remixing Techniques
Open Snapchat and go to the Stories screen.
Select a friend's story or day (it must be a public story for you to remix it).
Tap on the video that you want to remix (you can find this in the top right corner of your screen).
Select Remix Snap by tapping the icon with three vertical dots in the top right corner.
To add some variety, select a different frame from the layout menu on the left.
Edit your Snap as you normally would; you can jazz it up with GIFs, or you can pick from the available stickers, filters, and other options.
Finally, click the Send button to send your friend the remix.
Make Remixes Of Your Old Snaps
If you're feeling nostalgic, you can also make remixes of your old Snaps.
To do this, tap on the Settings icon in the top left corner of your screen.
Next, tap on My Story and then tap on Memories (it looks like a bunch of Polaroid photos).
From there, select any story that contains a Snap that was sent to you by another user.
When it appears on your screen, tap on it.
Please take note that any Snap Remixes you create from your friends' Snaps cannot be saved or shared. However, Remixes that you make using your own Memories can be saved, shared, and sent.
Frequently Asked Questions [FAQs]:-
What is meant by Snap Remix?
This screenshot was shared by the app researcher Alessandro Paluzzi, and it shows how the new procedure gives you the choice to "Remix Snap" in your response tools for each Snap. Users are then given the option to record their own Snaps while the original is playing, react to the user with their "remix," and so on.
Can you take a screenshot of a Remix Snap secretly?
Turn on Airplane Mode, disable WiFi, open Snap, and take a screenshot. Activate Airplane Mode, leave WiFi on, launch Snap, and take a screenshot. Turn on Airplane Mode after opening the Snap. Snapchat to be closed, Airplane Mode activated, then opened again to take a screenshot.
How can you secretly screenshot someone else's Snapchat?
The procedures are quite simple: The Snapchat snaps you wish to save to your gallery should be opened. Long-press the home button to summon Google Assistant, or just say "OK, Google." Without anyone knowing, simply ask the digital assistant to take a screenshot while typing or speaking.
Conclusion
Snapchat is a fun way to share moments with your friends and family. You can use it to send funny selfies, or even create a story that shows what you did this weekend. But with all the features and settings, it can be difficult to get started.
Hopefully, this guide has helped you learn how to use Snapchat for the first time. If you have any questions about anything in this article or if you've discovered something that I missed, please let me know in the comments below!
Related Articles:
How To Fix Snapchat Crashing On iPhone: 9 Tips That Really Work
How To Make a Group on Snapchat
6 Fixes For Snapchat Not Working or Loading Snaps
500+ Snapchat Names – Best Snapchat Username Ideas