How To Change Safari Font In Mac OS X
How do I change Safari Font? Yes, you can change the font letters of the Safari web browser.  Safari browser allows its users to change the font size.  If you're facing a problem in reading the fonts on the safari web browser you can change them.
Change Font Style In Safari 11 In Mac OS X
To change the safari font you don't have to hire an expert or download any safari extension. You can easily change the font style through safari settings. Follow the below-given step-by-step guides.
Step 1:
First of all the web browser. Now open the Safari web browser.
Step 2:
Go to Safari Settings and open the 'Appearance' tab. Now go to "Standard Font" click on the "Select" button.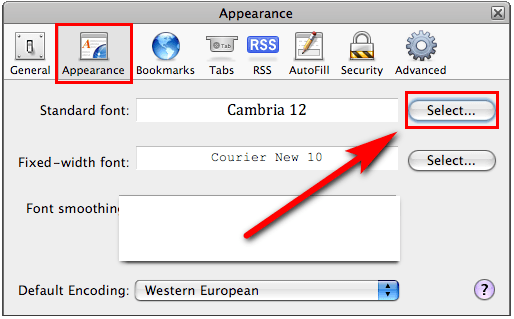 Step 3:
Select the font style you want to set for the Safari web browser when you visit any website. When you selected the font then press "ESC" to close the front window.
How To Increase Font Size Bigger in Safari Browser 
If you think the font size of the Safari web browser is small and you can't able to read the letters properly. In this case, you can increase the safari font size for the temporary base. You can easily Zoom In or Zoom out in the safari browser through shortcut keys. Just you've activated the feature through safari settings.
Step 1:
Open Safari Browser on your Macbook and go to a web page want to read.
Step 2:
Now move the mouse pointer to the right bottom of the screen. Click on the "View" in the Safari bar Menu
Step 3:
When the drop-down menu appears. Click on the Zoom-In to increase the font size of the content in the webpage you recently opened. There a hotkey for increase the font size in Safari ("Command+") press to zoom in the text.
Step 4:
Zoom out the font size. Do the same just press ("Command -") to decrease the safari font size.