When I buy my HP laptop, then Its looks cooler to me, but after some time when I see one of the programmer laptops that look cools better than mine. The first question that comes to my mind is "Is the build is the own laptop" or buy a custom laptop from somewhere.
However, After lots of research, I finally found some ways in which I can make my laptop the same as programmers or the way I want my laptop to look like using several customizing tools and services.
Here we've listed almost twenty-five ways to customize laptops using several tools and services to add a unique style.
Customizing Laptop Appearance Like A Pro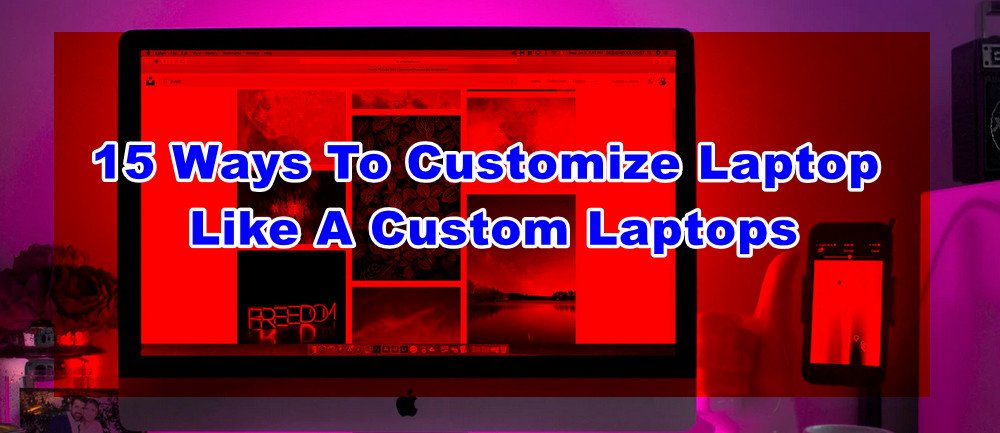 There are several ways in which you can customize your laptop and we went tell you how you can.
Generally, there are only two ways to customize laptops from outside and inside  There are several tools and software from which you can customize laptops from inside and the outside look can change using different stickers, skins etc.
5 Ways To Decorate Laptop From Outside
Firstly, we tell you five ways to decorate a laptop from the outside and then we move to the Inside appearance of a laptop.
1# Laptop Stickers
We all have laptops, but mine is more geometrically satisfying because I like to think like a triangle book (see image). You can easily customize your laptop using a sticker you can get through online stores such as EEF.
Many programmers and computer geeks customize their laptops in a unique style using stickers. You can easily buy stickers for laptops through some of the popular online stores such as Amazon, BestBuy or eBay.
2 # Laptops Skins and Decals
For a temporary change, you can use skins and decals for laptops that are easily removable you can remove the skin when you want to which makes it's one of the best ways to change laptop overall look to a new unique style.
There are lots of online stores which offer skins for Mac and PC laptops, such as Gelaskins, SkynMobile. Many users want to get their trackpad skin looks style for that you can buy stylish trackpad skins for Mac and Windows laptops on SkinStyler.
3 # Sleeves and Hard Cases
If you'll love your laptop and want to protect it from getting damaged. Because repairing a laptop may very be costly, however,  you can protect your laptop in style with funky sleeves and hardshell cases.
The Laptop Lid is one of the weakest parts of laptops,  laptop sleeve, and hard cases are the best tools to protect the laptop from getting damaged in case of an accident such as dropping the laptop to the surface of a floor.
4#  Airbrushed or Engraved Laptop
If you're a video game lover and want to your device look like a gaming notebook then this is one of the best ways. You can airbrush or engrave a laptop to make your laptop look cooler.
5 #  Decorate Laptop With Washi Tape
You can decorate your laptop using washi tape, mainly girls love to decorate their personal laptops with different colours of washi tapes on the keyboard button of the notebook. If you find this idea interesting then you can also use washi tapes on the laptop keyboard.
10 Ways To Customize Laptop From Inside Using Softwares And Tools
In regards to the customizing laptop by using software and tools.  There are lots of paid and free software from which you can easily customize the laptop.
1 # 

System Monitor
System Monitoring is one of the best software that you must have in your computer system. There are tons of benefits of using System Monitor software, it helps you to keep track of daily activity and processing of your notebook system.
There are different types of monitoring software such as Server Monitoring, Home Monitoring systems, Application Monitoring, Security System Monitoring and much more. However, On the laptop
On a laptop, you can install Hardware Monitoring or Temperature Monitoring software. Which makes your laptop appearance look cooler. In Mac OS X you can use the iStart Menu and in Windows, you can use Rainmeter.
2# Custom Background Wallpaper
You can create your own custom background images using online custom background makers or photo editing software
In comparison to normal wallpapers, the custom wallpaper looks more attractive and shows your style.
In Windows, you can use Virtual Desktop for Windows to make a virtualization desktop screen however it's hard to configure different shortcut icons to the background of the desktop screen.
3 # Clover – Chromium like Windows Explorer
I like this one, however, it may far more perfect software. The Clover's basically a software that brings clover functions such as multiple tasking and shortcuts like (ctrl+w, ctrl+shift+t, ctrl+t ) or opening the recent close folder and a lot more.
I like this tool because in Windows I like to have only windows with several tabs, having bookmarks on the tops (ctrl+shift+b to display/hide bookmarks, like in Chrome).
4 # Mac OS X Like Launcher In Windows
If you using a Windows laptop and want to get a Mac OS experience then. In this case, you properly like Wox Software that is an effective launcher for Windows platform that gives users a full-featured launcher same as the OSX platform.
Using this tool, you can easily access all files just open up the Wox launcher in Windows and type the name of the file and open it.
5 # Copy / Paste From History And Search Features
The Ditto is a well popular tool, That I like the most using this tool you can find out what you copy-paste last week. Basically, the Ditto is the standard windows clipboard. It saves each item placed on the clipboard allowing users to access any of those items at a later time.
6 #  Mechanical keyboards
The mechanical keyboards or WASD Keyboards are one of the best hardware modification devices for PC users. To customize a computer or Mac you can switch to a WASD keyboard which looks more attractive compared to normal computer keyboards.
7 # Laser Engraving on Laptop
The Laser Engraved laptops look fabulous,  you can buy a laser engraving machine and make your own laser engraving printing on your laptop.
However, if you don't know much about printing stuff then, in this case, you can hire any laser engraver how can easily print different types of custom pictures on your laptop.
8 # Install a Custom Dock on Laptop
Custom Dock one of the best tools available for both Mac and Windows users. If you own an OSX notebook you might hear about custom dock but Windows is kind of rare.
What is Custom Dock? A dock is basically a program that holds the favourite apps, documents and more. In simple words, the customs dock is a bar of icons that sits at the bottom of your screen. It provides easy access to the apps and documents.
For Windows, the RocketDock, and for Mac OSX the default custom dock is the best custom dock applications to customize desktop screen
9#  Folder Marker
The Folder Marker is an application specially developed for customizing purposes, you can use Folder Marker to change the colour code of folders using a single click.  It does not end there also some other options such as set folder to  High-Priority, Low-Priority, Completed, Important, and Private etc.
10 #  TileCreator
If you want to change the visual appearance of tiles on the Start Menu in Windows. The TileCreator is software from which you can change the title of apps that appears on the Start Menu. You can easily customize apps texts, images and background colour on Start Menu o Windows 10.