Wondershare Filmora9 – Best Video Editing Software
Filmora9 is one of the leading video editing software among YouTubers and video editors. The software carries all the features that require to make your video more awesome. In this article, we going to discuss some of the features of the Filmora9 that helps you to know how you can use the software.
Unlink other video software in which you'll need video editing skills or any video editing course to make your video more creativity. Filmora9 is simple to use any computer users can easily use this software to make its first video without having any video editing skills.  As we all know, YouTube is one of the most popular online video streaming platforms that own by Google.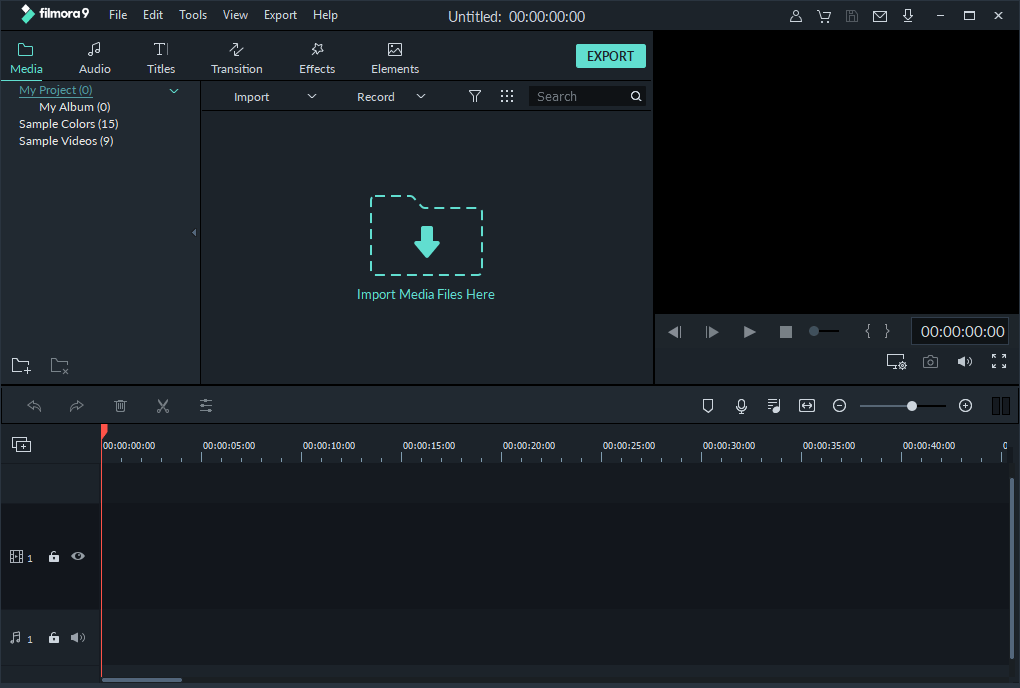 If you're a YouTuber, then in this case if you're looking for best video editing software in 2019. Then you must read this review completely to know all features of Wondershare Flimora9 Video Editor.
Top Features of Wondershare Flimora9
These are the feature you will ane to access in Flimora9 software for making your video more creativity for your viewers.
In Basic Editing, the software supports Trim/Split/Rotate/Crop in the video, audio clips and images editing along with video joining.
In teams of Adding Effects on videos, the software supports Filters and Overlay, Elements & Transitions along with sound effects.
Any other basic features of Flimora9 software.
Advanced Video Editing Features of Flimora9 – That Helps You To Make Your Video More Creative
If you're professional video editor then you love these advanced features of flimora9 that allows you to make your video more creative and unique.
 Advanced Color Tuning.
Pan & Zoom along with PIP.
Play Videos In Reverse.
Record PC Screen.
Green Screen Effects.
Video Snapshot.
The main window interface of the software provides complete control over your video. You can easily edit your video over the timeline without having a hassle. The software offers more than 100 video and audio editing tracks. The previous version of Flimora software only offers single editing tracks. So it's a great update in teams of video editing.
Let's Get Started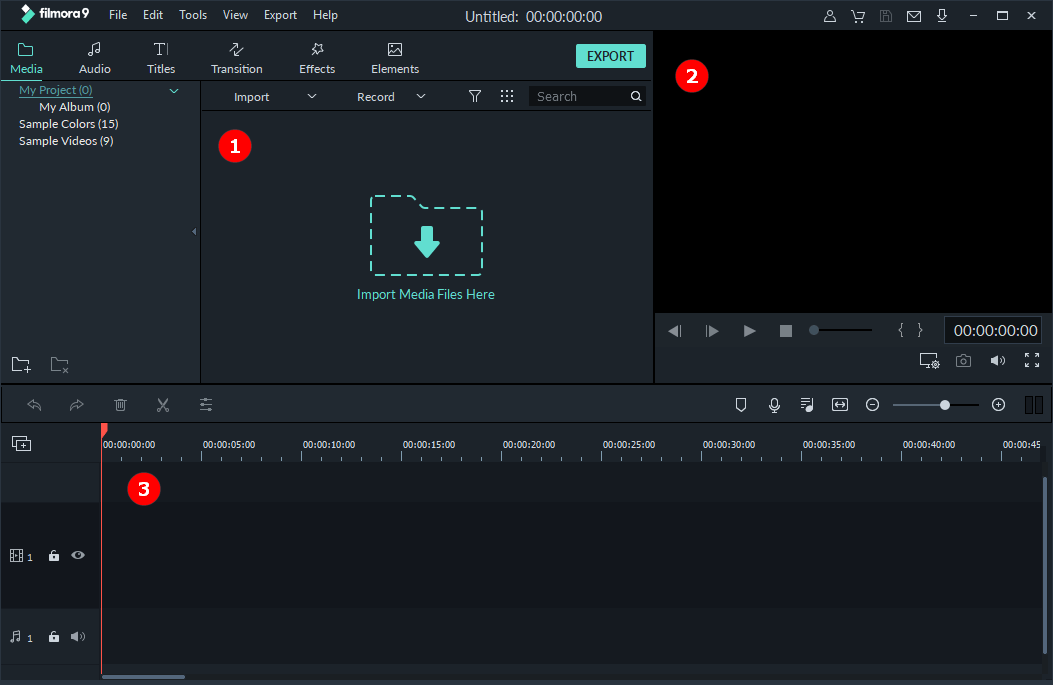 The interface of the software is simple to use as you see above given screenshot the three sections shows complete control over your video project. Just import the video that you want to edit and set the audio track from over 100 music tracks that fit on your videos.
Part 1- Import and Library
Its all starts from import section where you can have to import the videos of your project. Go to the "Import Media File Here" and select the videos and hit the import button.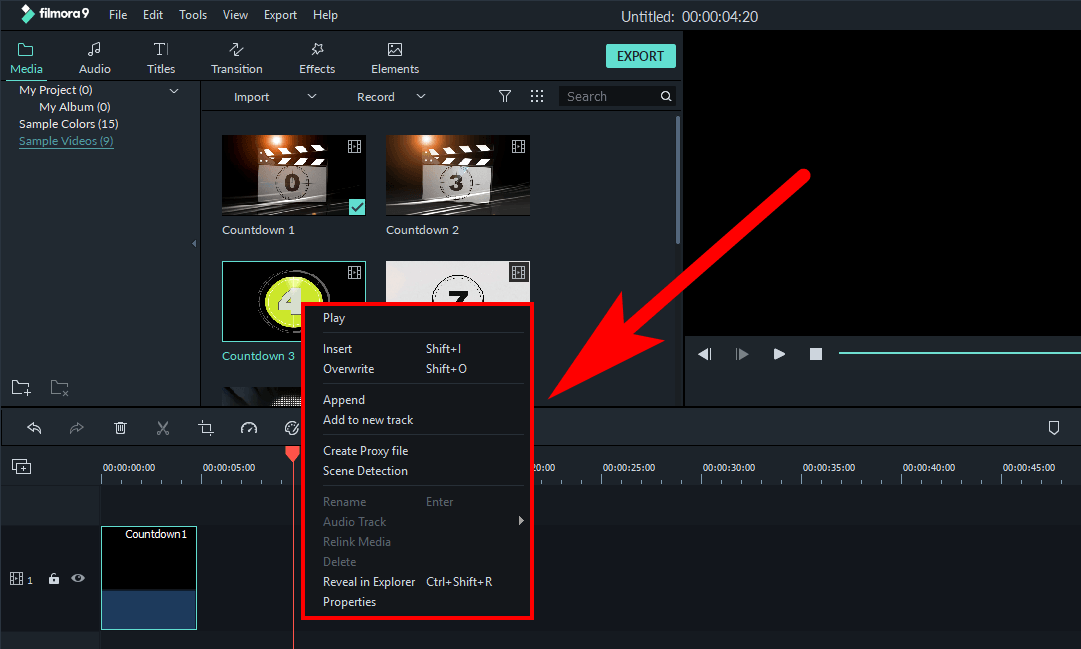 You can click on the video clip exported from your device to preview in the Preview Window, or you can drag and drop the clip to timeline section (Section 3). After that, if you want to make changes into the video like trimming out unwanted parts, adding effects or titles or changing audio tracks on the video, you've to use video editing features and the built-in templates and presets of Filmora9.
Part 2 – Video Editing Tools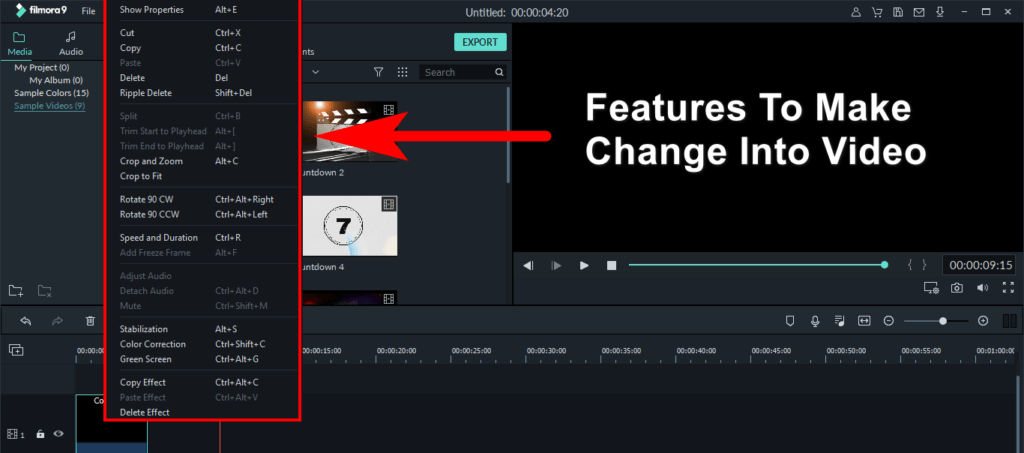 Just select the video in the timeline and right click on it to open options to split, trim, crop&zoom, rotate, add freeze frame, adjust audio, detach audio, mute audio or do some advanced editing such as video stabilization, color correction or green screen compositing. In case if you want to rotate the video to 90 degrees you can select "Rotate 90 CW" or press Ctrl+Alt+Right keyboard shortcut keys to rotate your video.
You can also use the tools in the toolbar above the timeline to split, crop, change speed or do color correction, composite green screen video footage or enter the Edit window directly.
1. Color Correction
On top of all the features, you'll also get a color correction tool from which you can easily set the right color combination for your video as well as color grade through use of 3D LUT's.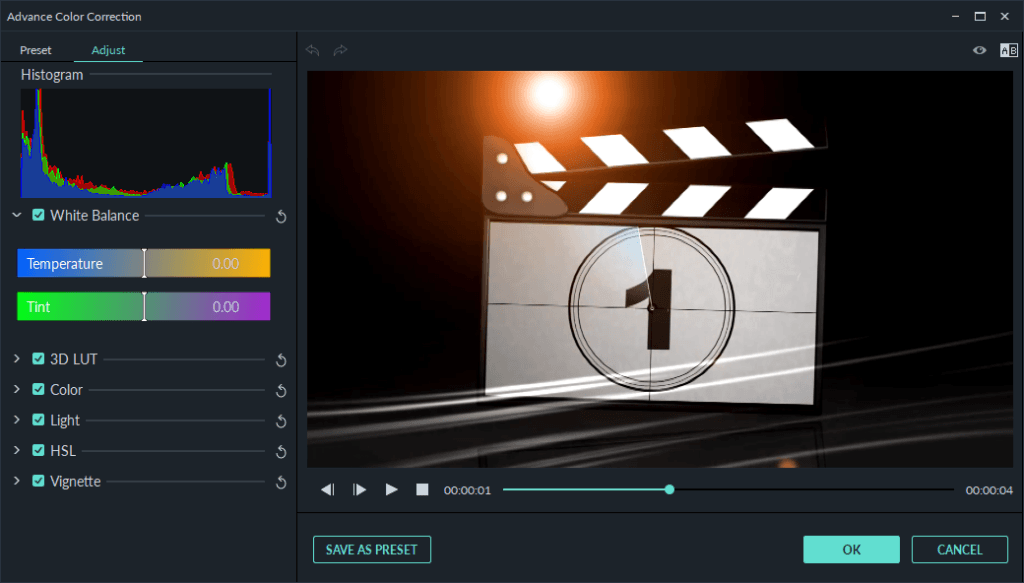 2. Green Screen
The green screen is one of the best features to manage straight green and blue application but you can also use to make color effects on your video.
The module offers "n" numbers of settings to handle green screen videos to get them to adjust properly into your project.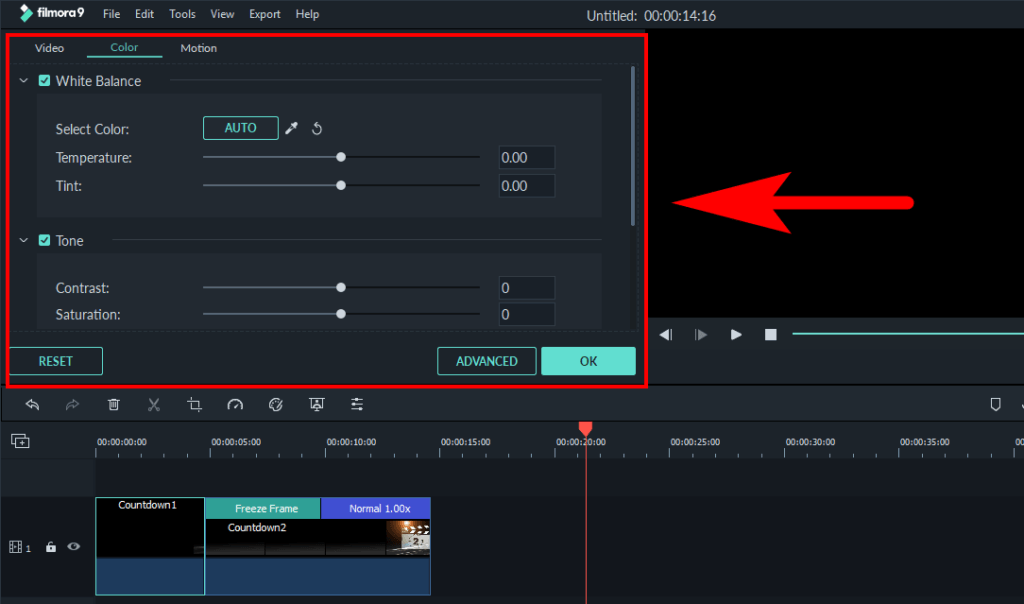 3. Custom Speed
The custom speed features allow you to make a change in the speed of the video. The module also has options like reverse and ripple edit you can reverse your video to backward or ripple edit it.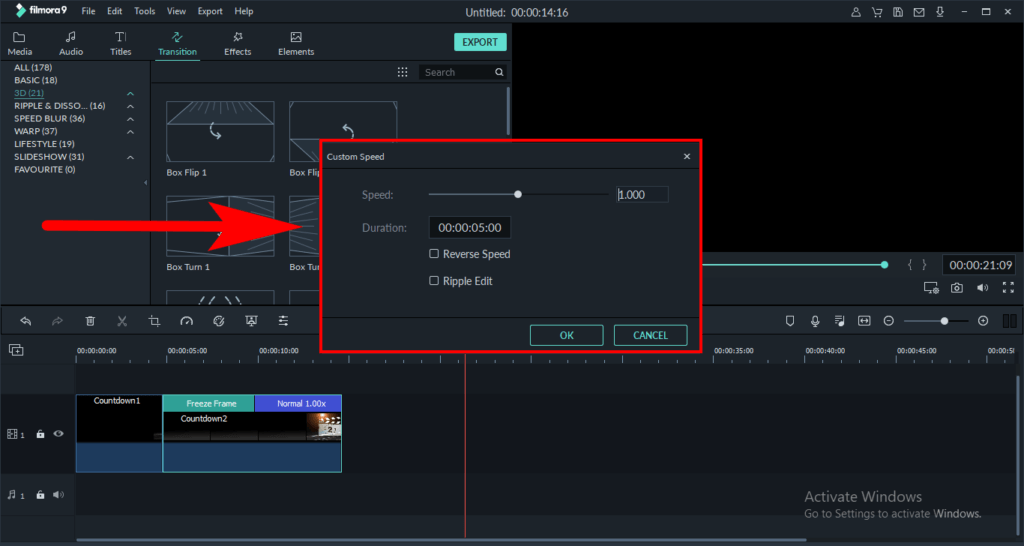 4. Transitions & Effects
The filmora9 has over 300+ background effects object, sound, overlays from which you can change the background of your video. If you join multiple videos in the single video then, in this case, these effects are very helpful to adjust the video completely.
In sound effect, the software has 50+ audio samples with 25+ sound effects along with 26+ music tracks that you can use in your video project.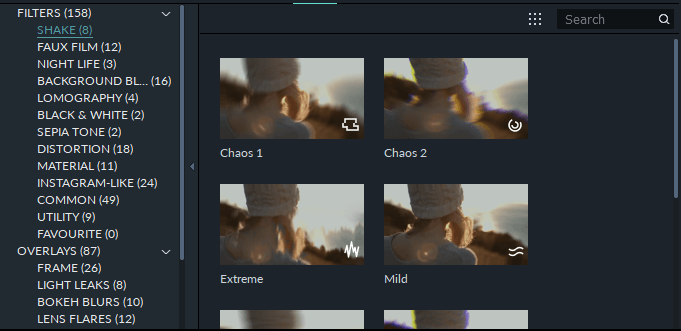 In teams of titles, transitions, filters and overlays. It has over 137 titles presets, 178 transitions along with 158 filters, 87 overlay and 181 mark elements.
Part 3 – Preview and Export
At the last when you finish editing on your video project. You've will have to export the project to your computer. The software allows you to export the project in multiple formats such as MP4, WMV, AVI, MOV, F4V, MKV, TS, 3GP and much more.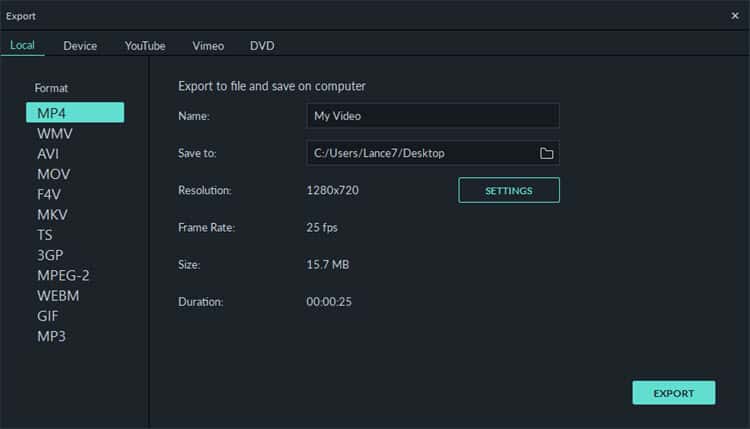 Flimora9 also allows you to export your project to online video streaming platforms like YouTube, Vimeo or else you can also burn the video project into DVD.
Conclusion of the Review
There are lots of new features in Flimora9 that surprise me. The features like a screen recorder, audio equalizer, motion paths and much more. These are features are hard available on video editing software. Flimora9 is a great video editing tool for beginners as well as for professionals to edit their video projects without having a hassle.