Step By Step Guide To Remove Email Signature With Screenshots
What is Email Signature?
The Email Signature is a digital signature that helps the email receiver to identify the details of the email sender. The Email Signature contains the name of the sender, the business address of the sender, the URL of the business website and much more.
How To Remove Email Signature On Gmail Account?
In Gmail, you can easily add or remove email signatures to your email account. If you remember you read some emails with gusty fonts with long addresses and ugly photos etc. Which makes a point for you, if you send an email with an imperfect email signature the read will avoid your email.
If you want to send your reader an official email that reads then you must customize your email signature or remove it. To stop Gmail to add an email signature automatically when you compose a new email you've to turn off the email signature from your Gmail Account.
Step 1:
Login into your Gmail Account from a Desktop or Mac device.
Step 2:
Go to the"Settings Menu Bar" (Gear Icon) from the Navigation Bar as shown in the given screenshot.
Step 3:
Open "Settings" to from the menu list.
Step 4:
Go to the "General" tab and scroll down a bit to the Signature section.

Step 5:
Make sure you select the "No Signature".
Gmail automatically will saved your Signature, when you created a email signature on your Gmail Account. So when you turn on it you don't have re-entered it.
Step 6:
When completing the above process hit the "Save Changes" button to apply changes.
Tips To Customize Email Signature:
When you google you can easily find some of the best email signature examples on the web. There are some professional tips to customize email signatures.
Don't go for a long word signature keep it simple because fewer words email signatures attract more readers.
Don't insert official information into the visual format. Because of lots of time, the embed images get lost.
Don't put your personal information such as home address or personal cell phone. Because you don't know whom your email will be forwarded.
Use online web tools to create a professional email signature.
Traditional signature contains two or three lines separated from the email body.
Professional Email Signature Examples:
Look at the pictures given below to know how a professional email signature is made.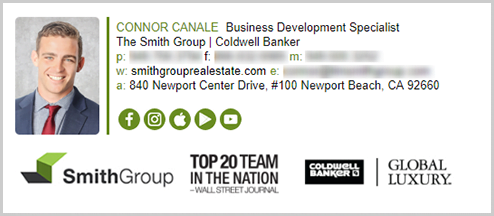 Image (Source)