What is Optimal CPU Temp While Gaming? Tips To Cooldown (2022)
If you are afraid your processor or the graphics card is getting too much hot well you needed to adjust some of the settings of the CPU and GPU to reduce the temperature of your system. The gaming PC needed regular maintenance this is one of the universal truths that many gaming PC owners understand a hard way. 
Sometimes we all forget what is the importance of keeping our gaming system hard running at the optimal temperature settings. This can benefit our system in multiple ways such as performance, long-run durability and much more. 
Especially when you're using your computer for gaming purposes then an increase in the temperature of your system as usual. Thankfully, there are multiple ways that can be applied for cooling down our system without having a hassle. Because of the overheating issue that is caused by several factors that we are going to discuss in this short guide along with proper ways to reduce the overheating using some tactics. 
So let get started on the guide. 
What is Normal CPU Temp While Gaming?
Most PC gamers already know that gaming on a computer applies lots of pressure and stress on their computer parts such as GPU and CPU. In most gaming systems that pressure or stress is converted into the heat in the system parts while gaming due to which our gaming computer needed to operates at a higher rate to make sure the performance won't get affected so basically the computer parts get much hotter. 
The question still remains what is the best CPU temperature for gaming on a laptop or computer. This is one of the most prevalent questions asked by thousands of gamers. Today we gave a proper answer to the question with a complete explanation.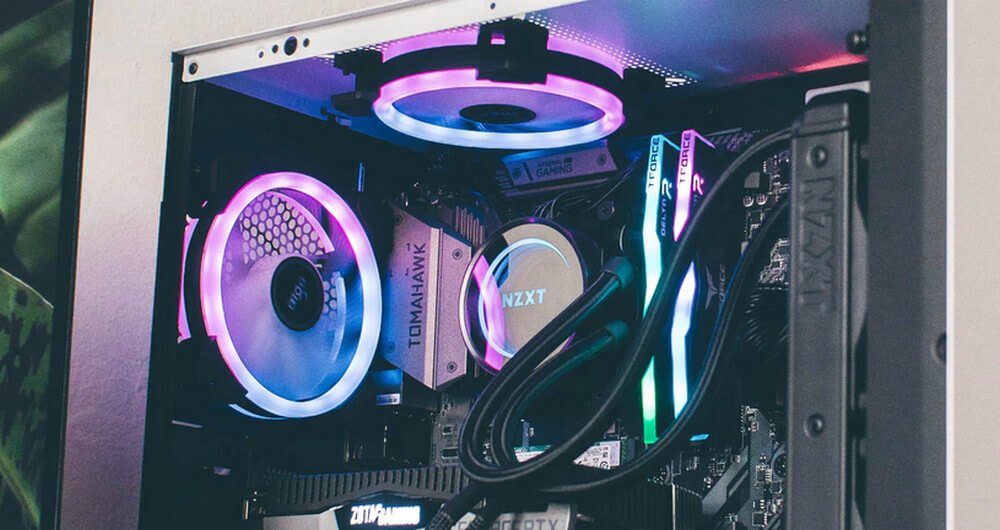 Suitable CPU Temperature While Gaming
It doesn't count if you're using an AMD or Intel processor on your gaming PC the temperature for all the processors are varies greatly. According to Wepc the temperature of the computer while gaming must not exceed 176°F (80°C) or on average. 
That means when you play high-end games on your computer make sure the temperature of your computer CPU and GPU must not across 80°C temps. You should make sure your computer runs anywhere between 165°-176°F (73°-80°C).
Most of the time the CPUs get much hotter due to playing long session games along with overclocking thus result in a little higher temperature from averager. We keep this in mind and guide you to some solutions that you can apply on your gaming PC to reduce the temperature of your device in a few minutes without quitting the game.
Factors To Consider For High Temperature in GPU
First of all, you needed to know what are the main factors that produced more heat on your computer while gaming. There are some common factors that you should avoid if you don't want your computer to check up on the fire. 
Most Graphically Demanding PC Games
Their lots of video games required many high graphic cards to run on a computer or laptop these video games include Assassin's Creed,  The Witcher 3, Red Dead Redemption 2, Crysis 3 and many more. Because when you play these high-end games on your system for a longer duration the CPU and GPU will get much heated due to maintaining the performance of the system. 
Install Better Quality GPU Cooling System
So if you're thinking what is the best cooling system for a GPU then you needed to understand that multiple types of cooling systems were available for the Graphics Processing Unit (GPU). Some most recommended GPU cooling systems are ARCTIC Accelero Xtreme IV Graphics Card Cooler, NZXT Kraken G12. High-End Cooling and Raijintek Morpheus II VGA Cooler.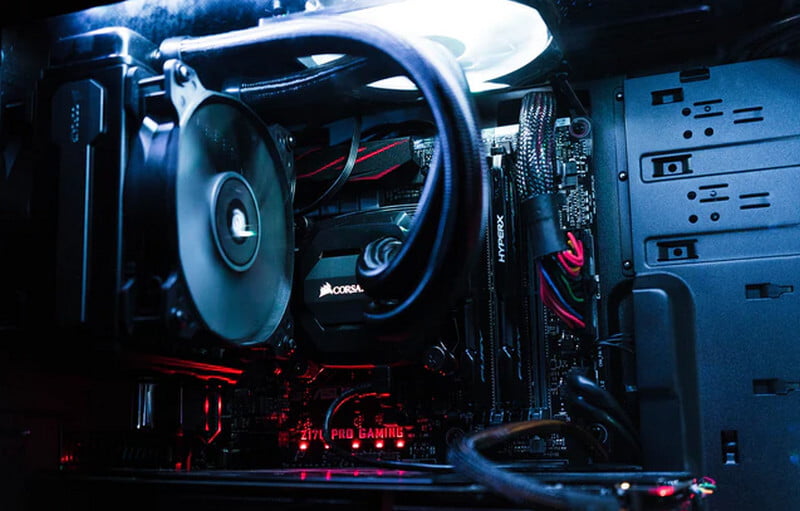 In case if you cannot able to install a GPU cooling system on your computer then you're asking yourself how can I improve my GPU cooling? well, there are also some methods that you can apply for cooling down your Graphics Processing Unit. Such as regularly clean your heatsink fins along with fan blades. Secondly, optimize the airflow around the graphics card and get rid of the milling grooves by polishing the heatsinks of the GPU. Tomshardware, explains how you can able to optimize the GPU cooling without having a hassle.
Poor QualityPower Cable Management
Most of the computer system overheating can because due to the poor management of the power cable that affects the power management that causes heating issues. In simple words, if you block the airflow of the work around the graphic processing unit (GPU) then it won't able to work at the suitable levels.
When you combine it with summer ambient temperatures and a shortage of correctly designed case fans, your hardware temperatures will quickly rise. Just remember to take care of cables installation, whether you're creating a $350 budget setup or a high-end $1000+ gaming machine. It has the potential to significantly increase the efficiency of your hardware.
Number of Case Fans Installed
For the gaming PC's the best optimal case fan build should be a minimum of 2 fans (1 rear and 1 font) for a commonly used computer. However, lots of gamers build their PC especially for gaming with high-end including PSU, CPU and graphic card. In terms of the case fans these high-end gaming PC's build with 3 case fans for cooling the systems. 
Clean Dust on CPU / GPU
One of the most common issues for the poor performance of the CPU and GPU is you cannot clean the dust off your system on a regular. You haven't clean the case for a regular period of time then when the dust reaches a certain level. Where it starts affecting the airflow along with the performance of the system which can cause more heat in the system. 
For this, you needed to clean the dust off your system on the regular basis such as per month. This will kept the performance of your computer system at the optimal level when you play high-end video games on your computer. 
Well, there are lots of factors that boost and reduce the CPU and GPU heating such as Quality of airflow, ambient temperature many more. Make sure you consider these factors on your computer while gaming to keep the system at an optimal level.
How To Track CPU Temperature While Gaming
There are some points and programs and services that help you to track the CPU processes that cause high-end memory usage which increases the temperature of your computer while gaming. In this short guide, we explain how you can easily able to track all the CPU temp activities and terminate high-end processes on your system within a few minutes.

Before we start addressing the temperature problem with your computer system components, we suggest you install some of the helpful tools and programs into your system which allows you to measure temperature reading on your PC. 
There are multiple methods were available on the web from which you can easily able to track the temperature of your computer while gaming. However, tracking the temperature in the BIOS required you to restart your computer and then check its temp. 
CPU / GPU Utilities Programs To Track Temperature
Giant tech companies such as AMD, Intel, Nvidia, MSI and many more also provide their own utility program that allows you to analysis and track all the process take place on the graphic card. With these utility programs, you can also check the temperature of your CPU and GPU without having a hassle.
Central Processing Unit (CPU) Utilities
Ryzen Master Utility (AMD) and Intel Extreme Tuning Utility (Intel) are the most recommended utility tools for Windows users. These tools offer multiple features that allow you to track and analyze lots of processes at the same time in a single tool. 
With these tools, you can able to track the temperature of your computer components along with the CPU and GPU without having a hassle. These tools can even able to track the overclocking on your system. 
Requirements for these utility programs are as follows, Ryzen Master Utility can work only with the motherboard based on the following chipsets  X570, X470, X370, B450, B350, X300, and X399. The same goes for the Intel utility program it also required certain motherboards on the system to work. 
Graphic Processing Unit (GPU) Utilities
Whenever your PC gets heated due to gaming, then you needed to check the GPU which is one of the most common factors to increase the heat on the system. Fourteenth you can use some of the Utility tools provided by the graphic card manufacturers that allow you to track the temperature along with other features and processes of the GPU without having a hassle. 
You can use  OpenHardwareMonitor and SpeedFan these are some of the most reliable utility tools recommended by multiple gamers for analyzing the temperature of the GPU while gaming. The interface of these tools is simple anyone can easily able to use these tools on their system.
Well, you can also use other Utitlies tools develop by other graphic card manufacturers which include Nividia, MSI Afterburner, Gigabyte Aorus Graphics Engine and many more. Mostly these differences between these utility tools and Ryazan Master and Intel Extreme Turning is they are compatible with any GPU and CPU regardless of the manufacturer. 
This means if you can easily able to use MSI Afterburner if you've using Intel or AMD graphic card on your computer system. The tool will automatically configure the settings of your CPU and GPU and start to display the temperature, fan speed, voltage, load and other important data on the program screen.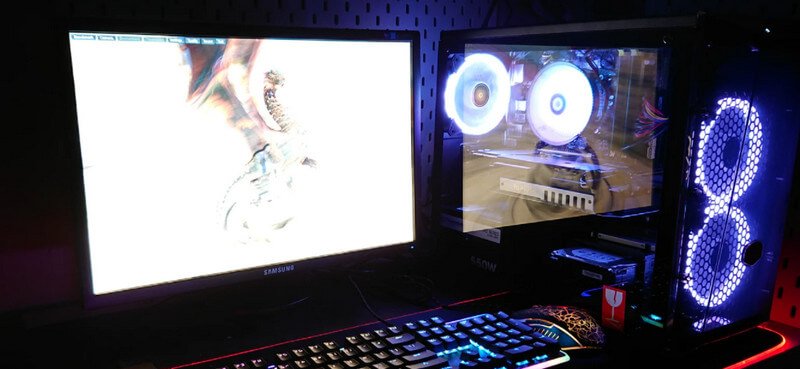 Do High CPU Temperature Affect Lifespan?
There are multiple speculations when it comes to the CPU overheating or high temperature as we know the increase in the temperature in the hardware of your system component can negatively affect the life span of your computer system. Well, when the temperature is under average (below 70 C) in this case you do not need to worry about the high temperature or the life span. 
Well if the temperature of your system will exceed the  176°F (80°C) then you need to applied all the method that given above to cool down your system before its get more heated. 
Conclusion
Hopefully, you find this short comprehensive guide to users to better understand how to check the CPU temp while gaming and how you can easily reduce the temperature using the cooldown tactics. In case if you've any suggestions or questions regarding this guide then feel free to ask us through the comment box. Don't forget to share and give your opinion related to this guide. 
Related Articles: