"DNS server not responding" error message keeps on showing up on your browser. This happens each time you try to access a website. What could be the problem and how can you fix it?
Why is my internet so slow? Is there a problem with my DNS server? Why won't this website load? These are questions that we've all asked at one point or another.
I'm not going to lie, I have been in this situation before. Whether your internet is down or you're just trying to browse the web and every website is loading at a snail's pace, it can be really frustrating. But fear not! There are some simple ways that you can fix your DNS server so that everything goes back to normal.
What does "DNS server not responding" error mean?
DNS servers are a vital part of the internet. DNS stands for Domain Name Server, and its job is to convert easy-to-remember domain names (e.g., google.com) into IP addresses that computers can understand (e.g., 74.125.45.100).
DNS server manages and maps domain names to IP addresses. When you enter a URL into your browser or click on a hyperlink on a webpage, DNS servers are consulted to provide the IP address of that destination.
So if DNS Server not working correctly, all domains will fail to resolve properly and you will see a "DNS server not responding" error message when trying to visit any website.
Often times, this message appears when your browser is unable to reach DNS servers for some unknown reason. Yeah! It thus unknown to your browser.
The reasons can vary. Typically, it always from the users end. It could be due to weak internet speed, use of outdated browser, or your router has been compromised.
Similarly, the issue can also come from the website back-end. You would see a "DNS server not responding" error on your device if the dns servers are temporarily offline, or the website is temporarily down for maintenance activities.
While DNS errors occur from time to time, often they're not serious. There are simple steps you can employ to fix such errors and get back to your browsing. Let explore some.
What Causes DNS Not Working Error?
DNS errors are caused when a computer cannot translate the domain name to an IP address. If a DNS server is not responding, this means that it is either down or has incorrect settings and needs to be updated.
There are many factors that affect a computer's DNS server. Some of these include:
Poor network connection: The internet is the most common cause of DNS errors.
Firewall: A firewall may be blocking access to a DNS server, or there could even be a corrupt rule that blocks certain domain names from being accessed.
Faulty router settings: If your computer's network card has an incorrect IP address for its DHCP assignment, then it will not be able to connect to the DNS server.
Faulty router: A broken wireless adapter could lead to a faulty router, which would in turn cause your computer not being able to connect with the DNS server.
Outdated firmwares/Network drives: A common cause of these issues is outdated firmware on routers or modems which have been configured for DHCP instead of static addresses (DHCP assigns new addresses each time it is turned on).
Outdated or corrupted DNS settings on your router, modem, and/or PC.
A firewall preventing access to the internet through certain ports (if you have one enabled)
Network congestion
Your computer or network may be infected with a virus.
You may have a DNS hijacker installed on your computer.
Your ISP could be blocking access to certain sites or services
The site you are trying to reach is down, not responding, or blocked by its owner for one reason or another
Packet loss from things like congested routers and modems (if there's packet loss, it means some of the packets that should have arrived in order to load a web page or access an app never did)
Your ISP could be blocking all outgoing traffic.
A malware infection on your computer is preventing you from accessing certain sites and services. This can happen if your personal data was compromised and someone else controls what your computer can see on the internet.
Your ISP could be slowing down outgoing traffic.
DNS errors are not always caused by something you or your neighbor did, and in many cases it's just a temporary issue that will fix itself if you wait long enough.
Fixes For "DNS server not responding" Error on Windows & Mac
Restart The Computer System
The first step to fix DNS server not responding problem is restart the computer.
Restarting your computer – this is usually one of the first things people do when they experience any kind of problems with their system because it refreshes everything on a PC or Mac.
But before restarting your computer, you might want to consider closing all open programs or Windows processes. Sometimes there are some background apps that are causing problems and they only need to be closed out before restarting for it to work correctly.
For Windows:
If you're using a Windows machine, start by pressing CTRL + ALT + DEL buttons on your keyboard and then select "Task Manager" in order to open up an application with more information about what's happening inside your system. You will see a list of processes running and you can select any one of them to "End Task" or click on the first process, which is always highlighted in a blue color.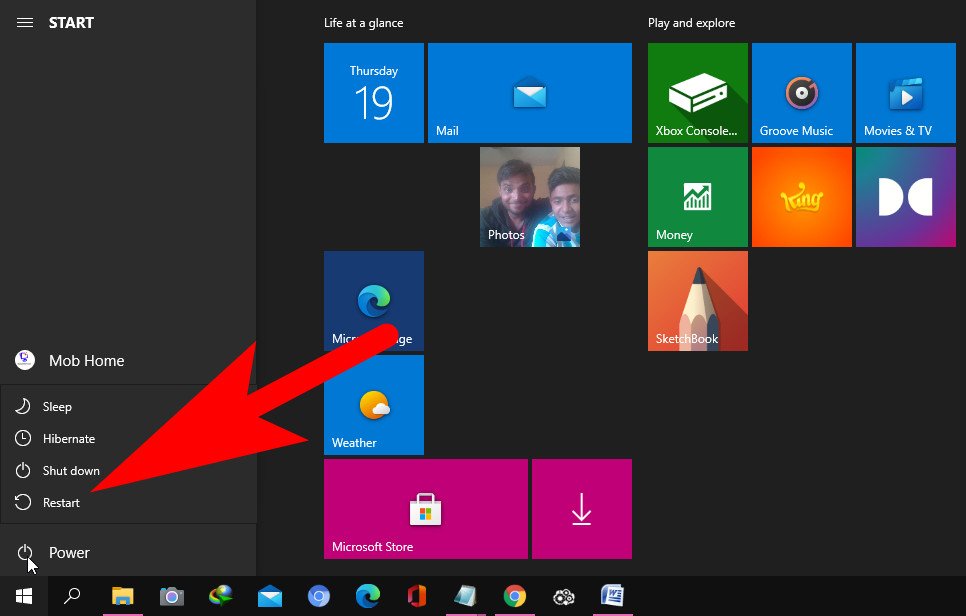 After that, restart your computer by holding down SHIFT key while pressing RESTART button from Windows's start menu.
For MacBooks
Restart your computer in the following way:
– Press and hold down Ctrl + Alt keys on Mac keyboard
– Then select "Shut Down" from Apple menu. And finally, press Shut Down button which will restart it.
This may not fix all of DNS server connection problems but it's worth a try if you are having trouble with accessing certain sites.
Switch to a Different Web Browser
The first thing to try is switching your browser. You might not be getting an error if you are using Safari, Firefox instead of Internet Explorer (IE). You could be surprise that the solution to the problem can be as simple as switching browsers.
It is also important to note the version of your browser and make sure it's up-to-date too, as a newer version may solve the issue. "
DNS server not responding" error generally means that there are problems with an individual website's connection or service provider, but switching browsers could also fix this.
But why will a browser cause a DNS server error. The answer is simple: to find a site, you need to ask your ISP's DNS server for its IP address. If the browser doesn't like the answer it gets from that request (or if there is no answer at all), then it'll try another one and keep trying until it finds an internet connection or provider with a website that responds.
Clear Web Browser Cache and Cookies
Caches are used to store data for quicker retrieval, such as website content or application resources. A browser cache is the type of temporary storage that a web browser uses while loading pages and other types of content on websites. You can clear out your browser's cached files by following these steps:
How to clear browser cache
Chrome – go to the three dots (…) in the top right corner of your browser window and select "More tools" then choose "Clear browsing data". You can also press Ctrl+Shift+Delete together.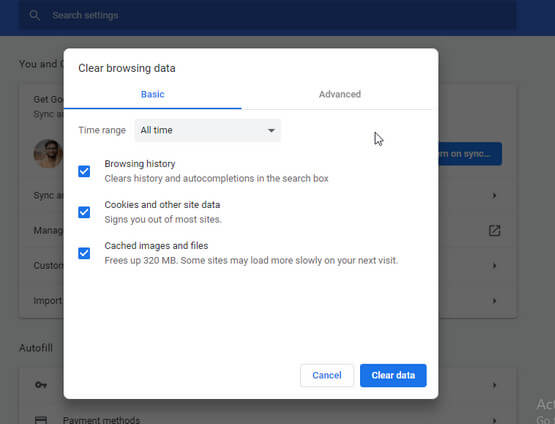 Firefox –  go to the "History" Tab and select "Clear Recent History". You can also press Ctrl+Shift+Delete together.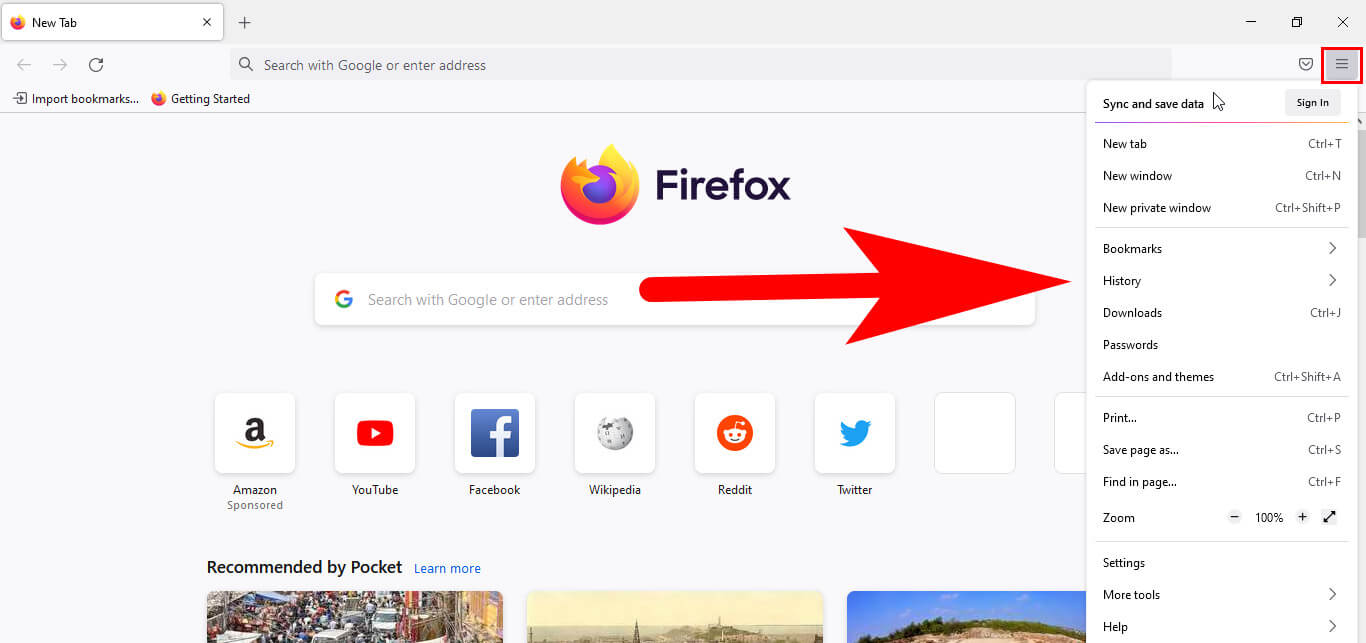 Safari – Select Preferences > Privacy In Safari, go to the Settings menu and click on Clear History. You can also press Command+Option+Delete together.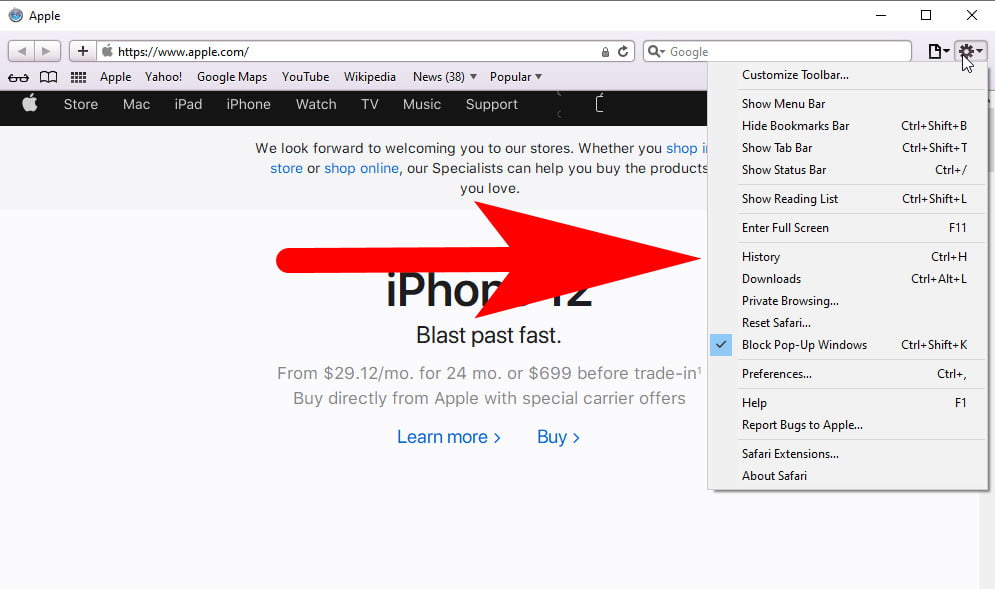 Disable Secondary Connections
When a DNS server is not responding this can mean that the primary connection to it has been severed. However, if you are experiencing problems with your secondary connections then these errors will also appear on your screen. It's best in cases like this to disable those secondaries and use only one for now so we can pinpoint which connection is causing all of the problems.
To do this, head to the Control Panel and open Network Connections. Once you're there, find your desired connection (highlighted in blue) and then right-click on it.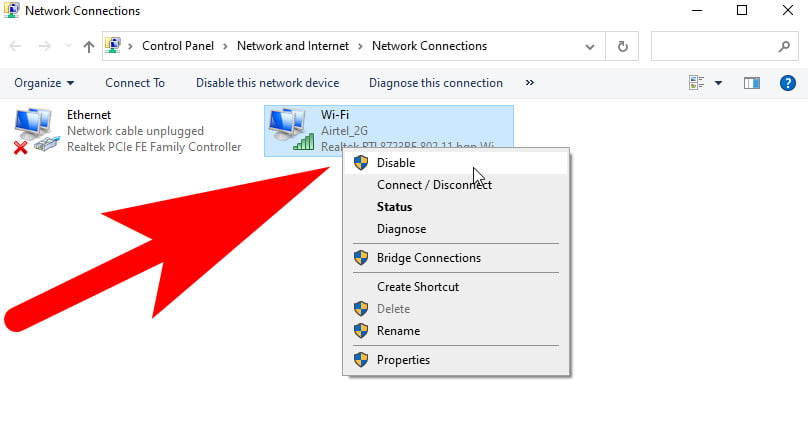 From here select Properties from the dropdown menu that appears and click on Disable this network device at the bottom of the new window:
After that, go back to Network Connections and find the secondary connection you want to use instead. Right-click on it and select Enable this network device from the dropdown menu:
After that, try accessing your website again and if everything goes well then this is probably just an issue with a faulty cable or bad router.
If nothing has changed for you then this means that the issue is on your ISP's end.
To disable secondary connections on macOS, go to System Preferences, click on Network and select the connection you wish to disable:
You can also do this by simply holding down Option when clicking the Wi-Fi icon in your top bar. You'll see a pop up that has all of your active connections listed. Select which one you want disabled and hit "Disable."
This will cause your computer to only use the connection you selected.
Disable Windows Peer-to-Peer Feature
Disable windows peer-to-peer feature. Windows provides a network sharing service called "Peer-To-Peer Networking" that allows your computer to share its files and printer with other computers on the same subnet (network). Peer-to-peer networking is not compatible with some software such as server edition for games. The peer-to-peer service may cause the DNS server to not respond.
You can disable Windows Peer-To-Peer Networking by following these steps:
1. Go to Control Panel -> Network and Sharing Center -> Change advanced sharing settings.
2. Uncheck "Turn on network discovery" on all networks >> Uncheck 'Allow file and printer sharing'.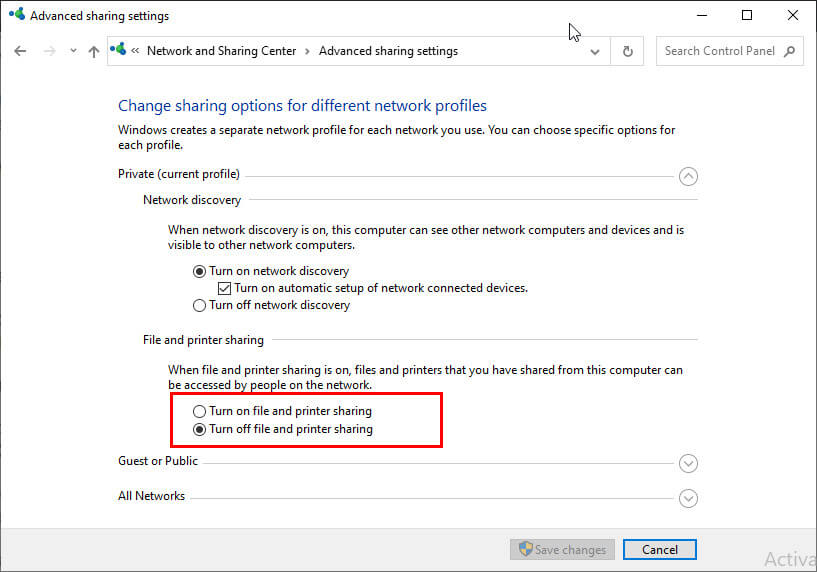 3. Uncheck 'Allow people to connect through your Windows computer's Internet connection when you're not on the network.'
If peer-to-peer networking is enabled, you need to disable it before continuing further.
You can verify if Peer-To-Peer Networking is disabled by going back to Control Panel -> Network and Sharing Center
4. And, if all Peer-To-Peer sharing is disabled, the "Network And Sharing Center" window will show a message like: The Internet Connection You're Connected To Is Private.
After disabling Windows peer-to-peer service, restart your windows computer or router to make it take effect.
6. Turn off Antivirus Software
If despite all these steps your DNS server is still not responding, try disabling the antivirus software installed on your computer.
Windows defender is the default antivirus software on Windows, so you might want to try temporarily disabling the Windows Internet Connection Firewall (ICF). This is a troubleshooting step for when something goes wrong with your connection or an app on your computer.
– Open the Settings from Start Menu or press Windows+I buttons together.
– Now, select the Update and Security the available options.
– Select the Firewall and network protection. Now turn off firewall on Domain, Private and Public network one by one.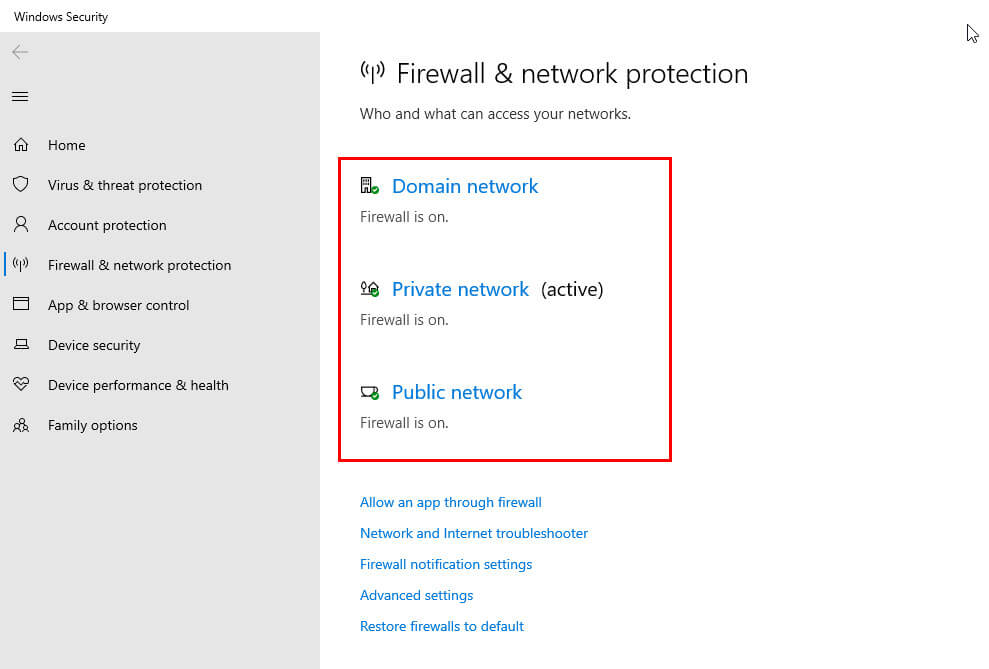 Second Method To Do Disable It:
Click on the windows icon and type Defender in the search bar.
Then click Settings, then click Windows Security > Virus & threat protection > Real Time Protection > Disable.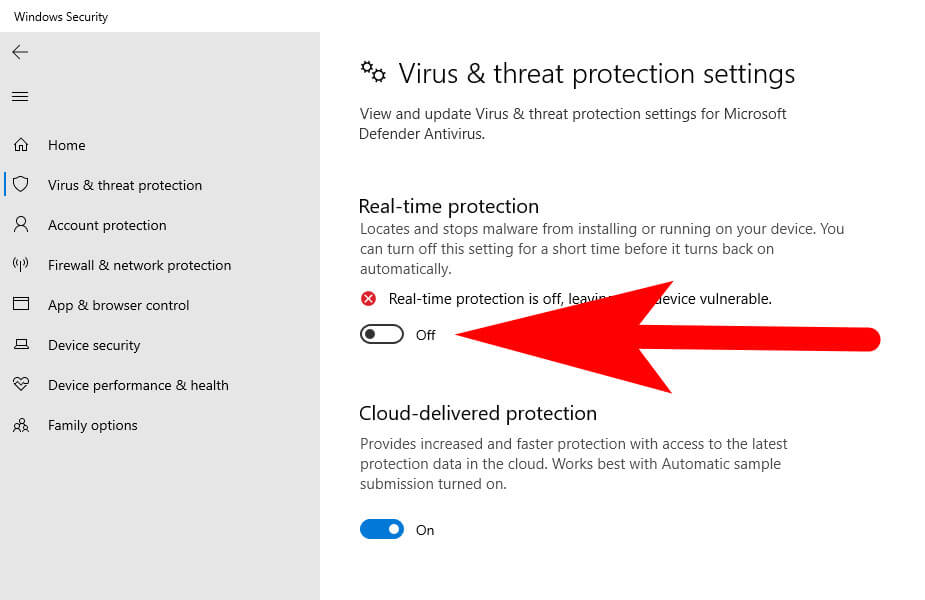 If you have a third party firewall program like Norton or McAfee activated: disable it too and see if this fixes the problem.
Turn off the Windows Firewall
Your windows firewall is responsible for filtering inbound and outbound network traffic. Turning off your firewall might fix the DNS server not responding problem.
In some cases, firewall settings may cause DNS server not responding problem. You can turn off the firewall and see if it solves the issue.
To turn of firewall on windows:
– Press the Windows+I keys together to open Windows Settings.
– Select the System and Security. Then choose the Windows Firewall. Click on the "Windows Firewall" link at the in notop of this window.
– In the left hand side, under "On (recommended)", select Off (not recommended). This will turn off your firewall for a short timeE) Reset DNS server:
– After a few minutes of waiting (or after you have run some tests), turn your firewall back on by clicking On and selecting Off again in the left pane.
Recheck Network Adapter
Network adapters are the devices that allow your computer to connect with the Internet. They send and receive data packets from a network connection such as an Ethernet cable, wireless card or DSL modem.
If you are experiencing problems connecting to the Internet, it is possible that something might be wrong with your router which could affect all of your computers on the home network (or work network, if you are in an office).
Your network adapter is the piece of hardware that provides your computer with Internet access. If it's not working properly, then this could be the root cause for a DNS server not responding error and other connection problems.
To diagnose potential issues related to a faulty network adapter:
– Disconnect all of the other network cables from your router
– Reconnect one at a time and see if you can get online. You should be able to tell immediately which cable is not working, because you'll either connect right away or there will be an error message saying that it couldn't establish a connection with the Internet.
This may sound like a frustrating process, but it's a lot faster than taking your computer to someone else's house or the local repair shop in order to get help.
– Try using another network cable that you know is working
– Make sure the Ethernet ports on your router are not blocked by anything and there is no debris inside them (this could be holding your cable in place)
– Clean the edges of your Ethernet port with a cotton swab and isopropyl alcohol. This should get rid of any dirt, dust or lint that's clogging up the connection points.
Update the Network Adapter Driver
Network adapter driver is a software that allows the computer to communicate with your network adapters.
Faulty drivers could be responsible for the error "DNS server not responding." The first thing you should do is check if there is an updated driver available on the manufacturer website of your network adapter.
The driver can be updated and installed through Windows Update, or from the manufacturer's website.
To check for updates:
-Go to Settings > Updates & Security > Check now in Windows Update, then select "Check for updates".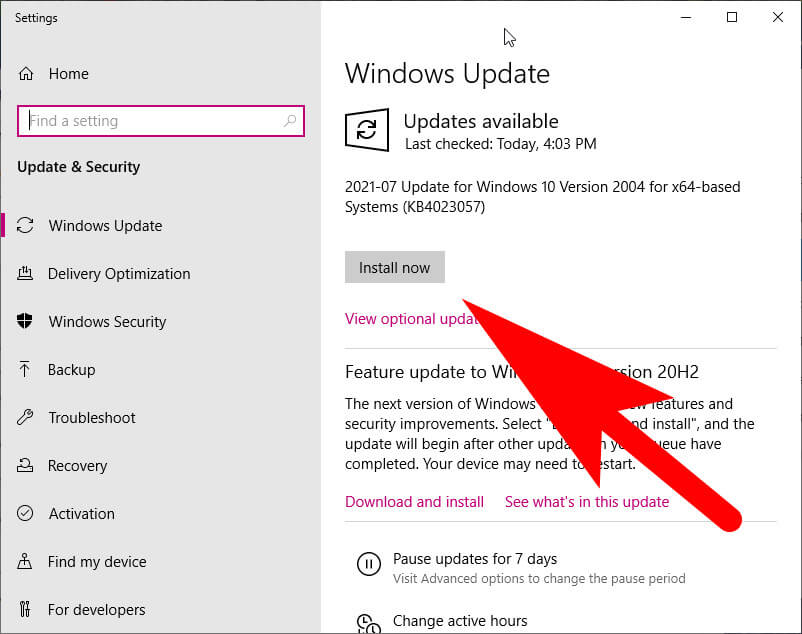 -If there are no available updates, you may need to contact the manufacturer or use an alternate driver.
-If there are updates available, select "Install now" and follow the instructions on your screen.
To find a new driver:
-Locate device manager by using Windows key + X > Device Manager.
-Find the Network Adapter from the list of devices and expand it. Right click on the network adapater and select "Update Dirver" . It's important to update them regularly because they are the link between your network and internet connection.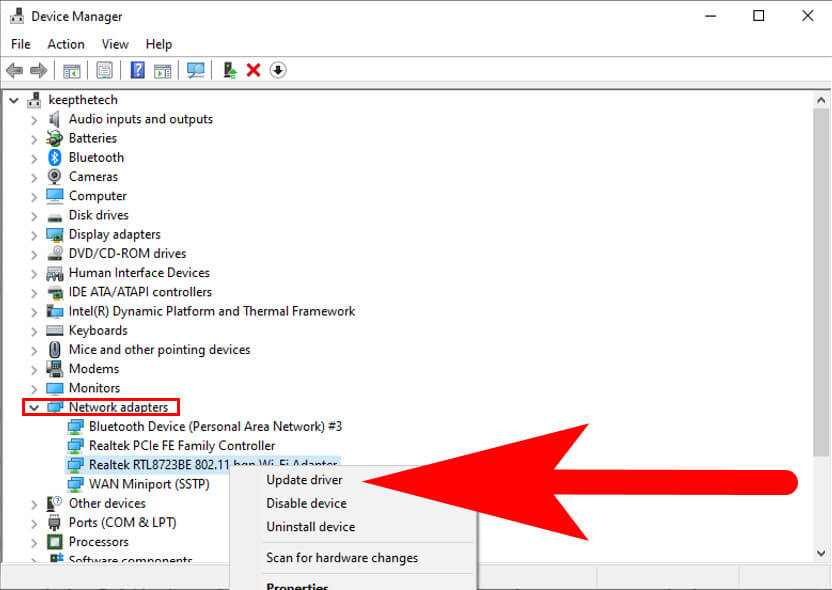 Reset Network Settings
If you have tried all of the above steps and your computer is still not responding, try resetting its network settings. To do this on Windows, follow these steps:
1. Press Windows + I keys together to open Windows Settings.
2. Now select "Network& Internet" from the avaialbe options. Go to the Wifi option from left side panel.
3. Click on "Change adapter settings" – This should bring up a list of all your network interfaces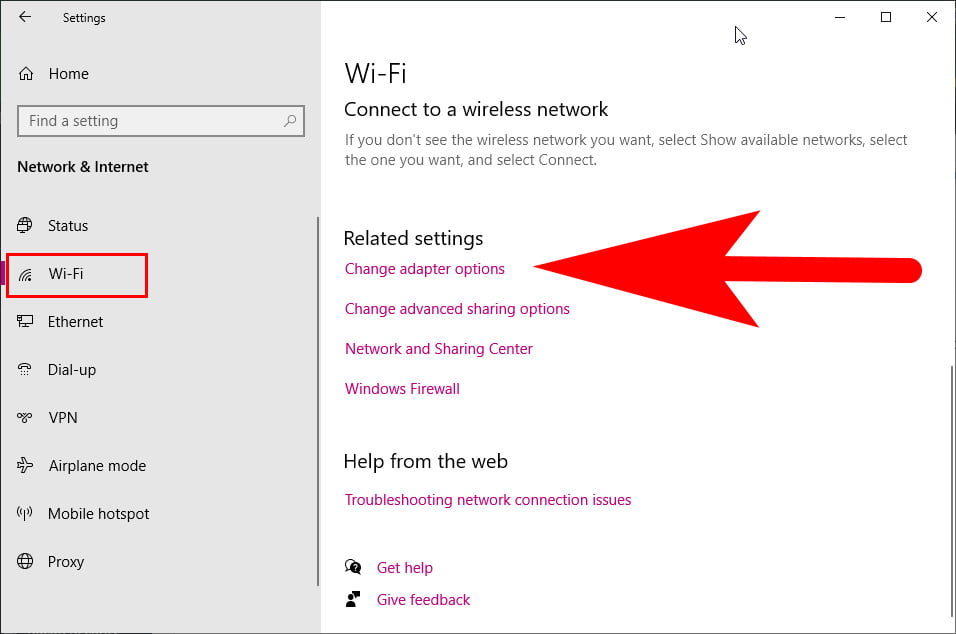 From the Network Name dropdown list, select "Ethernet" for ethernet, or "Wireless Network Connection" if it's a wireless network connection;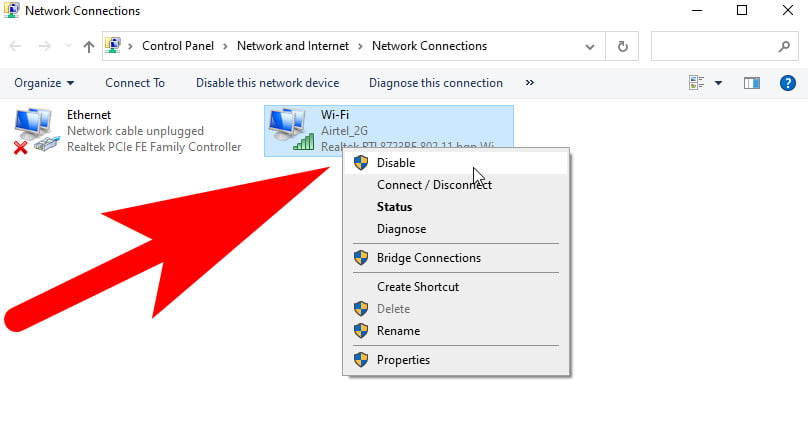 – Right click on your preferred network type > Properties > Internet Protocol Version(TCP/IP) > Properties > Use the following DNS server address, then enter the IP address of your internet service provider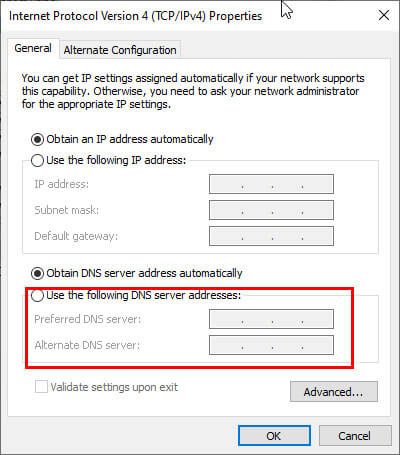 – Click OK, then restart your computer and see if this solves the issue.
Disable IPV6
You can disable ipv. This is a good option for older systems that may have some problems with newer protocol versions or those without any IPvV at all.
The first thing you should do is disable ipv. You need to open the command prompt and type in "netsh int tcp set heuristics disabled".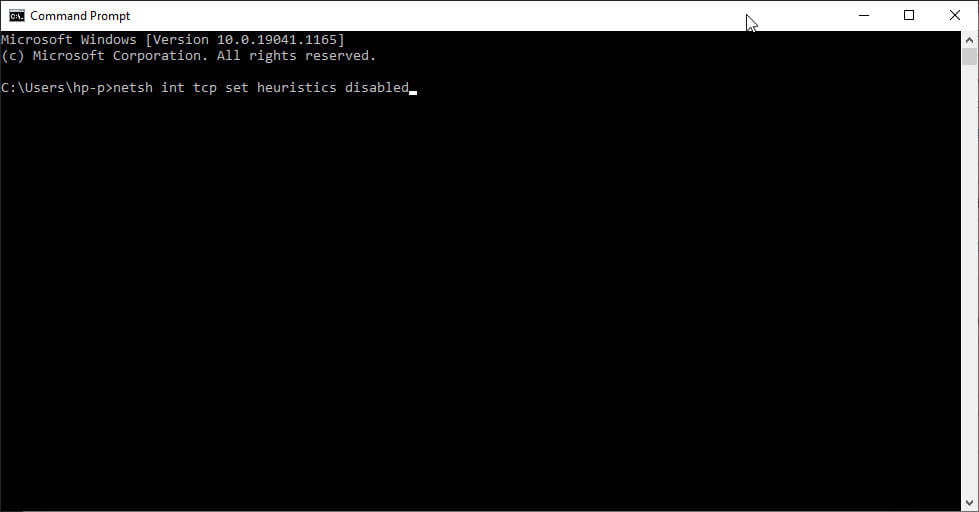 This will stop windows from using IPv-IP (ipv) when connecting to a domain name server, which can resolve errors with DNS servers not responding.
Update Router
One last thing you can try is updating your wireless or wired router. To do this, go to router manufacturer's website and download the update. Update your firmware as instructed in their instructions.
Flush the DNS Cache and Reset the IP Address
If you are having DNS server not responding error, flush your DNS cache and reset IP address. What does that mean? Effectively it means to clear out your computer's DNS memory and to change the IP address of your device.
How can you do this?
There are a few ways to do this.
A) Settings > Network & Internet > Status in Windows and Reset Network.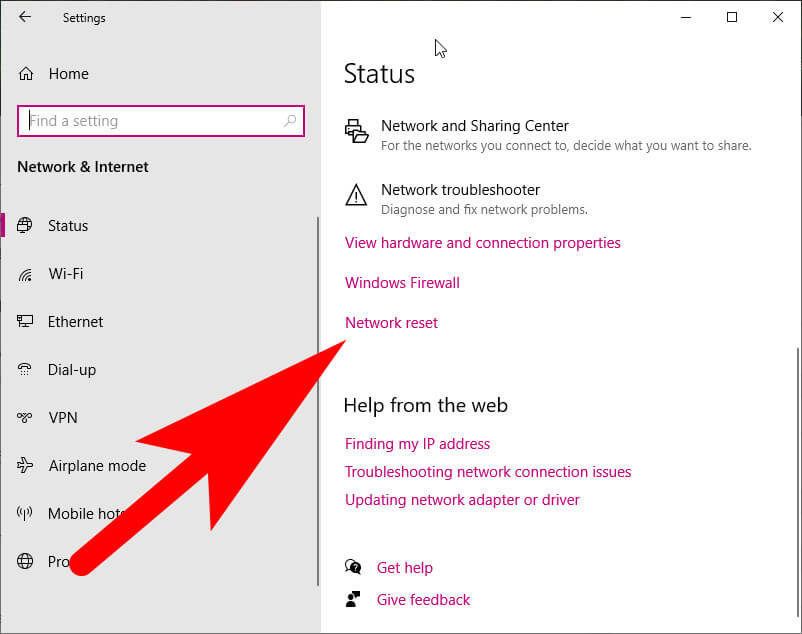 B) Go to Control Panel > Administrative Tools  > Computer Management > Services and Applications> Services. Right click on "DNS Client" > Stop.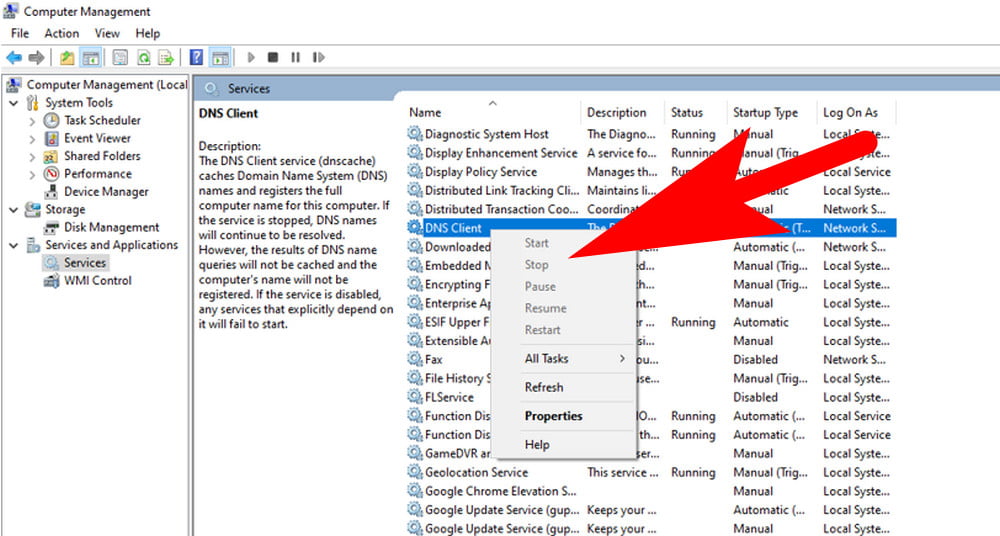 C. Select the start button then type "cmd".
Right-click "Command Prompt", then choose "Run as Administrator".
Type ipconfig /flushdns then press "Enter". (be sure there is a space before the slash)
command box will flash on the screen for a split second and the DNS Resolver cache is cleared.
Alternatively, you can also go into your device's network settings and manually clear the cache (or reset IP address). You might have an option to "release" the IP address of your computer that will automatically re-assign internet access information including setting up a DNS server. If none of these work for you, please contact your ISP for assistance.
Summary
What does a DNS server not responding error mean?
It simply means that the DNS server cannot be reached and your computer is not able to resolve domain names.
What causes DNS error?
The most common cause of a "DNS server not responding" error is that the computer's network settings are incorrect.
Addtional Tip:
What are some of the ways you can fix "DNS server not responding" error?
1. Restart your computer. If this doesn't work, try resetting Windows Networking settings or restarting your router. These steps might help if there is a connection problem on your computer.
2. Disable ipv to revert back to using IPv instead of IPvRV which is not as stable and has been known to cause DNS server issues for some people.
3. Update the router's firmware if there are new updates available from the manufacturer, or contact them directly if you have any problems.
4. Flush DNS cache and reset IP address. This will clear your computer's memory of the most recent information about domain names, to help if it is having connection problems.
5. Check the status of your computer's IP address, making sure it is not set to "Obtain DNS server information automatically".
If that doesn't work, try resetting network settings.
7. Set your preferred DNS servers in Windows – Open Control Panel and launch Network Connection Troubleshooter. Click on "DNS" tab and make sure you enter the IP address of your preferred DNS server.
8. On a Mac, use System Preferences to change Network Settings – Advanced menu
9. Reset network settings on iPhone or iPad:Settings > General > Reset > Reset Network Settings
Conclusion
The article has described the various ways to fix DNS server not responding for both Windows and Mac operating systems. After reading this article, you should be able to troubleshoot your own problems with DNS.
In the event that you are still encountering problems, please consult a professional to diagnose and repair your system. In most cases, these sorts of issues can be easily resolved through an update or reinstallation process without doing any permanent damage to your device.
Related Articles: 
How To Change DNS Server on Windows 10
How to Flush DNS Cache in Windows 10